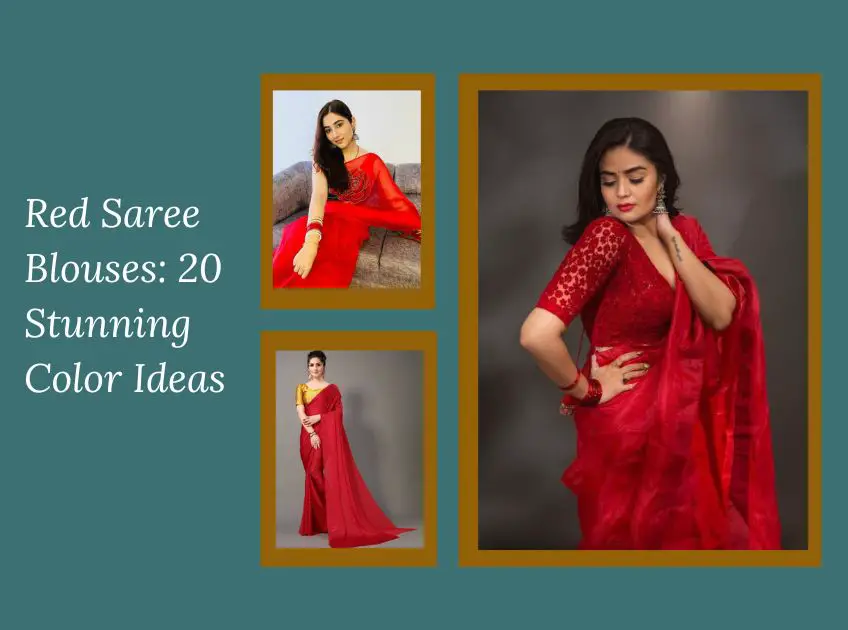 A red saree is an embodiment of timeless elegance, passion, and grace. It exudes a sense of vibrancy and energy that demands attention. To enhance the beauty of your red saree, selecting the right blouse color becomes pivotal. Whether you're aiming for a traditional, contemporary, or fusion look, the choice of blouse color can influence the overall aesthetic.
Red Saree Blouses: 20 Stunning Color Ideas
1. Red Plain Saree with Net Designery Blouse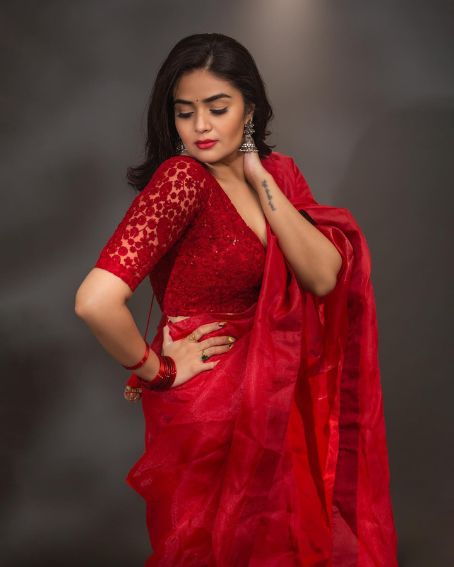 A versatile choice for all ages, this red saree with a net designer blouse is ideal for formal events and weddings.
2. Red Cotton Lace Style Saree with White Sleeveless Blouse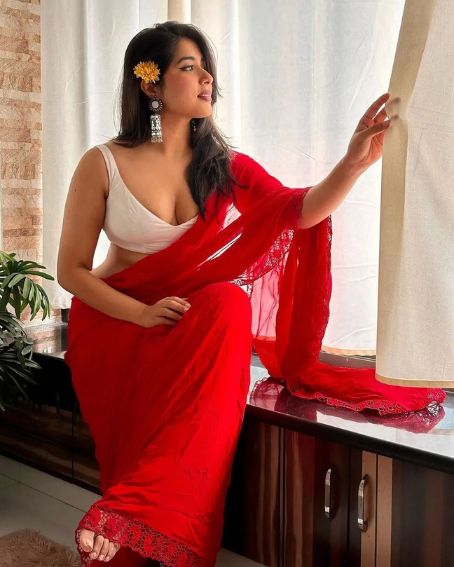 This red cotton lace saree paired with a sleeveless white blouse appeals to women of all ages for a timeless look.
3. Red Fancy Saree with Blue Blouse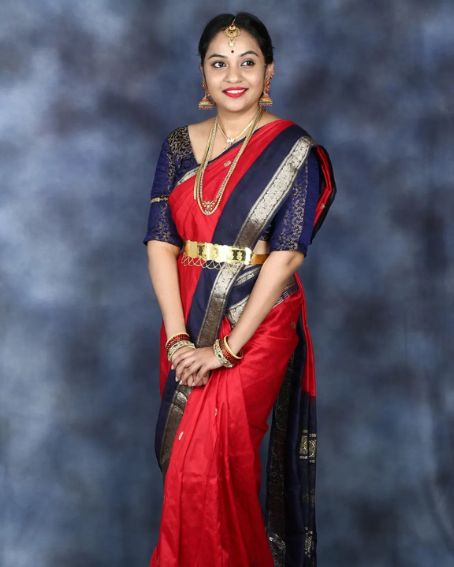 Perfect for all generations, this fancy red saree with a blue blouse adds elegance to festive gatherings.
4. Red Thread Work Saree with Beige Puff Sleeve Blouse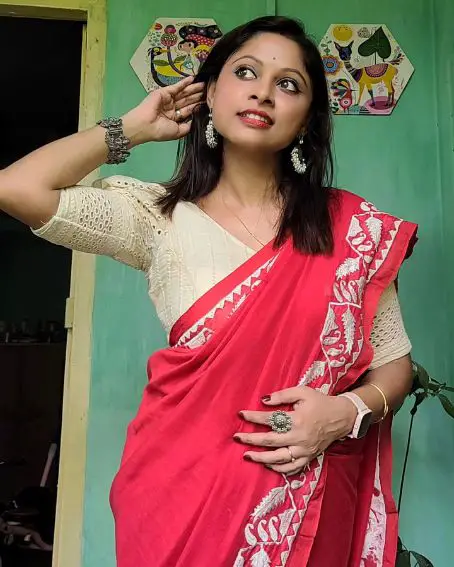 An ageless combination, this red saree with intricate thread work and a beige puff sleeve blouse suits women of all ages.
5. Red Embroidery Saree with Green Blouse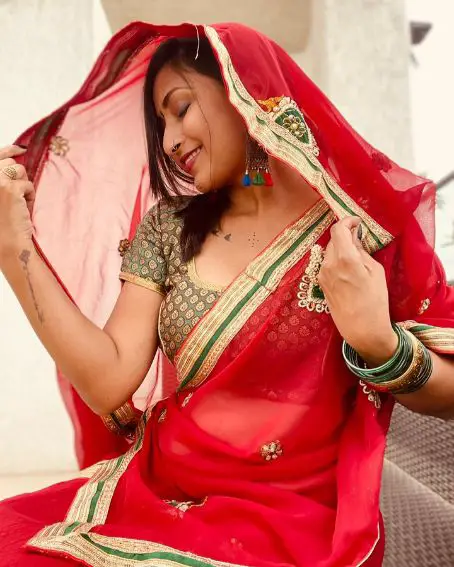 A classic choice for all age groups, this red embroidered saree with a green blouse exudes elegance for cultural events.
6. Bricks Red Silk Saree with Blue Blouse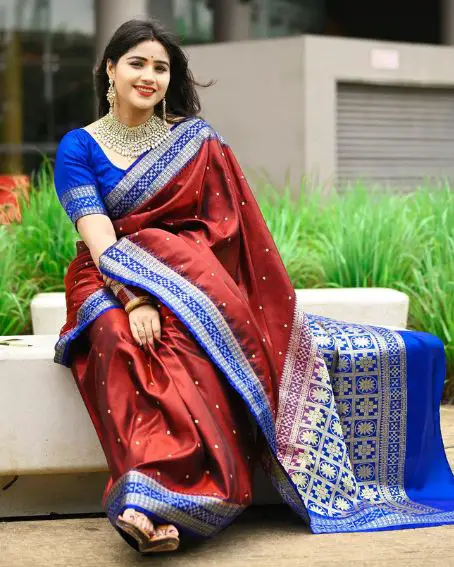 Suitable for all ages, this luxurious silk saree in brick red with a striking blue blouse is perfect for grand celebrations.
7. Beautiful Red Bandhani Saree with Green Plain Blouse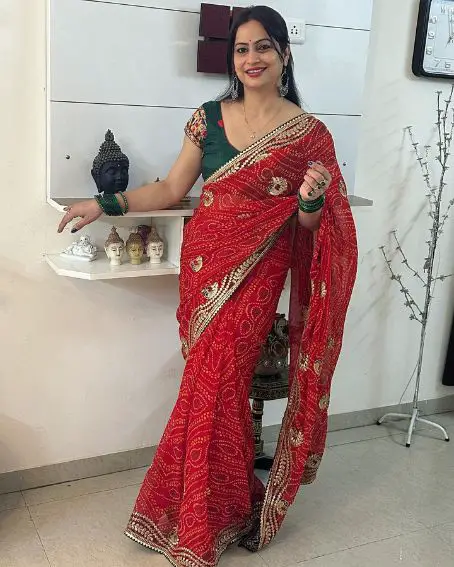 Embrace tradition regardless of age with this stunning red bandhani saree paired with a simple green blouse.
8. Red-Orange Georgette Saree Paired with Almond Satin Silk Blouse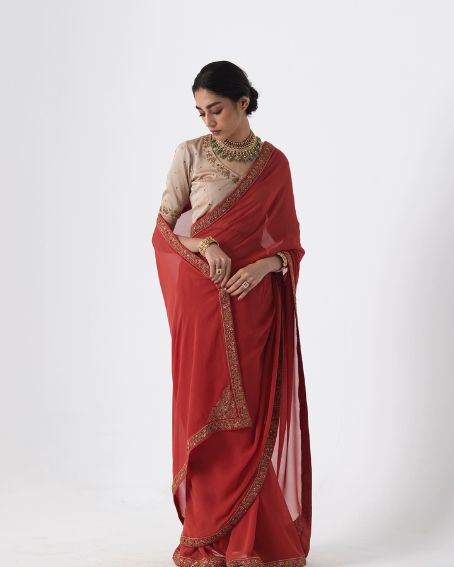 Ideal for women of all ages, this red-orange georgette saree with an almond satin silk blouse stands out at special occasions.
9. Fabric Vichitra Silk Red Saree with Green Blouse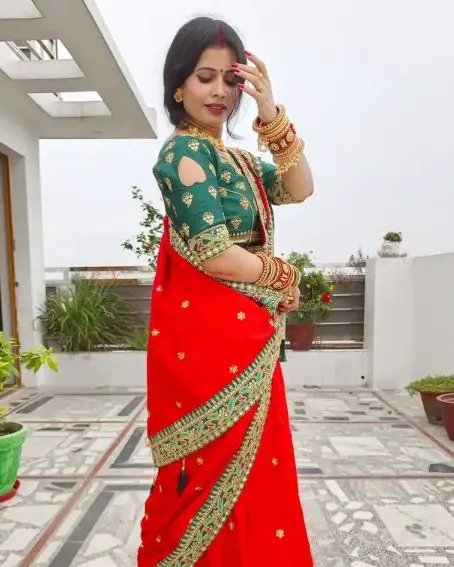 This unique vichitra silk saree in red with a green blouse caters to women of all ages, showcasing a blend of fabrics.
10. Fancy Red Saree with Green Blouse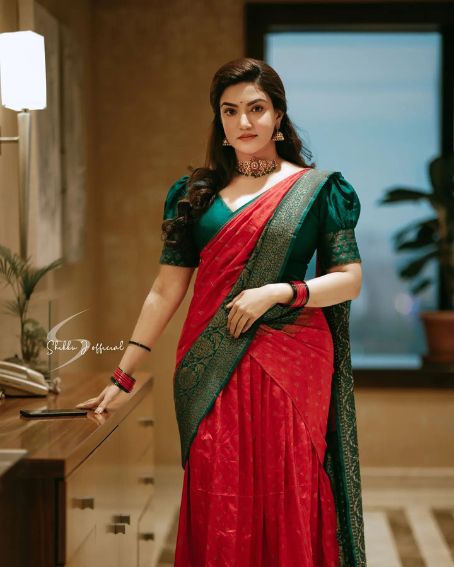 A timeless choice for all generations, this fancy red saree with a green blouse makes a statement at festive gatherings.
11. Red Colored Soft Silk Saree With Gold Printed Flower Design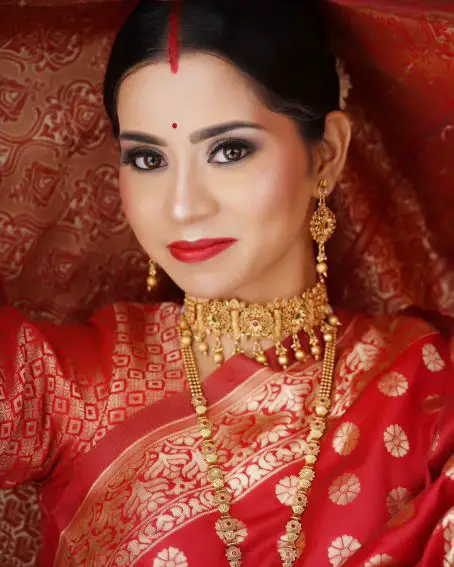 For those seeking luxury, this pure soft sitara chiffon zari silk saree with exquisite embroidery suits women of all ages.
12. Red Linen Saree with Blue Boat Neck Blouse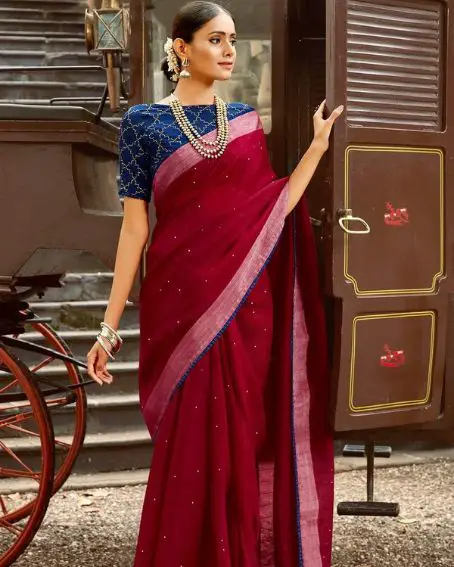 Achieve casual elegance at any age with this red linen saree paired with a blue boat neck blouse.
13. Red Woven Saree with Contrast Blouse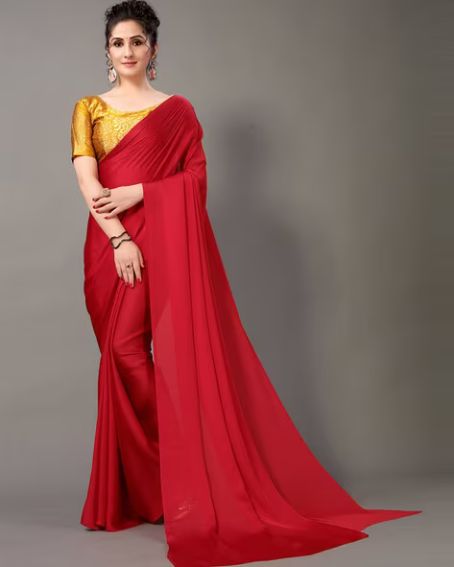 Versatile and ageless, this red woven saree with a contrasting blouse suits various occasions and women of all ages.
14. Conversational Embroidered Red Saree With Blouse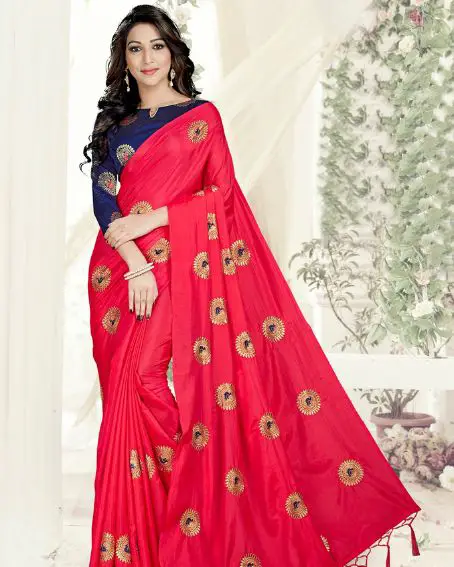 Spark conversations at any age with this embroidered red saree and matching blouse, perfect for social gatherings.
15. Red Foil Printed Saree Embellished With Gota Lace With Unstitched White Blouse
Shine at special events with this red foil printed saree adorned with gotta lace, ideal for women of all ages, and it comes with an unstitched white blouse.
16. Red With Black Lines Handloom Cotton Saree and Without Blouse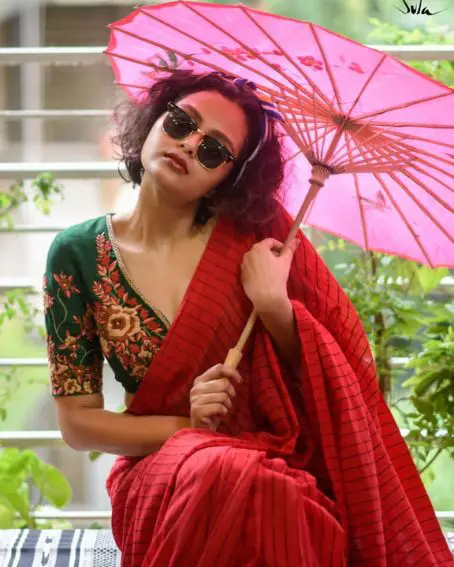 Embrace minimalism at any age with this red handloom cotton saree featuring black lines, ideal for those who prefer simplicity.
17. Crimson Red South Silk Saree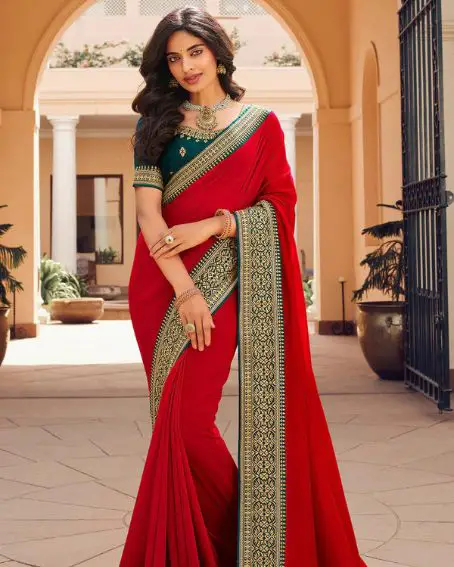 Timeless and suitable for all ages, this rich crimson red South silk saree radiates elegance at traditional events.
18. Designer Red Color Party Wear Silk Saree With Contrast Blouse
Make a bold statement at parties regardless of age with this designer red silk saree and contrasting blouse.
19. Red Georgette Daily Wear Lace Work Saree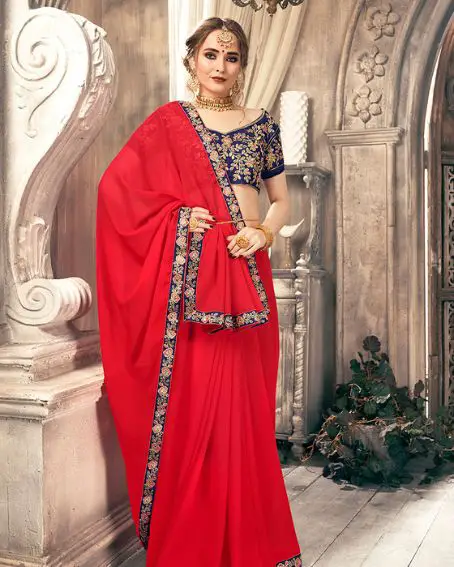 Elevate your everyday glamor at any age with this red georgette saree featuring delicate lace work, perfect for daily wear.
20. Red Saree With Red Rose Plant Design Print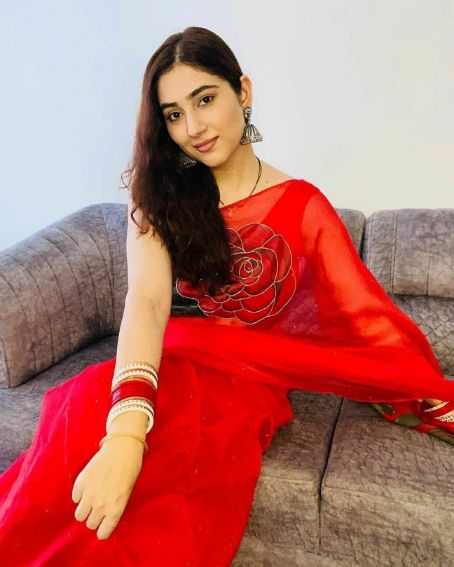 A red saree with a red rose design print would be a beautiful and elegant choice for a traditional Indian outfit. The color red is often associated with love, passion, and celebration in Indian culture, and the addition of a rose design print can enhance the overall aesthetic of the saree.
Conclusion
A red saree radiates timeless elegance and vibrancy. This bold and passionate color symbolizes love, power, and confidence, making it an excellent choice for special occasions and celebrations. Whether it's a deep crimson or a bright scarlet, a red saree is sure to make a lasting impression and leave you feeling stunning and empowered. Embrace the allure of red and welcome the enchantment it brings to your attire.