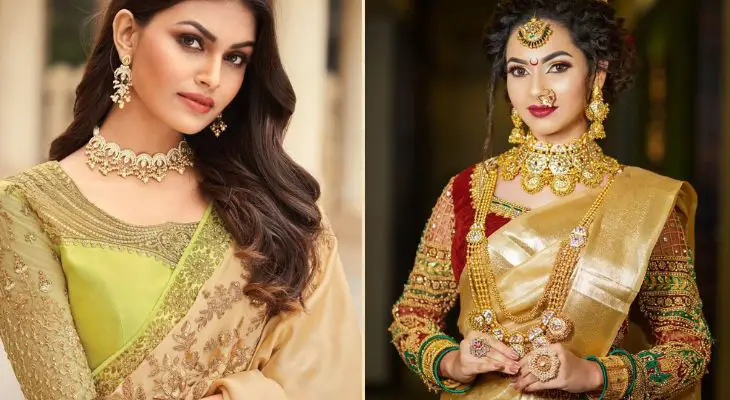 A golden saree blouse can be one of the essential in every women's wardrobe. A golden saree and blouse can give you an extra glow when you wear them. When in confusion to pick a saree and blouse for a function, a golden blouse and saree will always be the first and best option. Are you having a golden saree and puzzled to pick an apt designer blouse, then this article is for you. Scroll more to witness the amazing blouse designs for your golden sarees.
20 Amazing Blouse Designs for Golden Sarees
1. Silk Golden Saree With 3d Guinea Work Full Sleeve Golden Blouse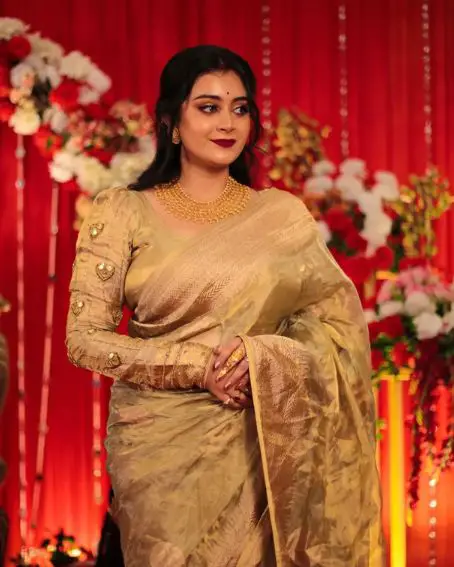 When you want to look elegantly unique when attending wedding functions, then this stunning golden saree with 3D Guinea work full sleeve golden blouse can be your ultimate choice. The basic detailing on this blouse like a broad neckline and a little puff on the full sleeve will make you look more beautiful.
[ Read: Attractive Art Silk Sarees ]
2. Net Designer Golden Saree With Stone Embellished Golden Blouse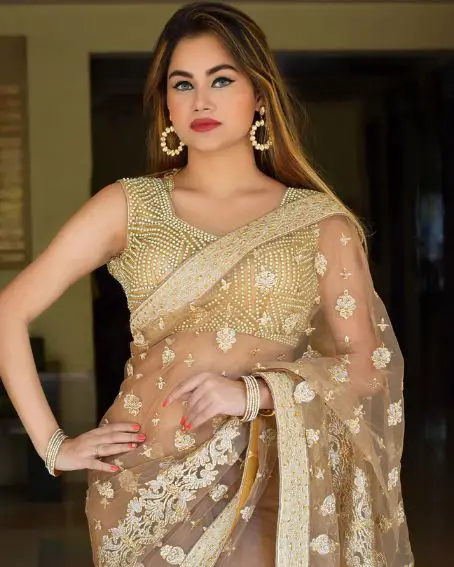 This is the absolute stunner that can be worn for any party. The motif design all over the net golden saree matched with the stone embellished sleeveless golden blouse gives you the extra gorgeousness.
[ Read: Beautiful Chanderi Cotton Sarees ]
3. Lovely Golden Saree With Chinese Collar V Shape Neck Designer Golden Blouse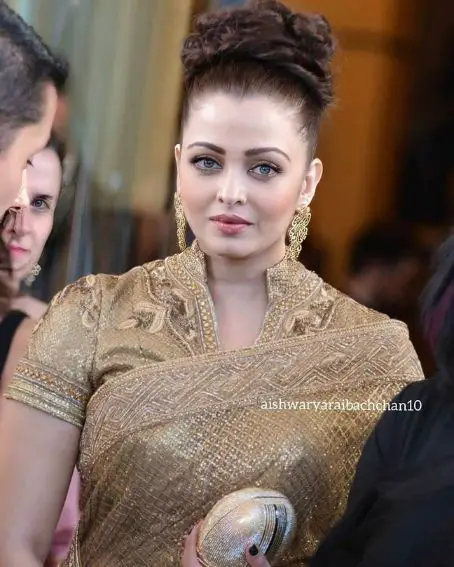 This is one of the most gorgeous looking golden combination saree and blouse. The golden designer blouse with a Chinese color V shape front neck can make you look stylish and cute as well. You can wear this for night parties and grand functions.
[ Read: Fresh Paithani Silk Sarees ]
4. Half And Half Golden Saree With Pink Cold Shoulder Designer Blouse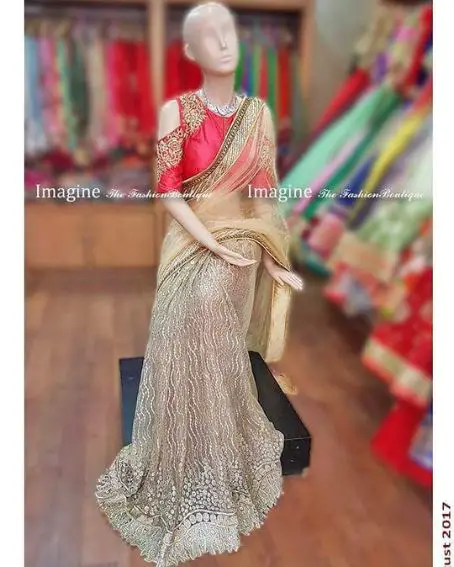 This combo is the best-looking one which will make you glow brighter when you wear it for the party. The cold shoulder designer pink blouse will enhance your beautiful broad shoulder and match well with the golden saree.
[ Read: Pretty Red Kanjivaram Sarees ]
5. Glittering Golden Saree With Feathery Bottom And Deep Princess Cut Full Sleeve Designer Golden Blouse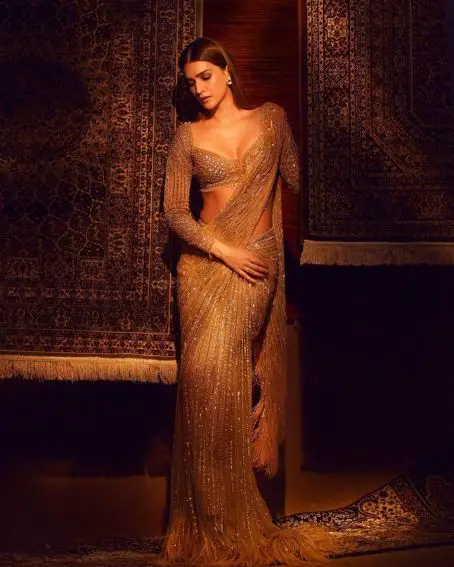 Do you looking to flaunt yourself in a sparking lovely golden saree and blouse, then this glittering gold saree and designer gold blouse is the ideal pick for you. The shimmery saree along with a deep princess cut designer full sleeve blouse can make you shine brighter. The feathers at the bottom add extra glam to your look.
[ Read: Thirubuvanam Sarees ]
6. Gold Tissue Saree With Mirror Work Red Blouse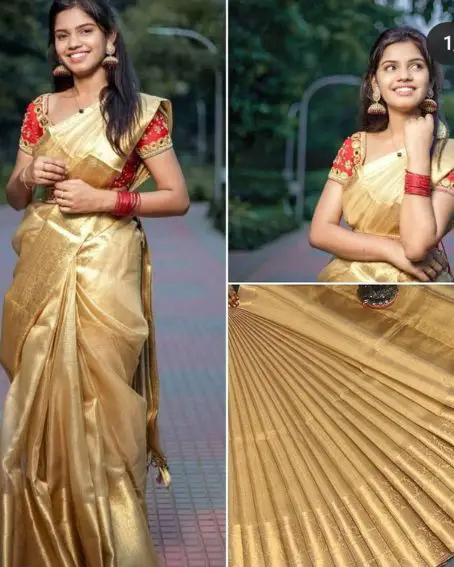 This combination is the most attractive one with no doubt at all. The red color blouse with mirror work and short sleeves perfectly blends with the golden saree. You can wear this for any simple events or functions.
7. Green And Gold Soft Silk Saree With Embroidery Blouse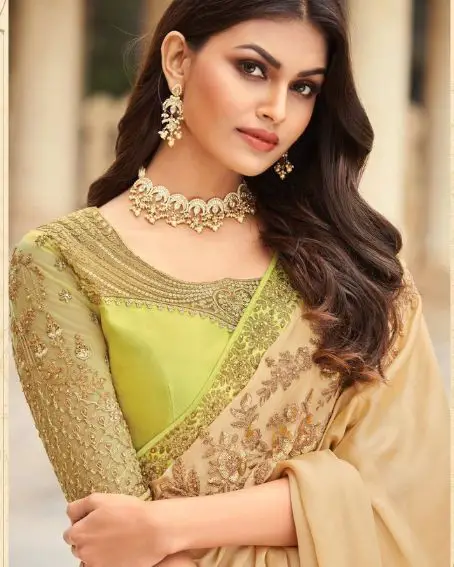 You will look beautiful and lovely when you wear this green and gold soft silk saree and green elbow-length blouse which has amazing golden embroidery. This saree and blouse combo is an absolute head turner.
8. Gold Banarasi Saree And Black Full Sleeve Blouse With Stripes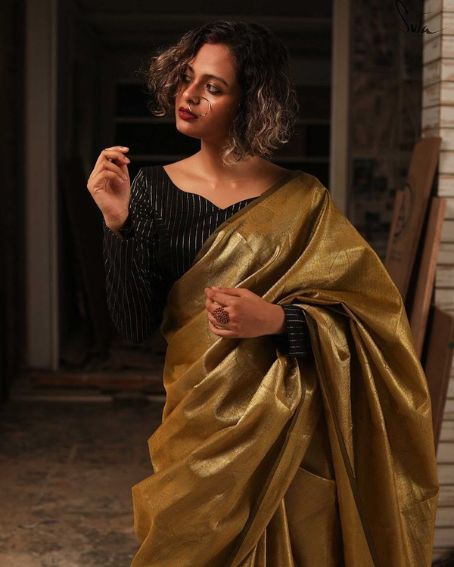 If you want to look stylish as well as ethnic, go for this simple gold banarasi saree and pretty black full-sleeve blouse that has got stripes on it. You will have a modernistic yet traditional look when you wear it.
9. Gold Shimmer Sequin Saree With Bra Style Blouse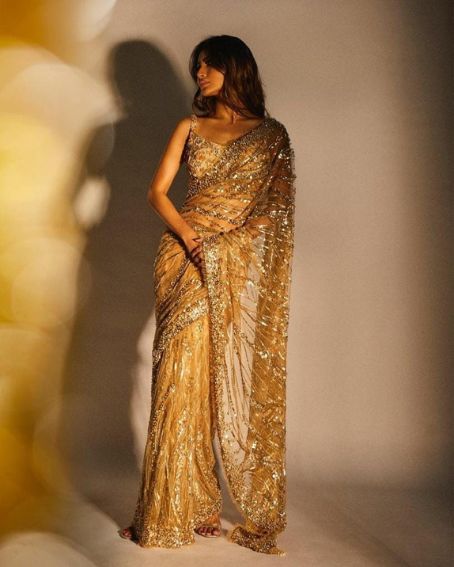 This can be one of the perfect choices for brides for their reception parties. The heavy sequin work on the gold transparent saree looks tremendously gorgeous. The bra-style designer gold blouse highlights the overall glimpse.
10. Gold Saree With Heavy Work Full Sleeve Bridal Blouse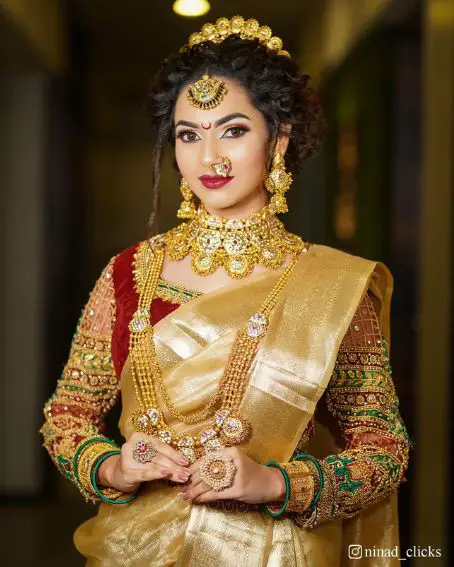 If you are a bride and looking for some heavenly combo, you can blindly pick this gold saree with a red velvety full sleeve blouse which has got heavy stone and thread work all over the blouse. When wearing this blouse and saree you will look fabulous and stunning.
[ Read: Top 20 Beautiful Golden Full-sleeve Blouses ]
11. Stunning Gold Sequin Saree With Bralette Gold Blouse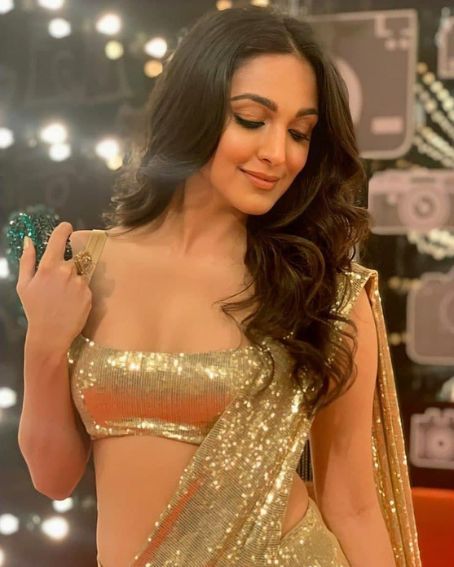 The gold sequin saree paired with a gold bralette blouse will give you the Bollywood glamorous look that you wish for. It gives you the stunning glossy look to rock the party time.
12. Golden Botta All Over The Gold Chiffon Saree With Half And Half Blouse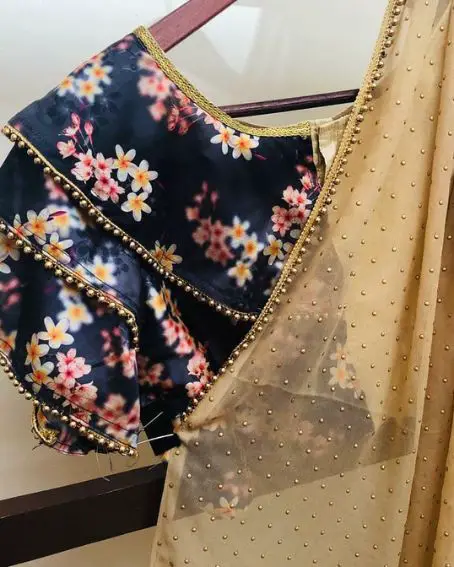 Have you imagined anything different like this half and half blouse? This black floral ruffles on one side and plain gold on the other side of the blouse paired with a golden saree is perfect for showing up your modernism and uniqueness.
13. Plain Gold Saree With Sheer Yoke Neck Simple Gold Blouse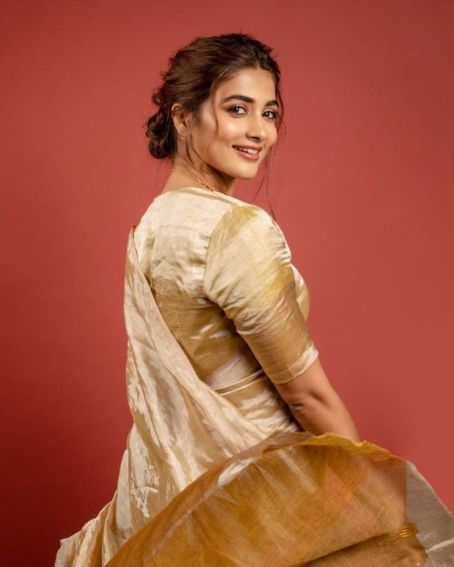 The plain gold saree with sheer yoke neck simple gold blouse can be your preference when you want to present yourself elegantly fashionable. The sheer appearance of this saree and blouse is great for night outings or parties.
14. Black And Gold Saree With Red Lace Border And Gold Puff Full Sleeve Blouse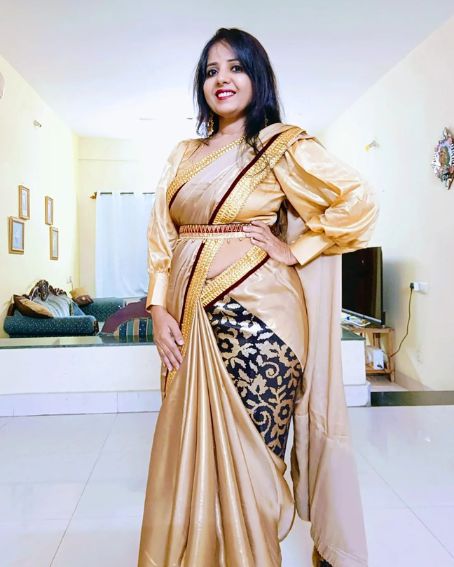 This one is something you have never witnessed before. This gold saree features black florals on the end and waist with red lace all over the gold border. When it is paired with the classic puff long sleeve golden blouse, you can never regret how stylish and wonderful it looks.
15. Golden Beige Banarasi Saree With Yoke Boat Neck Pistachio Green Sleeveless Blouse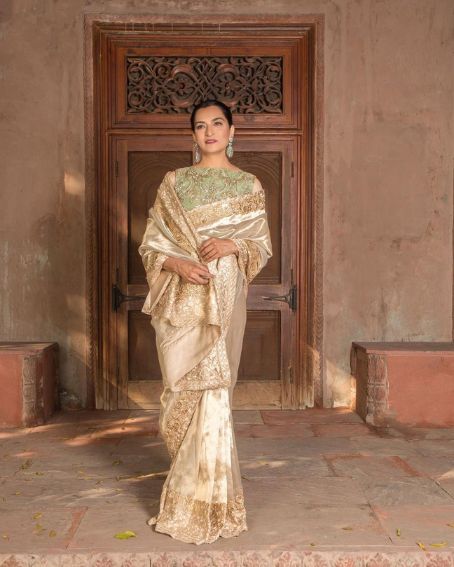 If you wish to have a stylish and grandeur appearance this festive season, then you cannot skip this beautiful masterpiece. The detailed crafting of the pistachio green Swarovski blouse with a golden beige saree makes you feel graceful and comfortable.
16. Golden Chanderi Silk Saree With Blue Maggam Work Blouse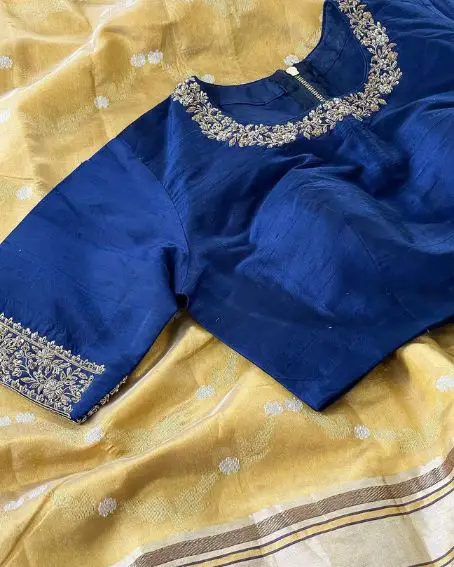 This is for those women who love to wear a contrast blouse to their saree. This golden chanderi silk saree when matched with a contrast maggam work blouse will appear beautiful and elegant on you.
17. Gold And White Mini Checked Saree With Golden Simple Puff Blouse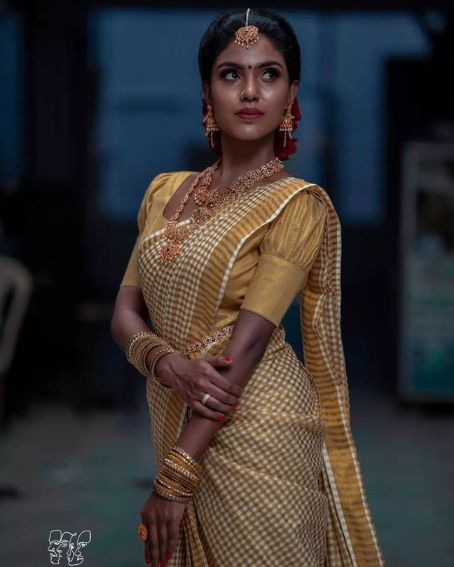 One of the trendiest vintage looks is this gold and white mini checked saree with a simple golden puff sleeve blouse. Classic lovers can go for this look without any second thought.
18. Green Border Gold Saree And Blouse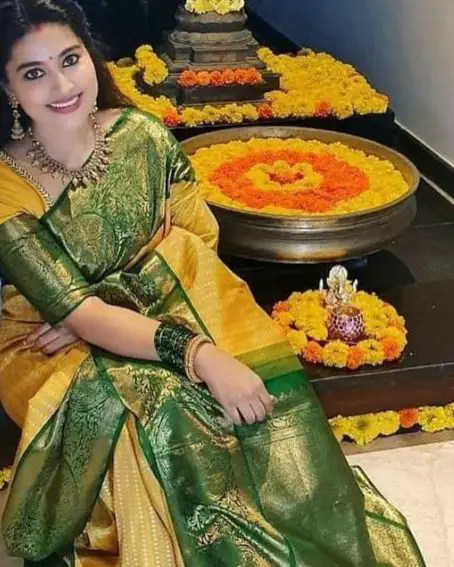 This is the perfect pick when you want to attend the wedding ceremony. The green border gold saree complementing the elbow-length blouse can make you appear traditional and classic.
19. Off-white With Gold Border Saree With Halter Neck And Triangle Back Neck Gold Blouse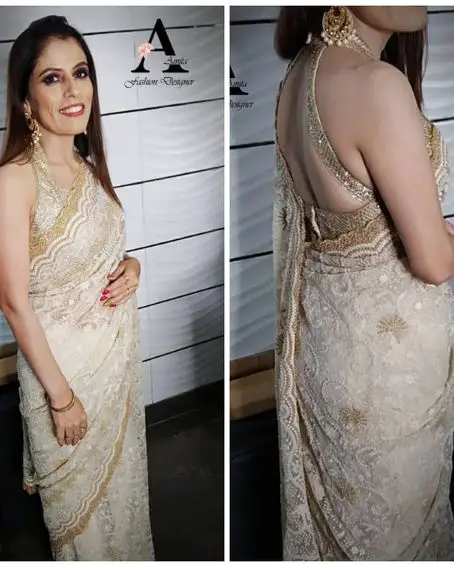 The embroidery work on the off-white saree with cut work gold border and halter neck gold blouse is all about lovely and charming. This glamorous look suits a day or night cocktail party.
[ Read: 40 Latest Back Neck Blouse Designs For Women ]
20. Gold Patola Saree In Ikkat Border And A Boat Neck And Partial Sleeve With Long Opening Blouse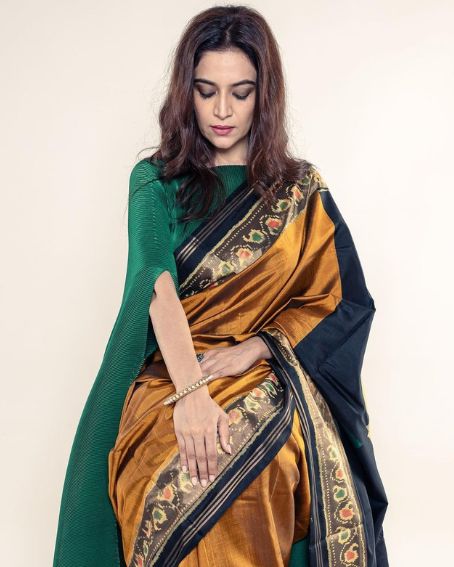 This sheer elegant yet stylish-looking saree and blouse is perfect for your typical saree day outing. You will look chic and fashionable when you wear it.
You Might Also Like: