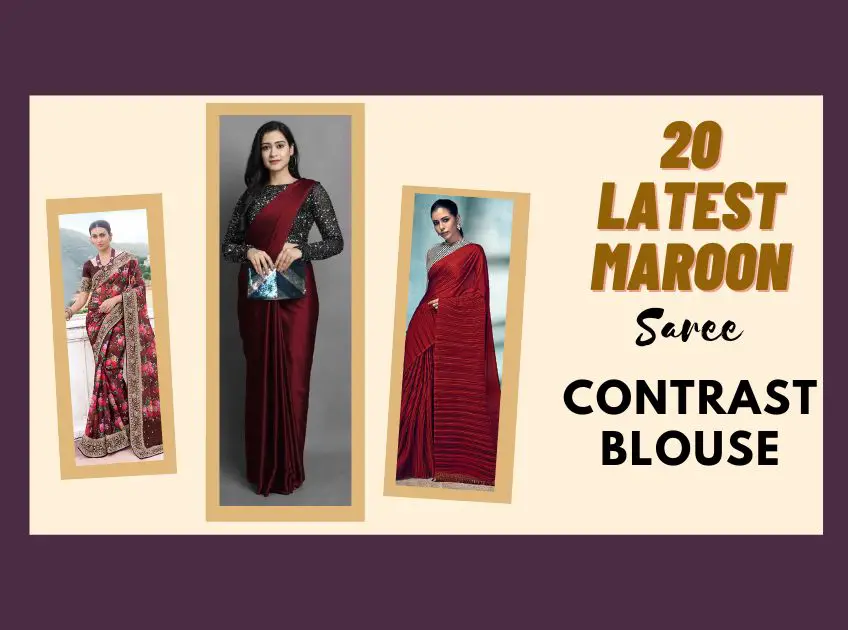 The color of the blouse is a different color than the maroon saree. There are many different colors that you can choose, but some popular colors are white, black, green, and gold. These white, black, green, yellow, silver color blouses are stylish with Maroon saree.
White color blouse with Maroon saree gives the stylish and traditional look for women and a gold color blouse with maroon saree gives us a unique and stylish look. The color choice doesn't matter, the blouse should make you comfortable and the fabric quality should be good.
20 Latest Maroon Saree Contrast Blouse
1. Maroon Georgette Plain Saree With Contrast Blouse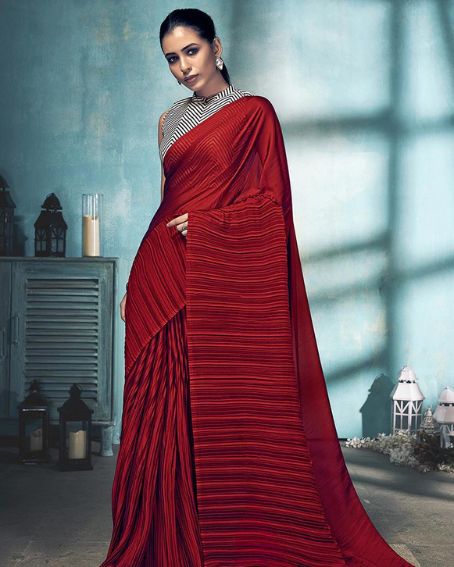 The Maroon Georgette Plain Saree, when adorned with a contrasting blouse, creates a look of understated elegance. The lightweight fabric drapes gracefully and is comfortable to wear for long durations, making it an excellent choice for both casual and formal events.
2. Contrast Blouse For Maroon Silk Saree New Design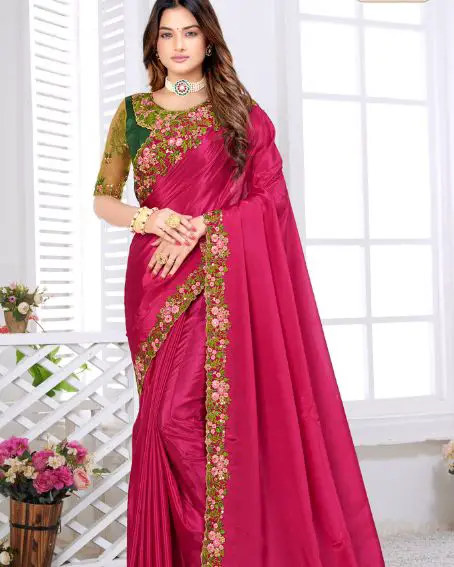 Maroon Silk Sarees exude luxury, and a contrasting blouse enhances their beauty. With new blouse designs emerging in the fashion scene, you can experiment with various necklines, sleeve lengths, and intricate embroideries to add a modern touch to this traditional attire.
3. Maroon Saree With Contrast Green Brocade Blouse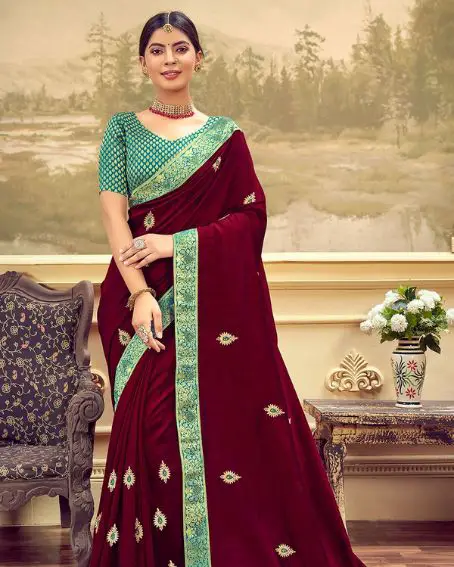 The combination of maroon and green is a striking example of complementary colors. A green brocade blouse paired with a maroon saree brings out a regal aura, making it a splendid choice for weddings and festivities.
4. Maroon Designer Saree with Gold Color Designer Contrast Blouse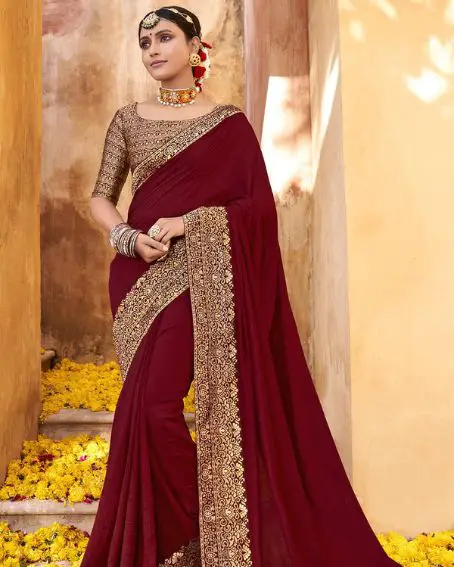 For a glamorous and opulent look, a gold designer blouse complements a maroon saree impeccably. This combination oozes sophistication and is perfect for grand soirées and cultural celebrations.
5. Maroon Woven Border Art Silk Saree with Brown Color Contrast Blouse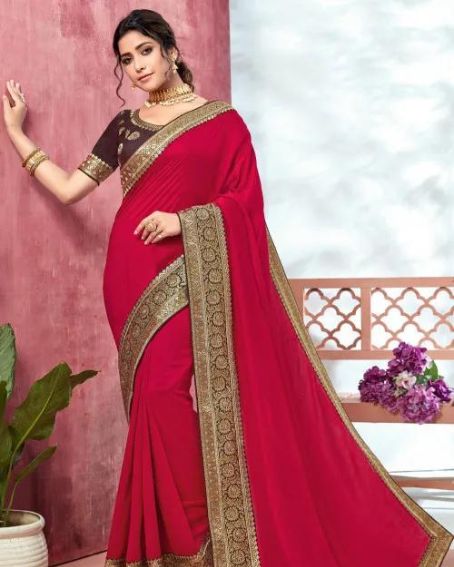 Elevate the allure of a maroon art silk saree with a brown woven border, crafting a rich and layered look. A brown blouse beautifully harmonizes with the woven border, infusing depth into the ensemble for women, teenagers, and young girls.
6. Embroidered Maroon Organza Floral Saree with Brown Color Contrast Blouse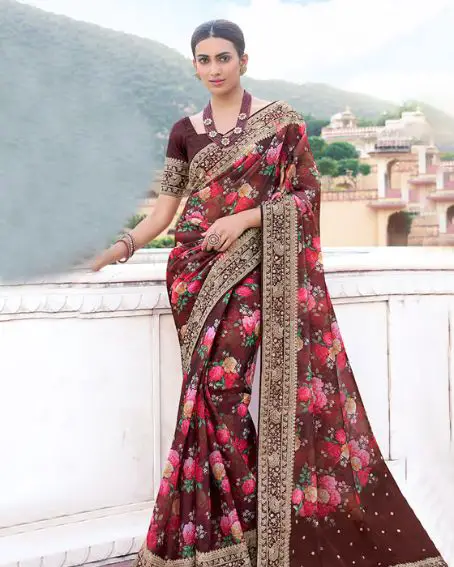 Floral embroidery on a maroon organza saree exudes femininity and grace. A brown blouse with delicate details enhances the floral motifs, creating a harmonious blend of colors and textures.
7. Maroon Mulmul Cotton Chumki Ruffle Saree with Brown Color Contrast Blouse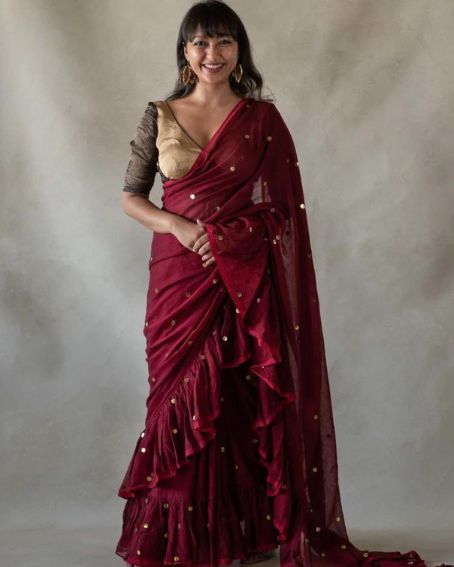 Perfect for a relaxed and casual appearance, women, teenagers, and young girls can opt for the maroon mulmul cotton chumki ruffle saree paired with a brown blouse. This combination provides comfort without sacrificing style and is ideal for daytime events and outings.
8. Red Maroon Pure Mercerised Japan Satin Silk Saree with Contrast Sequence Blouse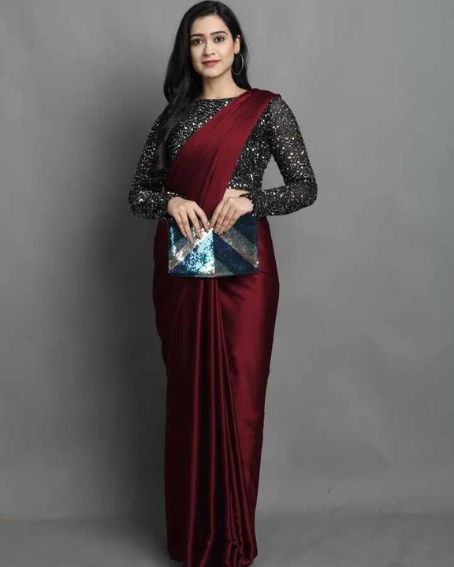 The sheen of mercerized Japan satin silk in a maroon saree is elevated by a sequined contrast blouse. The play of textures and reflective surfaces adds depth and allure to your overall appearance.
9. Casual Maroon Printed Work Chanderi Silk Saree with White Contrast Blouse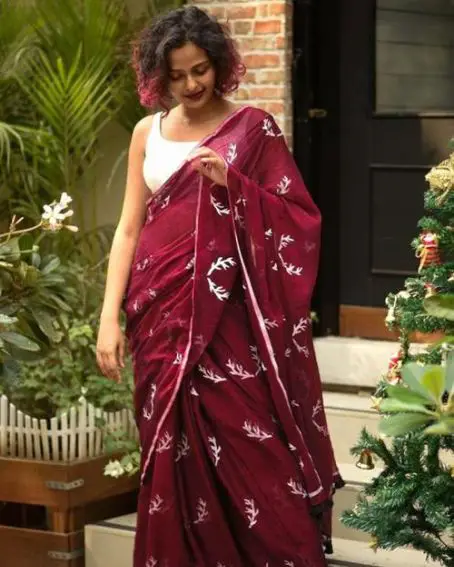 The fusion of casual and traditional styles is beautifully encapsulated in a maroon Chanderi silk saree with digital prints. A white blouse offers a clean and fresh contrast, perfect for casual gatherings.
10. Maroon Zari Work Semi Crepe Designer Saree with Gray Contrast Blouse Blouse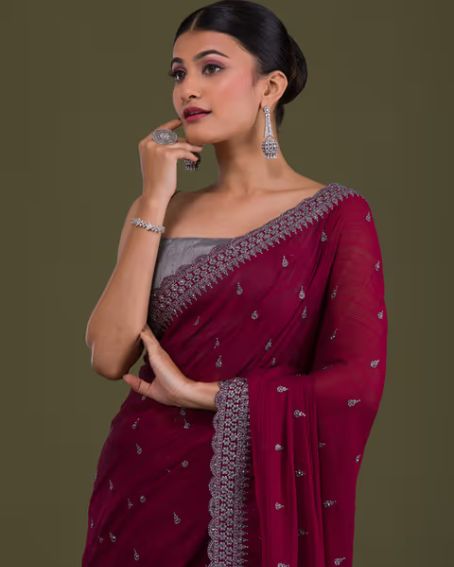 Zari work adds a touch of luxury to any saree, and when paired with a gray contrast blouse, it creates a balanced and sophisticated look suitable for formal occasions.
11. Maroon Stone Work Chiffon Saree with Black Velvet Contrast Blouse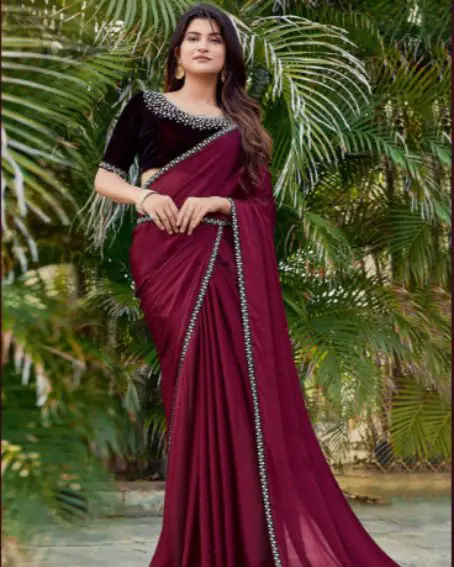 Elegance meets glamor with a maroon chiffon saree adorned with stone work. A black velvet blouse adds depth and plushness, making it a statement outfit for evening events.
12. Gorgeous Maroon Heavy Border Saree with Green Contrast Blouse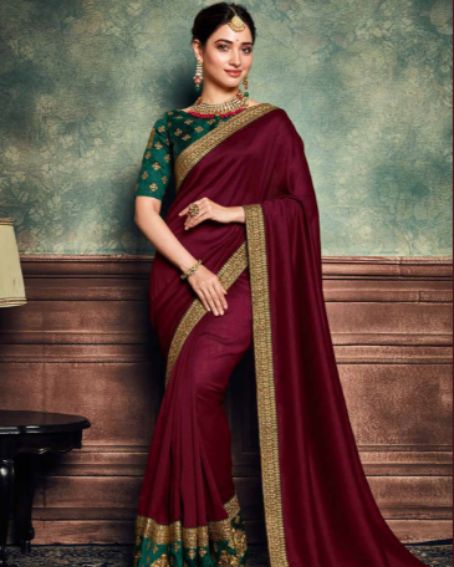 A bold border on a maroon saree comes to life with a striking green blouse that provides a captivating contrast. This combination delivers a visual delight for both young girls and women, including teenagers, effortlessly blending elegance with tradition.
13. Beautiful Maroon Saree with Yellow Full Sleeve with Work Contrast Blouse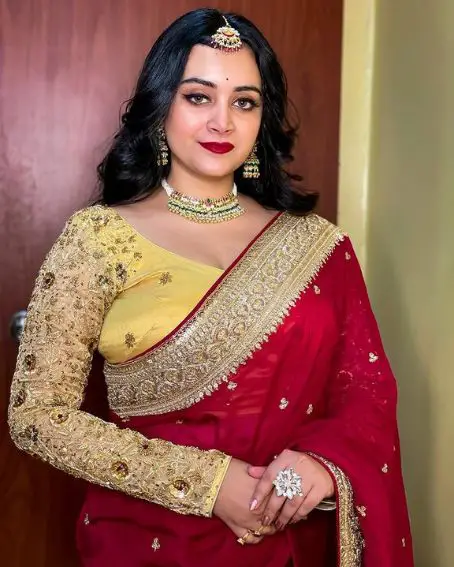 Experimenting with sleeve styles and colors can lead to stunning results. A yellow full-sleeve blouse with heavy work complements a maroon designer saree, adding drama and panache.
14. Maroon Satin Silk Embroidery Work Saree with Contrast Banglori Silk Blouse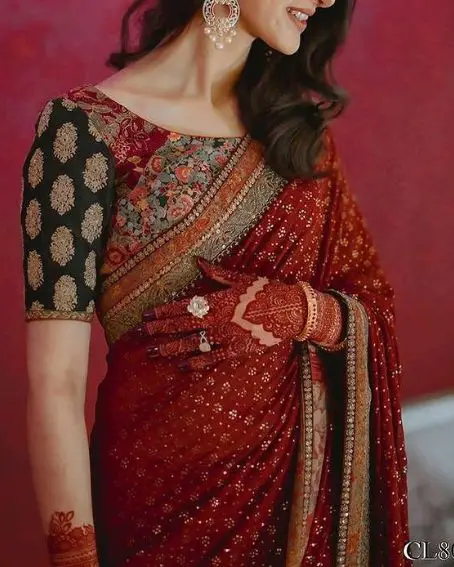 Embroidery work on a maroon satin silk saree is elevated with a contrast Banglori silk blouse. This combination exudes luxury and is suitable for festive gatherings.
15. Maroon Stylish Jacquard Silk Saree with Contrast Gold Blouse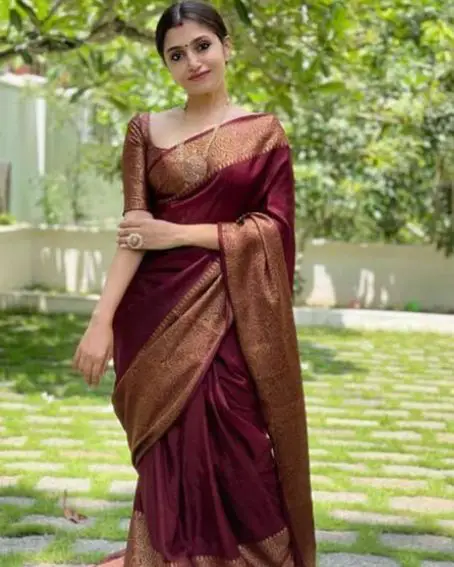 A maroon jacquard silk saree is a canvas for intricate patterns. A gold blouse complements the richness of the fabric, creating a luxurious ensemble for special occasions.
16. Lace Model Heavy Work Maroon Saree with Black Color Contrast Blouse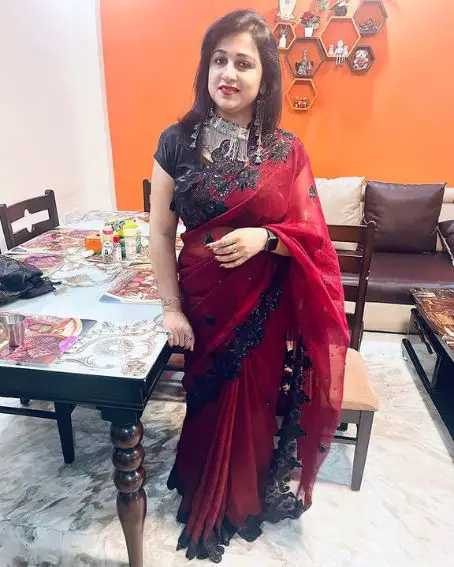 Lacework adds a touch of romance to a maroon designer saree. A black contrast blouse enhances the lace details, resulting in a stylish and sophisticated outfit.
17. Embroidery Works with Original Mirror Work Saree with Contrast Blouse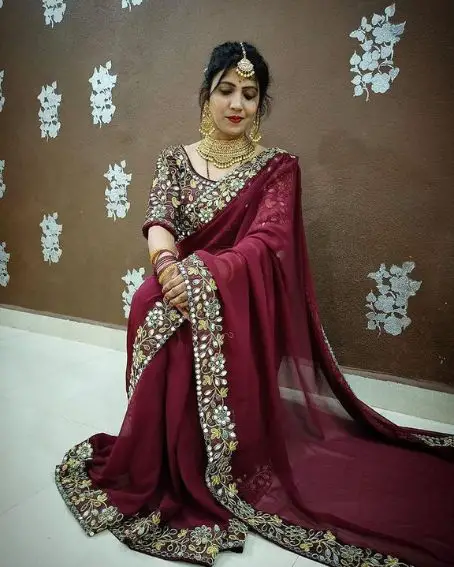 The addition of mirror work brings sparkle and charm to a maroon saree. A contrasting blouse accentuates the intricate mirror detailing, resulting in a captivating ensemble for women, teenagers, and young girls alike
18. Amazing Maroon Colour Saree with Orange Color Contrast Blouse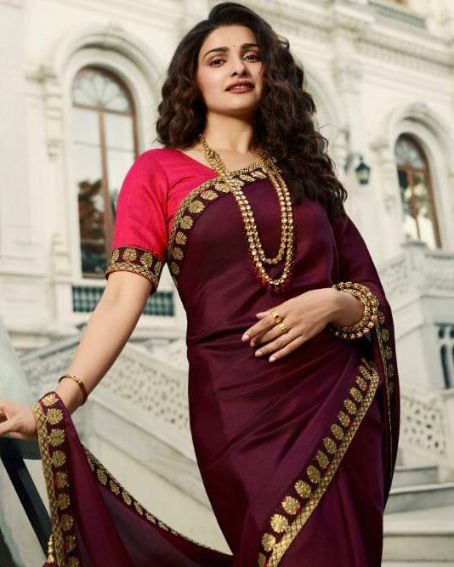 For a vibrant and eye-catching look, consider pairing a maroon saree with an orange blouse. This combination is perfect for daytime events and cultural celebrations.
19. Maroon Cotton Silk Plain Saree Gold Pallu with Contrast Blouse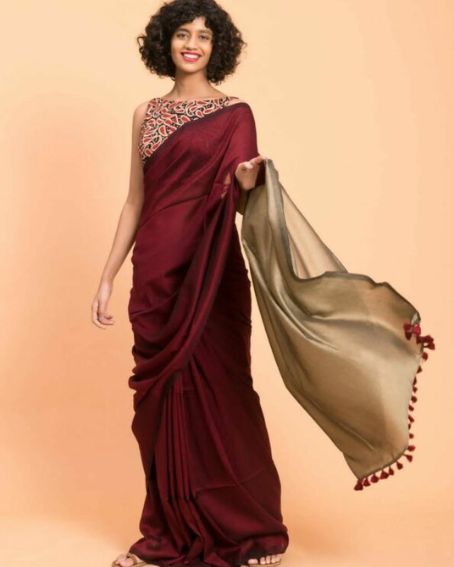 A maroon cotton silk saree with a gold pallu is a classic choice. A contrast blouse adds a modern twist, making it suitable for both traditional and contemporary settings.
20. Beautiful Maroon Lenin Saree with Blue Color Contrast Blouse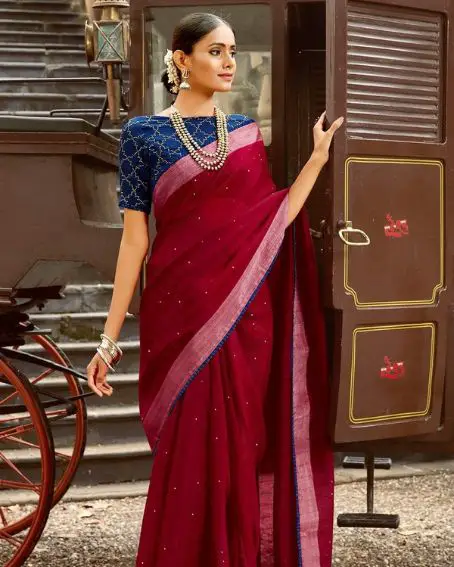 A maroon linen saree exudes simplicity and elegance. A blue contrast blouse adds a pop of color, making this ensemble versatile for various occasions.
Dear young fashion enthusiasts, maroon sarees with contrasting blouses are undeniably a magical combination. The rich and enchanting maroon hue, when paired with the right colors, can craft a stylish and unforgettable look. These sarees suit various body types, allowing women, teenagers, and young girls to feel confident and elegant.
Whether it's a wedding or a cultural event, maroon sarees offer versatile choices that can place you at the center of attention. So, when you're planning your outfit for a special occasion, do consider the timeless elegance of a maroon saree – a genuine fashion masterpiece.
Related Articles