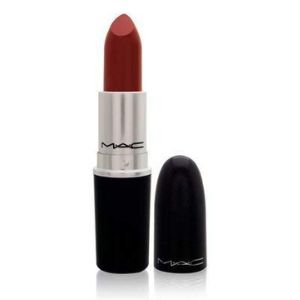 Since the day I started using lipsticks, I have always looked forward to the iconic brand MAC which offers some amazing shades. Apart from shades, the quality of MAC lipsticks is at par. Although building a collection of MAC lipsticks is the dream of every makeup enthusiast, the price holds them back.
Whether we talk about the MAC Brave lipstick line or shades like MAC Ruby Woo, MAC Please Me, or MAC Shy Girl, they have always surpassed expectations. But when it comes to price, the wallet often doesn't allow having all of them. It is when checking on bargain buys or some cheaper MAC Lipsticks alterniatives come in handy.
If you are also not able to afford it, we have listed some great alternatives to MAC lipsticks that are inexpensive and come from trusted brands like Revlon, NYX, and Maybelline. Even though the result will not be ditto, you will still feel the same tint on the lips without breaking your bank.
Mac Lipstick
Before checking the hand-picked MAC alterniative lipsticks, let's find out what makes MAC Cosmetics so popular and demanding and what the ingredients of its lipsticks are.

Ingredients
Whether we talk about the quality of MAC lipsticks or the packaging, everything about them is great. Coming in stylish packaging, they are travel-friendly and suitable to keep in your bag. Each ingredient in these lipsticks is skin-friendly so that the lips stay healthy and deeply nourished. While giving the desired color to the lips, MAC lipsticks don't compromise lip health.
The texture of MAC lipsticks is smooth and creamy. They glide onto the lips and give the right pigment with just one stroke. From matte finish to glossy and shining one, you can find multiple ranges in lipsticks from MAC Cosmetics. While they keep the lips hydrated, the staying power is around 3 to 4 hours.
Some shades in MAC lipsticks like MAC Brave suits all skin tone.
The major ingredients of MAC lipsticks include-
Antioxidant: Glycine Soja (Soybean) Seed Extract, Tocopherol, Tocopheryl Acetate
Skin brightening: Glycine Soja (Soybean) Seed Extract, Olea Europaea (Olive) Fruit Extract
Skin-identical ingredient: Ceramide 3, Cholesterol
Soothing: Glycine Soja (Soybean) Seed Extract
Pros
Made with skin-friendly ingredients.
Suitable for all skin types.
Creamy and smooth texture.
Keeps lips hydrated and moisturized.
Available in multiple shades.
Cons
MAC lipsticks are expensive. Therefore, people often look for MAC alterniative lipsticks that fit their beauty budget and give an almost similar result.
5 MAC Alternatives
1. Revlon Matte Balm Elusive For MAC Please Me
Even though MAC Please Me is one of the most popular shades of MAC lipsticks, you can find the same tint with Revlon Matte Balm in the shade Elusive at half the price. There are many other alterniatives for this brand, like Covergirl's Exhibitionist Lipstick Cream in Darling Kiss, but Revlon's seems the closest.
Moisture-rich balm, giving the best color to the lips.
Comfortable to wear all through the day.
Contains a moisturizing Triple Butter Complex with Shea, Mango, and Coconut Butter.
Delivers perfect color that feels velvety smooth on your lips.
2. NYX Pumpkin Pie For MAC Shy Girl
Ask any girl, and they will tell MAC Shy Girl is one of their favorite shades from MAC. However, all those who want to have this stunning orange but don't want to spend more can take a look at NYX Pumpkin Pie. Both these products have similar shades, with the only difference being that Pumpkin Pie from NYX gives a more creamy matte finish than MAC Shy Girl.
Velvet-textured formulation that offers high shine.
Formulated with mineral oils to moisturize and conditions.
Long-lasting and smudge-proof, suitable for everyday wear.
3. Maybelline Born With It For MAC Angel
MAC Angel is another favorite cult shade that is pretty popular and often goes out of stock. But when you have Maybelline Born With It, why worry? Coming in half the price of MAC Angel, this lipstick from Maybelline is gorgeous in its own ways. From pigment to finish, these two matches each other perfectly.
A rich, creamy, and hydrating lipstick that keeps lips moist and nourished.
Formulated with Shea Butter, it leaves behind a sensuous feeling and a creamy finish for smooth, supple lips, with no feathering or bleeding.
A highly pigmented lip color with a creamy smooth glide during application that leaves lips feeling hydrated, nurtured, and conditioned.
4. Wet n' Wild Bare It All For MAC Kinda Sexy
With its sensual shade, MAC Kinda Sexy justifies its name. It is a stunning nude shade but at a high price. However, it's good that we have an exact alterniative that costs too less. Wet n' Wild lipstick in the shade Bare It All delivers almost the same result and is surely no brainer. If you like using lippies, go for Colourpop's Lippie Stix in Parker, which is also a good alternative to MAC Lipstick.
Semi-matte, long-lasting, creamy matte lip color delivers full coverage in one swipe and glides on easily.
Won't feather or bleed and lasts longer.
Infused with Hyaluronic Acid, Natural Marine Plant Extracts, Coenzyme Q10, and Vitamins A & E to nourish lips and make them soft.
Available in 13 Cruelty-free, Gluten-free, and Fragrance-free shades
5. NYX B52 For MAC Twig
This is another great option from NYX to splurge into instead of MAC Twig. If you are a fan of mauve color lipsticks and looking for the best similar for MAC Twig, this is your go-to product. You can also find the same shade in Maybelline's Color Sensational Creamy Matte Lipstick in Touch of Spice, but NYX B52 is the closest to MAC Twig.
Features a mineral-based emollient formula that offers a beautiful, velvety feeling, saturated kissable lip color that resists wear and smudging.
Delivers creamy and long-lasting perfection.
Certified and acknowledged by PETA as a cruelty-free brand