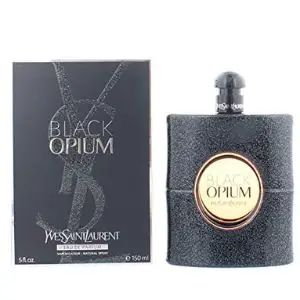 We all have mixed, rather love and hate feeling for Yves Saint Laurent Black Opium, and it is well understood. While the sweet and spicy fragrance makes us fall in love with it, the high price restrains us. Made with a rich blend of vanilla, coffee, and some bright florals, Yves Saint Laurent Black Opium is an addicting perfume. Wearing it will level up the confidence of anyone, making you feel inspired and loved at the same time.
But, can you wear this pricy perfume for your date night or work presentation all the time? Luckily, we have some great Black Opium Parfum Femme alternatives that can make you smell and feel as good as Yves Saint Laurent Black Opium. The best part is you don't have to pay a huge price for them. These alternatives for Black Opium Parfum Femme are as good as the real thing.
Before checking them out, let's find out what makes Yves Saint Laurent Black Opium so amazing and popular.
Black Opiume Parfum Femme Review
Ingredients
Yves Saint Laurent Black Opium has a combination of sweet and spicy notes from rich coffee, vanilla, and bright florals, blended artistically to bring a pleasing and confident aroma. This gourmand and spicy fragrance scream sensuality layered with elegance and feminine appeal that can attract many.
The special scent from Yves Saint Laurent was created by Nathalie Lorson, Marie Salamagne, Olivier Cresp, and Honorine Blanc. The notes of this pleasing scent are the following-
Top notes- Pear, Pink Pepper, and Orange Blossom
Middle notes- Coffee, Jasmine, Bitter Almond, and Licorice
Base notes- Vanilla, Patchouli, Cedar, and Cashmere Wood
One thing that makes this scent stand out the most is orange blossom in the top note, rich coffee in the middle, and warm vanilla in the base, bringing a perfect combination of seduction, pleasure, and coziness together. At the same time, the floral touch brings out innocence.
While the aroma of this perfume will skip your heartbeat, the price tag will make them beat faster. Thankfully, there are some great alternatives for black opium perfume femme that can help save some money.
The major ingredients of Yves Saint Laurent Black Opium include alcohol, water, benzyl salicylate, benzyl alcohol, hydroxycitronellal, butyl methoxydibenzoylmethane, hexyl cinnamal, limonene, linalool, geraniol, citronellol, cinnamyl alcohol, methyl anthranilate, amyl cinnamal, citral, coumarin, and benzyl benzoate.
Pros
Seductively intoxicating women's fragrance
Consists of opening notes of adrenaline-rich coffee and sweet vanilla
Has the softness of white flowers for a young, modern scent
Belongs to a warm and spicy family of fragrances
Cons
Yves Saint Laurent Black Opium perfume femme comes with a hefty price tag which is not easily affordable by all.
5 Best Similar Lipstick Products
1. Guess Bella Vita Eau De Parfum Edp Spray Perfume For Women
Fragrance notes: Top – Italian Bergamot, Cassis, Black Cherry, Mid – Jasmine, Hypnotic Tuberose, Vanilla Orchid, Base – Amber Wood, Tonka Bean, Praline, Fluffy Musk
It is a new women's perfume, counting back to its roots from Southern California and the Mediterranean.
Olfactory Family: Fruity Floral Oriental
2. Ariana Grande Ari Eau De Parfum Spray For Women
Fragrance notes- Top notes consist of freshness of Crispy Pear, Pink Grapefruit and sparkling Juicy Raspberry.
Middle notes consist of a plush bouquet of Soft Muguet and Rose Buds in a velvety bloom of creamy Vanilla Orchid.
Base notes have the sexy fragrance of creamy musk, blonde woods and addictive marshmallow accord.
Comes in a highlighted faceted gem-like shape designed bottle making it look dynamic.
3. Pleasures By Estee Lauder For Women. Eau De Parfum Spray
Consists of shimmering floral blends of Lilies, White Peonies and Jasmine, all tingling with the rare essence of exotic Baie Rose.
Top Notes: White Lily, Violet Leaves, Green Accents
Middle Notes: Black Lilac, White Peony, Karo-Karounde Blossoms, Baie Rose, Pink Rose, Jasmine
Base Notes: Sandalwood, Patchouli
4. Nautica Voyage Eau De Toilette For Men – Fresh, Romantic, Fruity Scent
Woody, Aquatic Notes of Apple, Water Lotus, Cedarwood, and Musk – Ideal for Day Wear
Fresh and salty sea breeze that carries romantic scents of coastal herbs and woods.
Can be worn casually or formally.
5. Pure Instinct Roll-on – The Original Pheromone Infused Essential Oil Perfume Cologne
Comes with the most potent pheromone formulation that affects moods and improves your interpersonal relationships.
Enhances natural pheromone production which inspires affection, elevates confidence and romantic relationships.
Blends with your skin PH to create a one-of-a-kind scent.
Rich & silky texture and comes with a compatible with diffuser.