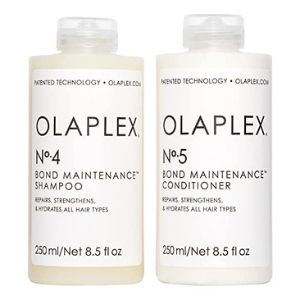 When it is about damaged, dry and frizzy hair, Olaplex is the knight with shining armor. It has become one of the best-selling hair care lines for plenty of reasons, among which leaving the hair smooth, soft, and healthy is the foremost. Even though the price of the products from this amazing brand may seem a bit pricy, it is worth the money.
Olaplex targets damaged hair and work to repair them. With a patent on its technology, formulations, and processes Olaplex has not left any stone unturned to be the number one in the hair care industry. The patented OLAPLEX Bond Building Technology works on a molecular level to repair damaged and broken bonds.
The three major functions that Olaplex performs include-
Repair the broken bonds and rejuvenate hair.
Increase tensile strength and restore elasticity.
Protect the hair follicle from further breakage.
How Olaplex Works
Being a bond-building hair care product, Olaplex works on the cellular level to maintain hair's sanity. Our hair consists of multiple disulfide bonds in the cortex, cuticle, the innermost layer of hair, and the medulla. They are responsible for providing strength and structure to the hair.
When these bonds are intact, you have healthy and lustrous hair. However, when the disulfide bonds break due to some reasons, you encounter problems like hair thinning, dry hair, split ends, frizz, dullness, and damaged hair. It is when Olaplex rescues by repairing the broken bonds and improving hair elasticity, increasing hair strength and shielding them from future damage.
[ Read: Bondi Boost Vs Olaplex ]
Olaplex Ingredients
The main ingredient of Olaplex is-Bis-Aminopropyl Diglycol Dimaleate- It helps to fix the broken disulfide bonds and makes hair stronger. The brand has patented this ingredient, along with the product's formulation and the technology used to manufacture it.
Bis-Aminopropyl Diglycol Dimaleate repairs hair from the inside out. It finds the single sulfur hydrogen bonds and crosslink them back together to form disulfide bonds, thereby making the hair healthy and stronger. The best part is, this single molecule works well for all hair types- straight, wavy, curly, natural, textured, color-treated as well as hair with extensions.
Pros
Suitable for all hair types.
Addresses all types of hair damage.
Protects hair damage that happens due to using heat hair styling tools.
Provide a protective shield while working with curling irons, blow dryers, and flat irons.
Protects hair from color treatment, hair bleaching perms, and relaxers,
Repair damage that occurs from mechanical factors like brushing, pulling, and tugging tangled hair.
Repair damage from environmental factors like pollution, extreme temperatures, UV exposure, and humidity.
Cons
Olaplex is very expensive.
It is the reason people often look for Olaplex Products that can provide the same benefits without causing a hole in their pocket.
[ Read: How To Tell If Your Hair Is Damaged ]
5 Best Similar Olaplex Products
1. Bold Uniq Bold Plex 3 Hair Mask
It offers scientifically innovative bond-building hair treatment.
It improves moisture retention and soothe any damage caused by styling, coloring, chemically treating, or over-processing the hair.
Works for all hair types- curly to dry, colored, frizzy, broken, or bleached hair types.
2. KERAZON Blonde Brazilian Hair Botox Treatment
It is infused with Natural Extracts providing long lasting volume control and frizz management.
It provides a natural look to hair as it is rich in moisturizing and nourishing properties.
Also, it reconstructs the structure of hair and replenishes lost mass.
3. K18 Leave-In Molecular Repair Hair Mask
K18 Peptide is the patented molecular breakthrough clinically proven to reverse hair damage from bleach and color treatment, chemical services, and heat in just 4 minutes.
Renew strength, softness, smoothness, and bounce for hair like new in just 4 minutes.
Vegan and cruelty free
4. Arvazallia Hydrating Argan Oil Hair Mask and Deep Conditioner
It instantly transforms the texture of your hair leaving it soft, silky, and easier to manage.
It repairs, restores, and strengthens weak, damaged, and over processed hair to restore a healthy look while promoting natural hair growth.
It deeply conditions, detangles, hydrates, and revives dull and dry hair improving its manageability and elasticity and giving it a beautiful shine.
[ Read: How Often Should You Condition Your Hair? ]
5. pH Plex 1 protect & 2 repair – Hair Care Set for Protection & Repair with Color
It professionally protects and repairs the hair during Color or Bleach treatments.
It repairs hair damage from day-to-day stress like heat styling, combing, brushing, weathering, and more.
Easy-to-use, world-wide patented salon quality formula protects and repairs your hair during Color and Bleach jobs with no change in your application routine and no compromise in the results