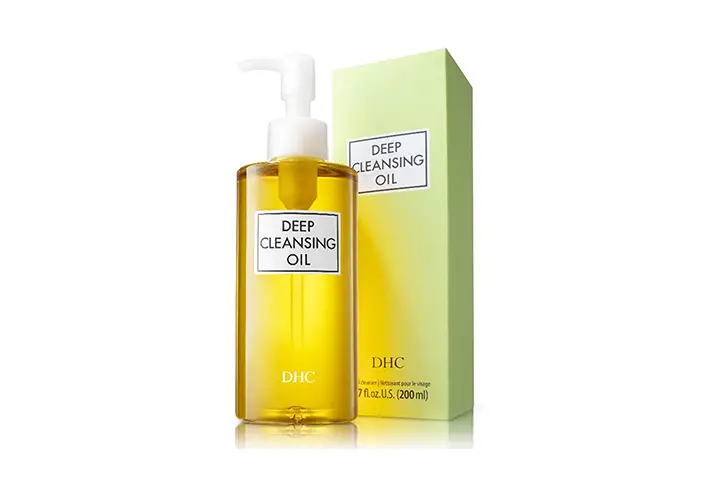 Prematurity age and wrinkles will form if you don't remove your makeup before you sleep. DHC Deep Cleansing Oil is a facial cleanser and makeup remover that leaves skin soft, clean and radiant.
It's a gentle way to keep away all dirt, bacteria, makeup and cells. This product deeply cleanses impurities and leaves your skin feeling soft.
DHC Deep Cleansing Oil
How it Works:
This virgin olive oil based facial cleanser binds with sebum and impurities and effortlessly breaks down stubborn waterproof makeup.
It contains olive fruit oil which protects against environmental damage without clogging pores, rosemary leaf oil helps to tone and calm the skin with a refreshing natural scent.
This product also contains vitamin E which helps to fend off signs of premature aging by protecting skin against free radicals.
Pros:
Dissolves makeup with zero residue.
Cleanses and softens skin without clogging pores.
Effective for all skin types.
Binds with sebum and impurities and breakdown stubborn waterproof mascara and eyeliner.
Provides antioxidant protection against free radicals.
Cons:
Too much cleansing may harm the skin.
Result: 4.7 out of 5
DHC Deep Cleansing Oil makeup remover completely dissolves all traces of dirt and cosmetics even a tough waterproof mascara. So try it and get beautiful refreshed skin.
Frequently Asked Questions (FAQ's)
Q. Can I also use this cleansing oil even if I am not using makeup?
Ans: Of course! Use it on a dry face….makeup or no make up….then rinse with water. You will love how it makes your face feel. And it rinses off really well.
Q. Is it okay to use for oily acne prone skin?
Ans: I had the same thoughts when I first tried (10 years ago with Adult Acne). Was NO problem. But I did use DHC plain non scented soap afterwards.
NOW I'm really a senior and can get by without using soap. But I do follow with Clinique skin freshener #2. Been doing this last 6 months or so.
Q. Does this product contain mineral oil?
Ans: No. I don't think so. Just olive oil.
Alternate Products:
You Might Also Like: