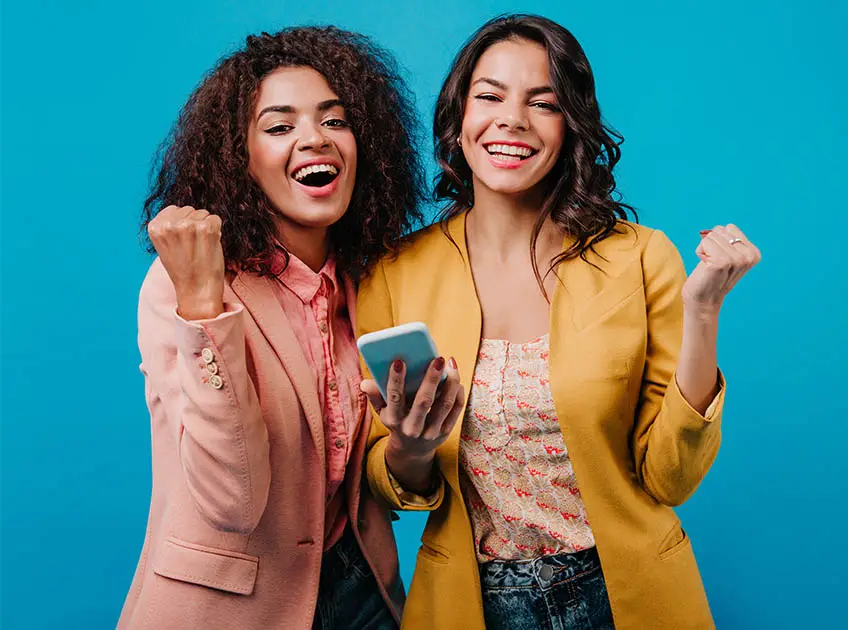 Due to busy schedules, we may lose contact with our friends. But as a long tiring day ends, you can express your warmth through some good night messages for friends. A simple text message can remind them of your care and love for them. This shows how you have been thinking about your friends despite your busy schedule.
This post brings you a list of some funny and sweet goodnight messages to send to your friends.
101 Goodnight Messages For Friends
Stay in touch with your friend by sending her a lovely good night message. Inspire, soothe, and encourage your buddies with these goodnight messages.
Goodnight messages for best friend
Short and motivational goodnight messages for best friends are what you need to tell you are there, and you care.
1. No matter how your day was, leave everything aside and have a good night's sleep.
2. Sleep well so that you can wake up fresh to embrace a new beginning.
3. I just wanted to tell you that you are my precious friend before I end my day. Good night!
4. Another new day is about to begin. Gear up for it with a night of healthy sleep.
5. Don't let the failures of your past affect your future. Every night is an end to one chapter, and every morning is the beginning of a new one.
6. You are an amazing friend, and I am proud of you. I wanted to tell you how special you are so that you can sleep with a smile on your face.
7. I admire so many things about you because you are a beautiful soul. Good night, dear.
8. Sleep well so that you can dream big and have a brighter tomorrow.
9. May the goodnight's sleep lead you towards your dreams. Good night, my friend.
10. Good sleep is a journey that marks the beginning of a new dream. May you enjoy this beautiful journey.
11. Every night is a sign that tomorrow we have a fresh start to make. Sleep well.
12. May your night's sleep be blessed with the most beautiful dreams that make your morning cheerful and happy.
13. Good night, my friend. I hope you enjoy a peaceful, healthy, and happy sleep.
14. May the moment you close your eyes, you go into a sound sleep and wake up with the beautiful morning sunshine.
15. I hope that your sleep is blessed with inspiring dreams and peaceful thoughts.
16. May you get all the rest you need to achieve big things the following day.
17. As you sleep, I wish your soul eases all the burdens, and you are free and happy. Good night.
18. You are a hardworking and dedicated person, and you deserve a good sleep.
19. May the stars bless you with a soothing and healthy sleep and take away all your stress and tension.
20. Sweet dreams are what I am praying for you tonight. Sleep well.
21. I wish the moment you retire to bed, you get a sleep that relaxes your body and mind.
22. May you be blessed with a peaceful sleep and a pleasant morning.
23. I wish a nice sleep for my dearest friend, who is precious to me.
24. May you have a peaceful night infused with beautiful dreams. Good night to my sweet friend.
25. I wish you a sound sleep so that you wake up with a fresh mind.
26. May this night sing you the sweetest lullaby and put you to bed with no worries and no negativities. I wish you a healthy sleep, my friend.
27. Healthy sleep is a must for a healthy body and mind. Sleep well and sleep healthy, my dear.
28. May you enjoy the pleasant dreams of our friendship while you sleep. Good night.
29. May a soothing sleep infuse you with high spirits to chase your goals tomorrow.
30. I wish the dreams of your successful future revive your soul. Have a blessed night.
31. May you get transported to the beautiful beginning that awaits you. Sleep well.
32. Good night, pal. Before you sleep, make sure you thank the Almighty for a blessed life.
33. Sleep well because you are in the safe hands of God. Good night.
34. I hope all the stress of your life ends with the dawn of tomorrow. Have a restful night.
35. May this magical night soothe your body, mind, and soul and pamper you with a sound sleep. Good night to my lovely friend.
36. I wish the beautiful memories of your life will revive as your favorite dreams as you slumber into a deep sleep.
37. May you have a deep and sound sleep to have an exciting morning tomorrow.
38. Good night, buddy. Sleep well, my dear friend, as the morning awaits you with many new opportunities.
39. An interrupted and relaxed sleep will prepare you for a new day tomorrow. May you enjoy a night of deep sleep, my dear.
40. Better days are waiting for you. Sleep well every night with a positive thought in mind.
41. Slumber in peace and break into a new dawn tomorrow. Have a wonderful night! Funny goodnight messages for friends
End your friends' day with funny goodnight messages that will surely make them smile after a long and busy day.
42. Don't look into the mirror before you go to bed if you wish for a nice sleep because you might get scared.
43. I am so sleepy that my phone keeps dropping on my face. I guess I will talk to you tomorrow.
44. My goodnight message is proof that I adore you more than my sleep.
45. Don't be scared because it is dark and you have an appointment with the ghosts.
46. Ghosts only visit those who don't wish their friends good night. You better start wishing me good night before retiring to bed.
47. My scariest nightmare is that aliens kidnaped you as you are so cute.
48. If you don't receive a reply from me, be sure that I have dozed off because of your boring conversation.
49. You have to have some juicy gossip to keep me awake, or else I will sleep, and you will stay awake all alone.
50. If I am important to you, how can you sleep without wishing me a good night?
51. Make sure you don't think about ghosts when you are sleeping.
52. Only a true friend can wish you a spooky night. Enjoy the nightmares.
53. You cannot have sweet dreams every night because I am not around every night.
54. Before you sleep, thank God for giving you a friend like me.
55. I just wanted to tell you that I saw a bug on your bed when I was there the last time. Good night.
56. Make sure you check under your bed so that you can have a blissful night.
57. I cannot sleep because I am wide awake in your dreams.
58. My pillow is upsetting me because I am still not in bed. Good night.
59. Don't forget to say good night to Facebook and Instagram before you sleep.
60. Think of me, and you will have nothing more to be scared of. Good night.
61. All the monsters under your bed have been bribed so that you can sleep in peace.
62. I wish you a good dose of beauty sleep so that you wake up pretty.
63. Don't worry about the scary guys under your house. Just enjoy your sleep.
64. Make sure you sleep like a baby but don't expect a nappy change at midnight. Sweet goodnight messages for friends
Few words of encouragement and support make lovely goodnight greetings. Here are some sweet goodnight messages for friends to send across.
65. Sleep with a calm mind to wake up to a new day. Good night, my friend.
66. Sleep well because God is there to keep you safe.
67. I wish there is just one thing to rouse you from a healthy sleep—the morning sun. Sleep well.
68. May all the pains and tiredness of the day give you a sound sleep. I wish you sweet dreams, my dear.
69. May tonight's sleep freshen you up to face the coming day. Have a sound sleep.
70. I wish that the moon and stars twinkle on you and wish you good night.
71. Good night dear. Slumber with peace and happiness as you are always in my dreams.
72. Enjoy a calming sleep in your comfy pajamas. I wish you a cozy sleep.
73. Let us catch up in the dream world. Good night.
74. May all your dreams be full of smiles and happiness, and all your dreams come true when you wake up from your sleep.
75. May you be wrapped in the warmth of a blanket. I wish you a peaceful sleep.
76. Count your blessings before you go to bed to thank God. May you have a blessed night.
77. The Lord will give you all the strength to fight challenges in life. For now, sleep tight.
78. Enjoy the silence of the night as you retire to your bed.
79. May you have a wonderful night with no stress to bother you but only happy dreams to soothe you.
80. As the moon smiles at you and a cool breeze sings you a lullaby, I wish a good night to the most amazing person.
81. May this beautiful night put you to a sound and healthy sleep.
82. Enter into the world of wonderful dreams and wake up to a bright sunny day tomorrow.
83. I wish that the night sky showers you with a calming sleep.
84. Sleep well as the morning sun will be waiting to spread sunshine in your life tomorrow.
85. As my bedtime ritual, I am sending you a warm good night hug to my true friend.
86. Make sure you take proper rest tonight, as tomorrow will be another busy day ahead.
87. Snuggle into a soothing sleep, my friend, so that you wake up fresh and cheerful in the morning.
88. Drift into a world where there is only happiness. Good night.
89. It is time to put your body and mind to rest. Sleep well.
90. Healthy sleep is a mantra for an active and healthy body and mind.
91. End this long day with a relaxing sleep by slipping into your comfortable pajamas. Good night.
92. Let your soft pajamas pamper you to good sleep.
93. May you have a peaceful rest. Good night.
94. I wish you good night, my friend. Close your eyes so that you can enjoy your dreams.
95. Drift into the world of sweet dreams. Good night.
96. Sleep well so that your morning is bright and beautiful.
97. Just like this night, your dark days are also going to end. Have a blissful night.
98. May this night bring along the most amazing dreams.
99. It is time to sleep without thinking about anything else.
100. Don't take any stress to your bed. Sleep well.
101. Close your eyes and think about the good moments before you sleep.
Friends tend to be around us when we need them the most. They are the most important part of our lives, and sometimes, we may not be able to spare enough time for them. In such cases, a heartfelt message could make up for your absence. Sending heartfelt and loving good night messages for a friend can sum up what you feel about them and how grateful you are for their presence in your life. So reach out to your phone and text these sincere messages to let them know they are in your heart.
Image Credit: freepik
You Might Also Like: