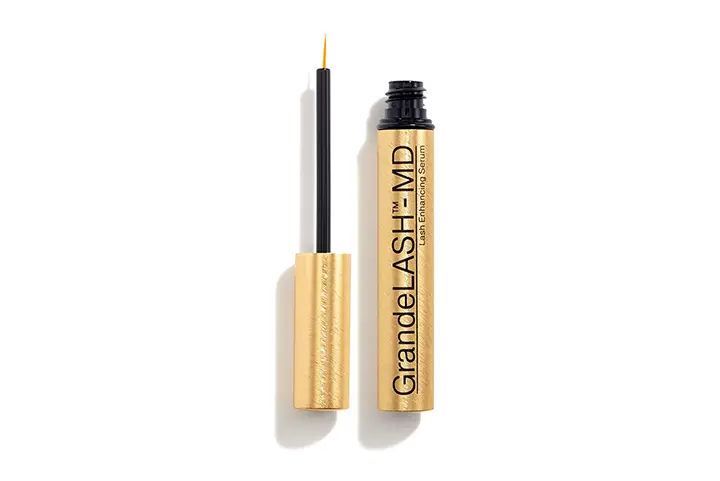 If your aim is to get thicker, fuller eyelashes you can try GrandeLASH-MD Lash Enhancing Serum. It helps to promote the appearance of long, thicker looking lashes.
This award winning serum gives you the thicker lashes in 4-6 weeks. It is recommended for helping to enhance short, thinning or brittle lashes.
Grande Cosmetics GrandeLASH-MD Lash Enhancing Serum
How it Works:
The serum is infused with a blend of vitamins, peptides and amino acids to promote the look of natural thick lashes.
The hyaluronic acid in the formula helps to hydrate even the most brittle of lashes.
Swipe this serum effortlessly to your upper lash line, desired improvement is achieved within 3 months.
Pros:
Single sweep is enough, you no need to do multiple applications or double dips. One dip is enough for both eyes.
It improves sparse, thinning lashes.
It's water based, so it's suitable to use with lash extensions.
Helps to heal the brittle and damaged lashes.
Ophthalmologist tested.
Cons:
Absolutely not suitable for under age 18.
Irritation or redness occurs for some people.
Rating: 4.4 out of 5
An award winning lash enhancing serum promotes the appearance of longer, thicker looking natural lashes within 4- 6 weeks. You can notice the change and with full improvement in 3 months.
Frequently Asked Questions (FAQ's)
Q. When you stop using, do your lashes fall out?
Ans: I have not experienced that. I only use it about 2 days a week now that my lashes are super long and full. The only issue noted is the darkening of the skin around the eyes which is not very noticeable.
Q. Do I use this on bottom lashes? Or just the top?
Ans: Yes you can use the bottom lashes! It works great! Just be sure you apply it underneath your bottom lashes.
Q. Is this safe to use if I have eyelash extensions?
Ans: I believe it's safe but I would make sure it wouldn't interfere with the integrity of your extensions depending on what type of material they are made from; synthetic, natural etc. I used this product because the lash extensions ruined my lashes and the results were AMAZING!!!!!
Alternate Products:
You Might Also Like: