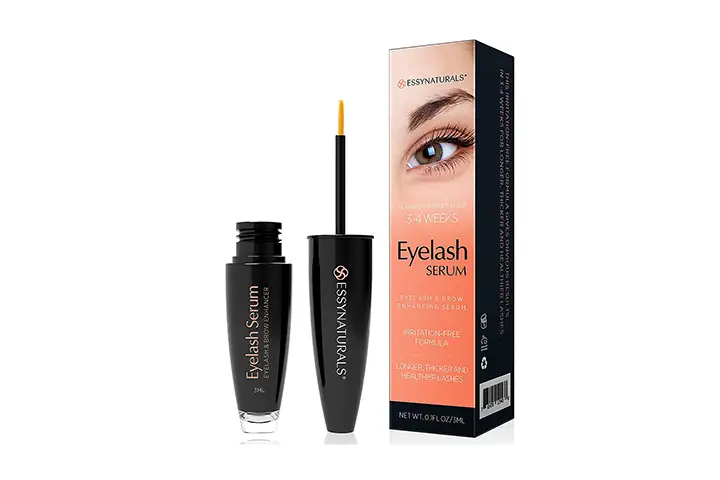 If you don't have gorgeously long lashes, then you no need to worry, EssyNaturals Eyelash and Brow Growth Serum helps to grow the lashes. It is nourishing serum that will help frail lashes and brows to grow stronger and healthier with daily use.
It is specially created to strengthen, magnify, prime, and lengthen your natural lashes and brows. It works gently on the lashes and brows and is safe for all skin types. This serum works great as a primer as well.
Essy Naturals Eyelash and Brow Growth Serum Irritation Free Formula
How it Works:
The advanced formula of this formula is non-irritating and its proven that it helps to boost the thickness and length of eye lashes with only 3 weeks of daily use.
Apply serum to the riot area of the upper eyelashes or brows and find amazing results.
Pros:
It lengthens the eyelashes and brows.
Effectively moisturizes and strengthens the eye lashes.
It is easy to apply.
Reduce brittleness.
This serum has the capability to transform your lash look seductive.
Cons:
Some people have side effects like redness and irritation.
Rating: 4.5 out of 5
This product gives hope to women who lost their lashes. The serum is clinically proven that it will help in growth of lash and brows. Use daily and let the eyelash serum work its magic. Over 6 weeks of daily use saw a 55% increase of natural lashes.
Frequently Asked Questions (FAQ's)
Q. How long will this show its effect?
Ans: Once you stop using it the lashes slowly fall out and you go back to your original length. About a month or so for me. Depends on how rough you are on your lashes and your lashes' natural life cycle.
Q. How do I apply this to my eyes?
Ans: "Easy to Use: With the applicator tip, apply serum to the root area of the upper eyelashes or brows, similar to eyeliner application. The serum works great as a primer as well. Use daily and let the eyelash serum work its magic."
Alternate Products:
You Might Also Like: