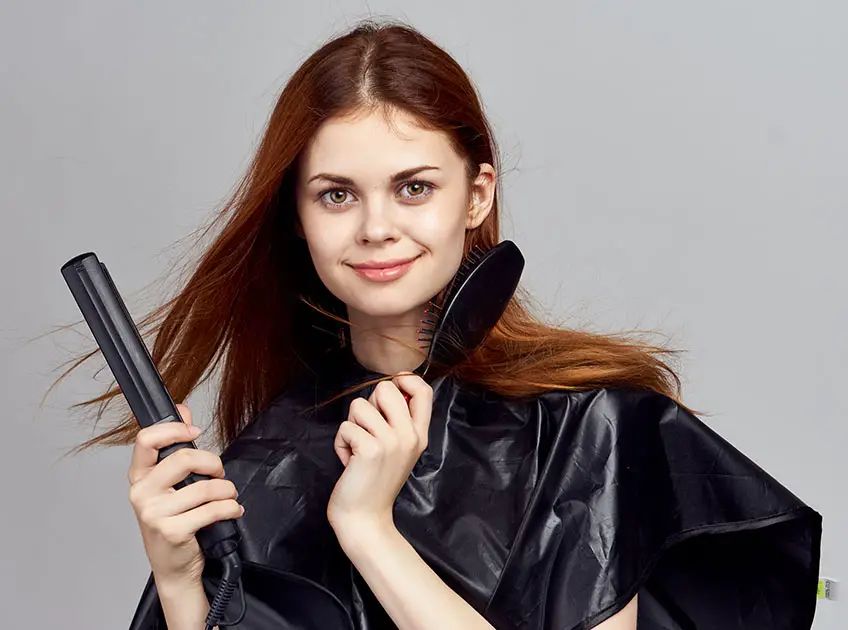 Straight hair and straightening procedures are hugely popular and fashionable these days. Although most girls are familiar with hair straighteners, the hot comb makes its way back to everyone's closet. Now, this blog gives you an idea of what is a hot comb and flat irons and also compares their key differences.
Hot Comb Vs Flat Iron
What Is A Hot Comb?
Hot combs are specially designed for straightening your coarse hair giving it a smoother texture. If straightening your hair using a heat, then hot comb is a quick and effective tool you can use to tame your hair. Since the hot comb could get nearer to your hair roots, the results are flatter and sleeker straightened hair.
Flat Iron
Just like a hot comb, flat irons are used for straightening your hair. Flat irons are most common today because of their contemporary design. They are made up of two heat plates that press together to straighten your hair strands. It works by relaxing the hydrogen bonds of your hair strands.
Comparison Between Hot Comb And Flat Iron
Although these two tools are used to straighten out your locks, let's compare their key differences
Types: There are two types of hot combs available namely, manual pressing comb or stove-iron pressing comb and electric pressing comb. Coming to flat iron types, it comes in a variety of three different materials namely ceramic, titanic, and tourmaline.
Specifications: The features and specifications of hot comb and flat irons may vary depending on the brand and price of these tools. In particular, flat irons come with more features compared to hot comb. Both flat iron and hot comb have adjustable heat settings, universal voltage, swivel cord, and safety features.
Styling time: As both devices can heat up in seconds, an electric hot comb gets heat much faster than a flat iron. For straightening with a hot comb, you will need to prep your hair and that adds up to the styling time. It takes several passes into your hair for a pin-straight outcome and is not required to section your hair while straightening with a hot comb. When coming to a flat iron, it does not require much hair prepping as you are starting with dry hair. However, you have to divide your hair into sections to obtain even results.
Suitable Hair Types: Hot comb is suitable for wavy natural hair. It's hard to use on kinky curly hairs, as its tooth could snag into the hair strands increasing the risk of hair breakage and damage. It is popular among users with thick hair for its pin-straight consistent results. A flat iron, on the other hand, works best on most hair types but it is especially useful for coarse, thick, unruly hair. Also, it works splendidly on Afro-American hair. A flat iron provides less damage to your tresses because you are just pressing and gliding the flat iron and not pulling your hair.
Price: The hot combs are available at lower prices, whereas a flat iron typically costs more money than the hot comb.
Ease Of Use: A flat iron is simple and easy to use when compared to a hot comb. A hot comb can damage your locks as well as causes hair loss if used inappropriately.
Pros And Cons
After exploring the comparison of hot comb and flat irons, let us learn the pros and cons of using these hot tools.
Pros And Cons Of Using A Hot Comb
Check out the pros and cons of using a hot comb
Pros
Heats up faster and saves time
Better results as it can straighten your hair up to very close to your scalp
Provides pin-straight and sleek hair
Perfect for African-American hair
Cons
Does not allow you to control the temperature
Damages your hair
Excess heating can cause dry, frizzy hair, split ends
Pros And Cons Of Using A Flat Iron
The pros and cons of using a flat iron are given below
Pros
Using a flat iron for straightening your hair can maintain a better shape and reduces the frizziness
A flat iron will be able to curl your hair
Available in a vast range of sizes that are suitable for different hair lengths and thickness
The plates on a flat iron are strongly coated with materials that drive heat evenly over the entire surface of the
plates to prevent uneven heating
Cons
Damages hair fibers
Makes your hair brittle, dry
Frequent usage may create Split ends
Harsh texture
Conclusion
On the whole, both these straightening devices get the straightening job done effectively. A hot comb works best for less expansive, finer hair whereas a flat iron works best for untamed, expansive hair. Unlike flat irons, a hot comb does not require dividing your hair into sections to straighten it, thus saving time.
You Might Also Like: