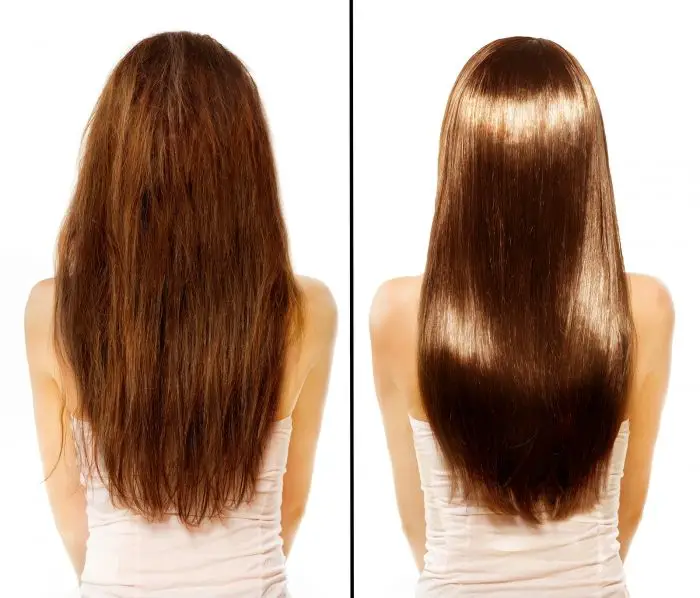 Are you still amazed on reading the title? You can come to a clear conclusion after reading the content below which will give your full information on Japanese hair straightening treatment. Let's start with some introduction and how it actually works.
What is Japanese Hair Straightening?
A Japanese hair straightening treatment is also known as thermal reconditioning, where heat plays a major role and turns any curl into a straight strand. There's a special solution for hair, when it is coated all over the volume it breaks down and loses its bond. Right after the bond is lost it takes a sharp U-turn and shapes the hair along with it's texture, this helps to keep hair straight. This treatment will last for almost 6 months without any hassle. One can swim, play in waters, damp hair and even dance in the rain. Undoubtedly hair will still remain straight even after so many aquatic plays.
History of Japanese Hair Straightening
Yuko Yamashita is one of the famous hair specialists in Japan. According to Yahoo news She's the best hair expert across the globe . Her achievement was to straighten any kind of curls without damaging hair. She launched yuko hair straightening in 1996 to gain fame. In which collagen, keratin and silk proteins are ironed out for smooth straight hair.
The first smooth salon was opened in Japan and that became the formula of success. 4 years later a salon was inaugurated abroad at Beverly hills, US that earned major success. Slowly it spread all across the countries. This method was then declared as permanent straightening of human hair, later this system was granted patent rights in Japan. That's how it succeeded.
[ Read: How To Do Brazilian Keratin Hair Straightening Treatment ]
How Japanese Hair Straightening Works?
Basically Japanese hair straightening relies on a solution, where chemicals activate the hair. When flat iron is applied the solution breaks the bond in hair and allows it to become pin straight. It reaches saturation with the solution. Hair is washed followed by drying hair with a blow-dryer. With the help of ceramic iron ⅛ -inch sections are made, a neutralizer is then applied that locks the style in place. The entire process is very time intensive.
Is Japanese Hair Straightening Harmful?
Let's not say it's harmful but to some extent if extra colors are added then unwanted chemicals react. The risk of hair damage increases with the chemicals. It's not as quick and easy as other hair treatments. As we are allowing external heat supply to hair. It leads to irreversible hair straightening for at least half a year, once it's done you need to wait and have patience. Make a note of all these concerns and go ahead for Japanese hair straightening.
Is Japanese Hair Straightening Permanent?
The solution effect naturally stays for 6months as Japanese straightening treatments are permanent hair treatments, whereas keratin treatments are semi-permanent as they fade over time and take 3months for the original asset. With Japanese straightening either you need to be patient or have creative hairstyles till the curls are back.
[ Read: Homemade Hair Masks To Straighten Hair Naturally ]
Japanese Hair Straightening at Home – Step by Step Guide
Step 1: Pre Treatment
Having the best condition of hair before the process is always a good idea. One can have a hair conditioning mask for smooth and lustrous hair appearance. Make sure coloring of hair or chemicals added recently is avoided completely.
Step 2: Gather All The Required Supplies
a) Japanese hair straightening treatment kit. ( Comes in three different strength levels- mild, normal, strong)
b) Clarifying shampoo
c) Iron blow dryer
d) Ceramic coated straightener
e) Thin plastic comb
f) Deep conditioner
Step 3: Shampoo Hair Wash
This hair wash before the process helps the solution to stick properly on the strands. Clean scalp is recommended without any diet, oil, or stickiness. So rinse thoroughly with a clarifying shampoo.
Step 4: Applying Activator
One has to start with a sample patch to see how long the solution is sticking to strands. The procedure time can vary from 10 mins to 1 hour, depending on the thickness of hair.
It is important that the activator should be done quickly as soon as possible This will help the hair to appear uniformly.
Step 5: Rinse The Curls
Rinse the hair gently and get all the solution out of the hair properly. After hair wash, dry with a towel. Make sure you don't pull or scrub hair because they are prone to breakage after wash.
[ Recommended: How To Get Rid Of Static Hair? ]
Step 6: Blow Dry Hair
It's a very crucial act where enough moisture should be left for flat iron to do its job. Make sure you don't fully dry, slight wetness should be there.
Step 7: Apply Neutralizer
Neutralizer acts on the pH balance of the scalp and hair. Apply uniformly all over the hair so that the accurate balancing of pH is obtained. Leave for 5 to 10 mins before rinsing.
Step 8: Rinse Hair Again
Make sure you wash your hair at least for 10 mins, so that all the remaining solution is taken out of your hair.
Step 9: Final Blow Dry
Here , blow your hair in a downward direction of hair cuticles from the scalp and let it dry for about 90- 95 percent. By now your hair should be pretty straight.
Step 10: Keep Your Curls Dry
Do the best to keep your hair dry for the next 48 hours. It's better if you can afford extra time and extend the drying process for 72 hours. This would help the treatment to last an extra couple of weeks.
How Long Japanese Hair Straightening Last?
You can expect the results of the Japanese hair treatment to last somewhere around 6 months to 1 year depending upon the quality of products used and your natural hair texture. The results of the Japanese hair treatment last longer than the Brazilian hair treatment, which is also known as Keratin smoothening. Any new hair growth would be in its natural texture only.
So, after an year or so, you can expect curly or wavy roots with relatively straight length of hair and then you might have to go for a re treatment for the new growth that has occurred.
The end result also depends upon certain other chemical treatments that you might have got done in past like perming, coloring, highlights etc. So, always go to a well known stylist, with a number of years of experience in hair straightening.
Always, ask questions on how many Japanese hair straightening has your hair stylist carried out and you can also ask for numbers of clients to know how satisfied they were with the treatment done by the hair stylist.
Post Treatment Care
After you have got the Japanese hair treatment done, you have to avoid washing your hair for three days, post treatment. Also you cannot pull them up in a ponytail or bun or even pin it up. Many hair stylists believe that you must not try coloring your hair after the Japanese hair straightening treatment as, after getting thermal reconditioning done, your hair grows very sensitive.
While, there are another set of hair stylists who believe that coloring of hair can be done after a gap of one to two months, at least, after the Japanese hair straightening treatment as coloring changes the bonds of hair at a much milder level than hair straightening treatment does.
You need to use special hair care products that are formulated for straight hair. Your mane has to be protected from sun at all times and has to be properly moisturized, too. So, you might have to go for regular hot oil treatments and hair spa sessions to maintain the beauty of your hair.
Brazilian Hair Straightening vs Japanese Hair Straightening
The results of Japanese hair reconditioning are longer lasting as compared to keratin smoothening.
While, Japanese hair straightening would give you poker straight hair without any kinks, whatsoever,
Keratin treatment coats your hair in a wrap of protein and hence smoothens it out rather than giving a pin straight look.
Side Effects of Japanese Hair Straightening Treatment
If you are fond of trying new hairstyles all the time, put in a lot of thought before going for hair straightening as curling your hair after the treatment might damage your newly treated hair.
If you have a sensitive skin, chances are that your scalp is also sensitive and it might get irritated by the extensive use of all sorts of chemicals and intense heat resulting in hair fall.
So, it is better to get a trial at a small patch of hair to see how your scalp and hair react to the straightening solutions.
Lastly, you have to restrain from other chemical treatments like perming etc till your hair gets back to its normal texture.
Japanese hair straightening treatment includes strong chemicals and processing time so take some time for research before going for the treatment. Know about the treatment completely and even take advice from a doctor or any hair stylist and proceed with the treatment.
You Might Also Like: