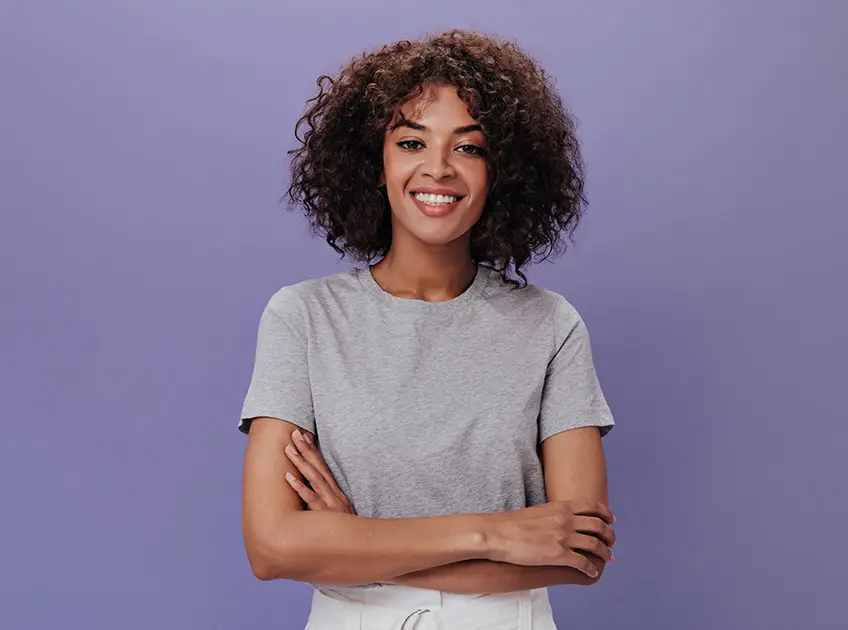 Straightening the hair without a relaxer or any heat with safety can feel like solving a tough math equation. You may think to use any relaxer to get a straighten but it will lead to moisture and cause heavy hair breakage. Over time blow dryers, hot curling irons, and ceramic straighteners can cause damage that leads to coarse and dry.
Straighten The Hair Without Using A Relaxer
Tricks To Getting Straight Hair Without The Help Of A Relaxer
There are some tricks you can try to have straight hair without chemicals. These tricks will work well on people who have finer hair which carries a bit of wave. But for other hair textures, it is a challenging one to achieve the straight hair look without sacrificing your hair health. If you like to embrace the hair with a slight curl or little bounce, you are having more options. You may try different combinations of the tricks which are listed below until you reach a look you like.
1. Hair Wrapping Technique: Wrapping the hair is one of the popular ways to get straight hair without a relaxer, but most people don't know how to use it effectively. But you may be surprised, there are lots of options available on youtube. While there are different methods for several hair textures and lengths, the basic procedures are very much the same. For this, you should have long bobby pins or roller pins and also a hair-wrapping turban or scarf. To wrap your hair, separate the top section and use a medium-toothed comb to comb it out flat. Hold your hair very tight and bring hair around to the opponent side of the head where it naturally falls as well as pin it tightly to the side of the head. Need to repeat this method for every section of the hair that you are separating.
2. Set Cool Option On The Blow Dryer: If you have already got sleek and straight hair with the help of a classic blowout, you may consider changing the option to cool air. It would be better if you use the "cool" setting on the blow dryer and also need to make sure the blow dryer is moving from root to tip. Remember to keep the blow dryer six inches away from the hair when drying it. Hopefully, this method will not be any longer but you should spray on a leave-in conditioner or keep a Straightening serum right away to tame the fly-away strands. Cool hair has been proven to cause less damage compared to air drying alone.
3. Make Use Of Plastic Rollers: You may buy a plastic roller to achieve a glossy finish, for this no relaxation or heat is required. You have to divide the hair into a medium section and roll the products into the hair before going to bed or else keep at least four hours in the hair. But these types of rollers may need some practice, while doing so you will get greater results.
4. Look Out For Products To Straighten The Hair: There are leave-in conditioning products, shampoo, conditioner, and hairsprays that are easily available to calm and relax your hair. With the help of the best products, you can achieve easier style. Smoothing serum and also keratin-packed spray on conditioner will coat your hair strands and relax the curls.
5. Go For The Hair Mask Option: You can condition the hair with a DIY hair mask which will give a shiner and straighter look. Hair masks that restore the protein in hair could make curly hair appear more relaxed. You may use manuka honey, raw egg, or avocado for the deep conditioning. In addition, you can also make use of warmed almond oil or coconut oil as hot oil treatments to strengthen and infuse the curly hair.
[ Read: How Often Should You Condition Your Hair? ]
6. Apply Essential Oils: There is some essential oil that is readily absorbed into the hair compared to chemical products. Argan oil, almond oil, and macadamia oil can all penetrate the hair follicles and also repair the cell inside. If you are using wrapping, cold blow dry, rollers, or another technique to style the hair use the essential oil of choice. Warm the oil and spread it through the hair evenly. Need to focus on the ends of the hair too and not apply more than a needed amount. By doing this you can get a sweet scent and also beautiful gloss to the hair. Applying essential oil on hair helps to get the style that you want.
Conclusion
Styling your hair may make you happy and assist you to get confidence but overdoing will cause damage to the hair. If you like to straighten your hair without a relaxer then look over the above-mentioned blog and follow to get the excellent style.
You Might Also Like: