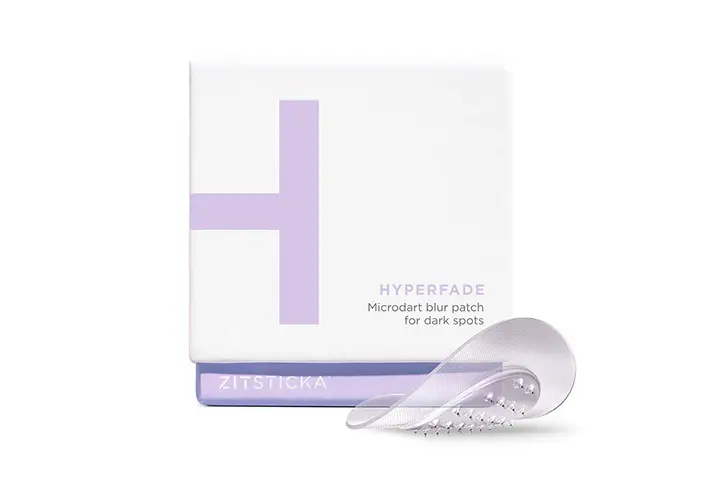 Win the battle with zit using Hyperfade by Zitsticka. It helps to lighten dark spots and sunspots. This product not only helps to lighten the spots but also helps to brighten the skin.
It goes deep into the skin, each patch is layered with 24 self dissolving micro darts that meet within 2 hours of application and make you get rid of dark spots.
HYPERFADE ZitSticka
How it Works:
The ingredients of this product are hyaluronic acid, it helps to reduce the visibility of fine lines and wrinkles and retains skin's moisture.
Niacinamide helps to minimize redness and lessen the appearance of pores.
It also protects from sun damage.
It also contains vitamin C, arbutin, licorice root extract, tranexamic acid and kojic acid.
All these ingredients are proven that they lighten the spots and brightens your skin for young looking skin.
Pros:
Helps to fade post zit damage.
Affordable.
Developed Zitsticka's board of dermatologists.
Protects from age spots.
Best for fresh or stubborn dark spots.
Cons:
Takes time to fade out spots.
Rating: 3.9 out of 5.
Hyperfade is a deep acting micro dart patch that fades the appearance of a dark spot, after your zit has run its course . Lightening, brightening ingredients melt into the source, fading dark spots from inside out.
Frequently Asked Questions (FAQ's)
Q. How many come in a package?
Ans: 12 Patches.
Q. Does this work on old spots too or only fresh marks?
Ans: HYPERFADE has undergone extensive testing on both new instances of post-zit damage and more longstanding dark spots, and is efficacious for both.
You Might Also Like: