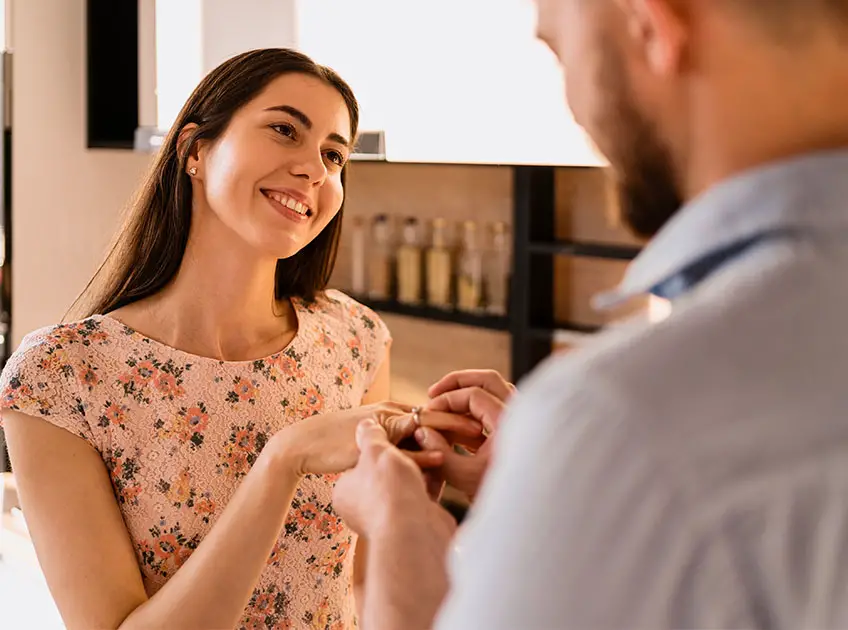 Saying "I love you" to someone special may seem easy, but in reality, you could be lost for ideas to convey these three magical words endearingly. Also, before you utter them, you need courage and
Confidence. Here's one way you could do it effortlessly – send them a lovely "I love you" poem.
Keep scrolling as we have compiled some of the most-loved I love you poems for him and her. Read each poem and share one that touches you to the core with your love interest.
45 Best I Love You Poems For Her
Send her one of these I-love-you poems to make her feel pampered or to express your deep feelings for her.
1. Would It Be Ok?
Would it be ok if I took some of your time?
Would it be ok if I wrote you a rhyme?
Would it be ok if I opened my heart?
Would it be ok if I took on the part
Of being your man and showed you a view,
One that only a real man could do?
Would it be ok if I could make you smile?
Would it be ok if I held you awhile?
Would it be ok if I kissed your face?
Would it be ok if I were to replace
All the men in your past that just wouldn't do
And vow to be faithful and always be true?
Would it be alright to look in your eyes?
Would it be alright to never tell lies?
Would it be alright to find a way?
Would it be alright to long for the day
To pull you close and whisper in your ear
And tell you our feelings are nothing to fear?
Would it be ok if I took some of your time? Would it be ok if I wrote you a rhyme?
To tell you there's nothing I'd rather do
Than spend my whole life loving only you…
—Ryan Stilz
2. You Changed My View On Love
I praise God for sending me you, my love. I praise him for changing my view.
Now you are here with me, and I'm here with you. Now will you let me love you?
I always thought that love was wrong,
But everything changed when you came along. For the rest of my life, I want to be with you, To touch your hand and stay with you.
I'll stay beside you, honest and true.
Till the end of my time, I will always love you. In my lifetime, I'll never leave you.
Now and forever, I'll be there for you.
Love is divine, mine is true.
I love you more than I ever knew.
Will you please let me love you?
I thank God for letting me see you.
I thank Him for giving me you.
Now I want to shout that I love you.
—Samiul Zubair
3. For Her
Your lips so soft and red.
The thought of kissing you is stuck in my head.
Your beauty so bright and warm,
shinning through the darkest storm.
Your eyes sparkle like stars in the night sky.
When I stare into them I feel like I am soaring high.
My love for you is pure and true.
I never stop thinking of you.
The sound of your voice saying, "I love you," makes my heart pound, because I know my one and only I've truly found.
I promise to love you for every moment of forever,
and when everything else crumbles, I will never.
I am your armor to protect you from harm,
like you are to me, a lucky charm.
For you are my heart, my soul.
Baby, you are my whole world.
—Jamie Emms
4. You
It's that look in your eye.
It's the smile on your face
That makes time slip by,
And I know I'm in a better place.
It's the memories of you I have
That make any grey sky turn blue
And lets me know these feelings I have
Are true.
Getting lost in my dreams
With the mere image of you.
It's hard to imagine; it seems
A future lost, one without you.
So I leave my arms open,
And I'll wish and may pray,
Eyes focused and hoping
For your embrace just one more day.
—Bryce Jennings
5. A Toast To Forever
You're the one I can't live without.
This fact is true, I have no doubt.
I love the way you smile at me.
I love the way together we're free.
You may be strange and slightly loony, But all this means nothing to me,
Because you are who you are,
And I can see your beauty
Inside and out,
Which is what threw me.
When every day I see you,
Till then I cannot wait.
To know what we will go through
Is in the hands of fate.
The first time that I saw you,
I knew I must steal your heart.
I hope that it's mine forever
And that we never do part.
You are the one I love the most,
And to this here fact, I propose a toast; May we grow old and still have fun, Because I love you and my heart you've won.
—Josh Mertens
6. A Thought True To You
Roses are red,
Violets are blue.
Sugar is sweet,
And I love you.
Your smile is amazing.
Your beauty so true.
Your eyes shine like stars.
They will see our love through.
You're a gift from the angels.
They made you in heaven,
The girl that I dreamed about
Since I was eleven.
You came into my life
And you turned it upside down. You're an absolute princess,
Worthy of more than a crown.
I promise you everything,
Everything I have to give.
I promise to love you
As long as I live.
You're my absolute world.
You mean everything to me.
You're perfect,
And you always shall be.
—Sean Raine
7. My Melody
Amazing and beautiful,
not a flower or a tree.
Much prettier than that,
and only I can see.
Loving and caring
right down to the core.
Filling me with happiness
and so much more.
Eyes are so stunning,
cannot look away.
Gorgeous and shining
all throughout the day.
Here in your arms
is where I belong.
The beating of your heart
is like a beautiful song.
—Eric Pribyl
8. The Way I Love You
The way l love you
I never really know how you feel
I can't read your mind
I just keep waiting
Take me to your heart
Show me where to start
Let me play the part of your first love.
Oh, l know how down deep you love me
But are you ever gonna love me
The way l love you?
—Stephen Osei Acheampong
9. Holly
Her beauty is that of a million diamonds glittering in the sun
Each reflecting its own ray of light making brilliant patterns
The angels gasp in the wake of her presence
She in herself being a masterpiece of God's work
As his giant gentle hands molded her he knew exactly who she would be
She would be the one who could make a man stop and gasp
Who could content a man just being within his arms
Making him fill with warmth through just a brush of the lips
Whose smile could light up the surrounding darkness
Whose laugh could make anyone believe they had wings
She would be the one who that young man would fall for
Who would see her true beauty in the surrounding gloom
Who would long for mere minutes with her
Who would always long for just the feel of her hand
He would know how lucky he was
He wouldn't mistake infatuation over love
He would realize all prayers had been answered
He would simply pray "I want her to be the one"
—Brandon
10. Shadowing Eternity
A special place for you and me,
An undying bond to guide us free.
Loneliness blocking the day,
Our Love lighting the way.
Your gentle touch,
Your smiling face,
There is no corner,
No dark place.
Our passion flowing in the waves.
My heart stands still
Awaiting your pace.
Our love, withstanding time,
Diminishing doubt in our mind.
There is no place I'd rather be… Than in your heart and in your dreams…
—Oscar Grullon
11. Just A Glance
just A Glance And There You Were Just a glance, a look and there you were, for me to have, to choose, to care for life is nothing with no dare.
it's boring when it's all care,
wasn't sure you'd look my way, for like looking for a needle in hay, finding true love is the same way, and I thank heavens for that day,
love you I will forever,
the ties we have to never sever, always around you in a tether,
all our time we spend together,
like the famed birds of a feather,
did not know you would leave,
thought you were around to live, your absence though hard to believe, love will I always
—Peter
12. My Everything
Why are you so beautiful?
Why do you take my breath away? How did I get so lucky?
How are you perfect in every single way?
Your laugh should be illegal because it's too cute. I never want to spend a minute without you. The way you kiss me takes my breath away. Seeing you is the best part of my day.
You are so special,
And I'm glad that I can say you are mine,
Because when I'm with you I feel extraordinary All of the time.
—Emarah H
13. You're My
You're my sun on a cloudy day
You're my umbrella on a rainy day
You're my everything what can I say
You're in my mind each and everyday
I think about you when I lay down to bed
I think about you while I am taking a test
You're my Number one and you're the best You're like a tattoo in my mind that will never be erased I'll Love you forever because this isn't a phase It's just that I love you in my Unique way
—Neftali Rosales
14. I Love You
I can't talk to you without feeling honor.
I can't see you without feeling wonder.
I can't touch you without feeling pure.
I can't feel you without wanting more.
I can't hold you without feeling safe.
I can't kiss you without feeling great.
I can't miss you without feeling pain.
I can't meet you without wanting to again.
I can't watch you without feeling awe.
I can't love you without feeling loved.
I can't lay with you without feeling passion.
I can't stay away without feeling rationed. I can't dream of you without sleeping soundly. I can't cope without you around me. I can't sleep without you in the bed. I can't be alive without feeling your breath. I can't think without you on my mind. I can't leave without feeling unkind, But most of all,
I can't exist without you in my life.
—Harry Boslem
15. In Your Arms
In your arms you hold me tight,
Never letting go through the night.
All my dreams are peaceful because of you, Holding me in your arms like you do.
Your lips are as sweet as ever;
I wish to kiss them forever.
My heart beats only for you,
Holding me in your arms like you do.
When we met I knew it was fate.
I found my one true soulmate,
As I look into your loving eyes,
Knowing our love will never die.
So hold me in your warm embrace. In your arms I'll be no other place.
To be with the one I love, which is you, Holding me in your arms like you do.
—Kaylee
16. What She Is To Me
Look at the beauty in her eyes,
a glow that shines like the sunrise.
Her smile opens up the cloudy skies,
her laughter delights butterflies.
The ocean greets her as she passes by.
Her gorgeous toes leave their mark, saying goodbye.
Gentle breeze through her hair,
she walks elegantly while astonished eyes all stare.
Rosy cheeks cover her face.
A flower-child blossoms, kindly accepting embrace.
She is a thorn-less rose without compare.
She is the love my heart will forever endear.
—Darren C Swartland
17. For Someone Special
The fear of rejection was stopping me, but I don't have the time to waste. I'm past cloud 9 when I place my hands around your waist.
I know lately things have been kind of crazy,
but there is no denying it girl; I want you to be my baby.
I want to be the one you talk about when you talk to your friends about the one you're loving, The one you can run to, the one you can confide in.
I want to be the one to keep you warm when it's cold;
give you a hand to hold.
Someone to depend on when life gets rough.
When you're not here, pictures and dreams just aren't enough.
Sometimes I cant find the words to describe your beauty,
and don't disagree, you look pretty hot to me.
I want to be the one to loosen the cuffs when they too tight.
I'm the one who will have you smiling from the break of dawn till the late night
'Cause the truth is if the angel of death came to me tonight to take me off this earth, my last wish would be to see your face first.
I know there is no angel that could ever match your beauty and style. Nobody on heaven or earth can come close to that beautiful smile.
—Tommy B
18. A Moment Of Truth
My dear love, I wanted to share
My thoughts, my feelings and
What makes me despair.
I want to share with you
What makes me happy what makes me feel blue…
So you can sense that my love is honest and true.
Every day, not a single minute
Passes by without you in it.
Your skin, your voice, your body and your touch.
All of these moments, I miss them so much.
You are so present, so deep in my heart,
And our souls, I just know, will never part,
But circumstance and distance can be so overwhelming
They close doors and create doubt and we start blaming.
There are actions of mine, and I know that for sure
That feel so wrong, though my intentions are pure
They are painful and impossible to bear
And you feel it's all so unfair.
You can't run from yourself;
There is no place to hide.
It just hurts you so deep.
It hurts your heart and your pride.
Then I worry that if I continue to stay.
Will it be wrong and will I be in your way?
I fear that I am not at all what you need
And that this truth will make my heart break and bleed.
Then I sit here and wipe away my tears,
Wishing you could kiss away my fears.
If only you knew how much.
I miss and need your embrace and your touch.
I know I can't hide from my thoughts and my fear, And I know at these times I don't seem near, But you break down these walls
With the strength of your love,
And then I feel blessed
From God above!
My love for you runs so deep through my vein That I dream of you, in spite of the pain.
—Silke Wettergren
19. Secret Admirer
I wish I were a bird
every morning I would fly to your place
and sit at the window
to be the first one everyday
to see your lovely face
I wish I were the dew
when you pick the rose
and smell its scent
I would silently wish you morning
and kiss you on your nose
I wish I were the mirror
the mirror on your wall
when you would ask me
I would tell you my love
you are the fairest of them all
Every morning when you pray
I wish I were the sun rays
to see you and be your admirer
and pray for your happiness
God bless you with grace
Oh if, I were . . . I wish I were
or be me only
singing to you the song of love
if you would hear only.
Singing to you till my death.
—Sagar Yadav
20. Untitled Love
Your beauty is unspeakable.
Your love is inescapable.
And I have fallen deep for you.
The heavens twilight stars,
Lit up the night sky,
And I saw you through the midnight gloom. Winters death,
Took away my breath,
And stopped the bloom of love.
But the radiance that came from you. Reflected off the snow,
Melted away all my fears.
And dried all my tears.
Now I pray to see you again.
In the chilled wind,
I smell your perfume.
My love is only for you.
How long I've waited to see your face again. I wish this wouldn't end…
I wish I could send,
A love letter straight to your heart.
From me to you, my love is true.
A vampire, I wait outside my tomb. To see you again
To be in a lovers sin…
I pray unto the gods.
I pray unto it all.
So I won't fall,
Far from you…
Just please my lover take my heart…
—Michel Joseph Ortiz
21. Take My Hand
Please take my hand, come walk with me I will show you the way, and let you see How love and happiness will make you feel And make your life feel so unreal I will hold you tight
All through the night
And never let you out of my sight For you belong to me
For all the world to see
—Kevin
22. You Got Me Writing
I haven't written a poem,
Since the last time I was hurt,
I haven't written a poem,
Since my heart was ready to burst, But now you got me writing,
Not because I'm sad,
Now you got me writing,
About things I never had,
I never had someone call me,
And tell me they care for me,
I never had any one,
Just stop and stare at me,
And tell me that I'm pretty,
Even when I looked bad,
And tell me that I'm sexy,
And tell me to never be sad,
I've written you these poems,
So you would know how I feel,
I want you to know I want you,
And I want you to know I'm real.
—Shak Tabib
I Love You Poems For Him
If you have deep feelings for him and want him to know how you feel about him, send him one of these sweet I-love-you poems.
23. Baby When You Hold Me
Baby, when you hold me, my emotions makes it clear
Just how much you mean to me while we are laying here.
I listen to your heartbeat in rhythm with my own,
With every pound that warming sound keeps me safe with love you've shown.
Baby, when you touch me with hands so soft but strong,
You wrap me in your warm embrace, just where I belong.
You hold me close and comfort me all throughout the night
Until you open up your eyes to first signs of daylight.
Baby when you kiss me before you start your day,
The happiness you bring my heart, no words can ever say.
You make my life so beautiful, wonderful, and new.
You're my hopes and dreams. You're my everything; I'm so in love with you.
—Shelagh Bullman
24. Love In Your Eyes
When I am looking into your eyes,
I see all the love you have for me.
I see in your eyes you care for me a lot.
I see your love for me is true,
And you will do whatever it takes to have me in your life.
When I am looking into your eyes,
I see your love for me is unconditional.
Your eyes tell me you will never leave me.
You will always stay by my side
To protect and cherish me.
When I am looking into your eyes,
I see with you everything is possible.
I see in your eyes your love for me is everlasting. Your eyes tell me you really, really love me.
—Youseline Bazil
25. My True Love
I have a feeling
That I can't comprehend
In my deepest thoughts you are
More than just a friend.
I wouldn't want to
Rush us now
As love we explore
But there's a growing love inside
That we just can't ignore.
I love the times we
Spend together. We are comfortable
And free. I think of you when we are
Alone. I think of you and me.
We have shared
Secrets to uncover. There's more
To life. We will both discover.
I love you always.
I'll love you when you're dumb,
I'll love you when you're smart,
I'll love you anyway you are,
Right from the start.
I'll love you if you're tall
I'll love you if you're short,
I'll love you if you're pretty,
Or just an ugly dork.
I'll love you if you're toothless,
I'll love you if you're blind,
Anything that's wrong with you,
To me you'll be fine.
My heart is opening up now,
Unlike it used to do,
I see the pain that's in your heart
And sometimes I feel it too.
I'll love you tomorrow,
I'll love you today,
I'll love you forever,
And forever always.
—Hailey L. Sturgill
26. If I Thought
If I thought for just one moment that this would be my last breath, I'd tell you I'll love you forever, even beyond death.
If I thought for just one moment that your face would be the last I'd see, I'd take a million pictures and save them just for me.
If I thought for just one moment that your voice would be the last I'd hear, I'd listen attentively and promise not to shed a tear.
If I thought for just one moment that your touch would be the last I'd feel, I'd embrace you and know that this has all been real.
If I thought for just one moment that my heart would beat its last beat, I'd thank the Lord for allowing us to meet.
—Dana Schwartz
27. The Meaning Of Love
To love is to share life together,
to build special plans just for two,
to work side by side,
and then smile with pride,
as one by one, dreams all come true.
To love is to help and encourage
with smiles and sincere words of praise,
to take time to share,
to listen and care
in tender, affectionate ways.
To love is to have someone special,
one on whom you can always depend
to be there through the years,
sharing laughter and tears,
as a partner, a lover, a friend.
To love is to make special memories
of moments you love to recall,
of all the good things
that sharing life brings.
Love is the greatest of all.
I've learned the full meaning
of sharing and caring
and having my dreams all come true;
I've learned the full meaning
of being in love
by being and loving with you.
—Krina Shah
28. Let Me
Let me take care of your broken heart and show you how to fly.
Let me hold you gently by the hand and kiss your tears goodbye.
Let me lead you to tomorrow's light and out of needless rain,
'cause all I want right now
is to see you smile again.
Let me sing you all the songs I wrote 'til you sleep in my embrace,
and I'll keep you safe and warm until the sunlight strokes your face.
Let me bring you up the mountain's peak, and I'll let you touch the skies
to remind you of the strength I see
when I look into your eyes.
Let me kiss and show you what is love and the happiness it brings.
You'll sail again like a butterfly
endowed with pretty wings.
Let me do all these to let you see
our fates are intertwined.
You're the accidental precious gem I've waited long to find.
The earth and sky conspired to make us meet. They knew we both belong
to each other like words and lovely notes give life to every song.
So fly with me, my beautiful one.
It's time we leave the past.
I'm yours to keep, and you are mine. We're finally home at last.
—Randy Batiquin
29. Silence Is Golden
It is not your conversation
That keeps me entertained
But rather the way you look at me That makes me feel sustained It's the curve of your lips
And the curl of your hair
T'is all of the little things
That make me stop and stare
It is not your intelligence
That drew me close to you
It is not your sense of humour That has thrown me all askew It's the touch of your hand
And the thoughts in your head T'is all of the little things
The things that don't get said
It's not your vivid history
That's made me fall in love
It's not your comprehension Of the world or what's above It is your soft temperament
And the way you smile at me T'is all of the little things
That make me want to see
It's not when we are talking
That I want to know some more It is not whilst you teach me I learn what I'm looking for
It is the time we spend alone
And the time in utter silence
T'is all of the little things
That form a strong alliance
It's not the job you work so hard
That shows your true commitment
It's not your crazy habits
That give me great fulfilment
It is the way you use your hands
And the way I have been chosen
T'is all of the little things
Why I know silence is golden
—Hannah Eardley
30. Sweet Dreams
S- You are so Special to me!
W- You are a Wonderful man whom I love Wholeheartedly! E- I am in Ecstasy when I am with you!
E- Every touch Energizes and Electrifies my body.
T- Your kisses are Tantalizing and Terrific and Taste like sweet wine.
D- You, my Darling, I save all my kisses for you!
R- I love having Romantic evenings with you!
E- Our Evenings are so very Enjoyable!
A- You are Awesome, and I love having Adventures with you! M- I cherish our Magnificent Moments all the time.
S- I love when we Snuggle and feel the Sensual energy!
—Rosemarie DiEmedio
31. Ask Me
Do I really love you?
Look into my eyes.
The shine you see is the light of my soul.
Notice my smile,
how spontaneous and true!
My face in your presence,
my lips caress your name.
Can you not hear the hum of my body responding to your nearness? My heart keeps time.
Touch me,
I tremble.
Hold me,
I sigh.
Kiss me,
I melt.
Ask me,
I love you!
—Adriana Rajca
32. Into The Flames
The crisp air
Pushes hearts
Close
Into the heated air
Under sheets of cream
The reasons why not to
Drift away with every
Beat
Far from the
Reasons that have
Burned away
If there was everything
To lose, If there was nothing to gain
Ready to fall…fall once more Into the flames…
33. The Love I Feel
To hold you close to have you near
To have my breath against your ear
Whispering the words I long to say
Being able to show you my passion in that special way, The loving, caressing, kissing would feel so right Expressing our love right through the night
Our bodies joined as one in pure ecstasy
Thrusting, moaning, loving as You become part of me Reaching that point there is no going above
Our bodies explode together in out throes of love After, cuddling, laughing, talking all part of us too I look up smile and say I love you.
—Linda Morrow
34. My Weakness
Until I met you my heart stood still
Like the moon and the sun
Their love is true
That's how I feel when I look at you
Passion burning like a wildfire
You are my weakness, my heart's desire
Take my walls down
And leave me bare
With you I have no care
Breathe me in slowly
Take me in
Press your lips against mine
An innocent sin
I'm done dreaming of a better man
Waiting for him to take me by the hand
Because what I found is so much more
Dreams became reality when you walked through that door. —Kanani Johnson
35. To You
To you I give the whole me,
For I believe that you're my destiny.
To you I offer every best of my heart,
For I believe that you will value it.
I want to share my whole life with you
For me to show that my love is true.
I want to hold you in my arms
And sing you songs and lullabies.
Loving you is what I want to do,
Although I know that it can make me blue
'Cause tears in my eyes have nothing to do
If I'm with a man that is you.
—Michaela Tatualla
36. Love At First Sight
When first we touched,
My heart flew high,
On gossamer wings through a cloudless sky.
They said it was built upon a lie.
They told me my feelings would surely fade.
Passion would flare, and foes would be made.
Can you not put the past behind?
True love can change a river's course
Or pierce the strongest vault with ease.
True love can turn coal into gold
Or tame the tempest to a balmy breeze.
Quite some time has passed since then:
People no longer criticize.
For now they see that truth exists
Where once there might have been only lies.
Still my feelings are the same today
As they were on that very first,
For when we touch, my heart still flies on gossamer wings through cloudless skies.
—Danielle C. Thomas
37. Love Sits On My Shoulder
Love sits on my shoulder and whispers in my ear. It tells me how you love me and the words I want to hear. Love is growing with you and filling in the gaps. Love is our tomorrows, our future, and our past. Love binds the ties together and secures them with a knot. Love is our plans that we outgrew and the ones that we forgot. Love is what we've had together all these blessed years. Love sits on my shoulder and whispers in my ear.
—Jac Judy A. Campbell
38. The Music Of Love
Our song of love is pure and fair
All hurt the music can repair
As heaven comes to us on earth
And makes us one in our rebirth
And now we're open to the tune
The world may fall but we're immune
It binds us two in sweet refrain
And twirls us 'round and 'round again
Each heart in harmony now beats
And lifts us both up from our seats
To dance and swirl in unison
In perfect pitch, us two made one
Each giving up the solo roles
And harmonizing with our souls
An orchestra of pure delight
Our song lights each and every night
This tune a symbol like a dove
A perfect melody of love
—Inviron
[ Read: 17 Best Gifts For Music Lovers ]
39. My Hero
You are the world,
As seen through perfect eyes.
Your tenderness, your love,
Ever present in your actions.
Your smell lingers in my memories,
Even when you're gone.
I will never forget it.
Pain, hurt, regret,
All find themselves,
Too tired to trudge on,
In the fierce protectiveness,
Of your arms.
Wisdom is carried in every word,
with the sound of your voice,
And the way you smile,
Is the greatest argument,
That goodness exists.
You have never caused pain,
Yet you have vanquished many evils. You are the greatest hero,
That I have ever known.
—Rebecca J. Turner
40. A Day Without You
A day without you is a day without Hope!
A day without you is a day without Happiness!
A day without you is a day without Existence!
A day without you is a day without the Sun!
A day without you is a day without Warmth!
A day without you is a day without a kind Word!
A day without you is a day without Laughter!
A day without you is a day without Kindness!
A day without you is a day without A Friend!
A day without you is a day without Love!
—Joseph Boris
41. When I'm With You
In your arms,
I'm in my safe haven.
With you holding me tight,
I have no other craving.
All I need
is that one look
that says you're always there, just like in a fairy tale book.
Your eyes talk to me
as the world stands still.
My once empty heart
now with love does fill.
Your eyes tell me
that you'll love me every day.
No matter what may come,
you'll be there to stay.
I tell you everything
and never with a lie:
all my worldly secrets
and everything that once made me cry.
Everything in my past,
with you I can forget it all.
I know I can trust you
to catch me if I fall.
If only I could explain
how much love I have for you. Then maybe, just maybe,
you'd feel it too.
—Blakelee
42. My One, My Only, My Everything
For so long, I wished for the day.
The day that our love would find its way.
From my heart and into your soul,
The feeling so strong, I had no control.
When that day came, when I found you again, I vowed never to make the same mistake.
I knew I would never let you go,
For my life is now complete in a way I cannot show.
For eternity I will spend making you believe,
You are the sole reason that I breathe.
My life is yours, my hopes and desires too.
Until my dying day, my heart is reserved just for you.
You are everything I could ever need and more, More than I deserve or would dare wish for.
You are my baby, my angel, my dream girl.
I'm thankful every day that you are my whole world.
For the time I spend with you, my heart truly sings. My one, my only, my EVERYTHING.
—D Lancaster
43. He(art)
To love another with all of your heart
Can be seen as a work of art.
You brush, you stroke, you pour, you spill,
And upon each action your heart will fill.
Hours are spent in an endless gaze
That shall remain for all your days.
With each addition to the paper,
You realize your love will never taper.
And in the end you will finally see,
That all of your mistakes were meant to be.
—Eboardmana
44. A Lover's Poem
I never knew love until I found you.
Always thought it was a myth until you showed me it was true.
A fairytale story that I thought would never come true,
But all that changed when I ran into you.
Never in a million years would I turn back the hands of time.
Even through all the heartaches and break-ups,
I manage to find a path that led my way to you.
Never thought true love existed until I found you,
And I hope you feel the same.
I see it in your eyes, and everyone knows the eyes don't lie.
We have our ups and downs, but our love remains the same.
Never will I curse love because I found the true meaning.
—Quinetta Hawkins
45. A True Romance
You're the best thing to happen to me,
So let our love fly free.
You're my dream come true,
Even if we are a bit cuckoo.
You're the man in my life.
One day I'll be your wife.
You're the one I turn to.
I'm so glad I met you.
I gave you a chance,
And we found romance.
We will fight the cold weather
In our life together.
I never imagined that this would occur,
Life flying by in a blur.
Now nothing will ever break us apart,
For you have a valuable piece of my heart.
I know this is true,
Because life without you
Isn't worth living.
All my love to you I am giving.
—Dani
Share one of these I-love-you poems as a voice message or text message with your love interest occasionally. Words have the power to express the true feelings of the heart and bring you both closer.
Image Credit: freepik
You Might Also Like: