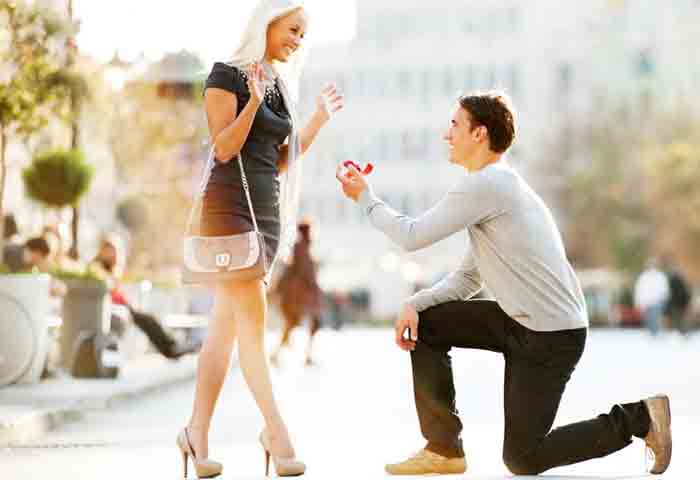 Being in relation always calls for something new, more and unique. The thing which is persistently between the relations is accepting the fact that you both love each other. How well would you express this in words? You say, I love you to your partner. Anything more? Well no, there have been many times when you thought about altering this word but always feared whether it would create the same impact like what the word I love you does.
How to Say I Love You – 25 Creative Ideas
Here we brought you a short guide on how to say I love you in different ways.
1. Write appreciation words in different colours and make the word I love come in through it. Hope you understood what I mean.
2. Call her parents and let them know what is your future planning about both. This will indirectly convey you strong love.
3. Gift him something which he would love and would stay up to for long years.
4. Ok, you can surely gift him chocolates and some more stuff! Just make sure he loves these things.
5. Invite her to the place where you actually met for the first time or perhaps you can take her to the place where you were on your kneels for her.
6. Plan a perfect date for her, which means everything should be what she does, what she loves and her other demands should be fulfilled.
7. Cherishing old memories is always fun. If you thought being in long relationship you were bored later, you can revise these old memories once and make him realise, he is wanted and love.
8. Pick up a book and gift it to her. The book may probably have a character or the main hero, which Is he.
9. Try to get a bit fancy. I know cloths which you wore years back would not fit you now, but then you can try wearing sometime which you wore on the first day of relationship.
10. Look into her eyes for 10 minutes, hold her hands and ask her to breathe slow. This would surely be a memory for you.
11. Share a ritual with each other. Like some couple kiss each other at 12 am when the day ends, and a new day starts. Even if he starts, you can make this a tradition that will help to build strong relationship with each other.
12. While he is all set for going to work, you can make him spare 5 minutes for you. You can kiss me twice, thrice and when you proceed further, whisper in his ears saying I love you. And now, we are sure he would spend a good day in office.
13. Give a hand written letter to your partner mentioning all the things he have done for you and what are your memories with him.
14. Give him nothing but just a greeting card, thanking him for all the sacrifices and love he gave in some many years.
15. However, it is always not necessary to publicly show your affection but sometimes you can proudly make her feel wanted by complimenting her between your friends or colleagues.
16. You can shoot your own video, edit it secretly and gift him back surprisingly.
17. If you love road trips, ask him about it. Road trips are always best to express your feeling irrespective of the whether condition. You can hold him tight, blow his ears, shout , scream and say "I love you"
18. Dedicate that one viral song, which you thought narrated your love story or perhaps his attitude. There would be anything which connects the song.
[ Read: 50 Interesting Questions to Ask Your Boyfriend ]
19. You can cook dish which he loves and then send it directly to his doorstep. So he loves cakes? Yum!
20. If you are married, you can share your responsibilities equally. Like your husband can iron your cloths including the blouses, saree, dresses and other garments. This would surely lead to strong bonding between each other.
21. How about kissing each other? We think, this is the best way to express your love to the partner. Just a forehead kiss or a hand kiss is enough to make him realise your love for him.
22. Did you know speaking in code was just meant for couples and yes, they feel so excited for such things? Speaking in code generally means talking to each other in such a code, which no other than you would understand. It is important to develop a speaking code, because sometimes you want to convey something which only your partner should understand.
23. Try to make something creative, like if you love making best out of waste, well done! You can express your love with some freshly bakes cakes, cookies or anything which would reflect your love.
24. When you are busy in your work, you can simply call him and say I love you.
25. Give him a wakeup kiss and a good night kiss every day.
Here are some quotes to say I love you in different way.
"No matter what has happened. No matter what you've done. No matter what you will do. I will always love you. I swear it."
Defiance by C.J. Redwine
"It's one thing to fall in love. It's another to feel someone else fall in love with you, and to feel a responsibility toward that love."
Every Day by David Levithan
"I'm in love with you, and I'm not in the business of denying myself the simple pleasure of saying true things. I'm in love with you, and I know that love is just a shout into the void, and that oblivion is inevitable, and that we're all doomed and that there will come a day when all our labor has been returned to dust, and I know the sun will swallow the only earth we'll ever have, and I am in love with you."
The Fault in Our Stars by John Green
"Sometimes I can't see myself when I'm with you. I can only just see you."
Tiger Lily by Jodi Lynn Anderson
Even if you haven't seen Love Story you probably know this line. The movie tells the tale of Oliver Barrett IV Harvard student who falls in love with Jennifer Cavallari working-class girl. The two star-crossed lovers end up marrying, despite the wishes of Barrett's father, who disowns him. As the couple struggles to establish their new life, Barrett discovers Jennifer is ill and will soon die. After Jenny dies, Barrett's father apologizes to his son, who says, "Love means never having to say you're sorry."
Thanks to Dirty Dancing most teenage girls now believe true love is having a man lift you in the air while you dance to "(I've Had) The Time of My Life." Sadly, that dream hasn't happened for many (if any) of us Jennifer Gray wannabes. But that doesn't stop us from shouting, "Nobody puts Baby in a corner!" Every time we want to do our own kind of dancing'. Am I right?
But I love you I'm totally and completely in love with you and I don't care if you think it's too late. I'm telling you anyway."
Natalie Portman in No Strings Attached
"I love you, with no beginning, no end. I love you as you have become an extra necessary organ in my body. I love you as only a girl could love a boy. Without fear. Without expectations. Wanting nothing in return, except that you allow me to keep you here in my heart, that I may always know your strength, your eyes, and your spirit that gave me freedom and let me fly."
Coco J. Ginge
The hours I spend with you I look upon as sort of a perfumed garden, a dim twilight, and a fountain singing to it. You and you alone make me feel that I am alive. Other men it is said have seen angels, but I have seen thee and thou art enough.
George Moore
For hearing my thoughts, understanding my dreams and being my best friend… for filling my life with joy and loving me without end… I do
My debt to you, Beloved,
Is one I cannot pay
In any coin of any realm
On any reckoning day – Jessie B. Rittenhouse
Ah, lady, when I gave my heart to thee,
It passed into thy lifelong regency – Gilbert Parker
"Immature love says: 'I love you because I need you.' Mature love says 'I need you because I love you.'" – Erich Fromm
"If my love were an ocean,
there would be no more land.
If my love were a desert,
you would see only sand.
If my love were a star-
late at night, only light.
And if my love could grow wings,
I'd be soaring in flight." ––Thirteen Reasons Why by Jay Asher
"I want to be the friend you fall hopelessly in love with. The one you take into your arms and into your bed and into the private world you keep trapped in your head. I want to be that kind of friend. The one who will memorize the things you say as well as the shape of your lips when you say them. I want to know every curve, every freckle, and every shiver of your body.
I want to know where to touch you, I want to know how to touch you. I want to know convince you to design a smile just for me. Yes, I do want to be your friend. I want to be your best friend in the entire world." ––Unravel Me by Tahereh Mafi
You Might Also Like:
Image Credit – 1