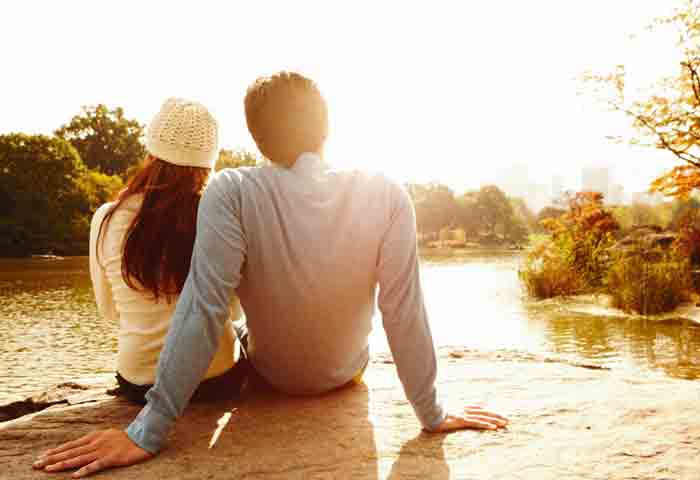 After a few words of fights and debates, all you know is "he is your love" and so than, you go back to him with a hug, truth and kisses around this cheeks. This is what we call is love, faithfulness, being committed towards each other. So, what we all want is how to be faithful in relation! Well, about faith and trust this is the key component that helps the relationship to sustain for a longer period How to Fix a Broken Relationship? of time, and we hope you live together lifelong. Ditching back your partner, and being a bitch does not speak any sense, fashion and morals. Holding back on your partner, however he is shows you to be a one man women.
Aah! Now, let us know how well and how far we can stay in relationship and how we can stay in relationship.
[Related: 10 Things You Should Never Do in Love ]
1. Communication:
The most important thing in every relationship is communication. What we call in simple words is communication lines between both the partners.  You need to converse with your partner after every particular period of time, and share with him about your mood, anger issues, happiness or whatsoever you are doing at that period of time. The same applies to your partner too. Well, when talking about communication, I would like to say, you are not supposed to disturbed your partner now and then. Yes, sometime you both may be independent individuals, but disturbing them while he is keeping busy in his work, might irritate him.
2. Sharing:
Faithfulness, trust and love stands well, fine and strong only on the base of sharing your emotions with partner. Keeping a whether check with your partner is the most in every relation. If you are angry to him, you are depressed by a particular thing, had a fight with your colleague or  boss, want  to speak something on his face, want to confess about things, than you are free enough to share your views, thoughts and bombard him with words every time. We hope he would understand you and your anger, no matter what you say then.
[ Read: 5 Reasons Why Fighting Is Good For Your Relationship ]
3. Don't Forget About the Sex Life:
Remember, not always and everyone is good at bed. When we say about relationship, you need to have sex. Well, sometimes sex is must in the relationship. I would say some people actually don't understand how to get down and get satisfied while some don't understand the logic of getting oral sex done. Whatsoever, he thinks about your sex life is extremely important to be taken care about. If you well and good with your sex life, you can guide him out on how to be on bed, or make him practice likewise with you. You would enjoy and he would probably be addicted to your happiness.
4. Remember Minor Things:
When most of them say, most of the guys are lethargic and actually are not bothered about some special dates of your life, than I say, "you remember them". Sending him a small gift card or gifting him a rose on his first salary or if he got promotion, can help to increase the value or care and faithfulness in relationship. You can make him remember about the first time when you both met, or you can arrange a small dinner talking him back to those memories of love and time you have spent together.
5. Understanding:
As I said, before communication is the biggest thing in a relationship but when it comes to talking or sharing, it needs a particular timing, whether and off course the surrounding. When he is facing various family and job struggles in life, it is absolutely not expected to share or celebrate your happiness with him. You should understand him, and also try to know why he is behaving in a different way. It is not necessary, he may speak to you about his family problems or personal financial issues, but you being a life partner or a partner should try to understand his weird behavior and evaluate things accordingly.
[Related: 10 Habits of Happy Couples ]
6. Sacrifices:
Sacrifices can sometime play a vital role in your partner's life, which can become a strong reason to get hold of your lover forever. Not everyone and anyone can actually sacrifice for their partners, but when you are expecting to make this relationship a long lasting one, you would probably need to go through few struggles of being in love, commonly called as sacrifice. When we think a few sacrifice can do nothing to do, than recall that the lord always sacrificed for his children and blessed us to do the same on earth.
[ Read: 9 Reasonable & Unreasonable Expectations In A Relationship ]
7. Keep Trying to Impress Your Lover:
Who says, once you start dating, he is all yours? Well, even if he satisfied with you, what is the harm is if we always try to impress our lover. Impressing lover can help to bring faithfulness and perhaps build in better relationship between each other. You should have the passion; you impress your partner according to his choice, with your power of uniqueness. Passion is the power that can drive your partner crazy and allows the curiosity to rule the relationship. When there is curiosity in the relationship, you would never be bored and perhaps, there is new reason to love your partner once again.
[ Read: When Should You Say "I Love You" In A Relationship? ]
8. Respect:
For the couple who thought to be always faithful and understanding to each other, they should better know the concept of respecting each other. Being a human, you deserve respect in the same proportion like you always wanted love in your life. Love without respect is not a love anymore, but love and respect in your life can blossom your life and fill them with memories and love.  Life isn't worth living when you are no longer respecting your partner and talking them just for granted.
9. No Fake Promises:
Yes, I will buy you a 5BHK flat, a car, a luxury villa, a wardrobe completely filled with brands and so and so and so…. Now, what would you expect in return? May be this is not something you are expecting in future, and the reality speaks of being in just a position of talking care of your house and rest expenditures. Making fake promises, or i would say, exaggerated promises often lead to heart break and splits of relationship.
10. Maintain Your Friendship Out:
This may be frustrating on a part of women, to take of you and then your friend's calls, messages and enough of their meeting. Who says, you need to sacrifice your friendship for the sake of love. Most of the times, the relationship are over burdened by expectations and when they are not fulfilled, generally a partner decides to date someone who would rather fulfill her expectations. The same goes with the idea of maintaining your friendship outside! When you spend maximum of time with your friends, this makes your partner search someone who would rather take care of her and spend some time for her. Now the choice is yours.
Here we have guided you on how to be faithful in your relationship! There are various factors that can affect a healthy relationship and we hope you go long way with him…
You Might Also Like:
Image:- 1