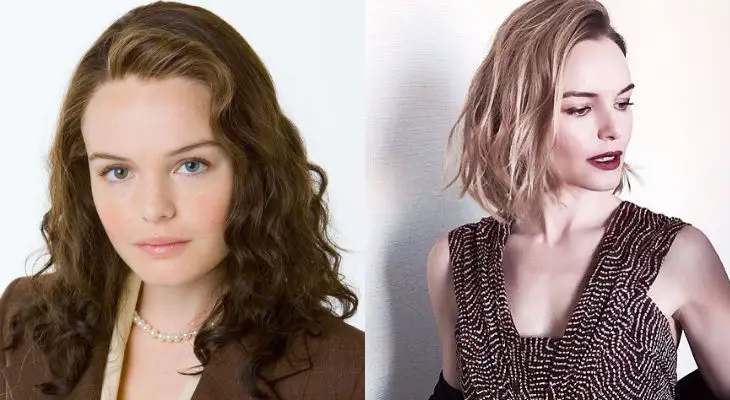 From bobs to braids, fringe to bun there are so many splendid hairstyles out there, but it is hard to know where to begin these styles. With the top stylist and trending hair products, Kate Bosworth is constantly stepping out in hairstyle that renders major strand envy. She used to change her style often as you change your T-shirts, picking a favorite celebrity's hairstyle is not an easy one. To make things very easy, here rounded up some of the marvelous Kate Bosworth hairstyles. Keep scrolling to get the best hairstyles.
18 Mind-Blowing Kate Bosworth Hairstyle Trends
1. Kate Bosworth Mid Braided Blonde Hairstyle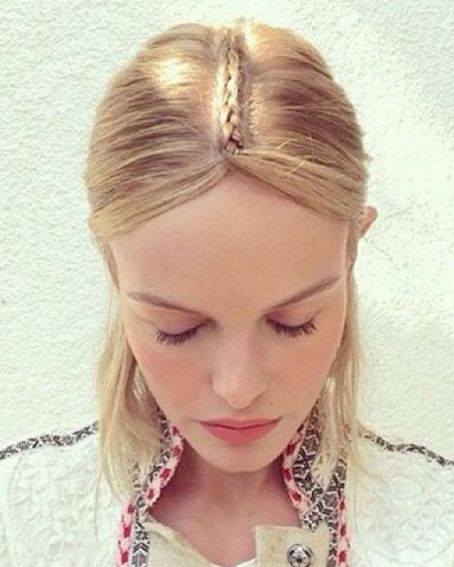 If you have long hair, you may probably go for a braid hairstyle. Kate Bosworth's mid-braided style is easy, quick, and looks so elegant. Do you have a different trendy style? then wear this for any parties.
2. Kate Bosworth High Bun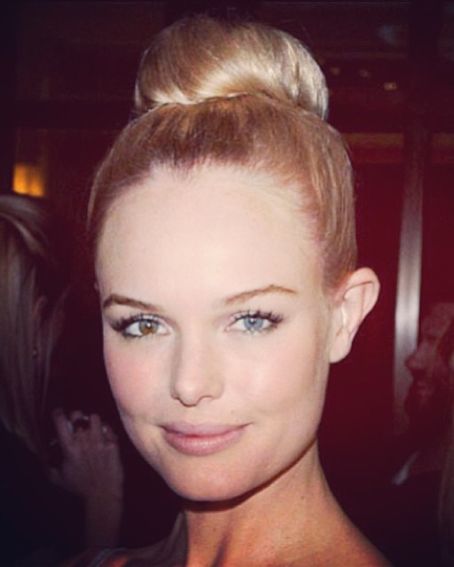 Slick hair is all the rage now, to get a Late Bosworth high bun to apply some lightweight hair gel and comb back the hair. Are you sad about having thin hair and like to have voluminous look? Use a bun maker to achieve this particular style.
3. Deep Side Parted Long Shiny Hair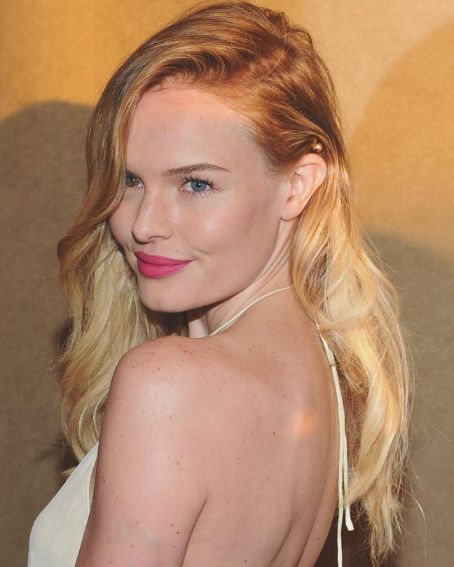 Kate Bosworth's deep side parted long shiny hair is a relaxed and effortless style that bestows you with an alluring view. If you have natural waves, then keep the hair healthy is all that is needed to nail this excellent look.
4. Amazing Kate Bosworth French Twist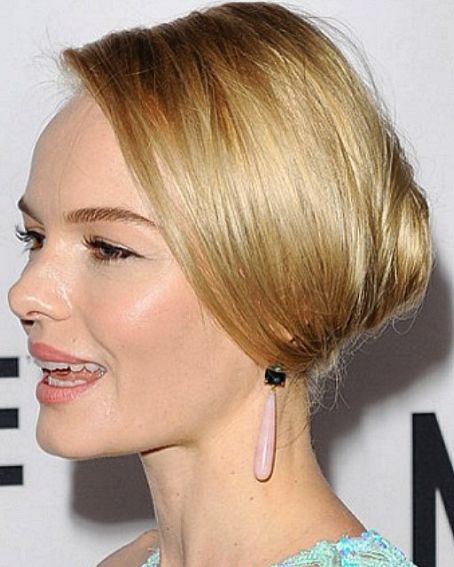 Kate Bosworth's French twist is a unique style. It is a classic hairstyle that gives superb comfort to working women. Ensure to use a wide-toothed comb to obtain this mind-blowing hairstyle.
5. Kate Bosworth Side Crown Braided Hairstyles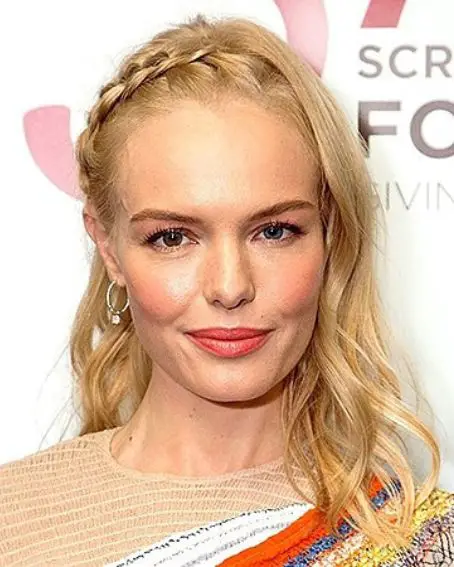 This Kate Bosworth side crown braid is one of the most stunning hairstyles of all time. Use the waterfall braiding method on one side. Wrap the tails of the braid around one side of the head to create a crown effect.
6. Kate Bosworth's Tight Bun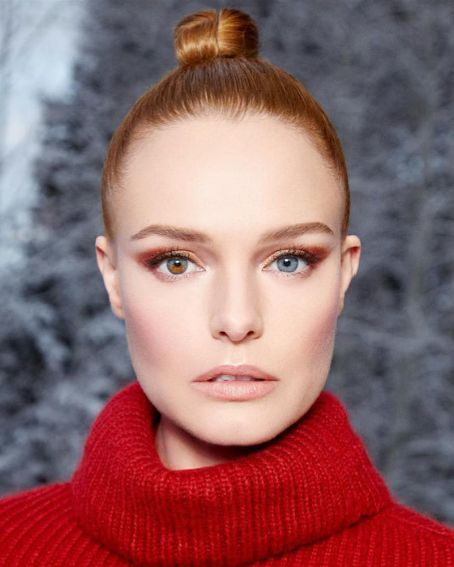 This tight bun is an easy and quick style that defines your overall look. Do you like to have celebrity hairstyles? Then have Kate Bosworth's mesmerizing tight bun style to rock your event.
7. Kate Bosworth Shiny Straight Hair With A Headband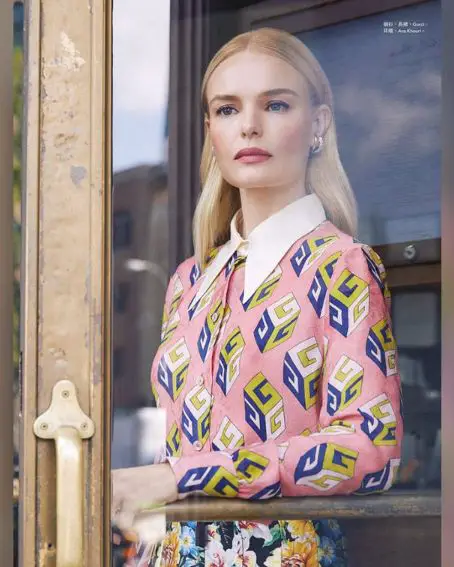 Kate Bosworth looks extremely cute and classy with this shiny Straight hair. The pink headband adds extra beauty to this style, and it often bestows onlookers spellbound. This hairstyle can work wonders on a round-shaped face like Kate Bosworth.
8. Kate Bosworth Twisted Ponytail Hairstyle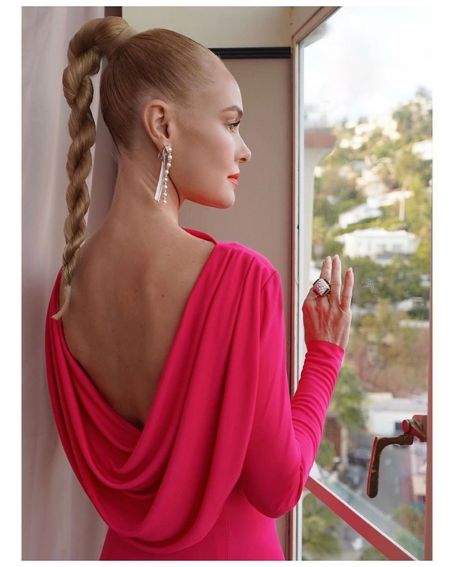 You may think this Kate Bosworth twisted ponytail style is very complicated, but it is not true. Her ultra-smooth style perfectly fits her pink dress and the jewels she wears. Twisted hair enhances her charming features.
9. Chic Short Bob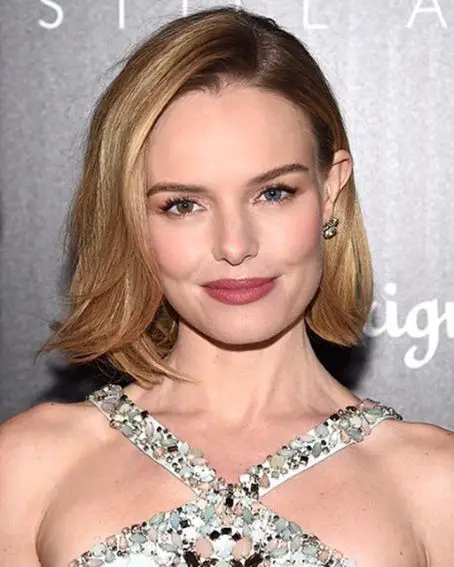 Kate Bosworth makes a statement wherever she goes, it may be her dress or hairstyle. Her chic short bob steals the show wherever she presents. Anyone can try this style with a grandeur outfit.
10. Beautiful Plaited Hairstyle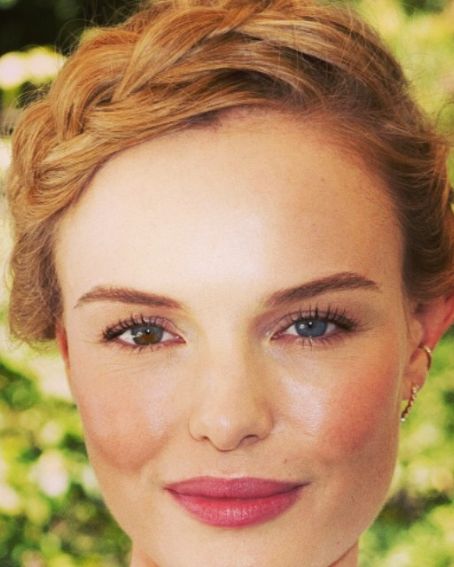 Kate Bosworth plaited hairstyle is practical as well as stylish and also offers every hair type and length styling Versatility. This plaited hairstyle is cute enough to fit almost any season or occasion.
11. Kate Bosworth's Middle-parted Short Messy Waves Hairstyle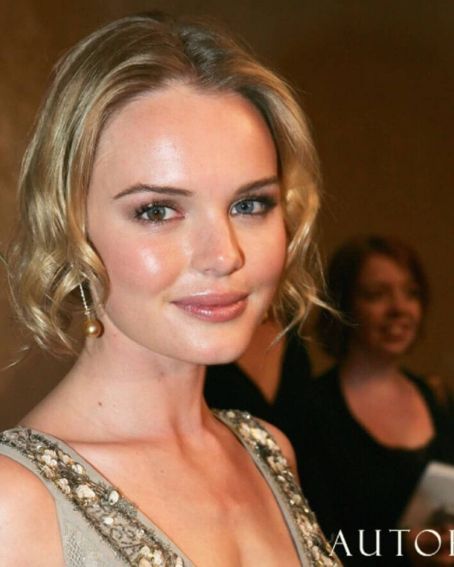 This hairstyle is perfect, grungy, soft, and glamorous at the same time. You can change your image to a beautiful look completely on your big day. Kate Bosworth's short messy waves hairstyle show off her best features.
12. Kate Bosworth Braided Bun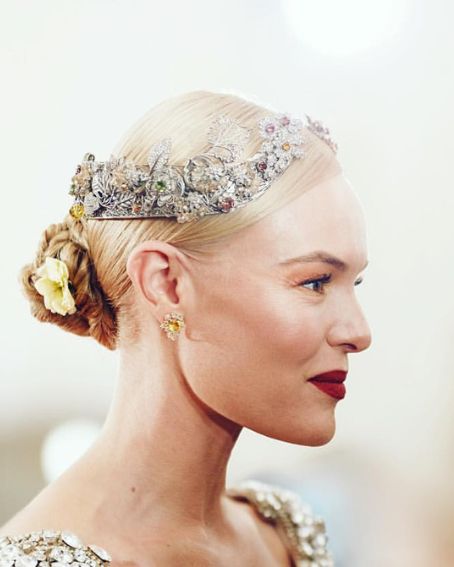 A hair bun is one of the quick and easy go-to hairstyles. Braided buns are a simple way to elevate the traditional bun hairstyle. Kate Bosworth's look can work superbly for formal occasions like weddings and also for day-to-day wear.
13. Blonde Soft Curl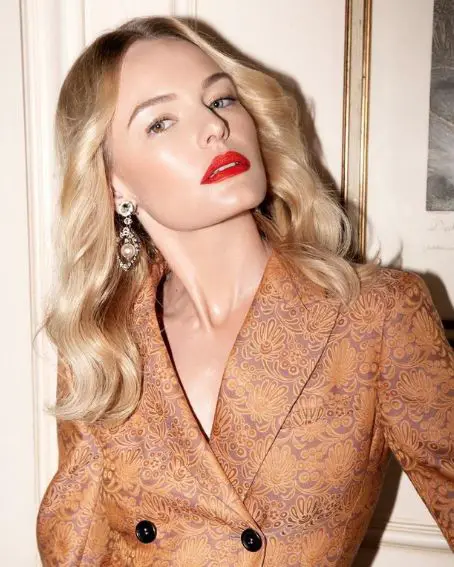 First and foremost, blonde coloring goes excellent with curly hair because it shows off all the depth and highlights in the strands. You can opt for Kate Bosworth soft curl for so many reasons.
14. Long Low Ponytail With Rubber Band Section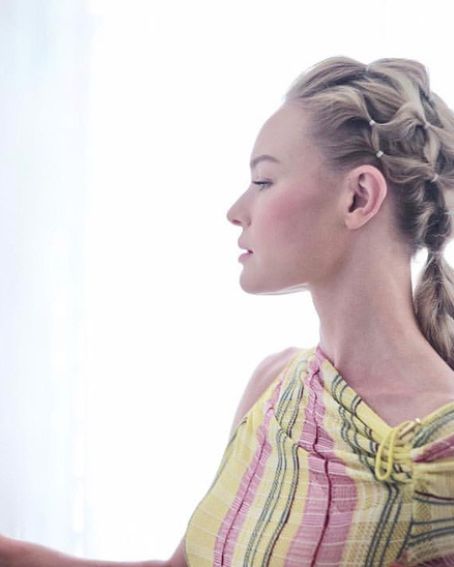 If you want something unique yet trendy hairstyle, then have this Kate Bosworth long low ponytail with a rubber band section. Using a rubber band on the head to part the hair is so elegant and gives you a distinctive appearance on the whole.
15. Side Parted Short Hairstyles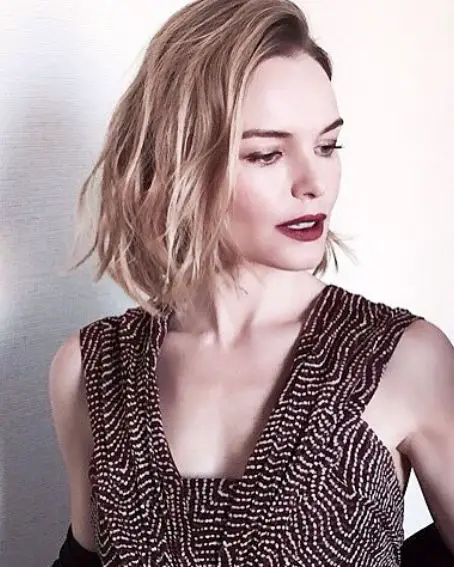 Kate Bosworth looks awesome in this side parted short hairstyle. This style will make the face look slimmer and the hair will look thicker. It will flaunt the thickness of your locks and add some style to the short hairstyle.
16. Copper Wavy Hair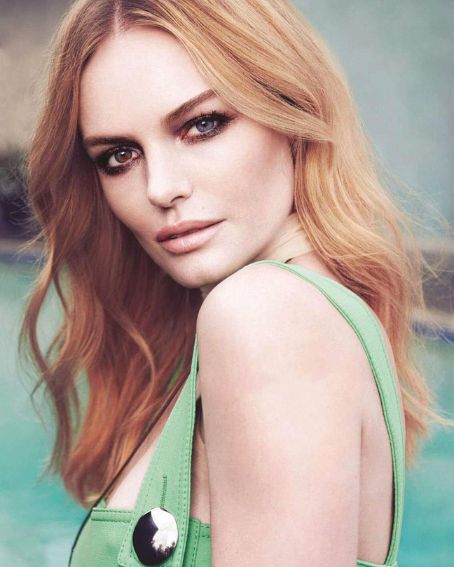 Copper shines on people who have blonde hair because these shades mostly have a lighter base, and it looks pretty. Kate Bosworth's copper wavy hair is simply stunning, and it gives a cool appearance.
17. Kate Bosworth In Black Hairstyle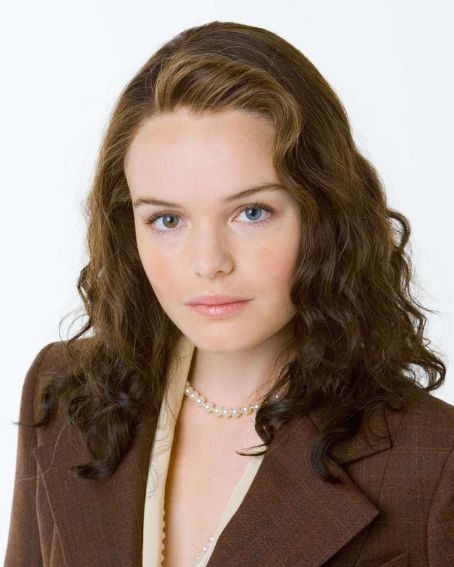 Kate Bosworth black hairstyle is fantastic, and it suit for all face shapes. To obtain this, you only need to have the right length and finish. Wearing this adorable style will give you tremendous glam.
You Might Also Like: