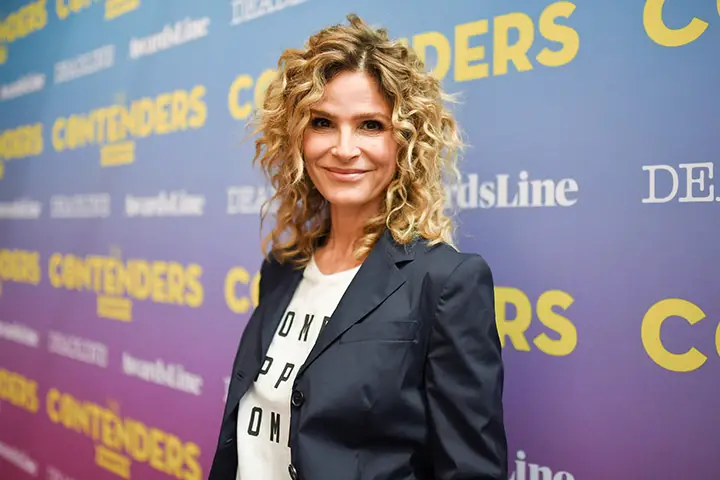 Kyra Sedgwick celebrates her birthday on 19th August 1965 every year. She is one of the best actresses in America, producer as well as director. Sedgwick made her appearance at 16 in "Another World" on the television Soap Opera. In the year 1990, She made her debut in many Hollywood movies such as "Singles" in 1992, "Heart and Souls in 1993", "Something to Talk About "in 1995, and "Phenomenon". She also starred in a television series named "The Closer", which was telecasted from the year 2005 to 2012.
The Closer series ended on 13th August 2012 after completing its seventh season. TNT, the series broadcaster revealed that closing the series decision was made by Sedgwick instead "Major Crime" was started in its place. She also produced the series "Proof" for TNT and it was telecasted in 2015 only for one season. Later she performed in "Brooklyn Nine-Nine", NBC comedy series, and she has done the role of Madeline Wuntch.
Kyra Sedgwick – Height, Weight, Age, Movies & Family – Biography
Kyra Sedgwick Childhood accomplishment
Kyra Sedgwick's origin is New York and her parents are Patricia and Henry Dwight Sedgwick. Patricia Sedgwick is a speech teacher as well as an education /family therapist and Henry is a Venture Capitalist. Sedgwick's father came from a wealthy family with several prominent ancestors. Sedgwick's parents separated when she was four years old and got divorced at 6. Later her mother married Ben Heller who was an art dealer. Sedgwick went to private school and began acting profession at the age of 16. She got a chance in Soap Opera in 1964 and she acted in "Another World". She attended the college of Sarah Lawrence and graduated from the USC (University of Southern California) with a theatre degree.
Kyra Sedgwick Awards and Achievements:
Kyra has won DVD Exclusive Awards under the category of best actress for the film "Labors Pains" in 2001.
She received Satellite Awards in 2005 under the category of Best Actress for the Television Series "The Closer"
In the year of 2006, she has nominated for and won the Gracie Allen Awards for Outstanding Female Lead for the Television Series "The Closer"
She has secured Satellite Awards under the genre of Best Actress in the TV Series "The Closer" in 2006.
She won the famous "Golden Globe Awards" in the year of 2007 under the category of Best Actress in a Television Series for the TV Series "The Closer"
In 2009, She has nominated for and won the "People Choice Awards" for the Television Police Crime Series "The Closer" under the grade of Favorite Television Drama Diva.
She has obtained the "Primetime Emmy Awards" under the genre of "Outstanding Lead Actress in Drama Series" for the TV Police Crime Series "The Closer" in 2010.
In the year 2017, She has won the Alliance of Women Film Journalists Awards for the first time under the category of Best Female – Directed Narrative Feature for the Television Movie "Story of a Girl" which was her directorial debut TV movie.
Best known for:
Kyra Sedgwick is well known for her stunning character as Brenda Leigh Johnson, a deputy chief in the TNT drama "The Closer". For this drama, she has received Golden Globe Award.
She has also nominated for her best performance in the film "Something to Talk About ". Kyra Sedgwick acted in many movies and series made her very popular among other actresses.
Kyra Sedgwick Body Measurements
| | |
| --- | --- |
| Height | 5 ft 5 in / 165 cm |
| Weight | 108 lb / 49 kg |
| Breast Size | 29 in / 76 cm |
| Bra Size | 34 B (US) / 75 B (EU) |
| Cup Size | B (US) |
| Body Measurements | 29-22-33 inches or 76-58-84 cm |
| Chest Size | 29 in / 76 cm |
| Waist Size | 22 in / 58 cm |
| Hips Size | 33 in / 84 cm |
| Shoe Size | 7 (US) |
| Dress Size | 6 |
| Eye Color | Dark Brown |
| Hair Color | Blonde |
| Natural Breasts or Implants | Natural |
Interesting facts about Kyra Sedgwick
Kyra Sedgwick and her husband Kevin Bacon had spent a glorious time at the party
Kyra Sedgwick with Rachel Sennott was picturized during the sitcom " Call Your Mother"
She raised a voice for climate change and for nature. Kyra was given a post wearing a "climate justice now " T-shirt
It was released when she directed "Space Oddity", a black list script.
This image was taken from the final episode of the famous sitcom " Call Your Mother" by ABC
Kyra Sedgwick Pre-relationship
Sedgwick dated and married Kevin Bacon on 4th September 1988. Kevin Bacon is an actor and both of them met in one historical film which was filmed in Baltimore, Maryland.
Kyra Sedgwick Family and personal life
Kyra Sedgwick is undoubtedly a splendid actress, director, and producer. She produced one series and directed some films named Story of a Girl in 2017 and Girls Weekend in 2018. Her parents Patricia and Henry Dwight Sedgwick came from different backgrounds. Her mother came from a German Jewish family and her father was from Massachusetts clam of English descent.
Coming to her personal life she married Kevin Bacon, they met in the movie Lemon Sky in 1988. In which, both of them played a lead role. For this couple, two Children are there namely Travis Bacon and Sosie Bacon. Kyra returned to work as soon as she gave birth to Travis Bacon for the film Mr.& Mrs. Bridge in 1990. At the time of completing the movie "Born on the Fourth of July" in 1989, she was in the pregnancy of three months. These incidents showed her dedication and hard work in her acting.
Kyra Sedgwick Personal Info
| | |
| --- | --- |
| Full Name | Kyra Minturn Sedgwick |
| Nickname | Kiko |
| Occupation | Actress, Producer, Director |
| Religion | Judaism |
| Date of Birth | 19 August 1965 (age 56 years) |
| Birthplace | New York City, New York, United States |
| Zodiac Sign | Leo |
| Father Name | Henry Dwight Sedgwick V |
| Mother Name | Patricia Sedgwick (née Rosenwald) |
| Sibling Names | Robert Sedgwick (Younger Brother) |
| Spouse | Kevin Bacon (m. 1988) |
| Children | Sosie Bacon, Travis Bacon |
What is the net worth of Kyra Sedgwick?
The net worth of Kyra Sedgwick is nearly 45 million dollars.
What is her source of income?
She has grown up in wealthy life and also not only she is a brilliant actor but also a producer and director
Is Kyra Sedgwick graduated?
Yes, She pursued a Theatre degree at the University of Southern California.
Does Kyra Sedgwick smoke?
Few images are there and it was taken during filming movies. But no images are found in her real life.
Controversies of Kyra Sedgwick
Kyra and her husband Kevin's name was in the headline when they were spotted as the victim of Bernie Madoff's Ponzi scheme.
Assets of Kyra Sedgwick
Kyra and Kevin purchased a marvelous mansion for 2.5 million dollars, which is in Los Angles. According to records, they also have 40-acre property which they obtain in the year 1990.
Does Kyra Sedgwick own any brand?
No, she doesn't own any brand
Kyra Sedgwick Social Media Profiles
Kyra Sedgwick Movies List
1985 – War and Love
1986 – Tai-Pan
1988 – Kansas
1989 – Born on the Fourth of July
1990 – Mr. and Mrs. Bridge
1991 – Pyrates
1992 – Singles
1992 – Oliver Stone: Inside Out
1993 – Heart and Souls
1995 – Murder in the First, Something to Talk About, The Low Life
1996 – Phenomenon
1997 – Critical Care
1998 – Montana
2000 – Labor Pains, What's Cooking?, Conversations with Jon Turteltaub
2002 – Personal Velocity: Three Portraits, Just a Kiss
2003 – Secondhand Lions, Batman: Mystery of the Batwoman, Behind the Red Door, Imelda
2004 – The Woodsman, Something the Lord Made, Cavedweller
2005 – Loverboy
2007 – The Game Plan
2008 – Justice League: The New Frontier
2009 – Gamer
2012 – Man on a Ledge, The Possession
2013 – Kill Your Darlings, Chlorine
2014 – The Humbling, Reach Me, Big Sky, The Road Within
2015 – 1 Chisper, Cop Car
2016 – The Edge of Seventeen
2017 – Submission
2018 – After Darkness
2019 – Villains, Endings, Beginnings
Kyra Sedgwick TV Shows
1982,83 – Another World
1985 – ABC Afterschool Special, Miami Vice
1986 – Amazing Stories
1988 – Lemon Sky
1990 – Women & Men: Stories of Seduction
1991 – Women & Men 2
1992 – Miss Rose White
1993 – Family Pictures
1996 – Losing Chase
2000 – Talk to Me
2001 – American Experience
2002 – Ally McBeal, Stanley, The Greatest, Door to Door
2003 – Queens Supreme
2004 – Something the Lord Made
2005,12 – The Closer
2010 – Sesame Street
2014,20 – Brooklyn Nine-Nine
2015 – Proof
2017,18 – Ten Days in the Valley
2017 – Story of a Girl
2019 – Ray Donovan, God Friended Me, Corporate, Grace and Frankie, Girls Weekend, In the Dark, City on a Hill
2020 – Brooklyn Nine-Nine
2021 – Call Your Mother