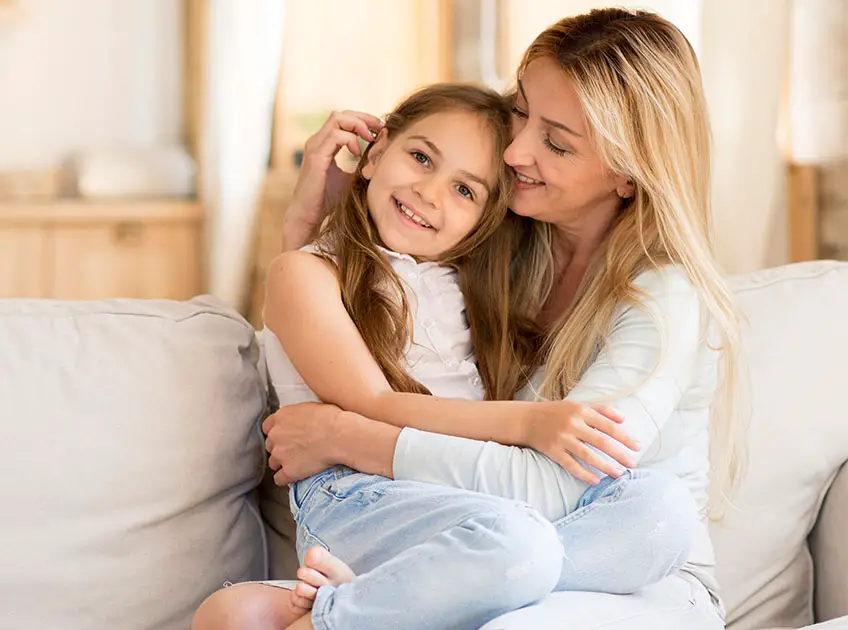 Daughters bring in freshness to our lives. They brighten up our day with their cute words, caring hands, and style-conscious looks. In India, daughters are considered the Lakshmi (the Goddess of Wealth) of the family. But in a few families, they are seen as a burden.
To celebrate the importance of a girl child, India has come up with the National daughter's day. So, when is this day celebrated, and how to celebrate it? Read on as tells you about it and also helps you wish your daughters by choosing the best of words.
What Is National Daughter's Day?
National Daughter's Day is celebrated in India in honor of daughters. This day also highlights the importance of a girl child in the country where there is a stigma related to having a daughter and female feticide is quite prevalent.
When Is The National Daughter's Day?
National Daughter's Day is celebrated on the fourth Sunday of September every year. Daughters can be celebrated all year round, but having a day earmarked for girls would make them feel on top of the world. You can make the day special by spending time with them and having fun.
11 Fun Ideas To Celebrate National Daughter's Day
The idea behind the celebration of National Daughter's Day is similar to Mother's Day, Father's Day or even birthdays. It is all about celebrating the special relations in our lives. But can we celebrate a day dedicated to children in ways that are not exciting or fun? Heck, No! So, here are some fun ideas to celebrate this day with your daughters:
1. Get Crafty
Is your child passionate about crafts and loves making paper crafts or toys? Bring out all the artsy tools and spend an entire day getting all crafty with her. This will also boost and nurture her young creative mind.
2. Day Outing
Secretly plan a daylong outing to her favorite place, be it an amusement park, museum, beach or just anywhere, and give them a surprise.
3. Appreciate Them
Lives often get busy and monotonous. We sometimes also forget about the small gestures that can make our loved ones happy. Children expect to receive appreciation and recognition. Jot down a list of things that you love about your kid and present it to her. And yes, you can make it never-ending!
4. Road Trip
Exploring a new place is thrilling and entertaining as well. Spend this National Daughter's Day by taking a road trip to an unexplored destination with your darling child.
5. Take Them on a Shopping Spree
Retail therapy works best for a person of any age, and children are no different. Make her day special by taking her on a shopping spree.
6. Movie Night
Most children are fascinated by movies. Take them to their favorite movie or set up a mini-theater at your home.
7. Decorate Their Room with Affirmations
Affirmations boost the morale of children. Try this cool idea of decorating their rooms with positive affirmations and place them at significant places which are often seen by the child.
8. Turn Them into Bosses for a Day
Sounds cool, right? Let your child take control of the entire day and allow her to decide on everything. This will make them feel powerful and independent.
9. Bake Them a Special Cake
Bake a special cake for them and maybe, get them involved in the process too. This is an interesting and loving way to spend time together with children.
10. Pamper them at the Spa
Add some sparkle to the daughter's day by arranging a pampering session for them at the spa. We advise to visit only kid-friendly salons and treatments that are gentle on them.
11. Lunch/ Dinner Date with Your Child
Treat your child to a gourmet meal date at a fancy restaurant and let them decide the order. Bonding with kids over yummy food counts for a really amazing experience.
Don't you think the daughter's day is going to be an enjoyable Sunday when you line up such interesting activities? But such eventful day should start with some beautiful wishes to your daughter, as the first thing in the morning.
21 Quotes And Wishes To Use On Daughter's Day
Write these messages on a greeting card, a letter or just read it out loud to your daughter. It is sure to bring a smile on her face. Grab a pen and paper to note down your favorites.
1. "You bring meaning to my life; you make me believe the future is promising. Dear daughter, I am waiting to see you grow up into a beautiful human being."
2. "Dear daughter, even if you outgrow my lap someday, I will hold you very closely in my heart."
3. "I believe that you will do wonderful things when you grow up."
4. "You are amazing, talented and capable of doing great things."
5. "I am proud of the many achievements in my life but none compare to you my little thing."
6. "No matter how much you play in the backyard, or continue to do naughty things around the house, you will always remain my dearest child."
7. "I wish you all the amazing things in life and may God shower all the blessings on you."
8. "What makes a perfect daughter? You! Just the right combo of sugar, spice, and everything nice."
9. "I should probably warn you that a lot of people will come and go in your life. You will lose people and you will meet new people. But I will always be here for you through all the changes. My love for you will never change."
10. "My child, if your heart is wise, then my heart will be glad indeed." – Proverbs 23:15-NIV.
11. "May God bless you with health, happiness, and everything good in this world."
12. "We are blessed to have you as a little angel in our lives."
13. "A daughter is a gift of love and blessing from heaven."
14. "Enthusiasm is the best gift I can give to you my child."
15. "My love and adoration for you my little munchkin is endless."
16. "I never thought I would say this but raising a daughter is different than raising a son. But the one thing that is not different is my love for each of them."- Catherine Pulsifer.
17. "Value each moment in your life and make it count."
18. "You have given a whole new perspective and meaning to our lives."
19. "You have brought immense joy into our lives. Thank you for gracing our lives with your presence."
20. "My precious one, you are loved, today, tomorrow, always and forever."
21. "You are the star of our lives."
How about a Son's Day Too?
Sons, just like daughters, are extra special. So, how can we not celebrate them? Though there is no particular day exclusively dedicated to sons in India, why not celebrate it on the same day as daughter's day because the bond between parents and children is filled with unconditional love, affection, warmth and abundant joy whether it is a boy or a girl.
What are your thoughts on a daughter's and son's day? Share your ideas with us in the comment section below.
Image Credit: freepik
You Might Also Like: