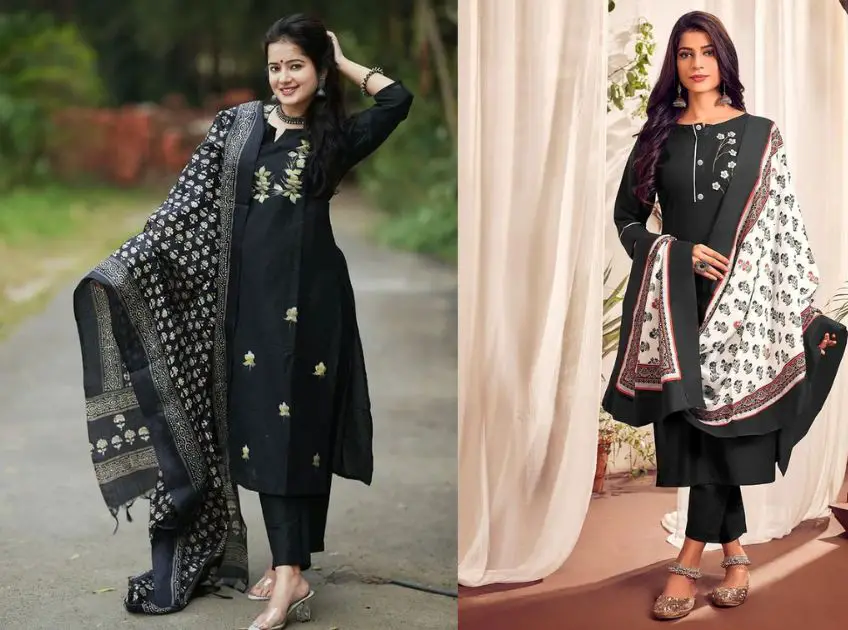 If you choose simple and plain kurtis, then trying these plain black kurtis is a good choice. A plain black outfit is extremely stunning as it makes you look really comfy and elegant, as well as thinner. Kurtis are available in various designs and patterns, depending on the style you want. Patterns differ from office wear to casual wear to party wear.
A simple black kurti paired with a beautiful dupatta to give a classic and elegant look. The technique to dressing up a plain black kurti with a dupatta is to use it around with different accessories, colors, and styles to fit your own style and the occasion. Have fun combining different materials to make something special.
Top 20 Plain Black Kurti with Dupatta
1. Plain Black Anarkali Pattern Kurti with Netted Dupatta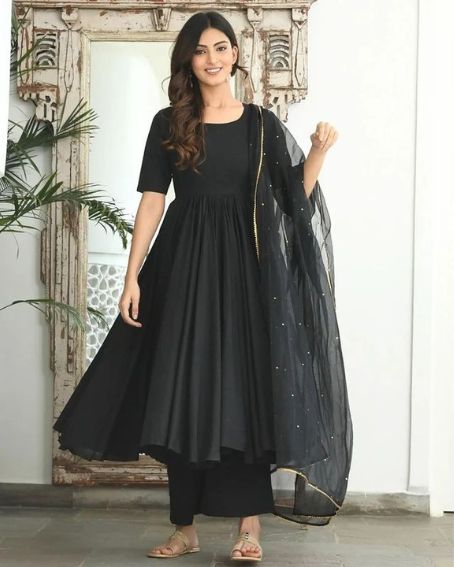 This is a plain and simple black anarkali kurti with short sleeves and a round neck design. It is paired with a stylish palazzo pant and a netted fabric dupatta that is embellished with a golden lace border. This is the greatest option for parties, dinners, and parties.
2. Premium Straight Cut Black Kurti with Gold Printed Dupatta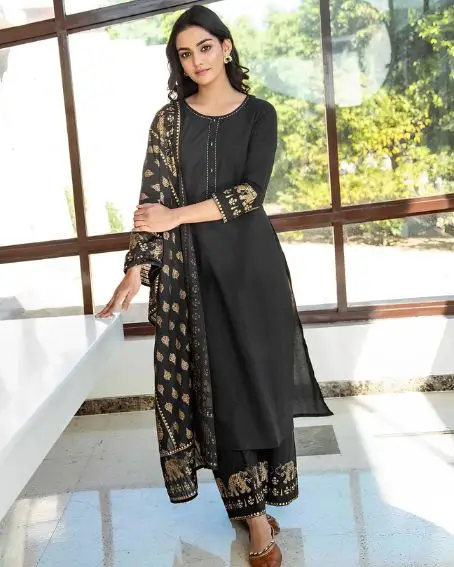 This is a high quality stunning straight cut plain black kurti with basic neck design and This lovely printed pattern rayon dupatta catches everyone's attention with its animal print in gold color on black dupatta and pants.
3. Plain Classy Black Kurti with Khadi Silk Printed Dupatta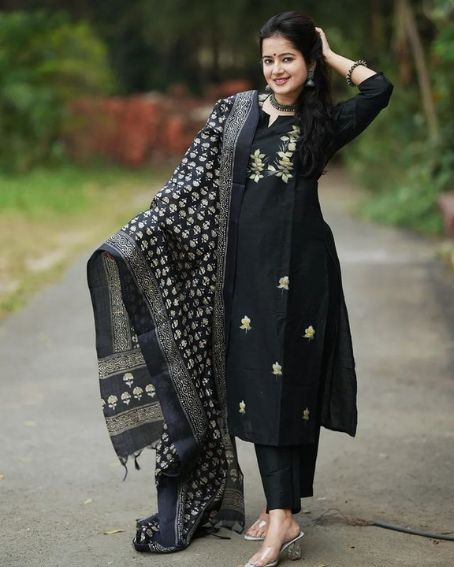 Another great plain modern black kurti with an innovative floral pattern. This kurti has a high neck, an open split, three-quarter sleeves, and narrow pant. This kurti looks fantastic when paired with a black khadi silk hand patterned dupatta.
4. Plain Black Short Kurti with Sharara Suit and Heavily Embroidered Dupatta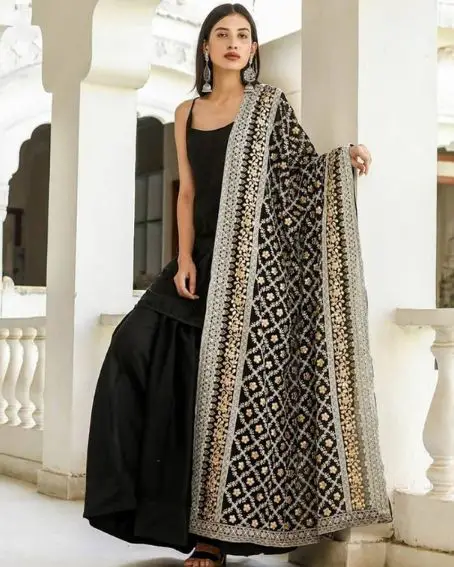 The ultra modern plain black kurti comes in a sling pattern on short kurti, this short kurti looks amazing when paired with sharara plain black pant. A lavishly embroidered dupatta gives an elegant look to the combination, making it perfect for big occasions and celebrations.
5. Plain Long Black Kurti with Blue Stripes Printed Dupatta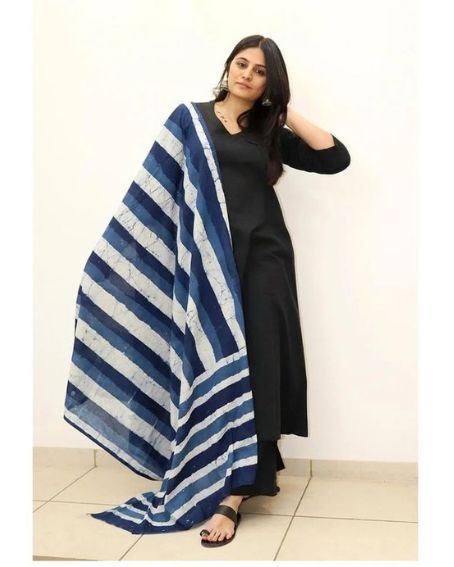 This is a stunning fusion of grace and stylish plain long black anarkali pattern kurti with palazzo pants that finds perfect harmony with a blue striped printed dupatta, creating an effortlessly chic and sophisticated look.
6. Lovely Black Plain Kurti with Printed Dupatta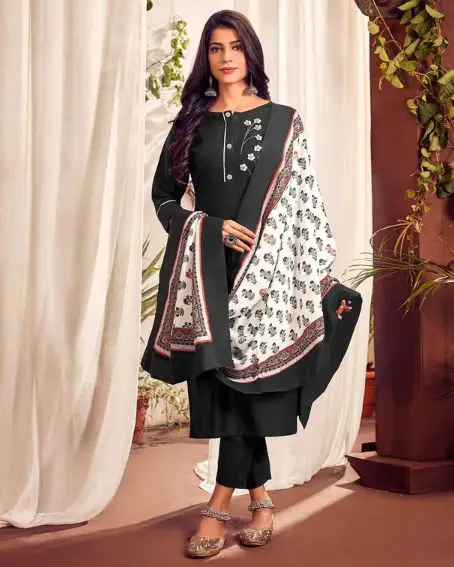 This is a beautiful plain black kurti with a flower printed pattern, a boat neck, and closed buttons. This kurti is combined with a stunning white printed pattern dupatta with a black border. This elegant combination makes it perfect for occasions.
7. Beautiful Motifs Printed Bordered Anarkali Kurti and Palazzo with Dupatta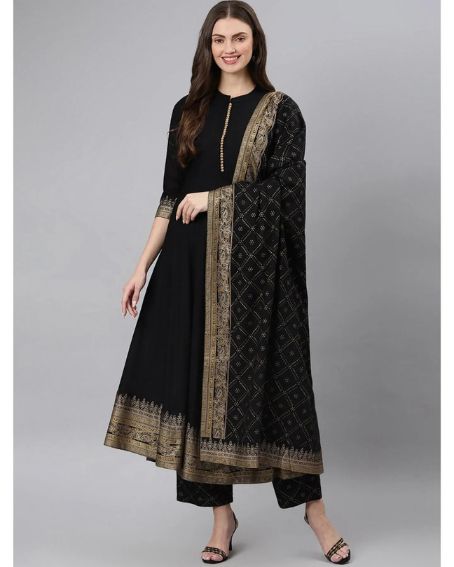 A stunning Anarkali kurti decorated with beautiful motifs and a bordered design, perfectly paired with comfortable palazzo pants. Completing the look, a complementary dupatta enhances the elegance and adds a touch of grace to the outfit,
8. Plain a Line Black Kurti with Palazzo and Dupatta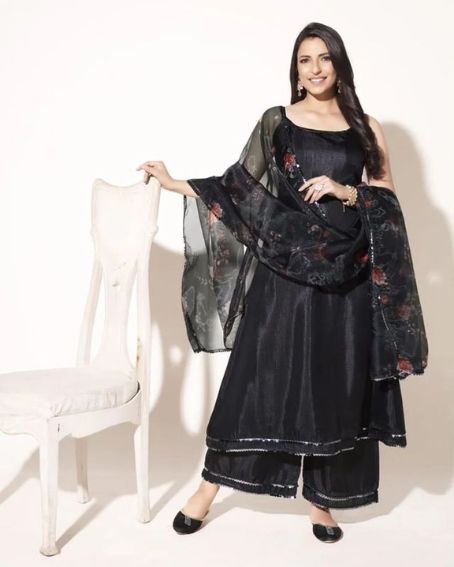 This lovely shimmer fabric plain black kurti and palazzo pants are decorated with borderlines with small stone work. The glossy and shiny texture gives a party mood. This black kurti is paired with a beautiful black silk dupatta with floral pattern.
9. Simple Plain Black Kurti with Striped Pattern Floral Dupatta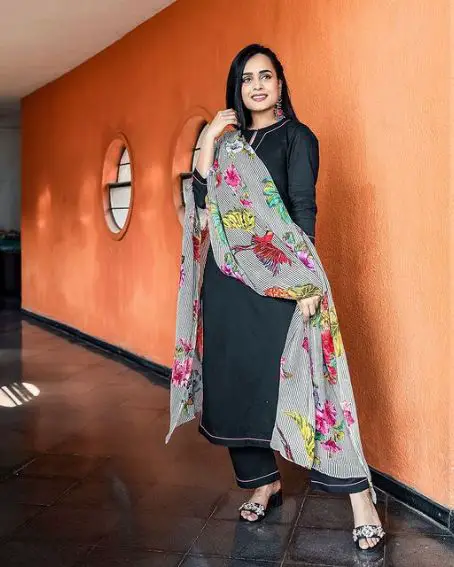 Effortlessly chic, the simple plain black kurti is beautifully enhanced by a striped pattern floral dupatta, adding a touch of vibrancy and grace to the overall look, making it a perfect choice for a fashionable yet comfortable outfit.
10. Long Plain Black Kurti Set with Golden Lace Dupatta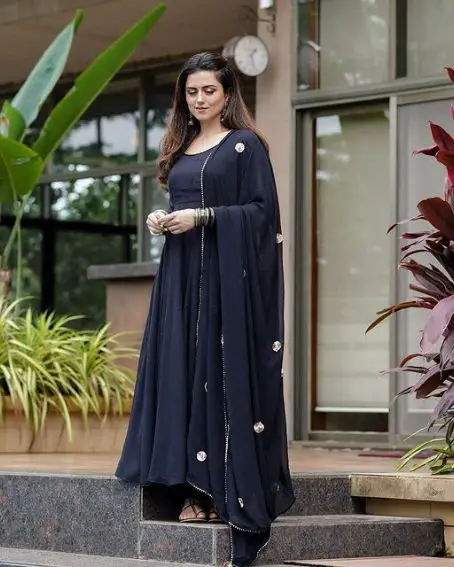 This is a plain black anarkali kurti with full sleeves and a round neckline. It is worn with a chuddi pant pant and a georgette fabric dupatta with a golden lace border. This is the best option for gatherings, dinners, and get together parties.
11. Beautiful and Long Black Kurti with Yellow Silk Dupatta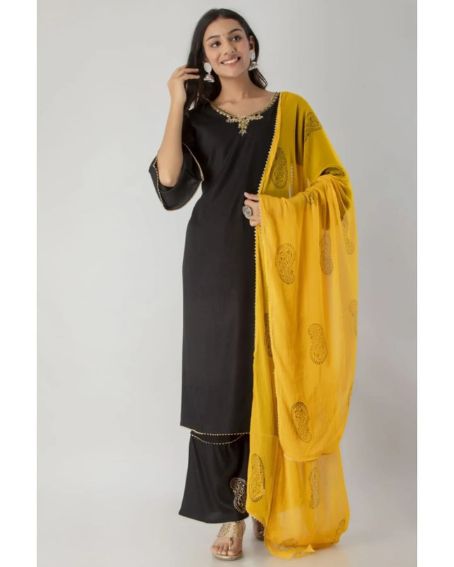 12. Plain Black Long Gown Kurti with Rainbow Color Printed Dupatta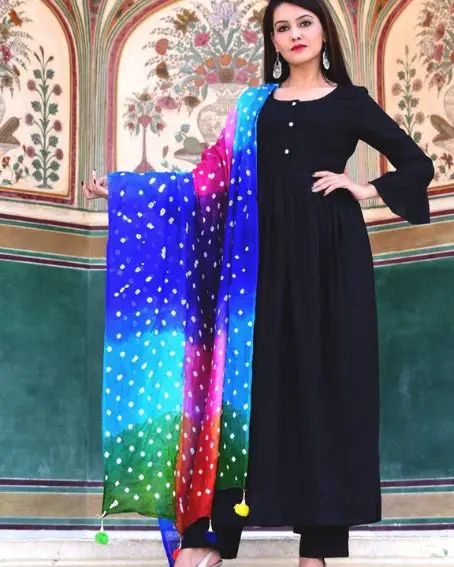 13. Beautiful Plain Black Collar Neck Kurti with Golden Brocade Dupatta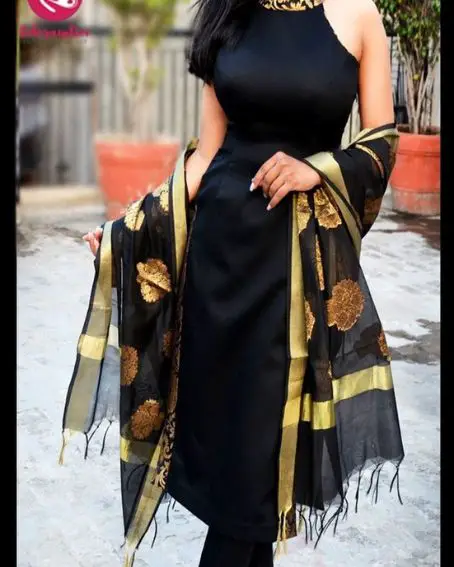 14. Sling Pattern Plain Black Kurti with Blue Printed Dupatta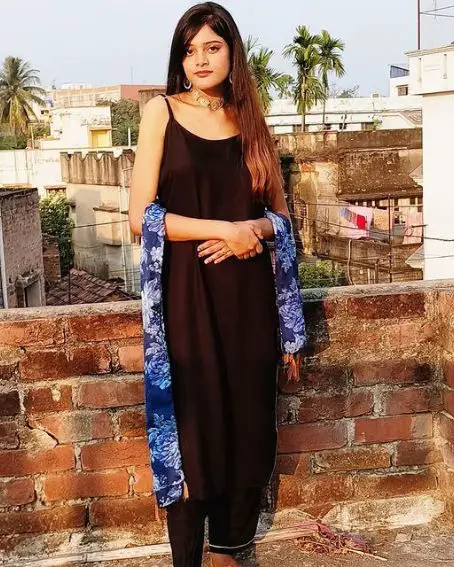 15. Simple and Elegant Plain Black Kurti with Shimmer Dupatta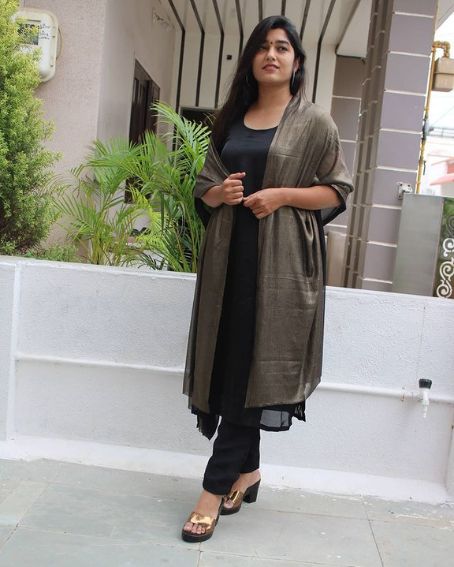 16. Chikenkari Cotton Black Kurti with Printed Silk Dupatta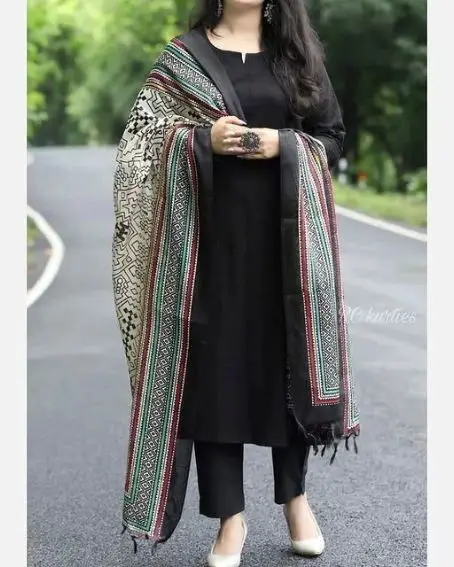 17. Simple and Classy Plain Black Kurti with Block Printed Dupatta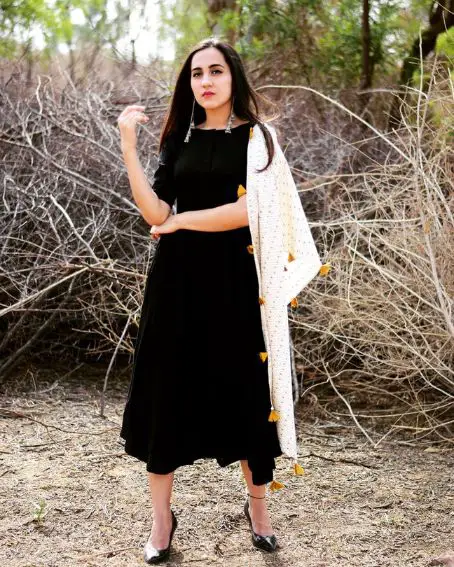 18. Plain Black Long Kurti with Pink Silk Floral Pattern Dupatta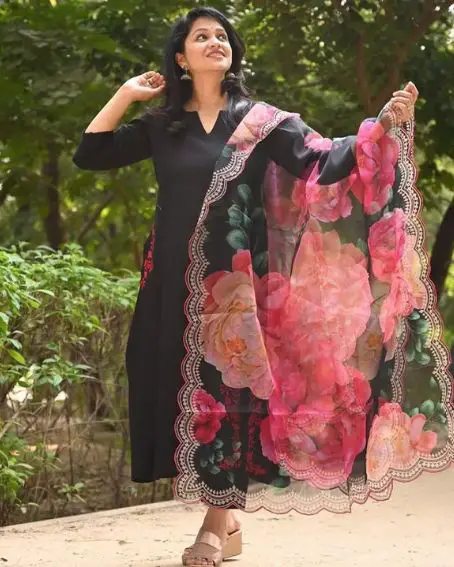 19. Plain Black Long Kurti with Silk Floral Pattern Dupatta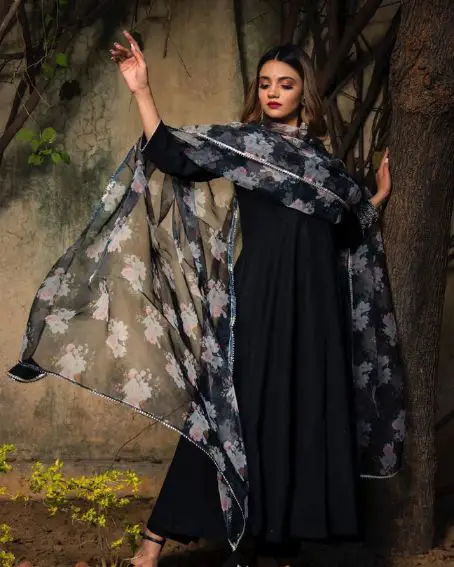 20. Classy Black Striped Kurti with Khadi Silk Printed Dupatta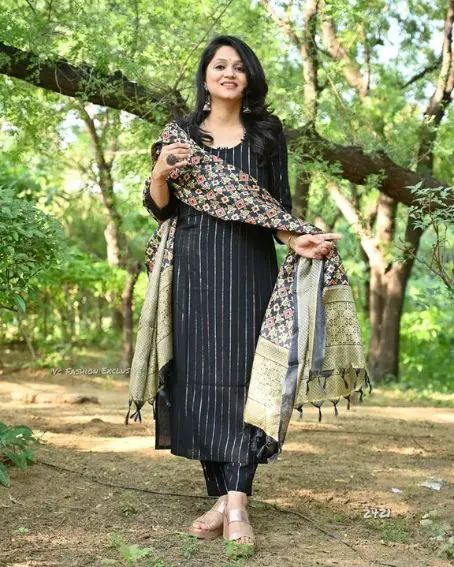 Conclusion
The plain black kurti with a dupatta offers a variable and classic outfit option for women of all ages. Its simplicity allows for endless styling possibilities, making it suitable for various occasions and settings. Whether paired with casual bottoms for a relaxed look or dressed up with embellishments for more formal events, this ensemble is a best choice for effortless elegance. Embrace the understated elegance and grace of the plain black kurti with a dupatta to create a statement that never goes out of style.
Related Articles