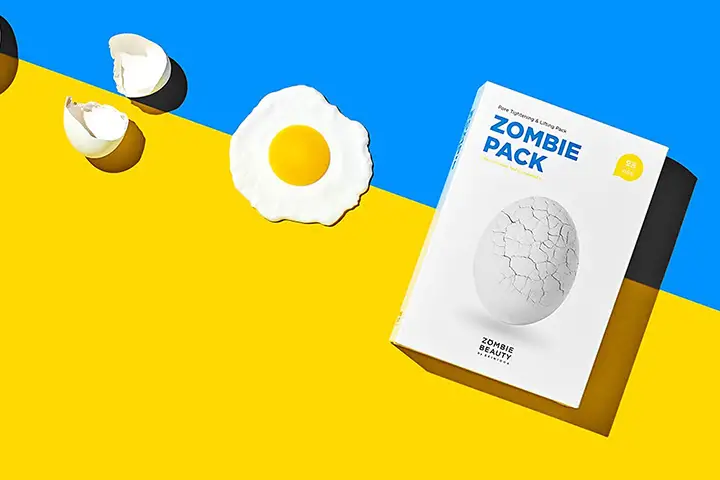 Wash off face masks are applied to your face and washed after a particular time. Zombie pack – wash off face mask will help you to lift the impurities from deep within the pores, tighten the pores and the natural ingredients deliver essential oil and minerals into the skin.
This product brightens your complexion and you can achieve that even skin tone in just 15 minutes.
SKIN1004 Zombie Pack
How it Works:
Zombie pack contains natural ingredients like centella asiatica which helps in skin elasticity , birch extract helps in moisturizing and aloe vera leaf extract keeps skin soothing and it also contain a protein called "albumin" which is a component of egg and it's proven for tightening and lifting effects.
After mixing the powder and activator, apply the mask on your face and feel it getting to work instantly! Get 15 years
younger – looking skin.
Pros:
Wash off masks hydrates your skin deeply.
Improves skin texture by gently removing dead cells.
Helps to lift up your skin.
Works as a cleanser that cleans small breakouts, acne and tightens enlarged pores.
Cons:
Some undesirable scent comes from this product as it doesn't have any artificial fragrances.
Applying more than 10 minutes might be too dry, so please be very careful.
Rating: 4.4 out of 5
Zombie pack gives you a glow like just-came-out-the-spa. It presents remarkable and consistent effects on skin and skin feels amazing after using it.
Frequently Asked Questions (FAQ's)
Q. How often can this facemask be used for optimal results?
Ans: It can be used twice a week for two months and the skin is tighter and looks good.
Q. Is it ok to use on the neck?
Ans: Yes, it's ok to use it on the neck. If you feel dry while using, spray some mist to lessen dryness.
Q. Am I supposed to wash my face first before applying it?
Ans: Yes, we recommend you wash off your face first before applying a zombie pack.
Q. Is it for sensible skin?
Ans: It's for all types of skin, though , if it makes your skin irritated and itchy, stop using it right away and consult with professionals.
Alternate Products: