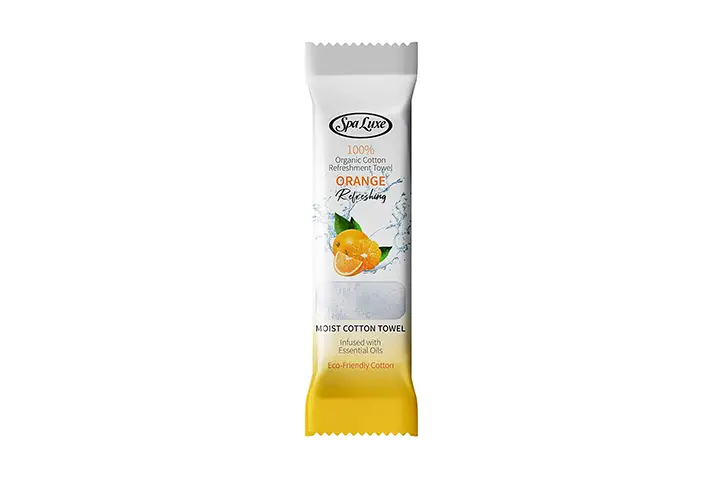 Maintain your hygiene always by using Spa Luxe disposable pre moistened towels. They can be used for different purposes for your cleanliness. This towel can be used cold and hot.
This can be used to clean your hands whenever you need and to remove your sweat, odor and dirt. It instantly gives refreshness. An ideal product to use at home, travelling and camping.
Spa Luxe Disposable Pre-Moistened Towels
How it Works:
Each towel is perfectly pre moistened and scented with essential oils, these oils help to avoid skin care problems like dryness, oiliness and acne prone skin.
No artificial or fragrances used in this product.
The towel is made of 100% biodegradable natural cotton material.
It works gently on the skin and nourishes.
The portable pack of this product is easy to carry even in your pocket.
This pre moistened white cloth can be used hot or cold.
Keep it in the fridge and use it as a refreshing towel, use this after exercise or when you feel sweaty or hot.
Pros:
Used to clean your hands at the restaurants.
Help to clean your face, legs and hands.
Refresh yourself after sports and post workout.
Travel friendly and eco friendly.
Affordable.
Cons:
For some eyes may be irritating.
Rating: 4.3 out of 5
Spa Luxe towels are pre moistened and perfectly suitable to use in spas, hospitals,after exercise or whenever you need. Always maintain in your bag to refresh and relax with these hot and cold towels.
Frequently Asked Questions (FAQ's)
Q. Is the bag microwavable?
Ans: Yes for 20 seconds or less.
Q. Can this be put in a towel warmer?
Ans: Depending on the level of heat the wrapper could melt if too high. They can be removed from the wrapper and heated by adding a few drops of water so they retain moisture.
Q. What are the heating instructions?
Ans: You can microwave them for 5-7 seconds. Gently open up the towel with one hand by grabbing the corner.
Alternate Products:
You Might Also Like: