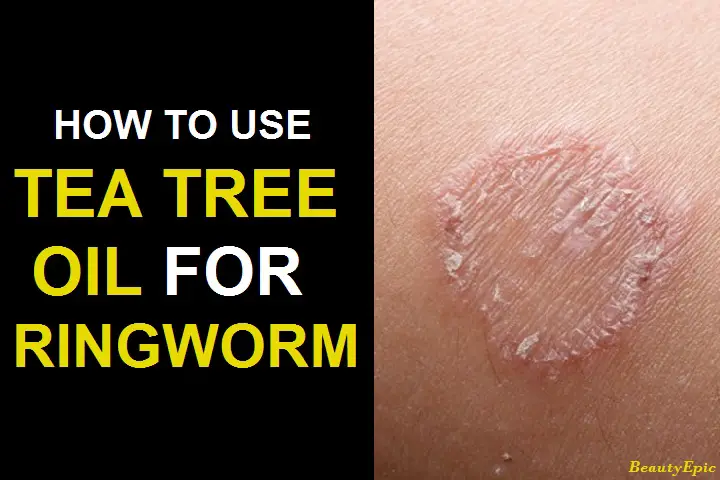 Ringworm infection, commonly known as dermatophytosis, is caused by a fungal parasite. The affected areas are marked by redness in the skin and usually occur in the skin of hands, feet, groin, scalp, etc. The infection starts with the development of red, itchy patches that develop into blisters. The patches appear in the form of a ring hence the name ringworm. A commonly applicable home-based remedy to most skin infections including ringworm is the use of tea tree oil. Tea tree oil is considered healthy and does not pose as much risk or side effects as compared to some of the commercially available products that contain chemicals. So let us discuss here using of tea tree oil for ringworm infection.
Does Tea Tree oil Get Rid of Ringworm?
The anti-fungal properties of tea tree oil have already been studied and demonstrated in the case of fungal infections.
The anti-fungal properties of tea tree oil make it an effective home-based remedy for helping treat ringworm infection.
Tea tree essential oil has been used for over 100 years and has been studied for its medicinal properties for over 70 years now.
How to Use Tea Tree Oil for Ringworm
Tea Tree oil for Ringworm
Ingredients:
How to do:
Wash and clean the affected area with soap and water before treatment.
Take a sterile cotton swab and dip it directly in undiluted tea tree oil.
Dab this gently on the ringworm affected area- few times a day.
Repetition: This process can be repeated till the patches start to disappear.
[ Read: How to Use Coconut oil for Ringworm ]
Warm Water and Tea Tree oil for Ringworm
You'll need:
3-4 drops of tea tree oil
cup of warm water
cotton swab
How to apply:
take tea tree oil and diluted in a cup of warm water.
Using a sterile cotton swab, apply this on the affected area.
Leave the solution on the affected area for 10 minutes and then wash.
Repetition: Repeat this process as many times as desired, daily, till the ringworm starts to heal.
[ Read: How to Treat Ringworm with Apple Cider Vinegar ]
Tips and Precautions
Although, tea tree oil is a naturally derived compound that has been recommended as safe, there are a few cases when strong concentrations of tea tree oil may cause skin irritation. If you encounter a skin irritation it is advisable to consult your doctor. Skin irritation should not be taken as a sign of healing in any case.
Excessive use of tea tree oil can cause rashes, nausea, vomiting and headaches.
High concentrations of tea tree oil when used regularly can also cause bad breath, depressed behaviour, dizziness and muscle tremors.
It is always recommended to check the concentration of tea tree essential oil and to conduct a patch test on the skin before use. If the concentration is too high then it is best to dilute it in water or a carrier oil such as almond or coconut oil.
Care should be taken with the concentration of tea tree oil being used for ringworm.
You Might Also Like:
Image:- 1