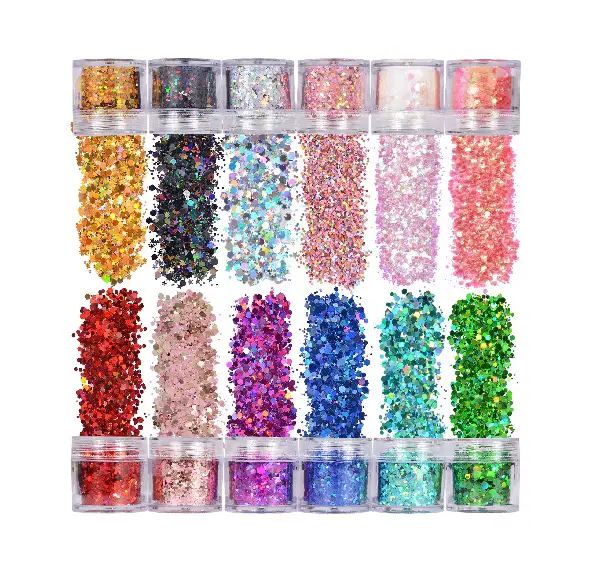 Highlight your daily look with this Warmfits Holographic Chunky Glitter chunky glitters. These ultra sparkling glitters come in 12 amazing colors in 12 boxes.
10 boxes are of face holographic glitter featuring mixed different size and hexagons for an holographic look. 2 boxes of face irresistible glitter featuring mixed different sizes, and hexagons for an attractive glow.
Mixed colors and size of the glitter together making the possibilities of beauty are endless, these chunky glitters gives you an eye – catcher glow in every occasion.
Warmfits Holographic Chunky Glitter
How it Works:
Warmfit chunky glitters are made with high intensity pigment and holographic shine.
These chunky glitters are lightweight and shiny.
Lasts for a long time use and would not break.
You can also use hair gel or glitter primer to keep your sparkles stay longer.
These are easy to remove with water.
Pros:
It is perfect for face glitter makeup, hair, body and for nail art.
Suitable for stage performance and for parties.
You can do lots of beauty experiments.
Perfect for weddings and graduation days and for fancy dress parties and so on.
Cons:
This product doesn't come with gel.
After using this glitter skin feels a bit uncomfortable.
Rating: 4.7 out of 5
Give endless possibilities to your makeup with these glitters. Get shine and marvelous look daily.
Frequently Asked Questions (FAQ's)
Q. Is this safe for lips?
Ans: YES, it is safe.
Q. Is this glitter safe for makeup?
Ans: It is chunky glitter, if you want chunky makeup glitter . yes this is. Try Warmfits Fine Glitters.
Q. Will it float on water?
Ans: Yes it would.
Alternate Products:
You Might Also Like: