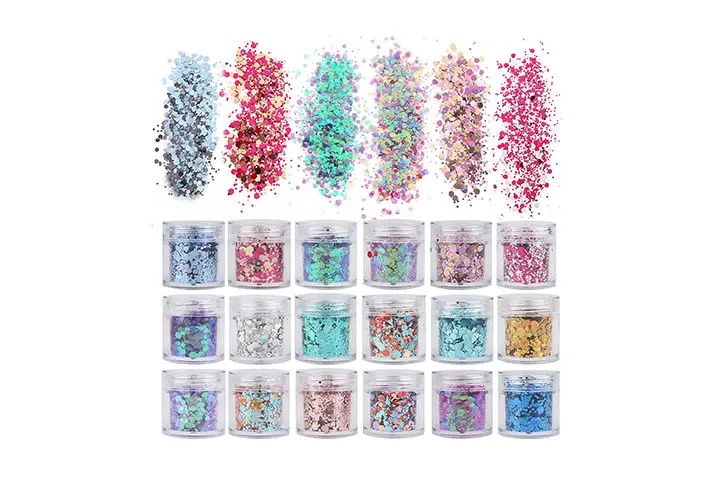 Give a glittery glow to your makeup with 18 Boxes Holographic Cosmetic Festival Chunky Glitters sequences. These iridescent flakes are suitable for body, face, hair makeup and nail art.
Not only for your makeup you can also decorate your home, mobile phone's case, glasses to make a greeting card.
18 Boxes Holographic Cosmetic Festival Chunky Glitters
How it Works:
These glitters are made of cosmetic grade glitter, it is 100% safe even for sensitive skin.
Wearing it is easy and you can remove it effortlessly with some water or gentle makeup remover.
Out of 18 boxes, 6 boxes are perfect for nail art decoration and the remaining 12 boxes are perfect for body, face and hair makeup.
Pros:
Easy to store.
Durable and not easy to leak out.
It can make you look more charming and fashionable.
Easy to remove the residue with a face wipe.
Perfect for stage performance.
No chemical smell, environment friendly and non-polluting.
Cons:
For makeup you need to use the eyelash glue or glitter primer, this product doesn't contain.
Rating: 4.7 out of 5
Get inspired to create festival makeup or stunning everyday looks. Pick these 18 boxes holographic cosmetic festival chunky and mix for unlimited makeup moments with your friends and family.
Frequently Asked Questions (FAQ'S)
Q. Can this glitter be used for resin projects like key chains?
Ans: Yes. I bought them to use for resin keychains too.
Q. Is it really holographic?
Ans: Yes, this product is really holographic.
Q. Can these be used with acrylic for nails?
Ans: It's loose glitter can be used on nails.
Alternate Products:
You Might Also Like: