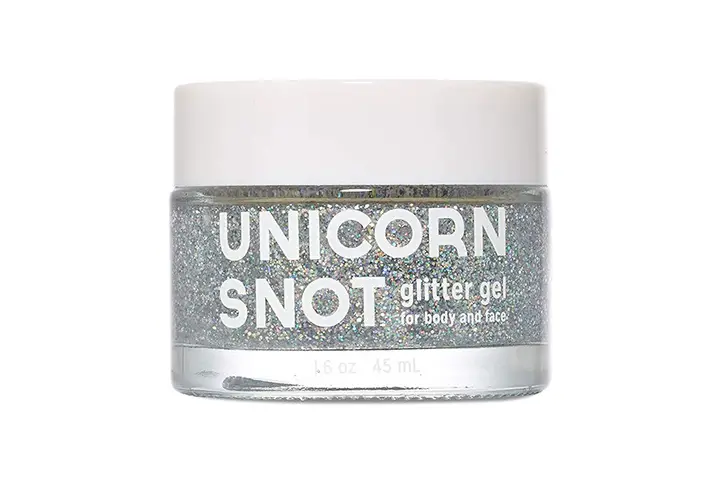 Give a sparkling finish to your body by using this Unicorn Snot Holographic Body Glitter Gel. This glitter gel provides you with a hassle free application. It will not require any primers or adhesives.
This gel is great for use on your body, face and hair. It has the texture of hair gel so it is very easy to use.
Unicorn Snot Holographic Body Glitter Gel
How it works:
Unicorn glitter gel is made with cosmetic-grade glitter which are safe to use on the skin.
The silver holographic glitter flecks will bounce light around and shimmery like a fairy in no time.
The gel doesn't dry clear but it's nearly clear. There is a very light tint visible to the color.
It takes about 5 minutes for the gel to dry and that leaves the glitter adhered to you until you wash it off.
Pros:
Simple to apply and looks great.
Vegan and cruelty free.
It comes off with makeup removal clothes.
Lightweight gel with holographic glitter.
Fragrance free.
Cons:
Glitter load is not very dense.
Contains parabens.
Rating: 4.6 out of 5
One of the most famous glitter gels with just one swipe gives a fabulous look to your skin. It's long-lasting; you can wear it for dinner; the gel will not budge. Twinkle all night with this Unicorn Snot Holographic Body Glitter Gel.
Frequently Asked Questions (FAQ'S)
Q. Will this work well in a beard?
A: No, I tried it in my beard but it's more of a gel so the glitter doesn't really show. I wouldn't recommend it for facial hair.
Q. How much of your body will one container cover?
A: There's a lot in the container. A little goes a long way. You could cover an entire body several times!!
Q. Does this glow in the dark?
A: No, our Unicorn Snot products do not glow in the dark.
Q. How does this come out of hair?
A: Remove from hair by shampooing.
Alternate Products:
You Might Also Like: