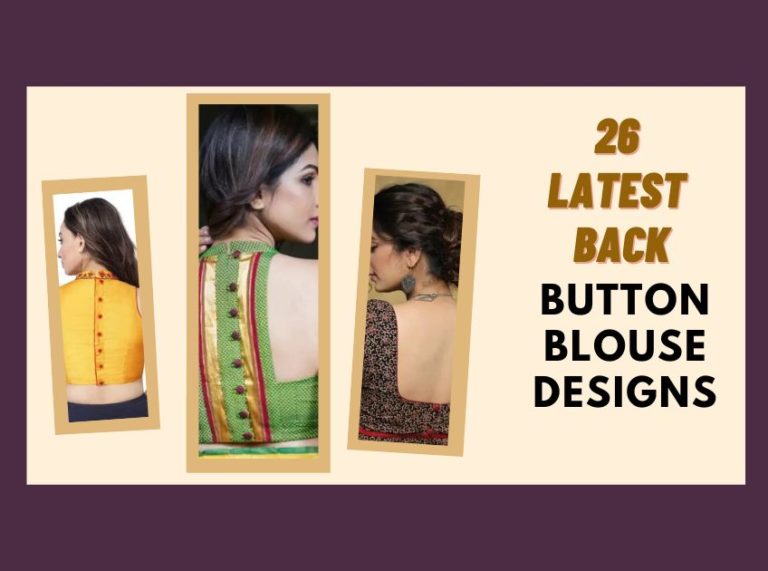 A blouse design with buttons on the back side of the blouse is a button blouse design.
The buttons can add a touch of femininity and elegance to the blouse. These can be made from variants of fabrics such as cotton, silk, chiffon, and lace.
These blouse designs can be dressed up or down, making them a versatile option for any occasion.
26 Latest Back Button Blouse Designs
1. V Neck Backless Potli Button Details Pure Cotton Blouses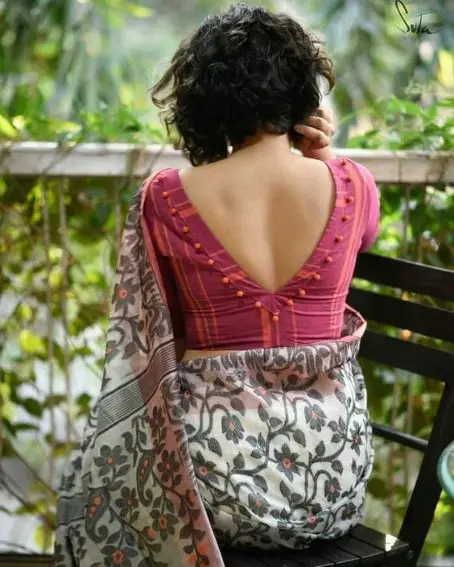 These blouses blend pure cotton comfort with V-neck elegance, backless allure, and intricate potli button details, offering both style and ease.
2. Pleated Button Fancy Back with Puff Sleeves Saree Blouse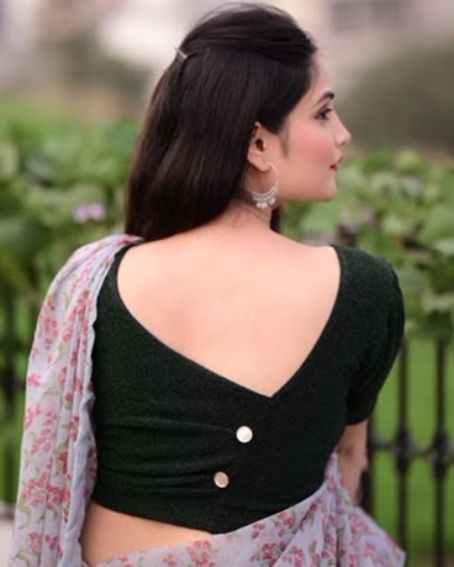 Elevate your saree ensemble with this chic blouse, featuring pleated accents, fancy buttons, and stylish puff sleeves for a touch of sophistication.
3. Ivory Pure Silk Blouse with Kemp work on boat neck and Jadau back buttons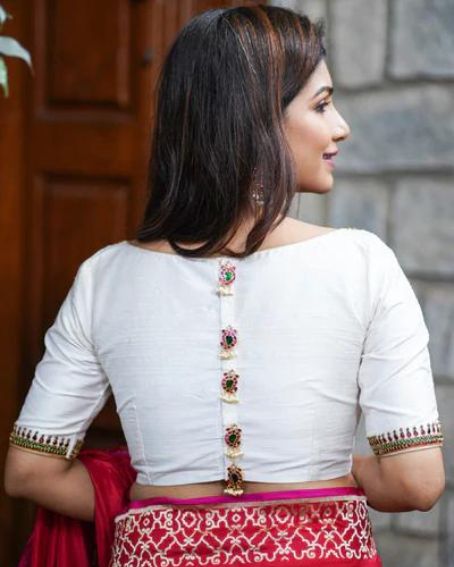 An ivory silk blouse adorned with Kemp work on the boat neck and Jadau back buttons exudes timeless grace and craftsmanship, perfect for special occasions.
4. Red velvet sheer back blouse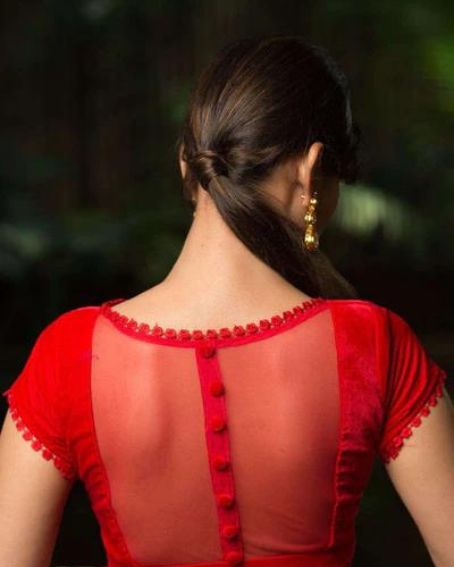 Make a statement with this red velvet blouse, boasting a sheer back for added allure and sophistication, ideal for creating a lasting impression.
5. Green Khun Silk Racer Back Blouse with Button Detailing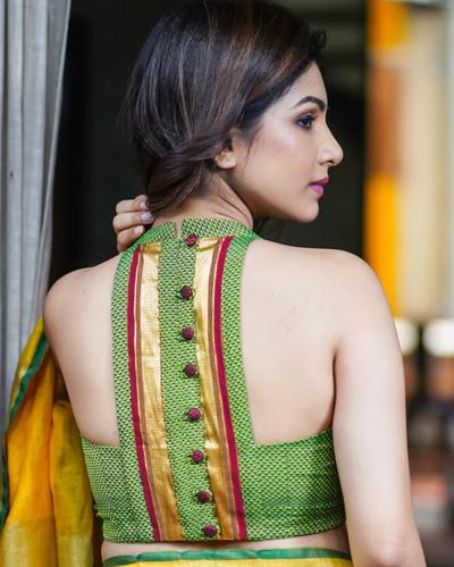 Step into the spotlight with this trendy green Khun silk racer-back blouse that boasts unique button detailing, creating a perfect fusion of style and individuality. Perfect for women, young girls, and teenagers alike.
6. French Navy blue and off white racer back blouse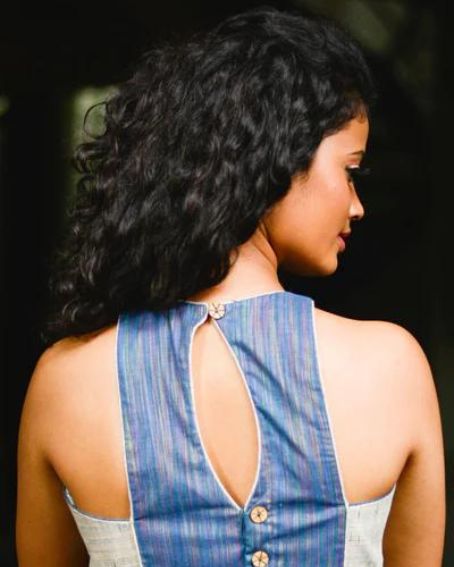 Classic French Navy blue meets contemporary design in this racer-back blouse with an off-white twist, ensuring a versatile and stylish choice.
7. Blue denim sweetheart neck sleeveless blouse with button detailing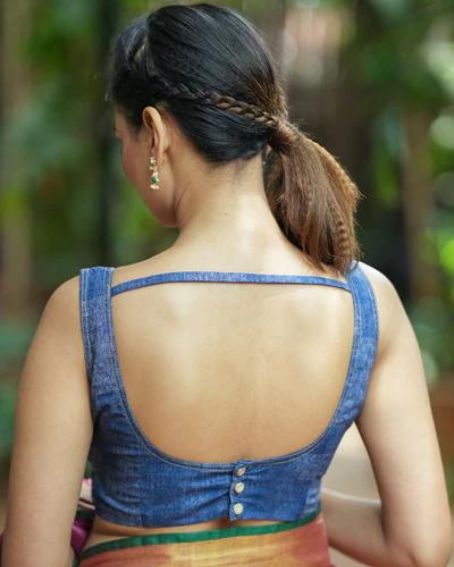 Achieve effortless casual chic with this sleeveless denim blouse, showcasing a sweetheart neckline and stylish button accents, perfect for everyday style.
8. Maroon floral printed satin sleeveless blouse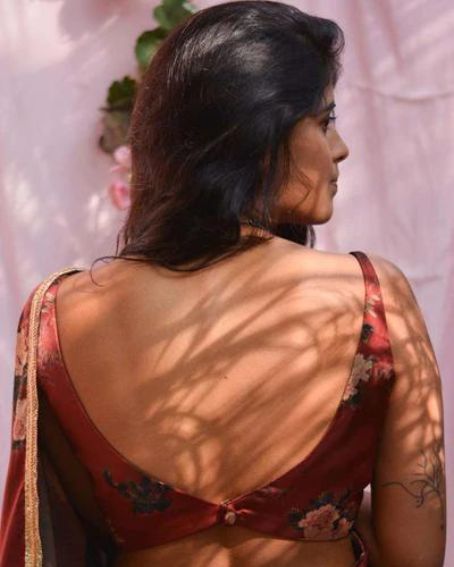 Add an elegant touch to your attire with this maroon satin blouse, featuring delicate floral prints and a sleeveless design, ideal for various occasions.
9. Multicolour checked patchwork V Neck Blouse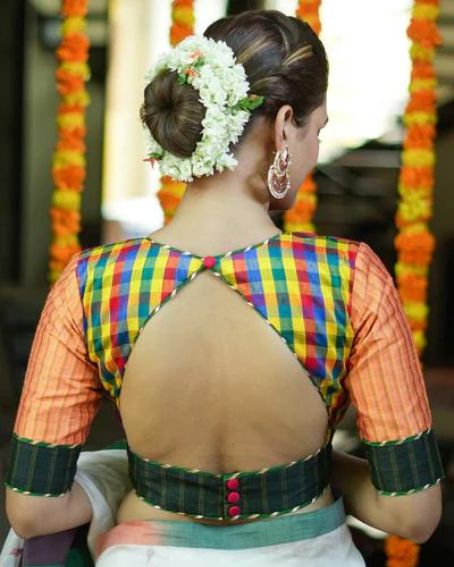 Opt for a unique and eye-catching look with this multicolored patchwork blouse, designed with a flattering V-neck, combining style and individuality.
10. Sea green silk blouse with chiffon gathered sleeves and border detailing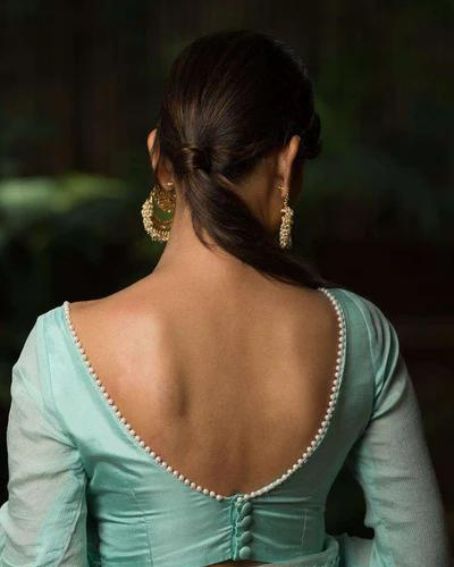 Embrace an ethereal look with this sea green silk blouse, characterized by chiffon gathered sleeves and intricate border detailing, adding grace and charm to your outfit.
11. Beige Chanderi Ruched Spaghetti Blouse with Kalamkari Ruffle Detailing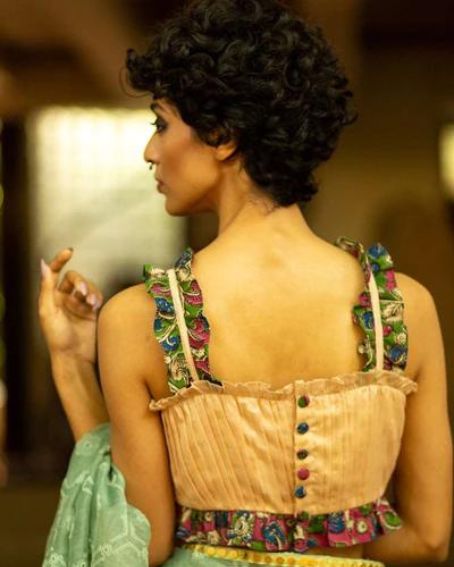 Elevate your look with this beige chanderi blouse, featuring ruched spaghetti straps and Kalamkari ruffle detailing, a blend of sophistication and style.
12. Beige Chiffon & Violet Brocade Closed U Neck Blouse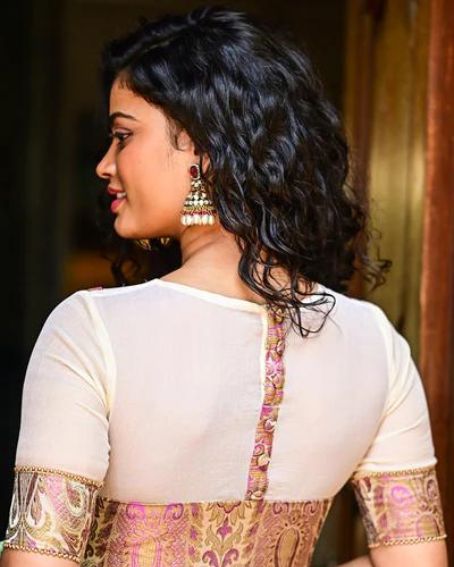 The beige chiffon blouse with violet brocade features a closed U-neck design, bringing a touch of subtle elegance to the outfits of women, young girls, and teenagers alike.
13. Black Floral Ajrakh Cotton Blouse with Detailing & Buttons at the Back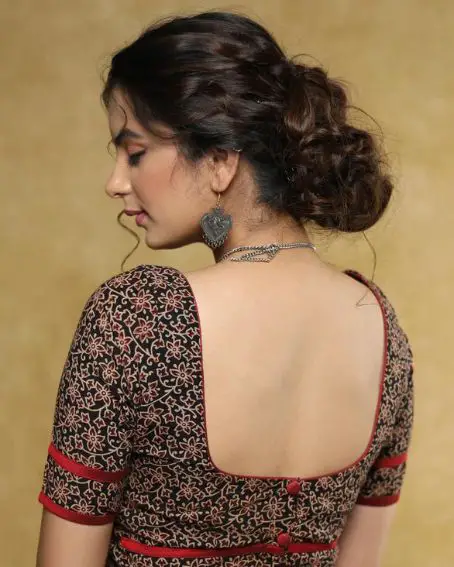 Make a fashion statement with this black floral Ajrakh cotton blouse, adorned with intricate detailing and back buttons, combining beauty and style.
14. Green Benarasi Blouse with Striking Buttons at the Back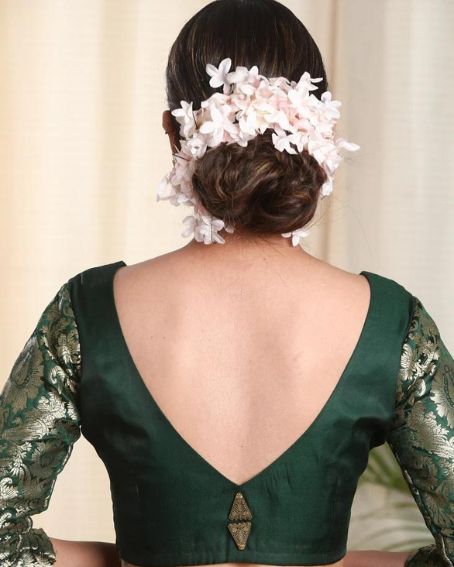 Stand out in style with this green Benarasi blouse, featuring striking back buttons, offering a unique and captivating look.
15. Orange Cotton Blouse With Red Embroidery And Buttons At The Back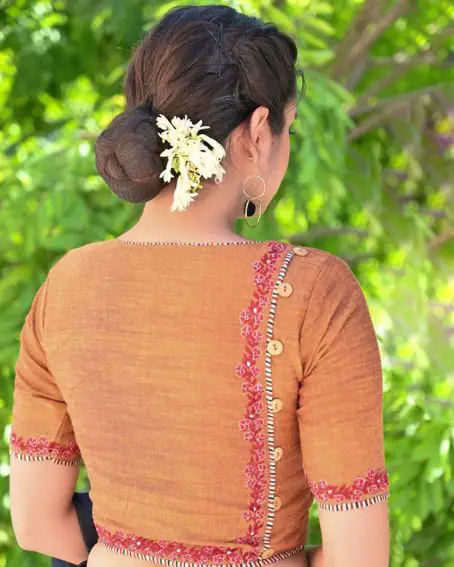 Celebrate a bold and eye-catching style with an orange cotton blouse that features stunning red embroidery and charming wooden back buttons. This is a flawless fusion of color and intricate design, appealing to women, young girls, and teenagers alike.
16. Cotton Indigo Blouse with Stylish Flap Buttons on the Back Side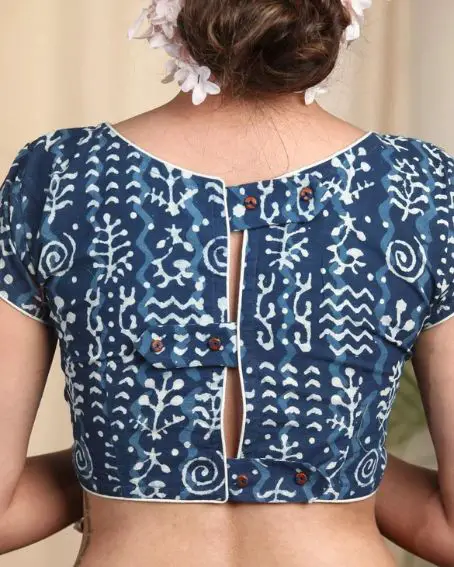 Elevate your style with this cotton indigo blouse, featuring stylish flap buttons on the back side, offering a touch of flair to your outfit.
17. Pink Raw Silk Padded Blouse with Back High Button and Dori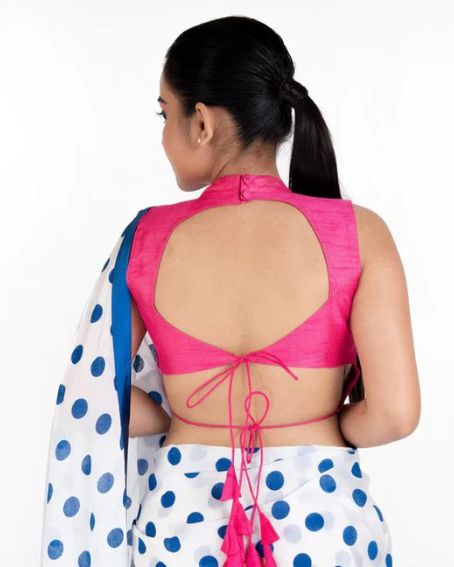 Opt for a fashionable twist with this pink raw silk blouse, complete with a high back button and dori for added style and comfort.
18. Embroidered Yellow Blouse with Back Red Button-Closure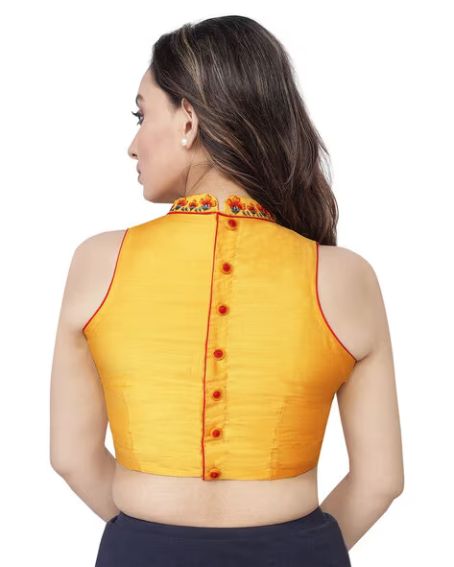 Elevate your wardrobe with this beautifully embroidered blouse designed for women, young girls, and teenagers. Its back button-closure adds a touch of sophistication while ensuring convenience.
19. Pink Colored Back-Open Blouse with Button-Loop Closure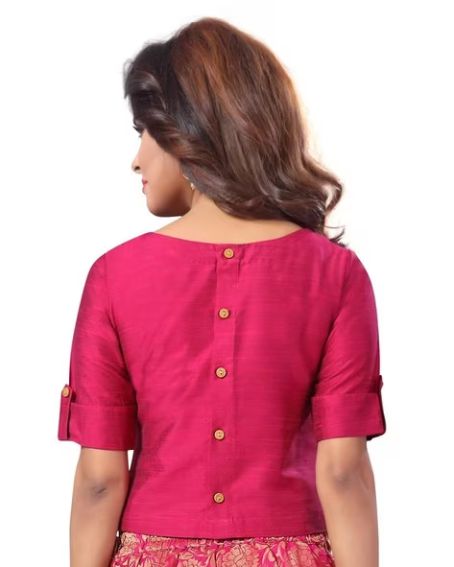 Create a modern look with this back-open blouse, secured by a button-loop closure, offering an elegant and trendy style.
20. Printed Back Open Cotton Blouse With Wooden Buttons And Tie-up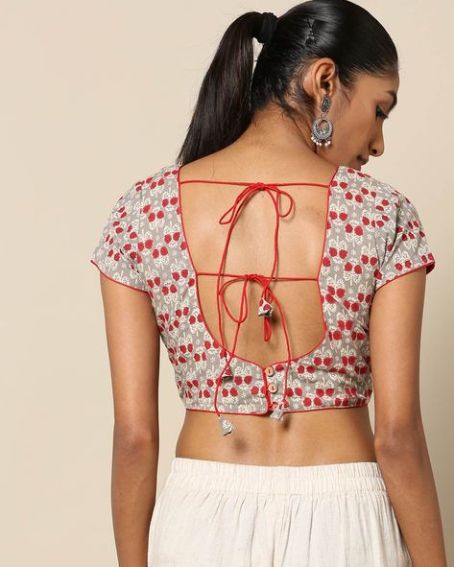 Embrace style with a printed cotton blouse featuring a back-open design, wooden buttons, and a tie-up, adding a touch of sophistication to your attire.
21. South Cotton Back Open Red Blouse With Wooden Buttons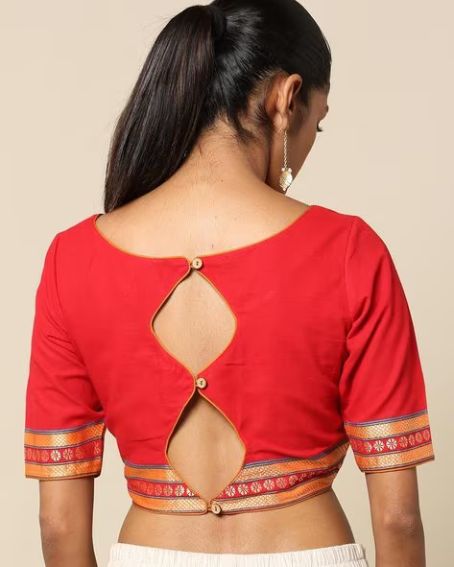 Blend tradition with fashion in this South cotton blouse, boasting back-open design with wooden buttons, ensuring classic charm meets contemporary style.
22. Cotton Blouse with Wooden button-loop closures at the back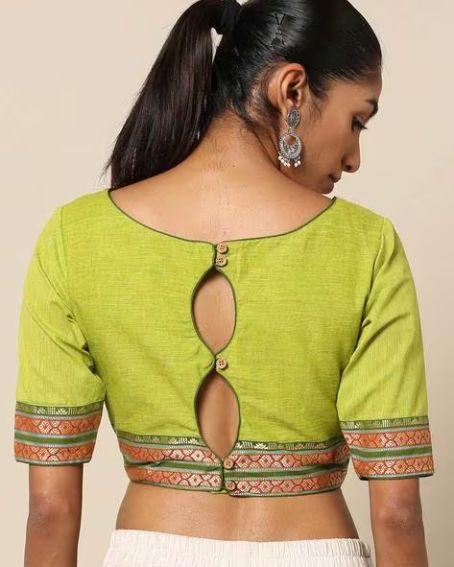 Add charm to your attire with this cotton blouse, accentuated by wooden button-loop closures at the back, ensuring both style and comfort.
23. Cotton blouse designed with an open-back and wooden buttons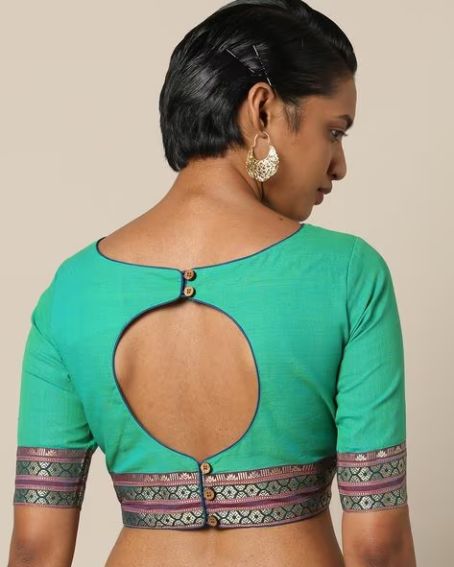 This cotton blouse combines comfort and style with its open back and wooden buttons, offering a fashion-forward choice for various occasions.
24. Handloom Ikat Cotton Sleeveless Blouse with button closures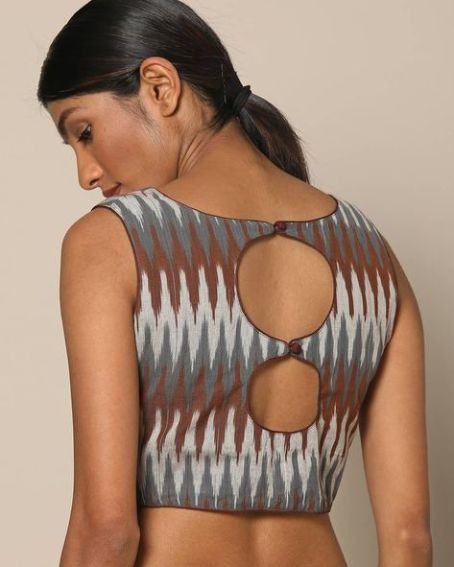 Embrace grace with a handloom Ikat cotton sleeveless blouse, featuring button closures, adding a touch of elegance to your ensemble.
25. Cotton Dobby Blouse With Kalamkari Patch and back buttons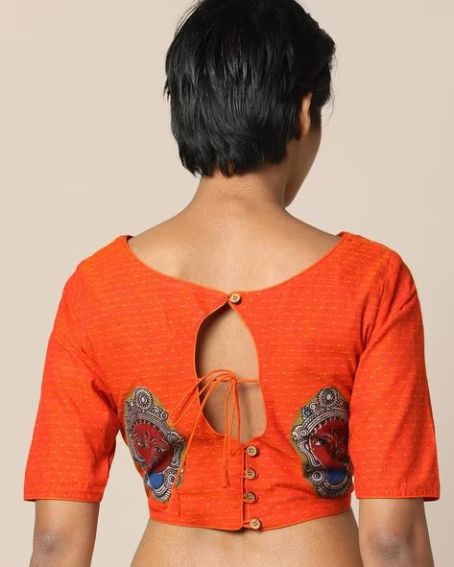 Make a statement with a cotton dobby blouse, adorned with a Kalamkari patch and back buttons, offering a distinctive and stylish look.
26. Handloom Ikat Cotton Blouse with a back open with wooden buttons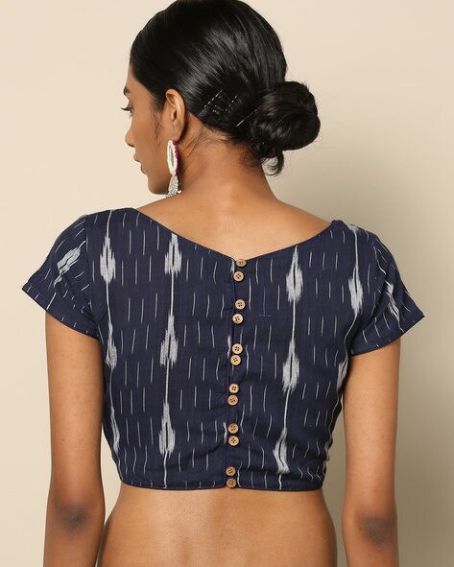 Fusion tradition with style in this handloom Ikat cotton blouse, featuring a back-open design with wooden buttons, ensuring a captivating and elegant choice.
What Are The Key Features Of Back Button Blouses?
Variety of Styles: Back button blouses offer a wide range of stylish patterns, including V-neck backless potli button details, pleated button fancy backs with puff sleeves, and intricate embroidery on boat necks.
Functional and Fashionable: These blouses serve as functional closures while also making a fashionable statement, combining the best of both worlds.
Blend of Tradition and Modernity: Back button blouses seamlessly blend traditional and modern elements, making them suitable for various occasions.
Diverse Fabric Options: They can be crafted from diverse fabrics like pure cotton for comfort, silk for luxury, velvet for texture, denim for a casual look, and chiffon for elegance.
Rich Color Palette: Back button blouses are available in a wide range of colors, catering to individual preferences. Options include ivory, red, green, blue, maroon, and more.
Bridal Designs: Bridal back button blouse designs are gaining popularity, adding a contemporary touch to traditional bridal attire with options like racer backs, intricate embroidery, and unique button placements.
Versatile Wear
Suitable for a variety of occasions, from weddings and festivals to casual events and formal gatherings.
Innovative Button Arrangements
These blouses feature creative button placements and embellishments, making them visually appealing.
Personal Expression
The choice of fabric, color, and design allows women to express their individual style and personality.
Adaptability: Back button blouses are versatile enough to complement different types of sarees and outfits.
Contemporary Twist: The fusion of traditional elements with modern designs makes these blouses trendsetting and fashion-forward.
Occasion-Friendly: Whether it's a corporate event, cultural celebration, wedding, or casual gathering, there's a back button blouse design suitable for every occasion.
Unique and Eye-catching: The back button blouse design stands out with its unique closures, making it a stylish choice for fashion-conscious individuals.
Variety of Styles: Back button blouses offer a wide range of stylish patterns, including V-neck backless potli button details, pleated button fancy backs with puff sleeves, and intricate embroidery on boat necks.
In Which Events Do Women Typically Wear These Blouses?
Back button blouse designs are a popular choice for various events and occasions, especially in the context of Indian ethnic wear. These designs are characterized by buttons or fastenings running down the back of the blouse, creating a unique and stylish look. Here are some events and occasions where back button blouse designs are preferable:
Weddings: Back button blouses are a trendy choice for brides and bridesmaids. They add a touch of elegance and modernity to traditional bridal attire. Brides often opt for intricate and embellished back button blouses to complement their wedding sarees or lehengas.
Engagement and Reception Parties: These occasions call for a more contemporary and fashionable look. Back button blouses with unique designs, embroidery, or sequins can make a statement and ensure you stand out in the crowd.
Festivals: Back button blouse designs can be worn during festivals like Diwali, Eid, or Navratri. Depending on the level of formality, you can choose a blouse with subtle or elaborate button detailing.
Cocktail Parties: For semi-formal or cocktail parties, a back button blouse paired with a saree or a fusion outfit can be a sophisticated choice. These blouses allow you to experiment with different fabrics and styles.
Office Events: In some office cultures, ethnic wear is preferred during special events or celebrations. Back button blouses with modest detailing can be a suitable option for such occasions.
Sangeet and Mehndi Ceremonies: These pre-wedding events often involve music and dancing. Back button blouses provide comfort and ease of movement while still looking stylish.
Social Gatherings: Depending on the formality of the gathering, you can wear a back button blouse with a saree, lehenga, or even with palazzo pants for a chic and modern look.
Family Functions: Whether it's a family reunion, anniversary celebration, or a birthday party, back button blouses can be a versatile choice that combines tradition with contemporary fashion.
What Fabric Options Are Commonly Used To Make Back Button Blouses?
Silk: Silk blouses with back buttons are elegant and often worn for formal or special occasions. Silk provides a luxurious, smooth finish and drapes beautifully.
Cotton: Cotton blouses are versatile and comfortable. They can be casual or dressy, depending on the style and fabric weight. Lightweight cotton is great for everyday wear, while heavier cotton can be used for a more structured look.
Chiffon: Chiffon is a lightweight, sheer fabric that creates a delicate and feminine look. It's often used for dressy blouses with back button detailing.
Satin: Satin blouses have a glossy surface and a luxurious feel. They are commonly chosen for formal or evening wear due to their elegant appearance.
Lace: Lace blouses with back buttons can be very intricate and elegant. Lace adds a touch of romance to the design and is often used for special occasions.
Georgette: Georgette is a semi-sheer fabric known for its drape and flow. It's a popular choice for lightweight, airy blouses with back button accents.
Crepe: Crepe fabric can be made from various materials like silk, polyester, or rayon. It has a textured surface and drapes well, making it suitable for both casual and formal blouse designs.
Velvet: Velvet blouses with back buttons can create a luxurious and opulent look. Velvet is often chosen for evening or winter wear.
Linen: Linen blouses are great for casual and summer wear. They have a relaxed, breathable feel and can be stylishly designed with back buttons.
Tulle: Tulle is a lightweight, sheer fabric commonly used for layering or adding a delicate touch to blouse designs. It's often seen in more extravagant and formal blouses.
Back button blouse designs are a versatile and elegant choice for women of all ages, including young girls and teenagers, who are seeking traditional and contemporary Indian attire. These designs add a touch of sophistication and uniqueness to sarees, lehengas, and other ethnic outfits. With their intricate button detailing, they offer a balance between tradition and modern fashion sensibilities, making them suitable for various occasions. Whether you prefer a simple and subtle look or a more elaborate and embellished style, back button blouses provide endless possibilities for customization. They not only enhance the overall aesthetics of your outfit but also allow you to express your personal style. So, if you're looking to elevate your ethnic wardrobe, consider incorporating back button blouse designs to make a lasting impression.
Related Articles