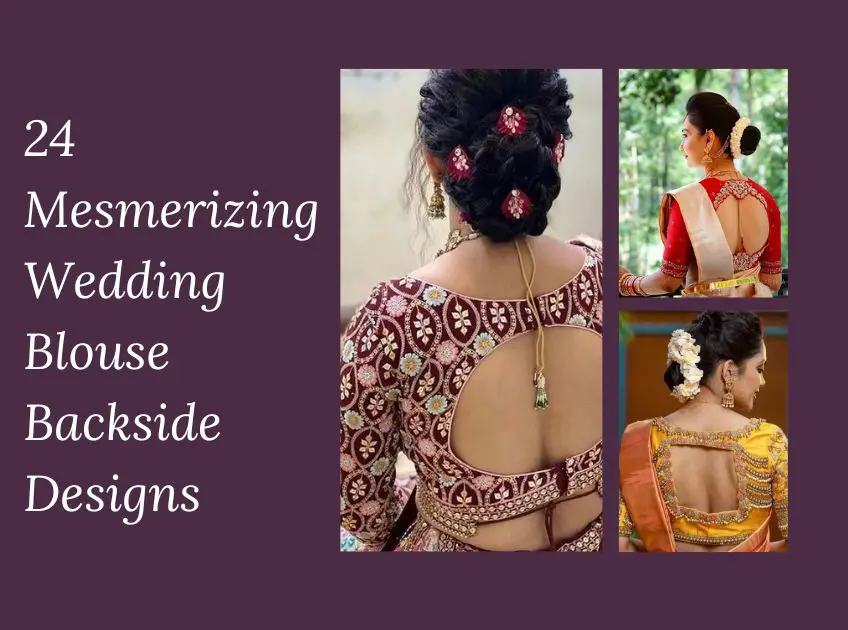 This blouse design is a type of blouse specifically designed for brides for weddings. The back design of the blouse changes her look. It is often decorated with pearls, intricate embroidery, tassels, beadwork, or other embellishments.
The design of the blouse back side, gives a unique look to the back of every Bride. Even though there are a number of trendy and fashionable blouse designs in the market. Some are very popular designs.
24 Mesmerizing Wedding Blouse Backside Designs for Women
1. Green Color Kundan Work Wedding Designery Blouse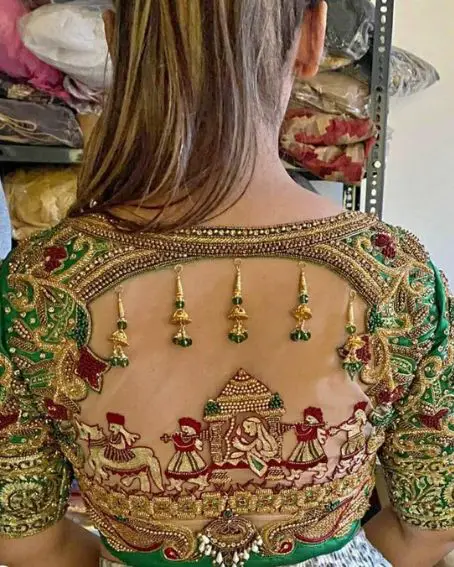 This exquisite green blouse features intricate Kundan work, making it a stunning choice for weddings. Its intricate design adds elegance to any ensemble.
2. Pink Colored Bridal Blouse With Doli Embroidered Work On Back Side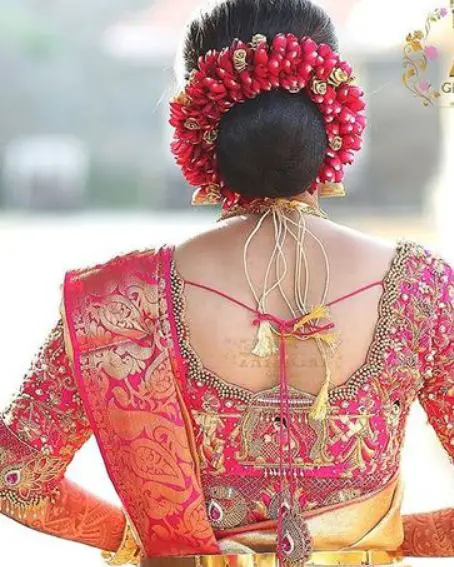 A pink bridal blouse adorned with Doli embroidery on the back exudes grace. Perfect for brides seeking a blend of tradition and style.
3. Navy Blue Color Wedding Embroidered Work Blouse For Bride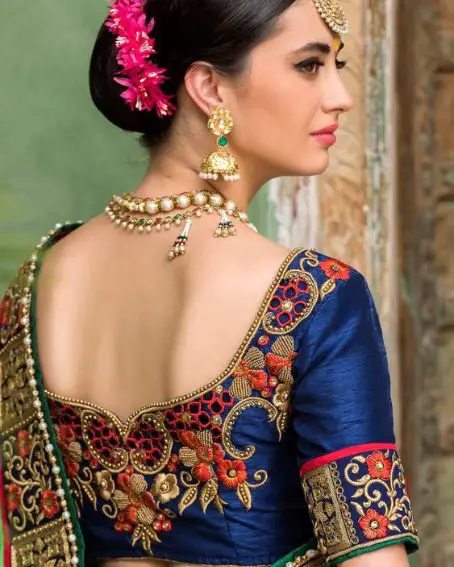 The navy blue wedding blouse boasts intricate embroidery, making it an alluring choice for brides. Its rich color adds a touch of sophistication.
4. Cream Bridal Saree With Contrast Maroon Embroidered Blouse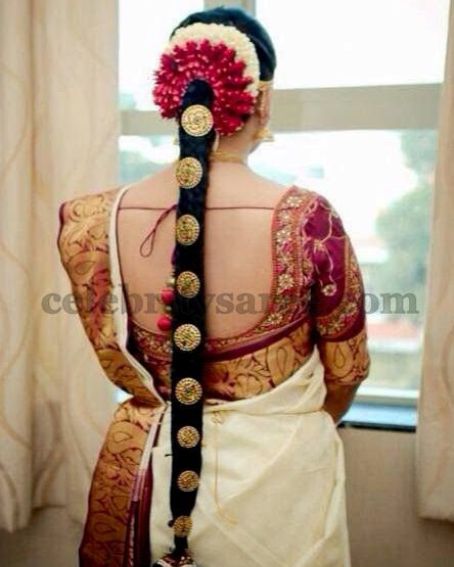 A cream bridal saree paired with a maroon embroidered blouse creates a striking contrast. This ensemble radiates timeless charm.
5. Yellow Embroidered Blouse With Blue Saree For Bride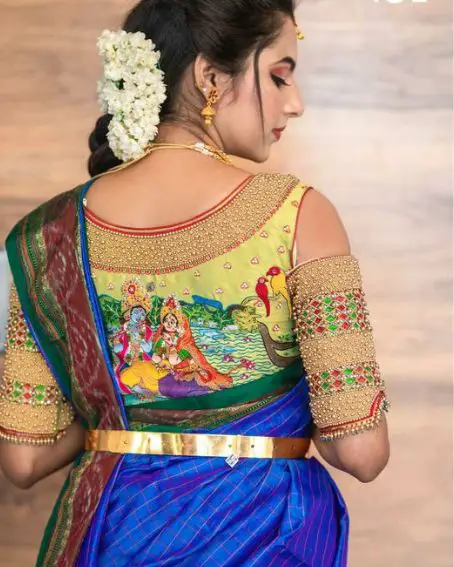 A yellow embroidered blouse paired with a blue saree offers a vibrant and eye-catching bridal look, perfect for those seeking a unique style.
6. Pink Color Blouse With Yellow Color Blouse Design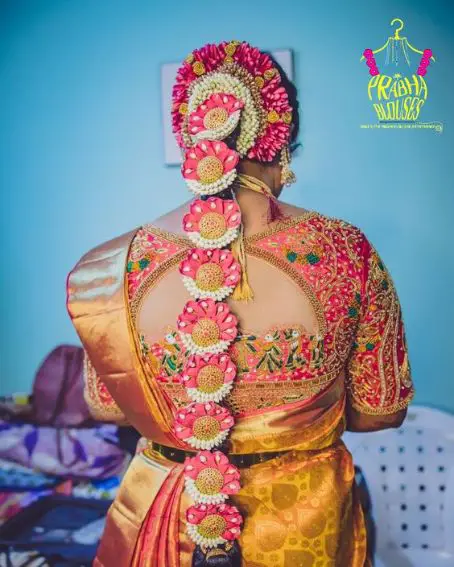 A pink blouse with a yellow design showcases a playful and colorful combination, ideal for those who want to stand out.
7. Maroon Color Velvet Wedding Designery Blouse With Beige Saree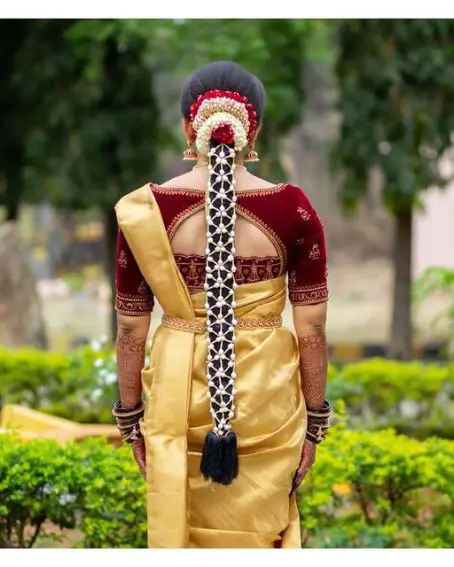 A maroon velvet wedding blouse, complemented by a beige saree, exudes opulence and sophistication, making it a luxurious choice for brides.
8. Royal Blue Color Wedding Designery Blouse For Bride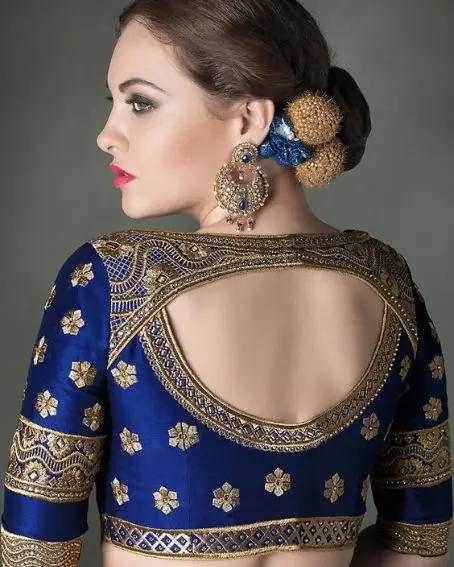 The royal blue wedding blouse features exquisite design details fit for a queen, adding a touch of regal elegance to the bridal attire.
9. Bright Red Wedding Blouse In Butterfly Net Base With Hand Adda Work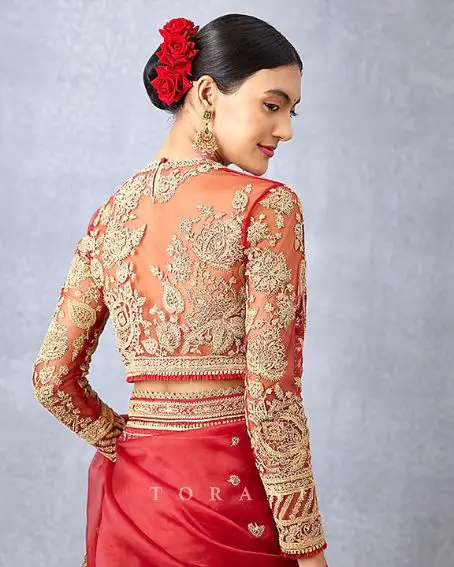 A bright red wedding blouse in butterfly net fabric with hand-adda work showcases fine craftsmanship and a bold, striking hue.
10. Orange Color Wedding Blouse Design With Embroidery Work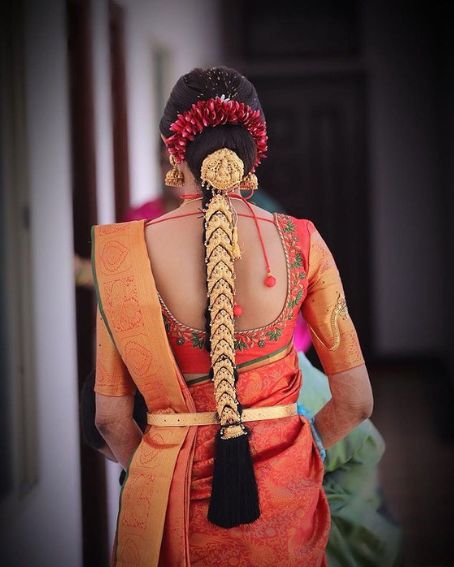 An orange wedding blouse with intricate embroidery work offers a vibrant and elegant choice for brides looking for a touch of warmth.
11. Green Color Embroidery Work Wedding Designery Blouse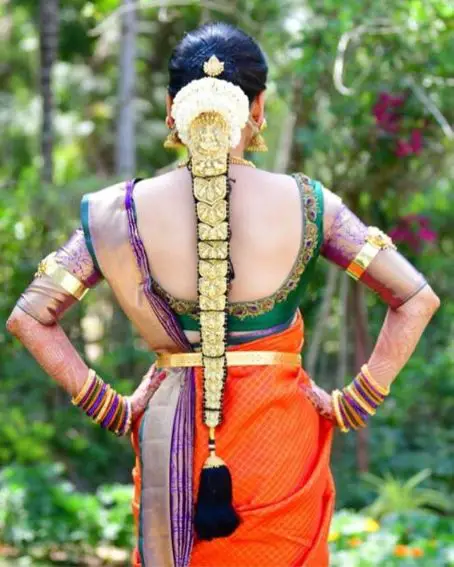 A green blouse with delicate embroidery work radiates freshness and beauty, making it an excellent choice for a wedding ensemble.
12. Green Color Embroidery Work Wedding Designery Blouse Marathi Style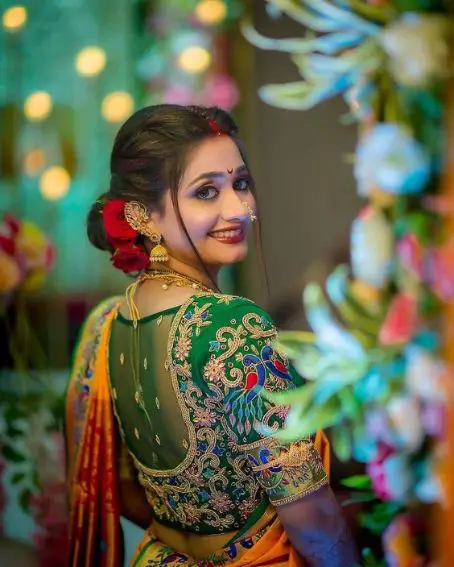 This Marathi-style green wedding blouse, adorned with embroidery work, pays homage to tradition while adding a contemporary twist.
13. Yellow Designer Blouse Maggam Work Yellow Pink Blouse Design Kundan Work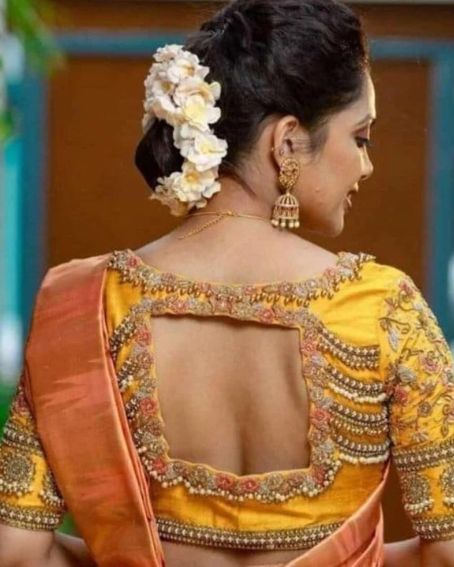 A yellow designer blouse with Maggam work and Kundan embellishments in pink is a masterpiece that combines intricate craftsmanship and vibrant hues.
14. Red Color Embroidery Wedding Blouse For Bride
A red wedding blouse with elegant embroidery is a classic choice for brides seeking timeless beauty and sophistication.
15. Purple Color Wedding Blouse Design For Wedding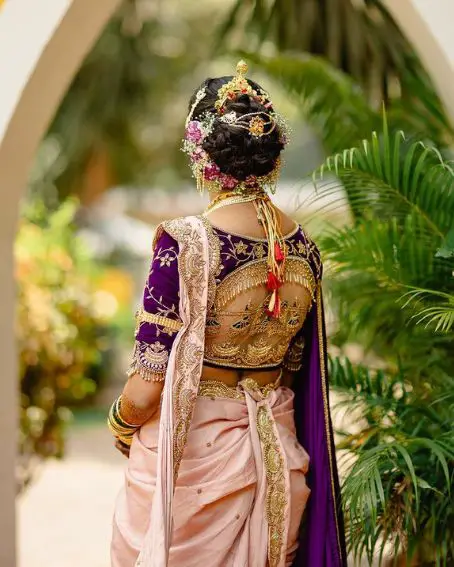 The purple wedding blouse design brings a touch of royalty to the bridal attire, making it an enchanting choice for a wedding day.
16. Royal Blue Wedding Blouse Design With Embroidery Design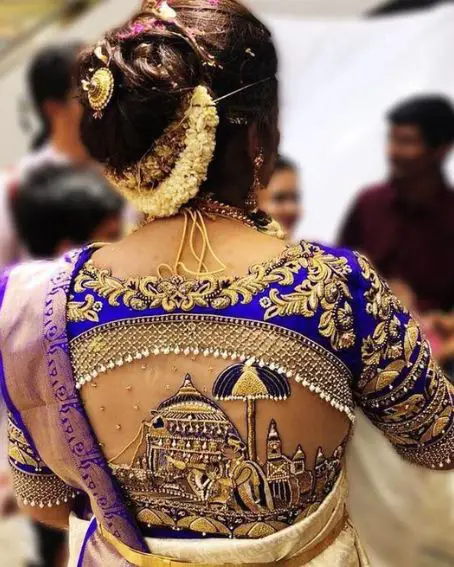 A royal blue wedding blouse with intricate embroidery design adds a touch of grandeur and elegance to the bridal ensemble.
17. Maroon Color Embroidery Full Sleeve Wedding Designer Blouse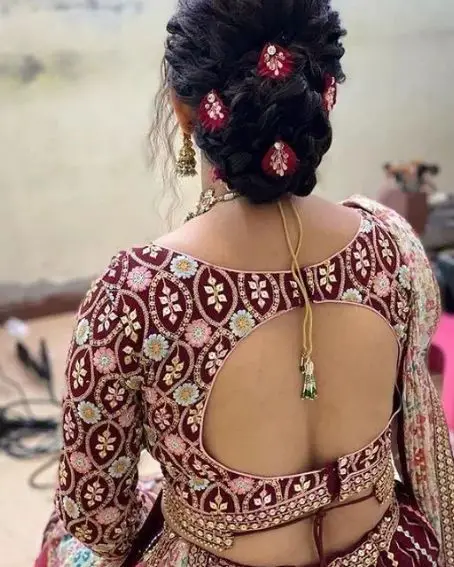 A maroon full-sleeve wedding designer blouse with embroidery work is a statement piece that combines traditional charm with contemporary style.
18. Red Color Silk Wedding Peacock Blouse Design With Green Saree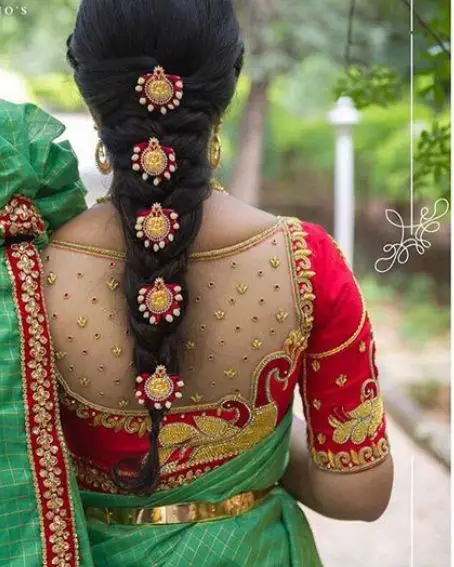 A red silk wedding blouse with a peacock design pairs beautifully with a green saree, creating a harmonious and vibrant bridal look.
19. Maroon Color Wedding Saree Blouse Doli Design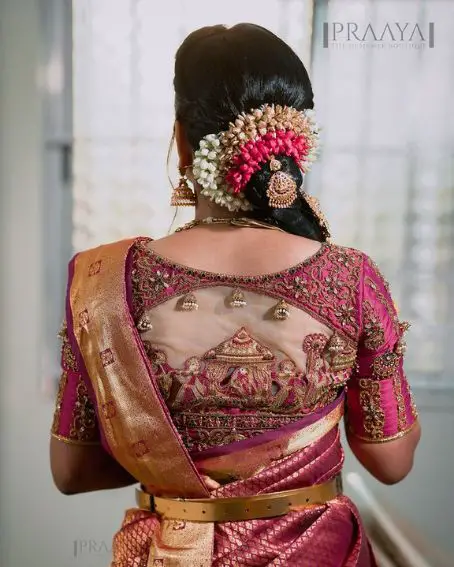 A maroon wedding saree blouse with Doli design symbolizes love and togetherness, making it a meaningful choice for brides.
20. Trendy Purple Color Wedding Saree Blouse Design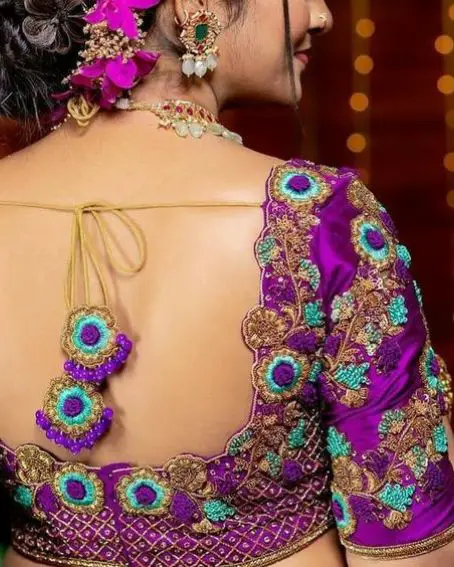 The trendy purple wedding saree blouse design adds a modern twist to bridal attire, ensuring the bride looks fashionable and chic.
21. Blue Color Embroidery Work Wedding Blouse Designs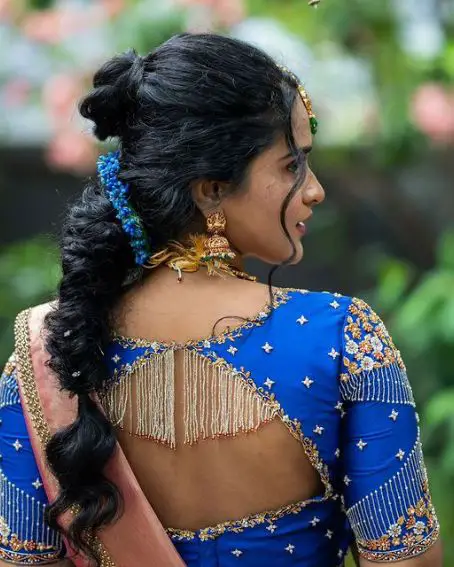 Blue embroidery work on a wedding blouse enhances its charm, offering a stylish and elegant choice for brides on their special day.
22. Red Color Kundan Work Designer Blouse For Bride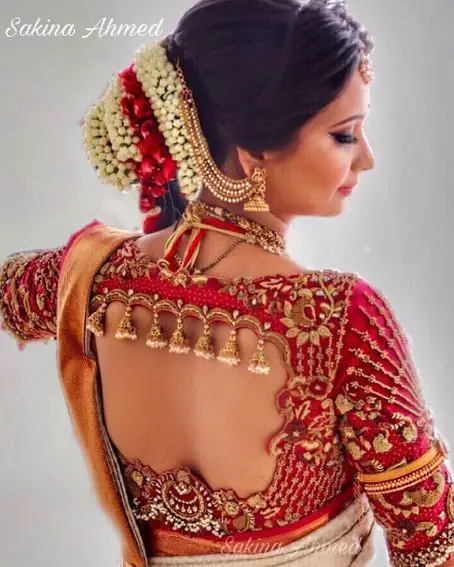 A red designer blouse with Kundan work radiates opulence and tradition, making it a perfect choice for brides seeking a regal look.
23. Embroidery Maroon Color Sleeve Wedding Blouse Design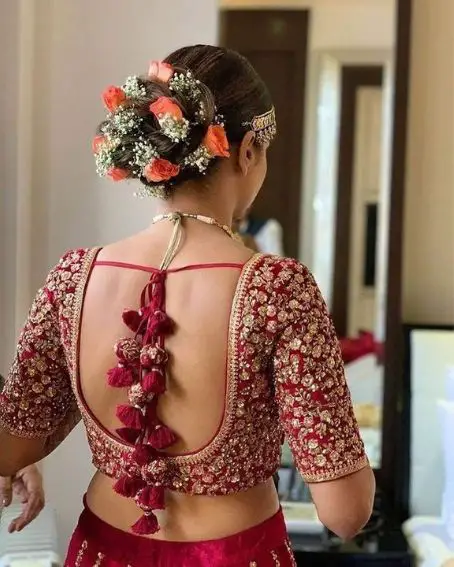 Maroon wedding blouses with intricate embroidery on the sleeves are a fusion of traditional aesthetics and modern design, perfect for a stylish bride.
24. Red Color Embroidery Wedding Saree Blouse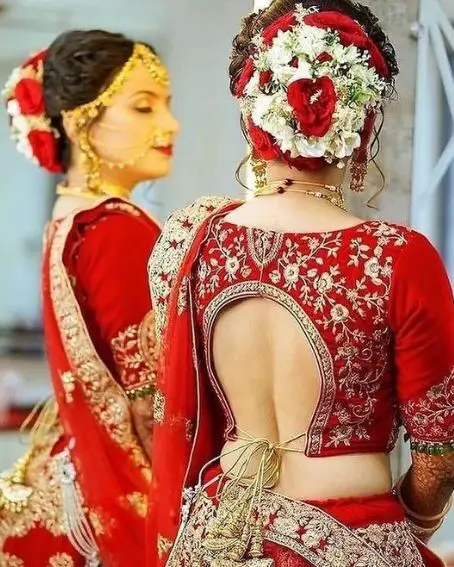 A red wedding saree blouse with delicate embroidery adds a touch of romance and sophistication to the bridal ensemble.
What is The Importance of Wedding Blouse Back Design?
Wedding day is one of the most special and memorable occasions in everyone's life. Every bride dreams of looking absolutely stunning on this day, and the wedding attire plays a pivotal role in achieving that dream look. While the saree is undeniably beautiful, it's the blouse back design that can truly transform your bridal appearance. In this article, we'll explore the importance of wedding blouse back designs and provide insights into various styles to help you make the right choice for your big day.
Why Should You Choose a Wedding Blouse Back Design?
Choosing the perfect wedding blouse back design is crucial for several reasons. First and foremost, it completes your bridal look. Just like the cherry on top of a cake, a well-chosen blouse back design enhances your overall appearance. It's the intricate details, the embellishments, and the style of your blouse back that can make or break your bridal outfit.
Moreover, the blouse back design allows you to express your personal style and preferences. Whether you prefer a traditional and elegant look or a modern and trendy one, your choice of blouse back design can help you achieve your desired aesthetic.
How to Pick the Best Wedding Blouse Back Designs?
Selecting the right blouse back design involves considering several factors. Your body shape, for instance, should play a significant role in your decision. Certain designs can flatter your figure better than others. Additionally, take into account the theme of your wedding. Different blouse back designs are suitable for various wedding themes, from traditional to contemporary.
One important piece of advice is to try out different designs before making a final decision. Sometimes, what looks good in your mind may not necessarily look the same when worn. Experiment with different patterns, necklines, and embellishments to find the design that complements you the best.
What Is the Best Blouse Back Design for a Haldi Wedding?
Haldi ceremonies are known for their vibrant and joyous atmosphere. To match the celebratory mood, opt for blouse back designs in cheerful colors like yellow or green. Light and breathable fabrics are ideal for the Haldi event, ensuring you stay comfortable throughout the festivities. Consider designs with minimal embellishments, as the focus is more on the joy of the occasion rather than heavy ornamentation.
What Is the Best Blouse Back Design for a Modern Bride?
Modern brides often seek blouse back designs that reflect their contemporary style. Off-shoulder, backless, and minimalist designs are all the rage. These styles exude sophistication and can be paired with a variety of sarees. Colors and embellishments are more flexible, allowing you to experiment and create a unique look that matches your modern sensibilities.
What Type of Saree Is Paired with Wedding Back Blouse Design?
The type of saree paired with a wedding back blouse design can vary depending on personal style, regional traditions, and individual preferences. However, popular choices often include:
Silk Sarees: Silk sarees like Banarasi, Kanjeevaram, and Mysore silk are frequently paired with wedding back blouse designs due to their rich and luxurious appearance, making them perfect for traditional weddings.
Chiffon and Georgette Sarees: These lightweight and flowy sarees are an excellent choice for a more contemporary and comfortable look, often paired with stylish and modern back blouse designs.
Designer Sarees: Designer sarees with intricate embroidery, embellishments, or unique drapes can be paired with wedding back blouse designs that complement their style and detailing.
Traditional Sarees: Depending on the region and cultural traditions, brides may choose to pair their wedding back blouse designs with traditional sarees like Kantha, Paithani, or Bandhani sarees.
Bridal Lehenga Sarees: Bridal lehenga sarees combine the grace of a saree with the glamour of a lehenga. These are often paired with intricately designed back blouses for a bridal look.
Half and Half Sarees: These sarees feature two different halves of contrasting fabrics. Brides often select back blouse designs that complement both halves for a balanced look.
Net Sarees: Net sarees with intricate designs are a popular choice for contemporary weddings and can be paired with stylish back blouse designs to enhance their overall appeal.
Weddings are significant milestones in people's lives, marking the beginning of a new chapter together and the bride's backside blouse design is a unique way to express her individuality and beauty. In many cultures, specific motifs, patterns, or symbols are incorporated into the backside design of a bride's blouse to carry forward traditions, customs, and symbolism, adding cultural significance to the attire.
The backside of the blouse can serve as a focal point, drawing attention to the Bride's entrance and exit, making a lasting impression on guests, and leaving a memorable image in photographs and videos
Related Articles