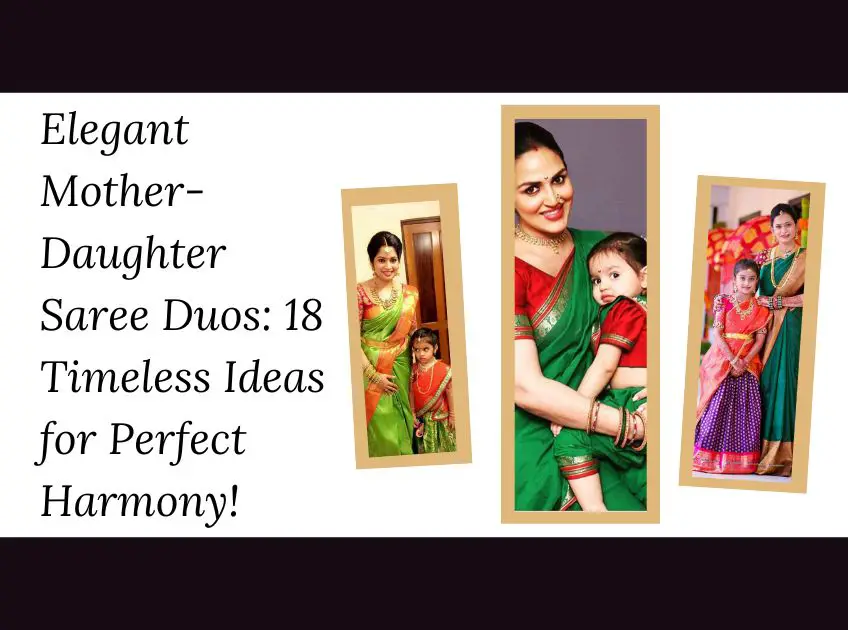 A mother-daughter saree is a wonderful way to honor the unique bond between two cherished individuals. It serves as a means to mirror each other's style, share a deep connection, and forge enduring memories.
Elegant Mother-Daughter Saree Duos: 18 Timeless Ideas for Perfect Harmony!
1. Mother & Daughter Stunning Combo Silk Saree Kanjivaram Indian Wear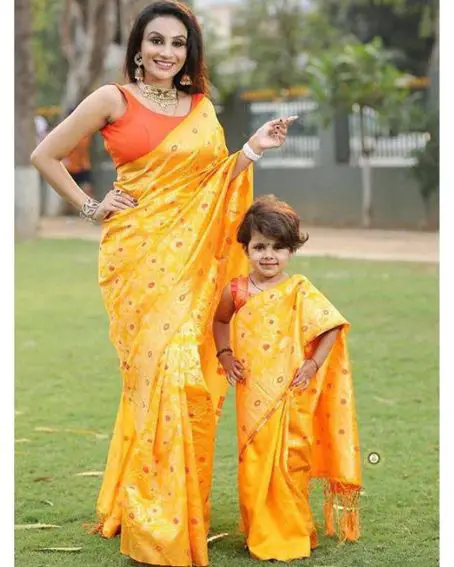 This elegant combination showcases the timeless beauty of Kanjivaram silk sarees, celebrating the bond between a mother and her daughter in traditional Indian attire.
2. Blue Printed Saree With Maroon Blouse Mother Daughter Saree Ideas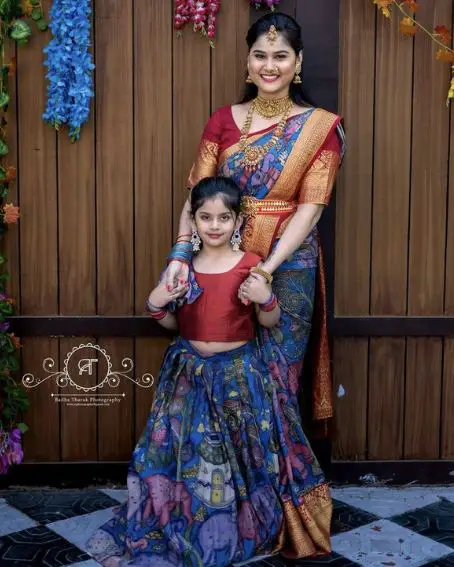 A lovely blend of blue and maroon, this mother-daughter duo looks enchanting in their matching sarees, exuding grace and charm with a touch of print.
3. Fluorescent Green And Pink Combinated Mother Daughter Saree Ideas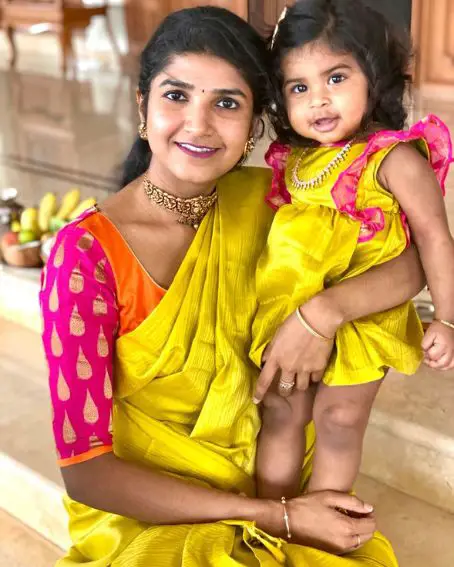 Vibrant and lively, the combination of fluorescent green and pink creates a striking visual appeal, making this mother-daughter pair stand out at any traditional occasion.
4. White And Maroon Combinated Mother Daughter Saree Ideas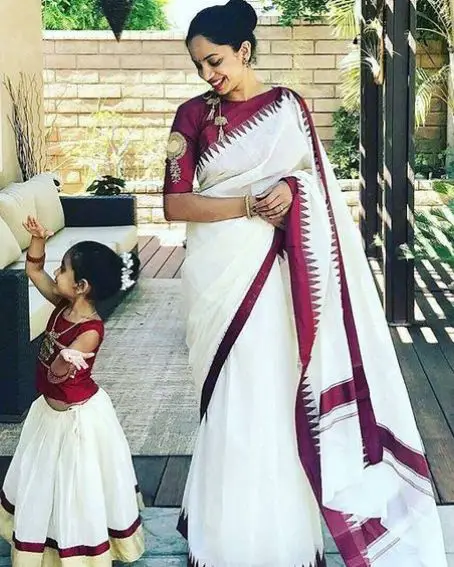 White and maroon symbolize purity and elegance. This mother-daughter saree combo radiates sophistication and grace, perfect for special occasions.
5. Designer Purple Mother Daughter Combo Saree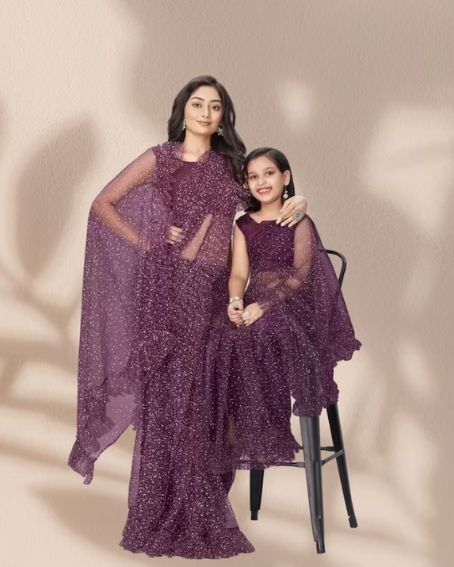 Embracing contemporary design, the purple saree set showcases a designer touch. Mother and daughter exude modern elegance while cherishing their bond.
6. Red Saree With Blue Embroidery Blouse Mother Daughter Saree Ideas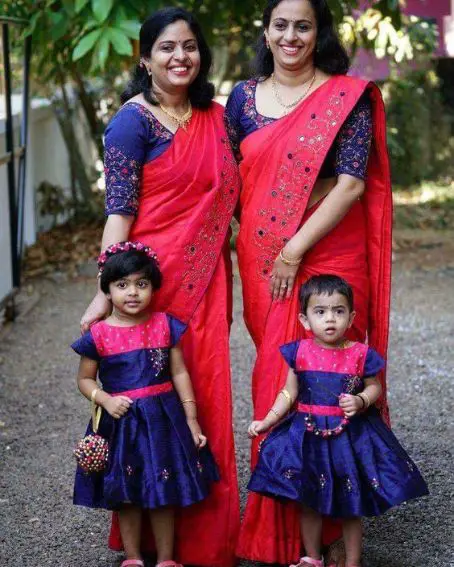 Red and blue embroidery adorn this mother-daughter duo, adding a touch of opulence to their traditional attire, perfect for grand celebrations.
7. Navy Blue And Pink Embroidery Combinated Mother Daughter Saree Ideas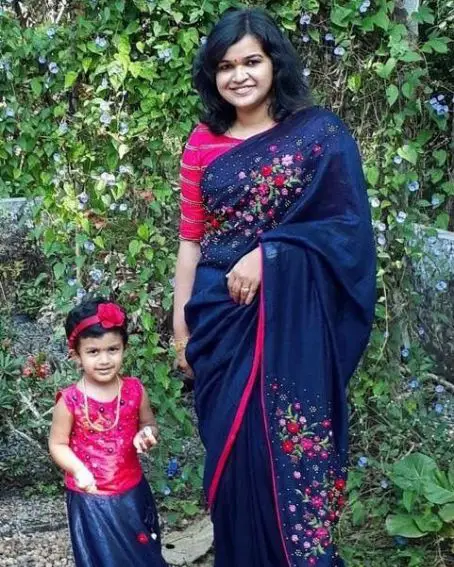 Navy blue and pink, enhanced with intricate embroidery, create a regal look for this mother-daughter pair, reflecting their impeccable style.
8. Sky Blue Fancy Saree Embroidery Blouse Mother Daughter Saree Ideas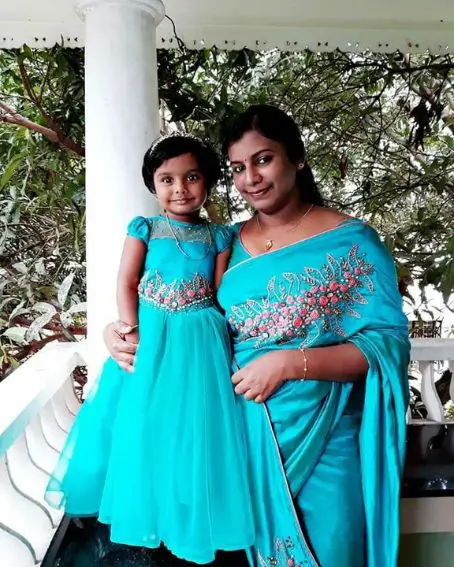 The sky-blue sarees with embroidered blouses radiate sophistication, capturing the essence of elegance in mother-daughter fashion.
9. Pink Color With Sequins Saree Combinated Mother Daughter Saree Ideas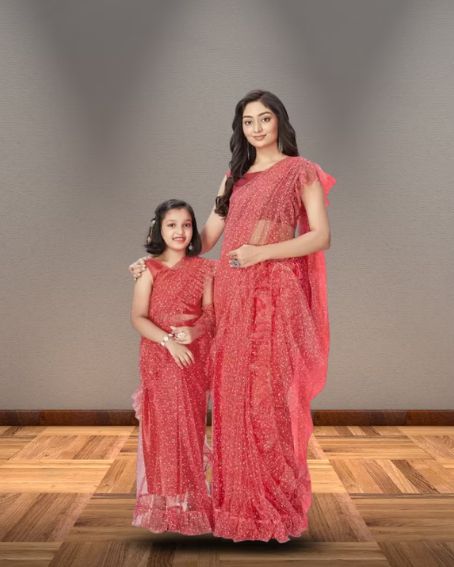 Pink sarees adorned with sequins bring a touch of sparkle to this mother-daughter combo, adding glamour and allure to their traditional ensemble.
10. Parrot Green Color Saree With Orange Blouse Combination For Their Love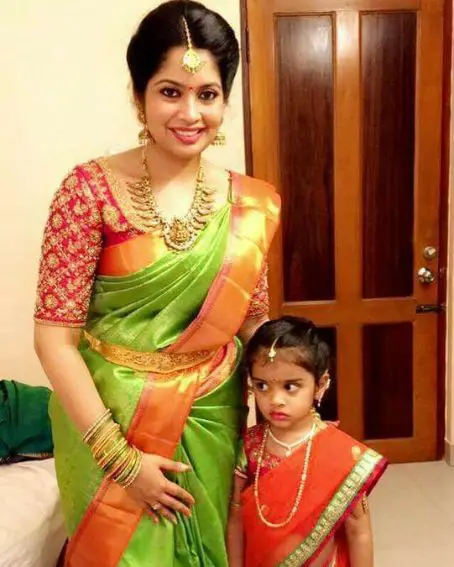 The parrot green saree with an orange blouse signifies love and warmth between a mother and her daughter, creating a beautiful visual harmony.
11. Esha Deol And Her Daughter In Green Saree With Red Blouse Looking Awesome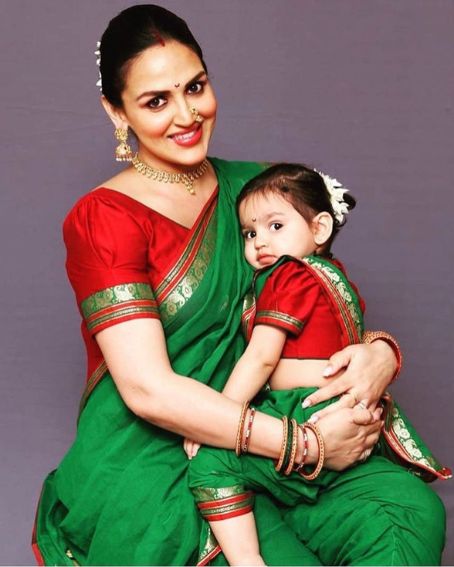 Esha Deol and her daughter stun in green sarees with red blouses, epitomizing grace and beauty in their traditional attire.
12. Peacock Blue Combinated Mother Daughter Saree Ideas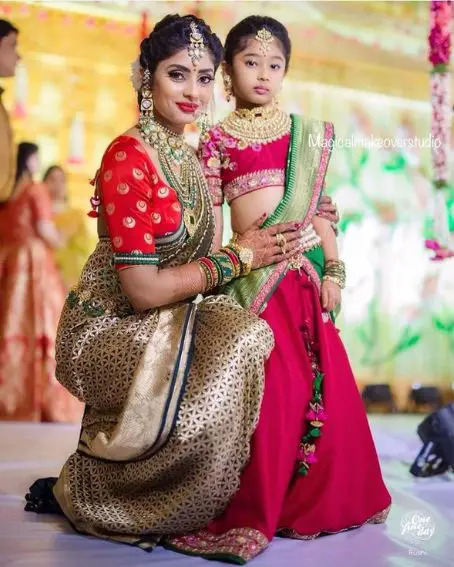 Peacock blue sarees bring a sense of majesty to this mother-daughter pairing, highlighting their fashion-forward choices and unique style.
13. Mother In Bottle Green Saree With Her Adorable Daughter In Orange Saree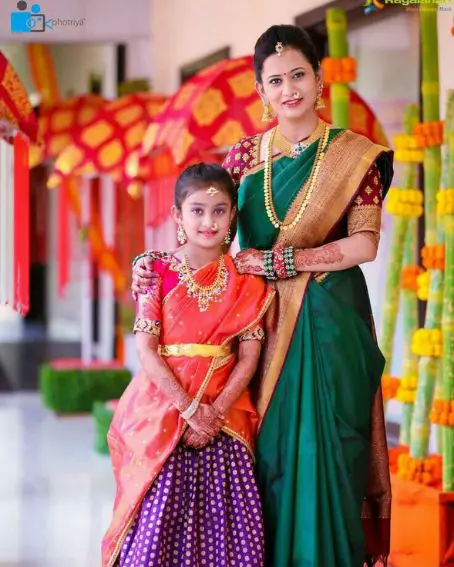 The mother's bottle green saree beautifully complements her daughter's vibrant orange attire, creating a delightful contrast that reflects their close bond.
14. Manchu Viranica With Her Daughters In Traditional Outfits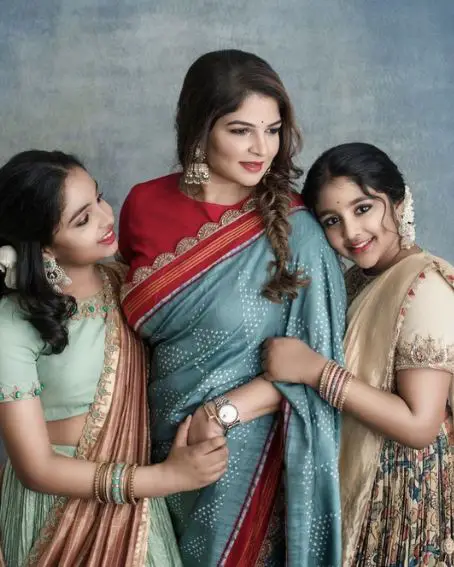 Manchu Viranica and her daughters exude traditional charm, celebrating their cultural heritage through their choice of attire.
15. Designer Pink Mother Daughter Combo Saree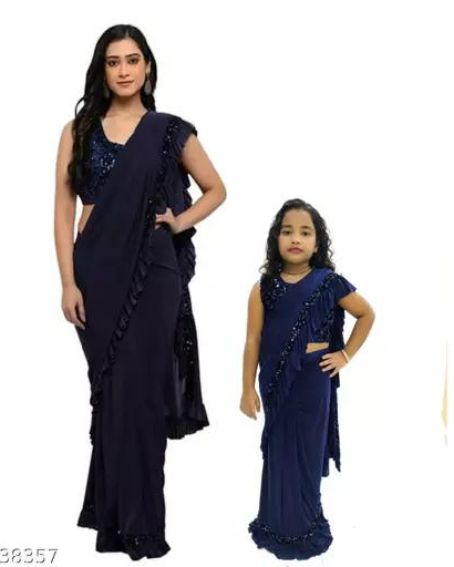 This designer pink saree set showcases modern elegance, with the mother and daughter radiating style and sophistication in their matching ensembles.
16. Aishwarya Rai Bachhan And Aaradya Bachhan In Traditional Look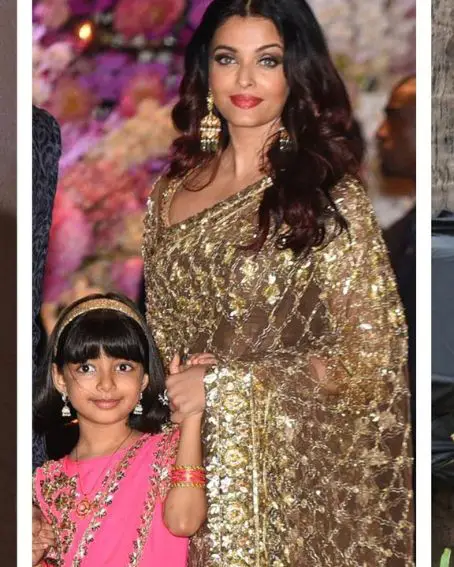 Aishwarya Rai Bachchan and her daughter Aaradhya embrace tradition with grace and poise, setting an example of timeless beauty.
17. Mother Daughter Saree Combo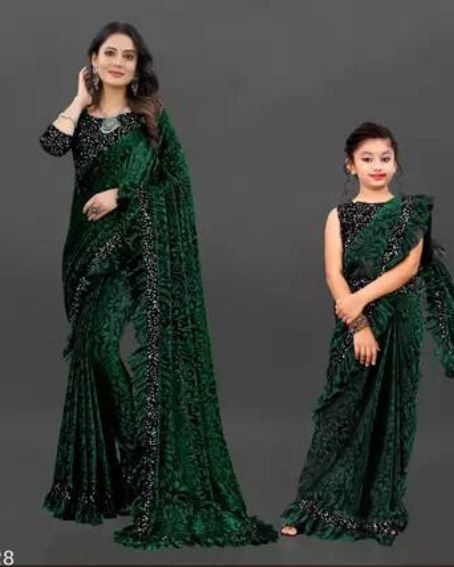 The mother-daughter saree combo signifies a cherished bond and celebrates the beauty of tradition, embodying love and elegance.
18. Mother And Daughter In Pink Saree Designer Looking Elegant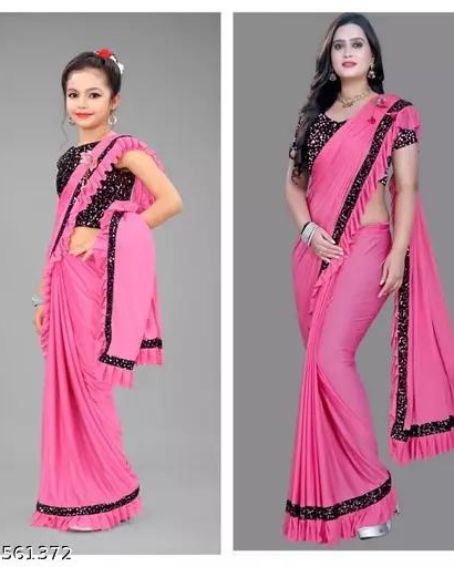 In matching pink sarees, this mother-daughter duo epitomizes elegance and showcases their impeccable sense of style.
Conclusion
Mother-Daughter saree combinations offer a beautiful way to celebrate the special bond between generations. Whether it's through coordinated colors, traditional designs, or contemporary styles, these saree ideas create lasting memories and showcase the enduring love and connection shared between a mother and her daughter, all while embracing the rich cultural heritage of Indian fashion.