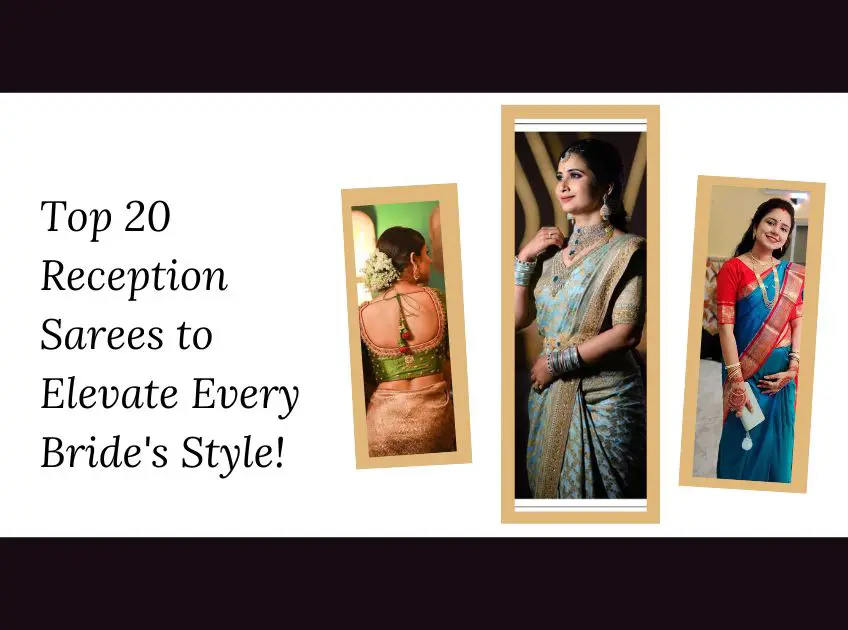 A bride in a saree looks really beautiful at her reception, which comes after the wedding. It's a big party where family and friends welcome the newlyweds. What the bride wears is super important because it shows her style and personality. A saree is a special Indian dress, and there are many choices for the bride in terms of fabric, color, and design. The reception saree is fancier with pretty decorations and nice fabrics like silk or chiffon.
Top 20 Reception Sarees to Elevate Every Bride's Style!
1. Tissue Bridal Saree for Reception Look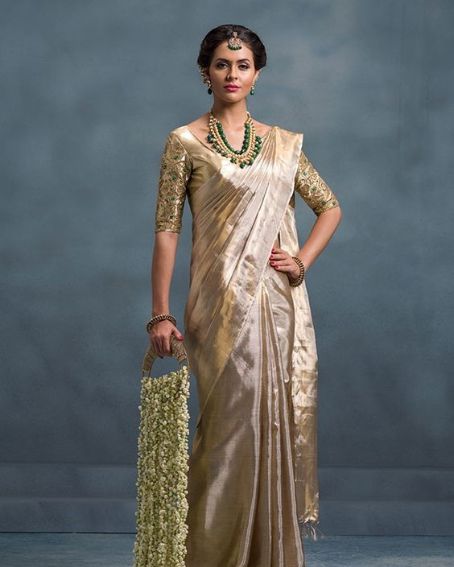 Tissue sarees are known for their delicate weave, adding a touch of ethereal charm to your reception attire. The subtle shimmer of tissue fabric complements the bridal glow beautifully.
2. Red Designer Silk Sarees For Wedding Reception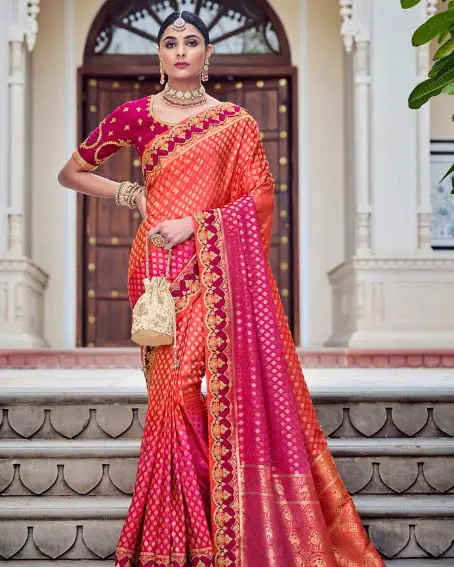 Red silk sarees exude regal elegance and symbolize love. These designer pieces feature intricate patterns and craftsmanship, making them the quintessential choice for a memorable reception.
3. Gray Color Bridal Reception Saree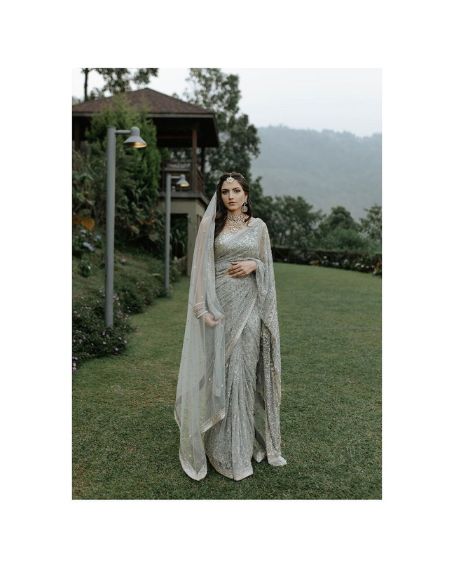 Gray, often associated with sophistication, offers a modern twist to traditional bridal wear. A gray reception saree captures attention with its understated yet alluring allure.
4. Lemon Yellow Bridal Reception Saree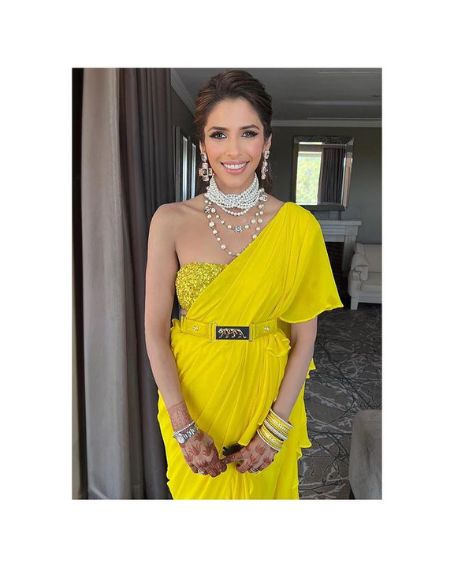 A lemon yellow saree radiates joy and freshness, making it a unique choice for a reception look. It's a color that exudes positivity and creates a cheerful atmosphere.
5. Beige Color Wedding Reception Look Saree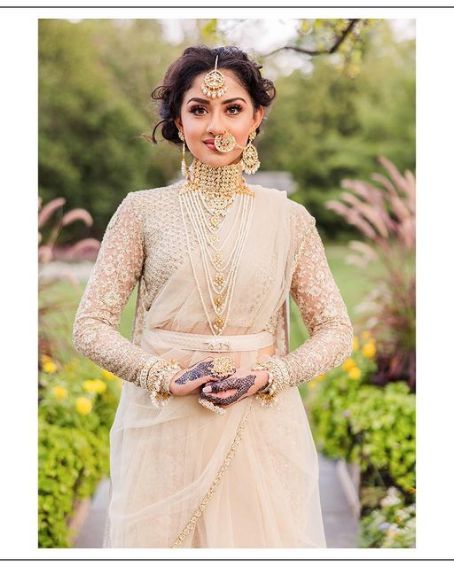 Beige signifies subtlety and grace. A beige reception saree, adorned with intricate embellishments, imparts a timeless charm that perfectly suits the occasion.
6. Red Designer Silk Sarees For Wedding Reception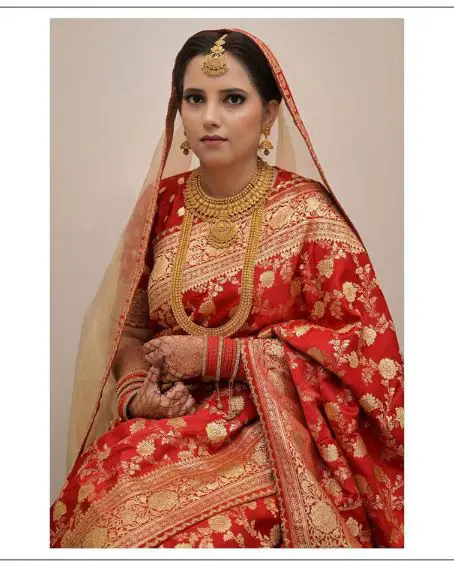 Red designer silk sarees are the epitome of elegance and grace, making them a perfect choice for a bride's attire at her wedding reception. These exquisite sarees exude sophistication and charm, enhancing the bride's beauty on her special day. With intricate designs and rich red hues, these sarees capture the essence of a timeless and unforgettable wedding reception look.
7. Red Kanjeevaram Designer Silk Sarees For Wedding Reception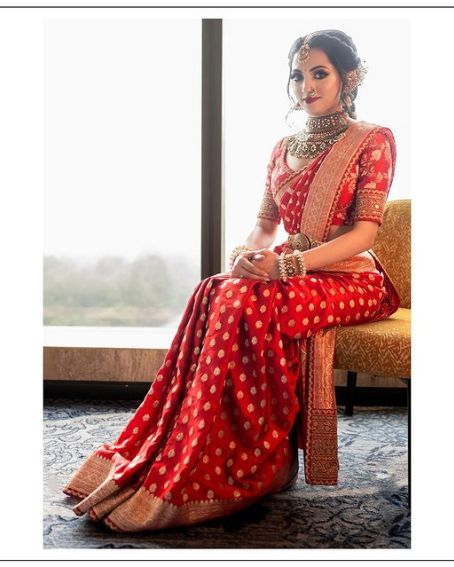 Kanjeevaram silk sarees in rich red hues are an embodiment of South Indian tradition and opulence. These designer variants elevate your reception look with their royal appeal.
8. Most Demanding Designer Heavy Party Wear Lycra Peach Saree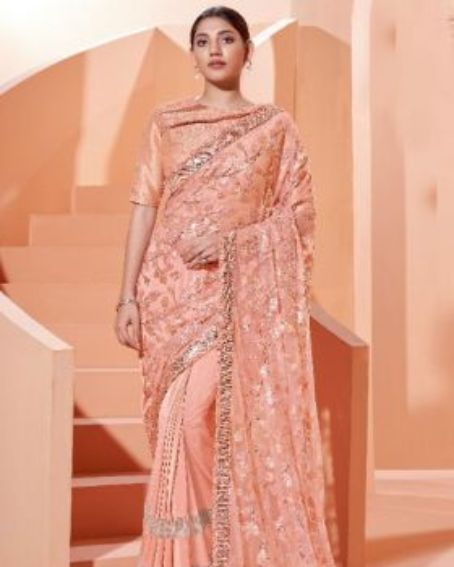 The lycra peach saree with a raw silk blouse is a sought-after choice for its comfort and contemporary style. It's perfect for brides who want to make a statement without compromising on ease.
9. Sabyasachi Beige Color Wedding Reception Look Saree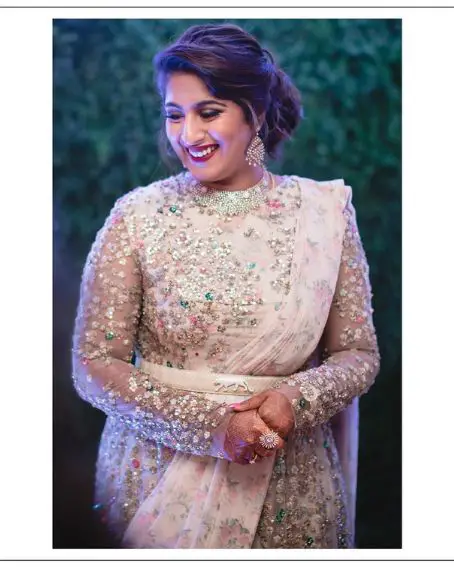 For a breathtaking wedding reception look, the bride adorned herself in a stunning Sabyasachi beige color saree. This ethereal choice exuded elegance and grace, perfectly complementing the grandeur of the occasion.
10. Brown Velvet Saree for Reception Look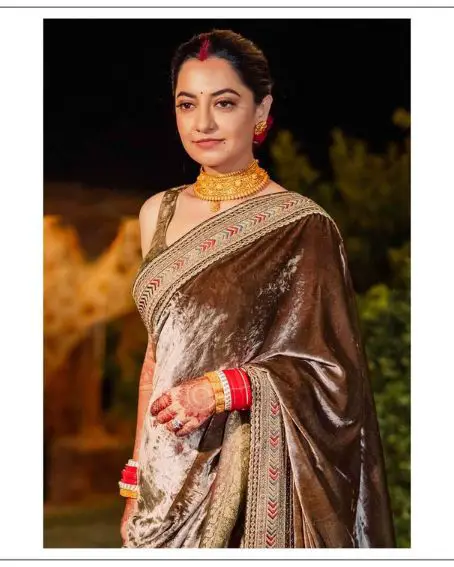 Brown velvet sarees exude opulence and warmth. Ideal for winter receptions, these sarees offer a plush and regal appearance, ensuring you stay cozy and stylish.
11. Pink Saree for Reception Look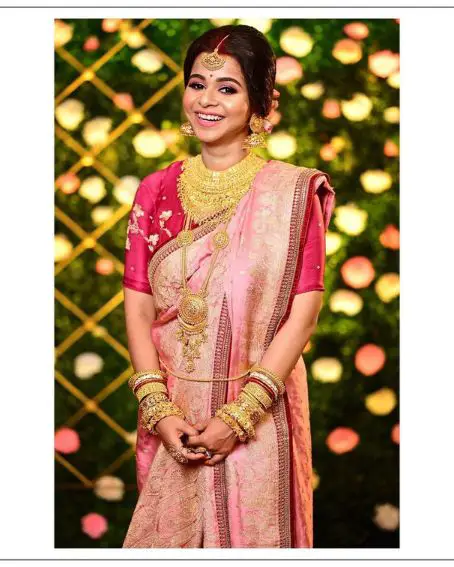 Pink symbolizes romance and femininity. A pink reception saree, intricately designed, creates a soft and charming aura, making you the center of attention.
12. Net Beige Color Saree with Sequins Blouse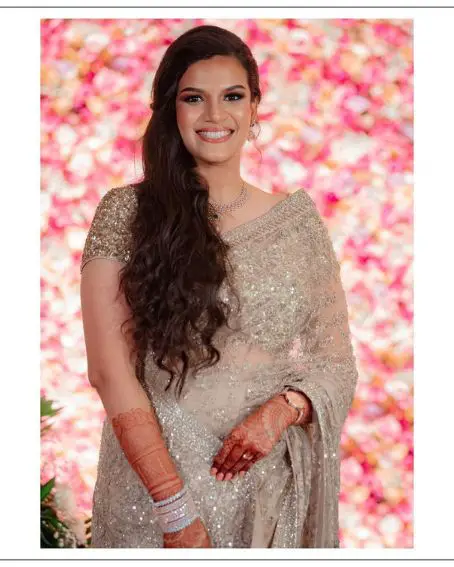 A net beige saree with a sequins blouse combines contemporary aesthetics with traditional elements. The shimmering sequins add a touch of glamour, making it suitable for a glitzy reception.
13. Pastel Green Reception Saree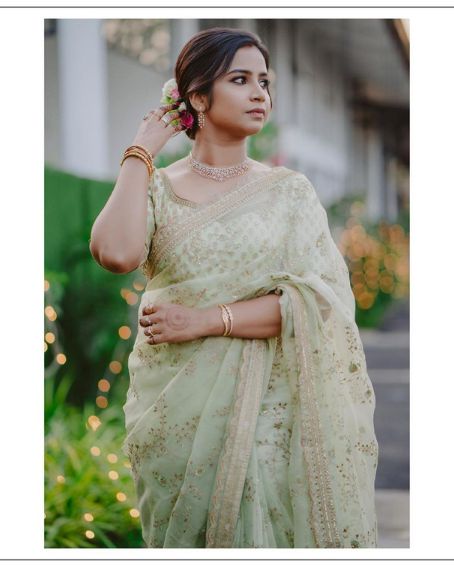 Pastel green is a calming and refreshing hue. Wearing a pastel green saree for your reception imparts a tranquil and graceful vibe, perfect for a serene celebration.
14. Sky Blue Saree For Reception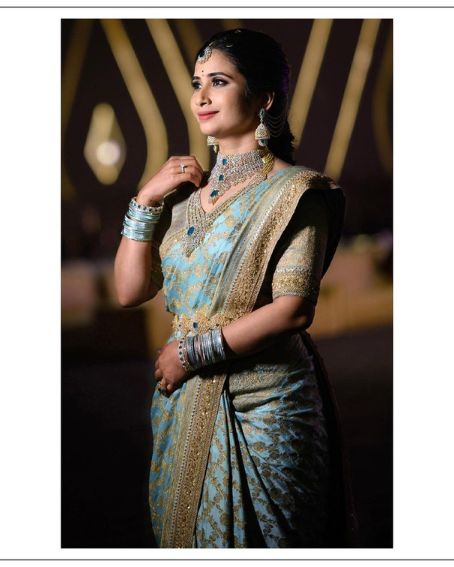 Blue is a versatile and enchanting color. Opting for a blue saree for your reception offers a captivating and stylish appearance, highlighting your individuality.
15. Red Checks Saree with Green Velvet Blouse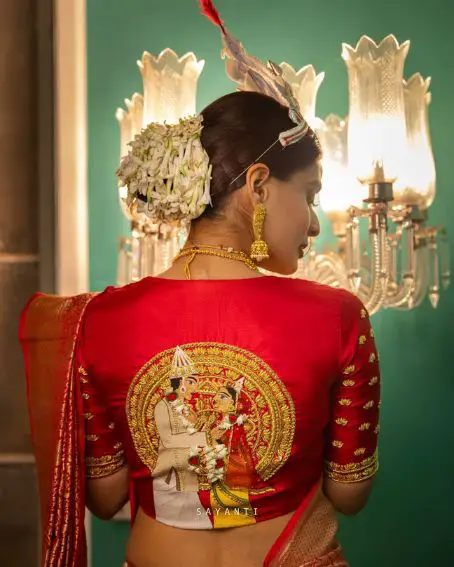 A red checks saree paired with a green velvet blouse is a striking combination. It's a blend of tradition and modernity, creating a vibrant and elegant reception ensemble.
16. Blue Saree with Red Blouse for Reception Look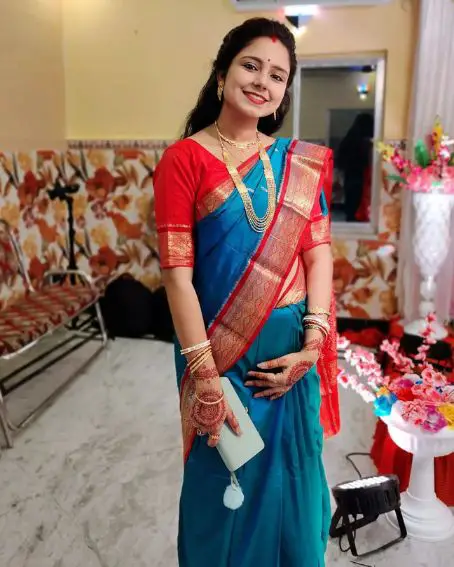 A blue saree with a contrasting red blouse adds drama and flair to your reception attire. This bold combination captures attention and makes a statement.
17. Sea Green Color Georgette Embroidered Wedding Wear Saree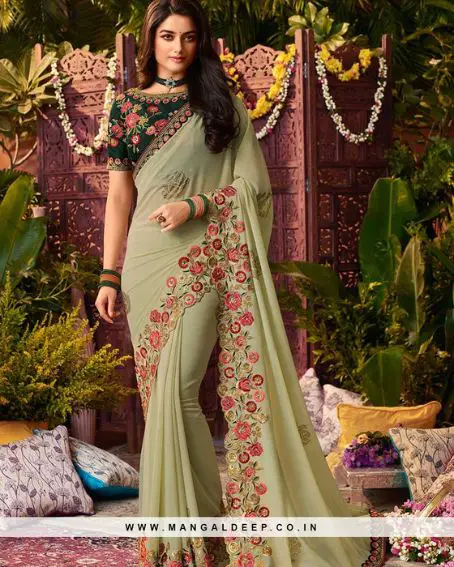 Sea green exudes tranquility and sophistication. A georgette saree in this shade, adorned with intricate embroidery, ensures an elegant and memorable reception look.
18. Reception Party Wear Pink Net Extraordinary Handwork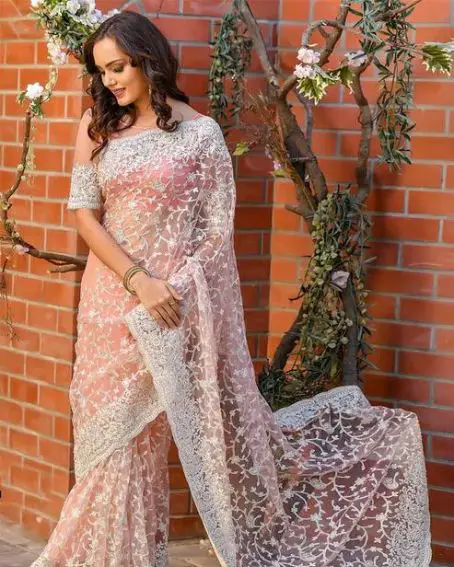 A pink net saree with extraordinary handwork is a showstopper. It's a perfect choice for a reception, showcasing intricate craftsmanship and sheer elegance.
19. Brown Saree with Green Blouse for Reception Look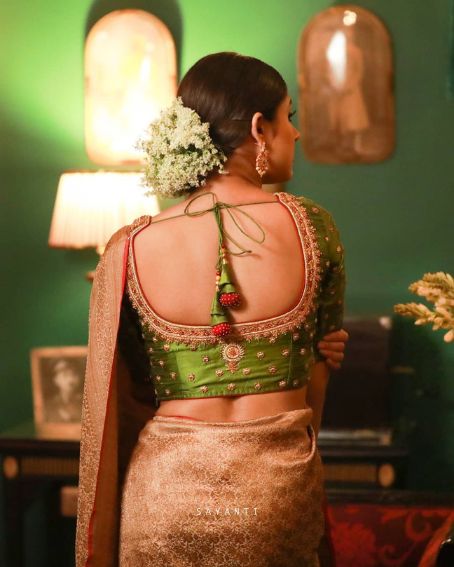 Combining brown saree with a green blouse is a harmonious blend of earthy tones. It creates a balanced and stylish reception ensemble with a touch of nature's charm.
20. Peach Embroidery Saree for Reception Look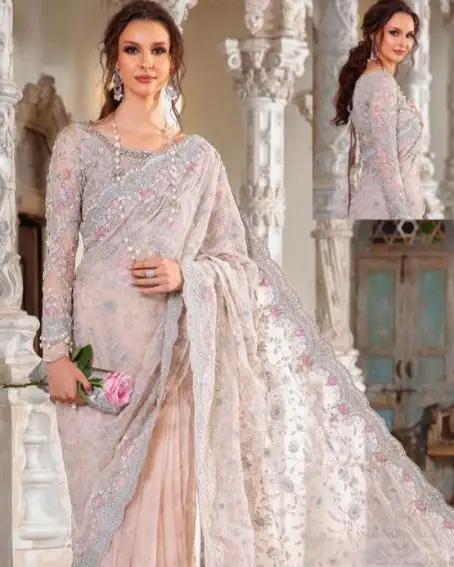 A peach embroidery saree adds a touch of sophistication and grace to your reception attire. The intricate embroidery work enhances the overall appeal, making you look stunning on your special day.
Why should you choose a reception saree for a bride?
Choosing for a reception saree for a bride is a wise choice for several reasons.
Firstly, a reception saree allows the bride to showcase her distinct style and personality, making her feel comfortable and confident. Secondly, it's a perfect canvas for intricate embellishments and designs, ensuring the bride looks exquisite on her special day.
Additionally, reception sarees often incorporate contemporary elements, making them suitable for modern ceremonies. Ultimately, choosing a reception saree adds a touch of elegance and uniqueness to the bride's overall look, setting her apart during this memorable occasion.
How to choose the reception saree for a bride?
Consider the bride's personal style and preferences to reflect her individuality.
Choose a color that complements her complexion and matches the wedding theme.
Prioritize comfortable fabric for long hours of celebration.
Examine embellishments and embroidery in line with the bride's taste.
Ensure the saree's drape and fit enhance the bride's natural beauty and allow ease of movement.
What Are The Colors And Fabrics Used To Make Reception Saree ?
Reception sarees are known for their vibrant and opulent designs.
Traditional South Indian bridal sarees feature rich and bold colors, including deep reds, vibrant oranges, and royal blues, symbolizing auspiciousness and celebration.
These sarees are typically crafted from luxurious fabrics like silk, with Kanchipuram silk sarees being the most popular choice.
South Indian wedding sarees are adorned with intricate gold or silver zari work, intricate motifs, and traditional temple designs.
They symbolize cultural heritage and timeless elegance, making them a stunning and integral part of the region's bridal attire.
Conclusion
The reception is a special time when everyone looks at the bride in her beautiful saree. What she wears is important because it shows her traditions, culture, and personal style. It's a moment when she looks very elegant, and it's the end of the wedding celebrations. The reception is a way to celebrate the bride and her pretty saree.