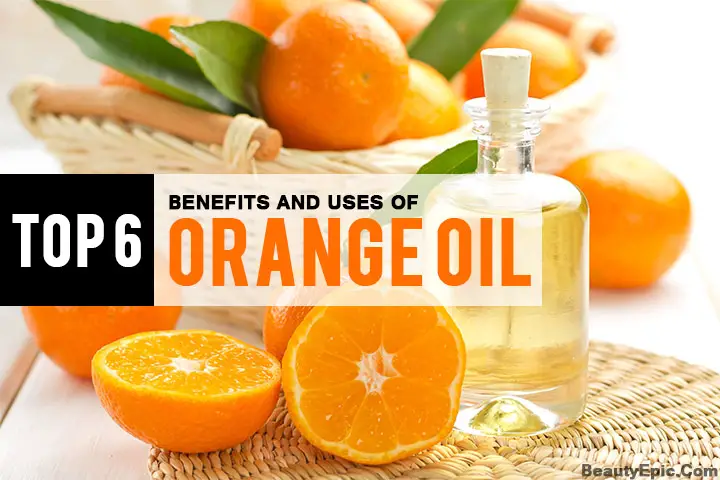 Orange oil is the extract obtained from the peels of orange by the process of cold compression. The active component of the oil is Limonene containing Alpha Pinene and Citrovella which makes it a popular ingredient of skin and health care products. Over the years, orange oil has garnered immense success in the beauty & skin industry, making it a household product across the globe. Its easy availability and affordable pricing makes it a preferred alternative against the other high-priced artificial health and beauty products.
Surprising Benefits of Orange Oil
Orange oil peeled from the outer surface of the fruit is known for its immunity improvising ability due to the properties of the majorly present ingredients especially limonene. Limonene is a powerful antioxidant that has the ability to fight damage in radicals and inflammation, deterring serious health diseases. Some of the widespread usage of the product includes skincare, hair growth, anti-ageing etc.
1. Orange oil for Skin
Our skin is the most exposed part of our body leading to immense damage from the everyday pollution. Orange oil is one of the most effective products for treating the damaged skin. It helps fighting the bacteria that causes acne, the inflammation due to over exposure to UV rays and is useful in reducing the pain and redness caused due to acne. It is a better alternative to the chemical products available in the market which often do more harm to the body than any good.
2. Orange oil for Dark Circles
Citrus fruits including oranges provide high levels of Vitamin C which help in healing various conditions related to the skin. The use of orange oil promotes the production of collagen which helps in fighting dark circles and other skin marks. It has the ability to slow the rate of skin damage because of the presence of strong anti-oxidants. It is often used in combination with tea tree oil for treating dark circles.
3. Orange oil for Face Skin Whitening
The oil is effective for individuals with oily skin as it has the ability to ease inflammation thereby clearing the pores and giving a fresh and glowing texture to your skin. As an antioxidant it helps in lowering the dark patches and wrinkles associated with premature aging and makes the skin look fresh and clear of any dark spots.
4. Orange oil for Skin Cancer
D-Limonene which is the active ingredient in orange oil is known to fight cancer due to the presence of the element known as monoterpenes in it which are extremely effective chemo-preventive agents against tumor growth. Its use in wide variety of skin products also enables it to act as a strong defender against oxidative stress which has been proved in research to reduce and cure skin cancer.
5. Orange oil for Hair
The oil is an all-rounder for ensuring damage free, smooth and silky hair. Orange oil helps in treating dry and rough scalp, making it free of dandruff . It provides nutrition to the hair due to the presence of Vitamin C in the oil and strengthens the roots stimulating faster growth. It acts as a moisturizer thereby solving a large range of hair problems. It is often used with eucalyptus oil and also sold in the form of supplementary tablets for strengthening hair.
6. Orange Oil Spray for Bugs
While there are multiple options in the market when it comes to bug sprays, not many know about the immense effectiveness of orange oil in combating bugs. Orange oil sprays not only wipe out bugs as you would expect it to do but it also prevents re-infestation of the bugs. The main ingredient D-Limonene causes dehydration and asphyxiation on the exoskeleton of insects, acting as a weapon for our aid in wiping out bugs and keeping our environment safe.
Orange Oil as a Sedative
Especially when the body is under stress due to any physical activity or any other mental pressure, a sedative is something many would rely on. However, all artificial sedatives have negative effects. Orange oil being a naturally available product, it has many anti-inflammatory properties that work very well and acts as a sedative.
Over the years, orange oil has moved out of the shelves of grandmas who has used it for years as a homemade secret to become a successful commercial product providing the growing demand for skin and health-care solutions without any long term ill-effects. In this rapid changing lifestyle which is leading to numerous health disease, the importance of the presence of Orange Oil acting as a natural healer cannot be understated.
You Might Also Like:
Image:- 1