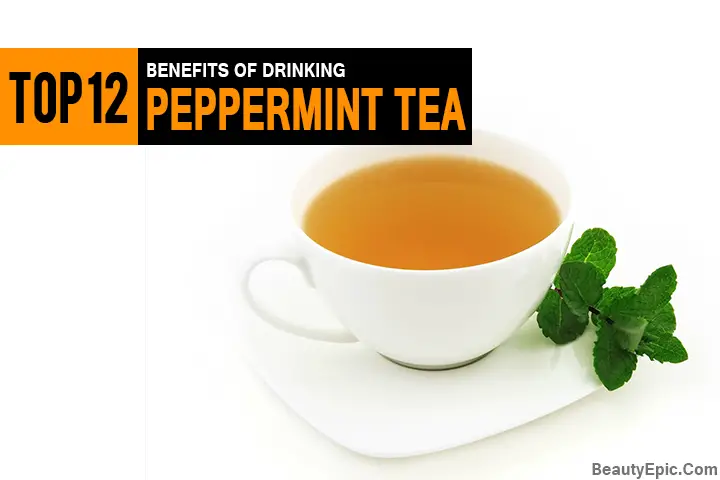 Peppermint tea is an herbal tea which is infused with peppermint and is sometimes made out of mint tea. This tea is made out of blending mind leaves and is sometimes known as double mint tea. Pepper mint is something is more than delicious dish. From the top head to the toes, there is everything that is beneficial on health. Pepper mint tea is an infusion of spearmint and water mint which is high in menthol. Aroma of peppermint tea is famous around the globe because it tends to refresh the mind instantly, and this is a strong aroma due to high content on menthol in it helps to boost the body in numerous ways and here we list some important benefits of peppermint tea.
12 Amazing Health Benefits of Peppermint Tea
1. Memory Problems
Peppermint tea is extremely beneficial to improve the memory problems. Surprisingly this is unbelievable but true that the aroma of peppermint has been shown to enhance the memory of a person. According to studies it has shown that brain reacts to mint leaf aroma helps to increase the alertness too.
2. Headache
This is not among the hidden facts but peppermint tea helps to relief headaches and tension. Drinking peppermint tea in the morning helps to calm down the insensibility in the body which further leads in balancing the hormones. For headache pain, you can consume the peppermint tea early in the morning or empty stomach and try to grasp the aroma which is very refreshing before you drink this tea.
3. Muscle Pain
Peppermint tea also helps in relieving the muscle pain which further leads in activeness in the body. Due to essential amino acids and compounds it helps in decreasing the muscle inflammation and relaxing them too. In addition to this you can also use peppermint oil on the muscles or add in the bath water for instant muscle relief.
4. Protects Against Radiation Damage
Pre-clinical research has shown the peppermint tea is extremely beneficial in protecting skin against the radiation damage. The harmful UVA or UVB rays directly penetrated the skin leads to damage of skin cells and further breakouts. Peppermint tea helps to treat this damaged cell and produce the new cells rapidly and replace them.
5. Dental Care
The peppermint is widely used in making of face wash due to its special chemical called Chlorhexidine which is associated in treating dental cares. Drinking peppermint tea helps to reduce the tooth aches and decrease the inflammation if any. Besides, taking care of teeth, it is also an effective remedy to treat bad breadth and yellow teeth.
6. Helps in Cold and Flu
The peppermint tea is usually recommended by doctors to be taken by an individual suffering from cold and flu. Studies have shown that it helps to kill the bacteria and virus which further may lead to various body infections. The Menthol in the peppermint provides the relief from cough and flu. It is a common remedy to treat chest and back pain experienced during cold and flu.
7. Aids Digestion
Peppermint is a natural herb that has a cooling effect on stomach muscles which further leads to easy and better digestion. When you drink peppermint tea, it helps the food to move quickly through the stomach and also relieves the painful gas which is mostly associated with digestive issues.
8. Skin Remedy
Forget about the chemical made creams, but peppermint herb is highly effective than this tropical creams which helps in treating various skin problems. Drinking peppermint tea helps to decrease the chances of any skin diseases and also gives a soothing and healing effect. Drinking peppermint tea regularly every morning helps to improve the skin texture and also keeps them healthy.
9. Weight Loss
Finding a perfect a diet or food for a weight loss is really hard to find but one such ingredient which helps in losing weight is drinking peppermint tea. The organic compounds found in the peppermint tea helps to break down the protein which further eliminates the appetite. Not only it helps in losing weight but the aroma of the peppermint reduces the overeating.
10. Sinus Relief
Severe cold and flu can lead to sinus problem so sipping a peppermint tea is the best remedy to get relief from sinus.  Due to the natural warmness it helps to clear the sinus problem and also treats the soreness in the throat. Peppermint tea in particular is a known natural decongestant.
11. Treating Irregular Bowel Syndrome
Peppermint tea is the first option for people suffering from IBS i.e. irregular bowel syndrome. According to researcher's, drinking peppermint tea can be taken by elder as well as children to treat this condition. 50% of irregular bowel syndrome can be cured by drinking the pepper mint tea in the morning.
12. Tuberculosis
Inhaled essential oil of peppermint helped to rapidly combat tuberculosis inflammation, with researchers suggesting it may help prevent recurrences and exacerbation of the disease.
13.Treats Stress
The menthol in the peppermint helps to awaken the dull and dead brain which also boosts out its function ability. Sipping pepper mint tea in the morning helps to release the stress level and also induce better functioning of brain. The most important benefit of peppermint tea is its power to release stress, as it is always considered a healthy body is because of healthy brain. Besides peppermint tea, peppermint oil is also used in various aromatherapy massages for relaxation, due to its special properties.
These were the various benefits of drinking peppermint tea. You can even make this delicious herbal tea at home by following few steps. So, let's start with the quick short recipe.
Step 1: Take some fresh leaves of mint leaves and take them out of stems.
Step 2: Spread the collected leaves in a plate and keep them under sun for an hour. You may also keep them in natural air overnight, so that they look crisp.
Step 3: Keep a vessel with appropriate amount of boiling water and let it boil for 10 minutes.
Step 4: Put all the leaves in the water and cover it with the lid immediately.
Step 5: Let the tea boil down for next 20 minutes and add some fresh leaves over the water.
Step 6: Stain out the leaves and enjoy the drink early morning. You can add some honey or sugar to make it more delicious.
You Might Also Like:
Image:- 1