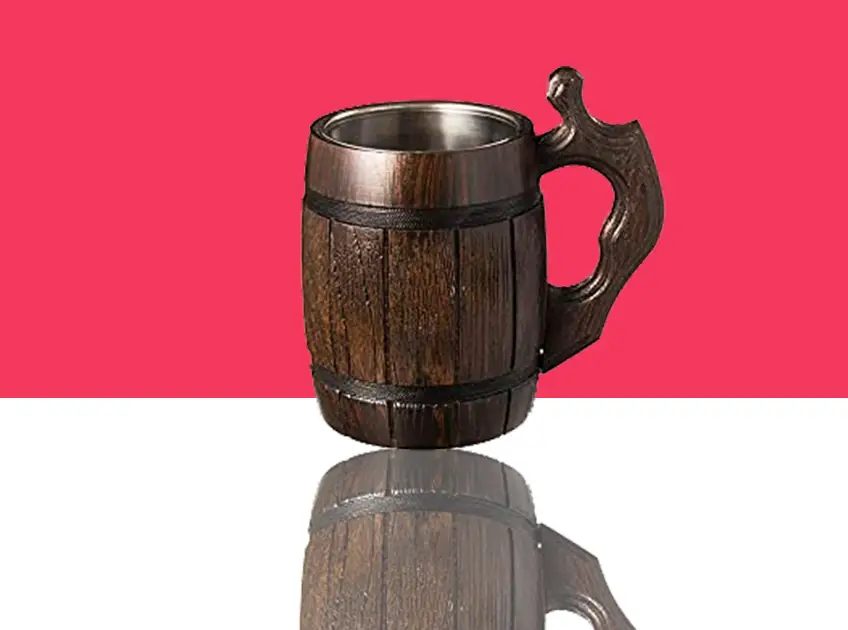 A six-pack of beer or just two simple-looking beer mugs as gifting options to someone who is a beer aficionado is now a passé. If you want to delight your friend with a unique gift that also reflects their love for beer, then you need to look for some smart ideas.
In this post, we bring you the best gift options that would surprise any beer lover. Go through their details and choose one or more that you think would surprise your dear beer person.
18 Best Gifts For Beer Lovers

It is a three-in-one double-walled stainless steel cooler that is insulated to give you a chilled beer. It fits cans of all sizes and features a push-lock technology that keeps the beer can intact and 20 times cooler. Besides keeping your beer cooler, this hosulator also keeps hot liquids hot for many hours too. It comes in 19 different colors, and you may choose any for a beer lover.

It is the beginner's brewer kit that comes with reusable bottles, brewing equipment, hopped malt extract, and carbonation drops. You can mix, ferment, bottle, and carbonate using all these elements, and brew your beer in less than 30 minutes. It can be used at home for parties and special events. This beer kit is a one-of-a-kind gift to surprise your friend, colleague, or family member who loves their beer.

It is a uniquely designed bottle that works as a cooler that fits all types and sizes of beer bottles and cans. It is made with insulated stainless steel to provide you chilled beer anywhere and on any day. The bottle comes with an opener as well, making it one of the best gifts for beer drinkers. It is durable, handy, and comes in different colors and patterns. It can be used at a party, on the beach, and anywhere you like.

If your beer-loving friend or loved one is a Game of Thrones fan too, then this beer glass would be an appropriate choice of gift. It measures 5.8 inches in height and 3.5 inches in width. It is made of high-quality thick glass, and it has 'I drink & I know things' printed on it. The glass comes with a free bottle opener that is designed to look like the 'hand of the king'. This combo gift could be one of the best gifts for beer lovers.

The pack comes with two chillers, each measuring 9 inches long and fist into almost all types of bottles. It is made of a stainless steel frame and can be frozen quickly. You can drink using the bottle even when the chiller is in it. It comes with four flow vents that provide chilled beer in a consistent flow. The chillers are dishwasher-safe and can be cleaned easily. They have an airtight seal and thermal coolant feature that helps you have chilled beer without any hassle.

This book is available in both hardcover and Kindle format. It contains well-written parodies, rhymes, and poems that offer good entertainment while enjoying a beer with friends. It is a unique gift for anyone who loves beer. It is written by Karla Oceanak, who has been a writer, editor, and public speaker while, Allie Ogg has done the illustration work for the book.

It is a portable beer system powered by four AA batteries. It is durable and light in weight and can be taken anywhere. The machine runs on fluid and gas technology that offers improved taste and aroma of the beer. It fits all types of bottles and cans of beer. All you have to do is insert the beer bottle or can, pull the forward tap, and then push back the top. This product is easy to use and clean.

The pack contains four creative card boxes to hold six beer bottles. One card box comes with one greeting card. You may write a personalized note on the card and gift to anyone who is a beer lover. The gift is suitable for any special occasion, be it holidays, game night, Halloween, or Valentines'. Pick any design from the different options available and surprise your friend or family member who is a fan of beer.

This beer dispenser has a micro-foam technology that converts natural carbonation of a beer to bubbles to give you creamy and rich head. It can fit any type of bottle, can, or beer, including porter, sour, amber, stout, and lagers. It can be powered by either two AA batteries or a USB wall adapter. The dispenser is designed smartly and weighs less than four pounds. It is a durable and smart gift for a beer lover and comes in four unique colors too.

This pack contains approximately 25 pieces of brew candies. The mixture of these handcrafted candies includes three flavors inspired by beer – hoppy IPA (bitter, spicy, and herbal flavor), roasty stout (chocolaty, grainy, and roasty taste), and honey ale (banana, honey, and malted barley flavor). All the candies are gluten and alcohol-free. It can be a unique and delicious beer gift for a beer lover.

It is a rare beer gift that can surprise your beer-drinking friend – a retractable belt buckle that can hold a bottle of beer. It is made of zinc and has an antique silver finish on it. You do not have to hold the beer bottle with your hand when you are wearing this buckle on your belt. All you have to do is fix it on the buckle. This can fit on any belt that has a 1.5 inches bracket.

This handcrafted mug is made with stainless steel (inside) and polished oak wood outside. Stainless steel keeps your beer cold for many hours. The artistic look of the mug makes it one of the best gift options for craft beer lovers. This eco-friendly mug can hold up to 20 ounces of beer, and it comes in different shapes. You may choose any and buy either one mug or a pack of six mugs. It is a durable and versatile gift choice.

It is one of the unique gifts for beer drinkers. It contains a curated list of 100 beers from the world. The product is made of high-quality material with scratch films on it. The beer lover can mount it on the wall or keep it anywhere. Every aspect of the product is of premium quality. It also comes in a well-designed package, which is ready to gift.

This can cooler is insulated with a wet suit material to keep your beer cool for a longer time. It is lightweight, portable, and compact. It could be a fun gift idea for any beer aficionado as it comes with a comical definition print of beer snob on it. This can holder conveniently fits beer cans of 12oz or 16oz. The product is made in the USA with high-quality material and is long-lasting.

This bottleLoft magnetic strips can be fixed onto the refrigerator ceiling with an adhesive. The pack contains two strips, and each can hold three bottles. They are made of high strength neodymium magnets and help to free up space in the refrigerator. These are not only cool but also practical gift options for beer drinkers who love to stock bottles in their house.

This beer bottle cap collector comes in the shape of 26 letters of the alphabet. You may pick one or more to create a bohemian style statement on the wall. It can be a personalized gift idea for beer lovers. The longest letter measures 17.32 inches, and each of them is 0.2 inches thick. It is made with a sturdy plywood and has pre-drilled holes and can be conveniently mounted on the wall.

It could be one of the best books for a beer enthusiast. It contains details of hundreds of small and large breweries. It also has details about ingredients and flavors, and some interesting brewing approaches. The book also illustrates pictures of beer logos and labels, along with information on beer pairings, beer styles, glassware, drinking traditions, and a lot more related to beer. The content is informative and easy-to-read, and the book is available in hardcover.

It is an old-school style cap that is made with 100% polyester. It has 'Love' printed on it, but the letter 'O' is replaced with a beer mug. The cap has a four inches crown, and it comes in one size, which fits all. It is comfortable and can be an ideal gift choice for the ones who love drinking beer a lot. It comes in three colors, including black and white, navy and white, and blue, red, and white.
Tips To Buy The Best Gifts For Beer Lovers
With so many choices of gifts available for beer lovers, you may get confused while selecting one. Here are some tips that could help you in making a quick selection.
If you do not know the choice of beer the recipient likes, you should not give them bottles of beer.
A practical gift works most of the time. For instance, beer chillers, beer kit, or a bottle holder. Whenever they use them, you will be remembered.
If you and your friend are closely related and know each other well, then a funny gift would be an ideal choice. For example, sarcastic quotes on mugs or coasters.
Do read the product details carefully when you select a gift. They should be either useful or should reflect the recipient's likes or requirements.
You can even buy a personalized gift with the recipient's name on the product.
A person who loves beer would be glad to get any gift that is related to beer. Go through the list of products again and pick one or more products that you think your beer-drinking friend would love to have. And then, both of you can share not only a bottle of beer but also have a quality time together.
Which of these gift ideas do you like best? Let us know in the comments section below.
You Might Also Like: