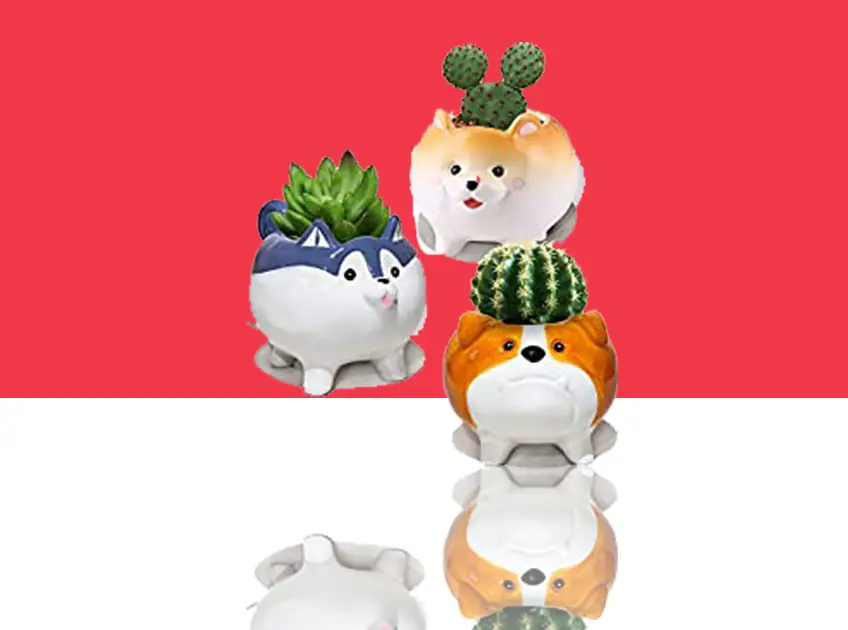 Dogs are not just pets. They're family and give us unconditional love. The bond they share with their pet parent is special and one that the individual cherishes for life. For people who love dogs and treat them as their family, a customized gift featuring their furry babies can make a fantastic gift. But when that's not possible, a pet or dog-themed gift could also be a great idea.
If you have a friend who loves their dog indefinitely and want to bring a smile on their face, then read on for a list of the best gifts for dog lovers. The gifts we feature are not just thoughtful but adorable too.
13 Best Gifts For Dog Lovers

Willow Tree store's figurative sculptures are beautifully carved and depict the emotions of love and friendship. The Willow Tree Angel of Friendship is a sculpted, hand-painted figure of a standing angel wearing a cream-colored dress and holding a brown dog in her arms. It is 5in high, is 4.3oz in weight, and is made of polyresin with wire wings.
The sculpture has a card enclosed with "For those who share the spirit of friendship" written on it. It is a beautiful display piece for a table, shelf, or mantel that is easy to dust with a soft cloth or light brush. The statue can be a perfect gift for a woman friend who is a dog lover.

A perfect gift for dog lovers, the Pearhead's paw print frame is an all-in-one kit to frame a picture and a paw print of your furry friend. It includes one ruler, a double-sided tape, and one pack of air-drying soft clay.
To make a paw print, knead and roll out the clay, which is 100% pet-safe. Put your pet's paw on the clay and make an imprint. Let it dry for two or three days and then frame it.
The frame is made of solid wood and has a gloss finish with a glass cover. The 12×9.50×1.38in book-frame perfectly fits a picture of the dog on one side and its paw-print on the other. The pack also includes an acid-free beveled mat and a hanger to wall-mount the frame. Lovely memorabilia for a dog lover, the Pearhead paw print frame is a keepsake.

Available in multiple colors and designs, the Chala Crossbody handbag is ideal for dog-loving women. The phone purse is made of textured soft PU leather, vegan and synthetic with pretty lining material and extra padding inside to keep the phone safe and scratch-proof.
Durable and convenient, the purse has an unzippered front pocket emblemed with a unique Chala dog character. The main zippered compartment has three credit card slots and a spacious pocket that can hold keys, wallet, passport, cellphone, and headphones. This bag comes with two separate straps to adjust and wear to your comfort.

Primitives dishtowels are made of high-quality cotton that is durable and strong. The rustic 28x28in square towels have a distressed dog print with a quote designed. These bandana artwork towels come in various colors with different sarcastic, funny, and heartwarming quotes.
Made to bring a smile to the face of a devoted dog mom, these dish towels can be clubbed with other Primitives by Kathy products to make a complete gift. This range has picture frames, decorative box signs, throw pillows, and more.

The Crazy Dog t-shirts are screen printed with high-quality, vibrant colors for longevity. Made of ring spun poly-cotton blended material, the set-shirts are super soft and comfortable to lounge. Sarcastic and funny quotes on the tees, like 'I'm only talking to my dog today,' make them a perfect gift for a dog lover.
True to size, these t-shirts are available in sizes from small to five triple extra-large. Machine washable in cold water, hang dry these tees and iron them inside-out to avoid the graphics melting. From retro tees to modern game themes, these t-shirts make for quirky, cool, fun gifts for dog lovers. They are available in multiple colors for men, women, and children.

The S'ip by S'well water bottle is designed with Therma-S'well technology vacuum insulated and double-layered to keep your drink hot or cold for longer periods. Every bottle has a unique color and print specialized for pet-lovers. Its copper layer insulation, with superior functionality for omitting condensation, keeps your bag from getting wet.
The bottle has a largemouth to drop ice in it, and for easy refilling and reusing. The premium food grade stainless steel bottle is rust-proof, BPA-free, and leak-proof. With cute dog prints, it makes a useful gift for a dog lover.

The small succulent ceramic planter from Wacoii can be an ideal gift for dog lovers. Perfect for indoor plants or small cacti, the planter is available individually and in a set of three different dog shapes. Each pot is unique and handcrafted, so no two pots are the same. The planter is intricately and painstakingly produced over 60 days.
The Wacoii pot is made of high-quality clay that is breathable and has a drainage hole for excess water. This cute pot for a plant can be used as a pen/pencil stand or paper-weight too. If you buy a set of three, you get three dog-shaped ceramic planters with drainage holes, three hole mesh pads, three hole plugs, and six blank plant tags. Each pot measures4.7×5.4×4.7in approximately with a 3- inch opening and comes neatly packed in a gift box.

Dog-parents love dog-themed decorations, and a perfect gift for them can be a dog sign wall hanging. Printed with white ink on a rustic wooden plaque measuring 6x12inand a thickness of 3-4in, the dog quote board is perfect for hanging on the wall or standing on a table or shelf. With innovative 'You+me and the dogs' quote, one can use these outside the door as well, so people know there's a dog in the house. The plaque comes with hanging hardware that is easy to use.

The Dawhud direct blanket has adorable prints of dog-selfies. The 100% polyester fleece blanket is super soft, cozy, and surprisingly durable. Printed with vibrant, bright, multiple colors, the throw blanket measures 50x 60in. Suitable for homes and outdoor use, it is machine-washable and simple to fold and store. It can be a much-appreciated gift for dog lovers.

A fancy funny wine sippy cup from the Fancyfams is suitable for cold or hot drinks. The stainless steel tumbler is BPA-free and spill-proof as it has a slide-close lid keeping liquids hot for three hours and cold for nine hours. It comes with a metal straw and wide opening. The mug is unbreakable and works for both alcoholic and non-alcoholic drinks.
The double-walled vacuum insulated mug has a thermal copper lining that makes it sweat-proof and condensation-free. The durable tumbler with a dog print design measures 4.4 x3.5inand has a powder-coated finish. It is available in five shiny, beautiful colors; pick one for your favorite dog mom.

A set of four measuring spoons from the Tri-coastal design store make a wonderful gift for dog lovers who enjoy baking. Each spoon has a cute dog face with eyes and a gold foil nose. The ceramic spoons are good for measuring dry or wet ingredients. Measurements are marked on them to avoid confusion. The set includes one tablespoon, half tablespoon, and one-fourth tablespoon to fulfill all cooking and baking requirements. The spoons are tied together with twine so that they are not misplaced.

This English bulldog figurine is a decorative spice rack for canine-lovers. Handcrafted from cold cast resin, the puppy dog holds two glass shakers of salt and pepper. It measures four 3/4×5 1/4×6 1/2in and weighs 1.5lb. A thoughtful housewarming gift for a dog lover, this spice display stand looks great in the kitchen, on the dining table, and even in restaurants

A round pendant with a dog paw print cut-out, this 0.925 sterling silver pendant comes with a nickel free18in Italian sterling silver chain. The 0.63in pendant has a high gloss polished finish that gives the wearer a sophisticated look. It can be worn in combination with other necklaces for a layered look. Perfect for dog lovers who love to keep their furry friends close to the heart, this necklace and pendant come in a ready-to-gift attractive black box.
Dog lovers love dog-themed gifts! From wall and table decor to kitchen towels, mats, and blankets, mugs, bottles, to bags and t-shirts and umpteen other choices, dog-printed gifts are much appreciated by a dog-parent. They find every dog picture or quote cute and heart-warming. So, take your pick from our list of the best gifts for dog lovers and win their hearts.
You Might Also Like: