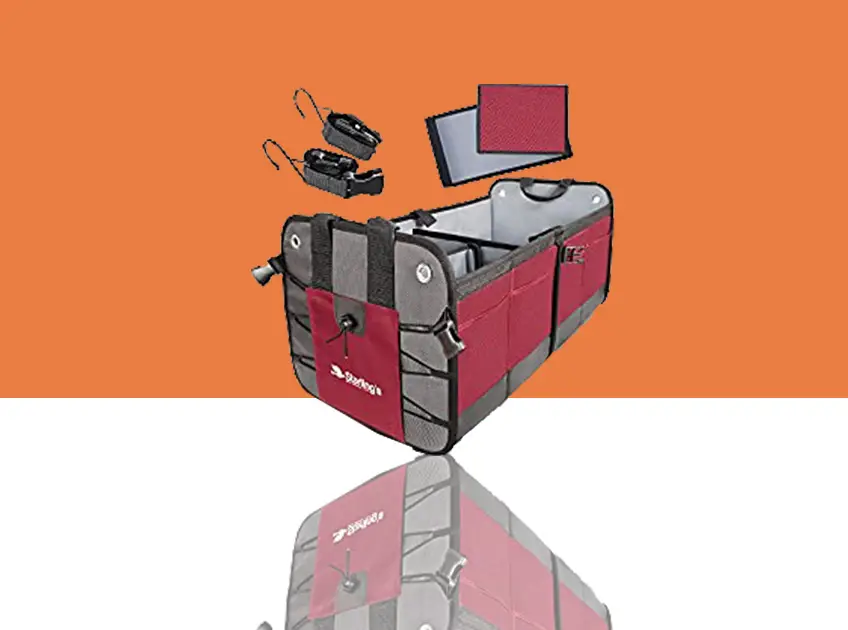 A father-in-law is like a father. If you are planning to buy a gift for him, you may just think what you would buy for your father or what your father might like to have, and this makes it easier for you to choose a gift for your father-in-law.
In this post, we have compiled a list of 15 best gifts for father-in-law, along with tips for picking the right gift.
15 Best Gifts For Father-In-Law

The case brings a fabulous style for your digital accessories. This stylish case has multiple features like support for auto sleep/wake function of iPad, document pocket, multiple-angle adjustment, and elastic stylus holder. The design is practical and the material is pure leather.

This portable outdoor rocking chair folds easily and quickly. In addition, it is easy to store and transport. It is made from sturdy powder-coated steel, the chair has padded armrests with an inbuilt beverage holder. If your father-in-law is a nature lover, then he is quite likely to love this gift.

These polarized anti-glare glasses are a perfect choice for your father-in-law if he loves to go on adventures or trips. The RONSOU glasses provide a high-definition vision, which makes the view look clearer. The glasses are easily adjustable, and the nose pads have a great grip.

These Bluetooth speakers are small, compact, and a perfect bathroom speaker. The water resistant technology lets you use it even while getting a shower. It is also lightweight, has a loud volume, and is portable.

If your father-in-law loves eating spicy food with spicy sauces, then this is a perfect gift for him. The sauces are made from the finest ingredients and come in four flavors. The production of the sauce is at a small scale, which increases the quality of the product.

It is an easy DIY grill set that anyone can set up at any place. If your father-in-law loves grilling and barbecuing, then this is a wonderful birthday gift for him. Whether it is a Sunday or house party, set it up and start barbecuing your favorites. This six-piece grill set contains a thermometer, grill sticks, different wood chips, and a flavored smoked sea salt.

These beer chiller sticks is one of the best gifts that you can give your father-in-law. These sticks contain coolant, and when placed correctly, maintain the seal of the bottle and keep the beer chilled. Let your father-in-law impress his friends with these chiller sticks.

This durable car trunk organizer can make it convenient for your father-in-law to store items in the car's trunk. It is made of polyester with a solid three-layered waterproof bottom board that keeps the stored items safe. The slots within the bag prevent the items from rolling around while the car is in motion.

The personalized tactical pocket knife can help do many chores. You can also get your father-in law's name engraved on the wooden panel of the knife. The knife will help him in emergencies, opening cans of any type, and when he is fishing, it will serve as a rope cutter.

This personal fridge and warmer lets one keep the food cold or warm while on the go. This fridge is portable, which is also good for home use. It can be plugged into a standard home plug and 12V car chargers. The fridge is also quite lightweight.

This ceramic mug is designed to be used anywhere and at any time. The mug has an electronic heating system that keeps the beverages at the right temperature from the first to the last sip. Even the taste of coffee is enhanced. The mug connects with the Ember app, where you can set the right temperature. There is also an LED at the base of the mug, and its color can be customized, as well.

This handmade wooden docking station is one of the best gifts for your father-in-law. The organizer comes in three holders that store your smartphone, a cup of coffee, phone, and other essential items, like a pen, watch, and sunglasses. It is a safe solution to keep all your essentials in one place. This organizer is also environmental-friendly.

These acupressure slippers can allow your father to relax his mind and body. The acupressure points on the slippers target various parts of the body. The strap is adjustable so that it is easy to put on the slippers.

Breakfast being the most important meal of the day, needs a quick sandwich maker that saves time and cooks deliciously. This sandwich maker makes the sandwich within five minutes or less. Place bread and other items you need, and the sandwich maker will do the job in five minutes. This sandwich maker is also easy to operate.

We all know that what can't be fixed by us can be fixed by Papa. This mug with a special message will let your father-in-law feel proud. It is an ideal gift for praising and thanking him for all the help he does.
Pick a gift that is useful, memorable, and something cheerful. Every product that you see might be appealing, but choose something that will always remind him of you. After all, the idea behind gifting is to be remembered.
You Might Also Like: