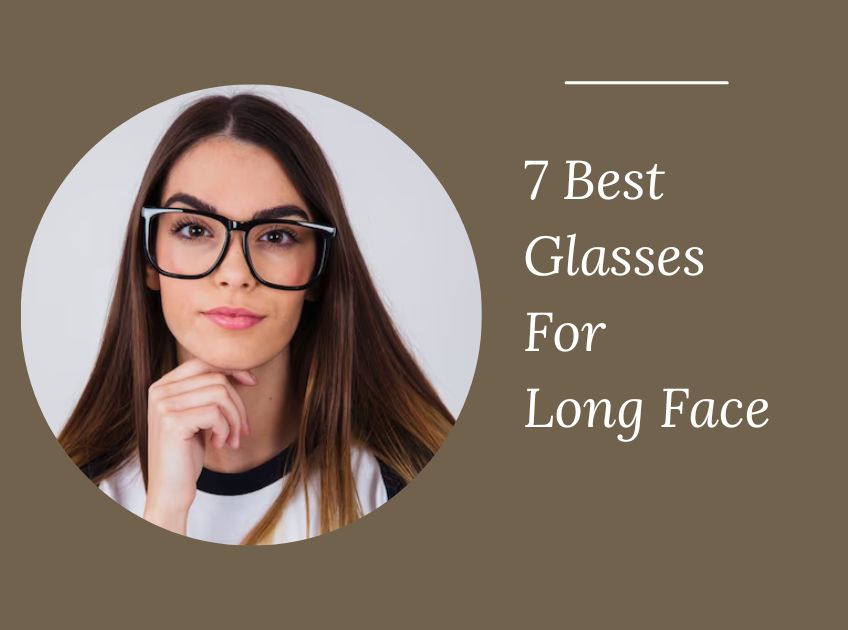 Often long face shape is confused with an oval shape. It is important to know that a long face is longer and narrower than an oval shape. At the same time, the width of the forehead, cheeks, and jawline is almost the same in the long face.
Glasses For Long Face
Even though it is a peculiar type of face shape, a long face can be paired with different glasses styles, so you get plenty of choices. If you cannot decide what glasses will look good on you, we have provided the best options you can explore.
All these glasses are selected on the basis of their look, quality, and performance. Keep reading to know more about them and find the right pick for your long face.
7 Best Glasses For Long Face
1. Square Glasses: GLEYEMOR Blue Light Glasses for Men and Women Trendy Square Frame
It helps protect the eyes with its anti-harmful blue light feature
Also, it provides 100% UV protection and reduces visual fatigue from long time working or gaming on the computer
It is made of a scratch-resistant polycarbonate lens and has a strong thick, yet lightweight plastic frame
Anti-slip glasses temple makes this square frame sturdy and comfortable
What We Don't Like: It is expensive.
[ Read: 20 Best Sunglasses for Women ]
2. Aviator Glasses: GLEYEMOR Blue Light Aviator Glasses for Women and Men
It has a metal frame and anti-blue light lens, perfect to use while working on the computer
It helps reduce the symptoms of eyestrain and fatigue
Features adjustable nose pads, reinforced metal hinges, and exquisite temples so that you can use it for long hours
It makes you look trendy
Comes with 100% Satisfy and 30 Day Money Back Guarantee
What We Don't Like: It may feel slightly heavy on the nose.
[ Read: 7 Best Color Glasses For Blonde Hair And Blue Eyes ]
3. Thick Frame Glasses: COASION Blue Light Glasses for Women, Oversized Square Thick Frame Style for Computer Glasses, and Gaming Glasses
It is an oversized thick, frame style glasses, best to use while working or playing games on the computer
The composite frame and composite lens make it comfortable and sturdy
The nonpolarized glasses are another add-on
It features reinforced metal hinges and an anti-scratch lens that is durable and easy to clean
What We Don't Like: It is slightly uncomfortable on certain face shapes.
[ Read: 5 Best Tanning Goggles To Protect Your Eyes ]
4. Two-toned Glasses: Zeelool Retro Thick Round Blue Light Blocking Glasses for Women and Men
It has an acetate frame and a nonpolarized plastic lens
It offers 100% UV protection due to its effective coating
Round and wider frame gives you a vintage look
Timeless design, perfect for everyday wear
Made from high-quality materials
What We Don't Like: Only two colors are available.
5. Oval Glasses: SA106 Store Extra Narrow Oval Metal Rim Round Retro Vintage Clear Lens Eye Glasses
The metal frame and polycarbonate lens make it sturdy
Lens has UV protection coating, thus protecting eyes from harmful UV rays
It is nonpolarized, thus suitable for wearing while working on the computer
Lightweight and comfortable
What We Don't Like: Limited color options.
[ Read: 7 Best Glasses For Oval Face ]
6. Cat Eye Glasses- Rmerom Stylish Blue Light Glasses Non-Prescription Frames for Women
It offers an antiglare feature, making it suitable to wear while working on the computer
Lenses are coated with UV protection coating that provides complete protection from harmful sun rays
The acrylic frame is lightweight and comfortable to wear throughout the day
Blue light lenses can filter over 95% of high-energy visible blue light and UV
What We Don't Like: It feels slightly heavy.
7. Round Glasses: LOVEF Large Oversized Metal Frame Clear Lens Round Circle Vintage Eye Glasses 5.42inch
It has a polycarbonate lens and metal frame
Lenses are clear and don't affect the vision
The round glasses complement the Harry Potter look
Available in different shades, colors, and designs look good on all faces.
What We Don't Like: The metal frame may feel uncomfortable.
Conclusion
Now that you have some of the best options in different glasses, it's time to find the right one for the long face and enhance the overall look. Besides looking good on a long face, these glasses also have antiglare, and UV protection features that keep your eyes protected all the time. So, give any one of them a try and look stunning.
You Might Also Like: