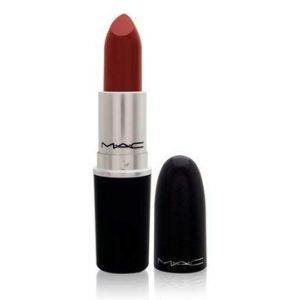 MAC Cosmetics is one of the iconic makeup brands that have not left any stone unturned to impress its users. Every makeup product from MAC cosmetics is worth the hype.
Today we are talking about MAC Brave, which is a slightly warm-toned, light-medium pink with a satin finish lipstick. The classic pink in MAC Brave makes it suitable for everyday wear and to get a dreamy, classy, and elegant look. It is a soft, rosy, neutral pink with a satin finish. Being creamy, it glides over the lips, giving full coverage in a few strokes. The best part is its formula which is smooth and non-dry, keeping the lips moisturized.
No matter how great MAC Brave is if you check the label, the price seems a little expensive for mainstream users. Luckily, we have found some amazing alternatives for MAC Brave that will give similar results without making your wallet light.
Mac Brave Lipstick
Before checking MAC Brave alternatives, let's find out what makes MAC lipsticks so popular and demanding and what their ingredients are.

Ingredients
Firstly, talking about the packaging, MAC Brave Lipstick comes in black and silver bullet packaging that looks sleek and stylish. The overall packaging is sturdy and travel-friendly, so you don't have to think twice before taking it on your vacations.
Like most of the MAC lipsticks, MAC Brave also has a subtle vanilla fragrance, making it typically from the MAC family. The beige pink shade with slight mauve undertones and satin finish makes this lipstick unique and one of its kind. If you regularly use MAC lipsticks, you can find some similarities of it with MAC Cosmo lipstick.
MAC Brave lipsticks have a creamy and smooth texture. They are easy to apply and glide onto the lips effortlessly. You get opaque in a single swipe that goes a bit darker with more swipes. While the creamy texture ensures a glossy finish, it also makes sure that your lips won't weigh heavy and dry. In fact, the lips remain hydrated all through time.
The wearability of MAC Brave lipsticks is around 3 to 4 hours. When it wears off, it doesn't stain the lips. If you are looking for some nude pinkish shade, MAC Brave is your go-to product. It looks great on people with light to medium skin tone.
People with too pale skin tone should use a lip liner like MAC Whirl or MAC Soar that will enhance the lips, as well as the MAC Brave lipstick. Pairing this lipstick with dark smoky eyes for evening makeup will give the best look.
The major ingredients of MAC Brave include-
Antioxidant: Glycine Soja (Soybean) Seed Extract, Tocopherol, Tocopheryl Acetate
Skin brightening: Glycine Soja (Soybean) Seed Extract, Olea Europaea (Olive) Fruit Extract
Skin-identical ingredient: Ceramide 3, Cholesterol
Soothing: Glycine Soja (Soybean) Seed Extract
Pros
Creamy and smooth texture.
Goes opaque in one swipe and hydrates the lips.
Wears off evenly.
Cons
MAC Brave is an expensive lipstick.
Wears off quickly as the staying time is only 3 to 4 hours.
Therefore, we have listed the best MAC Brave alternatives that are pretty close to the real thing. You may find them a hint lighter or darker, but they are a lot affordable than MAC Brave.
5 Best Similar Mac Brave Lipstick Products
1. L'Oréal Paris Infallible Le Rouge Lipstick, Tender Berry
With better texture and long-staying feature, this lipstick seems the best alternative to MAC Brave. MAC gives the same thing at the double price, so getting L'Oréal Paris Infallible Le Rouge Lipstick will be a wise decision.
Delivers bold, luscious color.
High definition color that stays for nearly 10 hours.
Comfortable to wear all through the day.
Hydrates lips as it is infused with Vitamin E and ingredients that are lip-friendly.
2. Revlon Super Lustrous Lipstick, 840 Honey Bare
Revlon, with great mimicking, gets closer to MAC Brave in every aspect. The only thing that makes it differentiating is the high pigment in Revlon Super Lustrous Lipstick. However, it keeps the lips well-moisturized and sets well on the lips.
Delivers silky smooth and moisturizing color to the lips.
Color sets perfectly and evenly on lips, making them look soft and plump.
Available in four finishes creme, matte, pearl, and shine.
3. NYX PROFESSIONAL MAKEUP Matte Lipstick – Whipped Caviar (Muted Plum)
NYX has come up with some great shades inspired by high-end luxury brands, and Muted Plum is a perfect alternatives for MAC Brave. The shade matches the real thing and is available at a fraction of the price.
Creamy, buttery texture, which is quite unlike the matte texture of MAC Brave.
A smooth matte lipstick that glides right on and stays in place with a silky matte finish.
Matte lipstick with an always creamy, dreamy, and matte finish.
Certified and acknowledged by PETA as cruelty-free.
4. Maybelline Color Sensational Inti-Matte Nudes Lipstick, Honey Pink
With great texture, no extra shine or shimmer, and a perfect color match, Honey Pink from Maybelline Color Sensational is a great alternative for MAC Brave. The best part is it is available at half the price.
Features warm, golden pigments that enrich your natural lip color.
Creamy matte lipstick infused with sumptuous honey nectar to keep lips well-moisturized and nourished.
Available in a collection of warm, sensational nude shades.
Pucker up to radiant, confident color that highlights one's natural beauty.
5. Nicka K Vivid Matte Lipstick (1PC) Light Pink
The seducing pink shade looks gorgeous in all skin tones.
Highly pigmented with modern matte finish.
Formulated with beeswax and provides full coverage color in 3 to 4 swipes.
Features velvety consistency, suitable for all skin tones and glides smoothly for easy application.