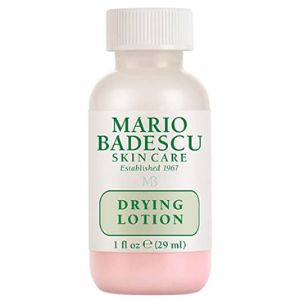 Mario Badescu Drying Lotion has become one of the most effective skincare products to fight off acne and dry out pimples overnight. With skin-loving ingredients, this product is helping people get flawless, smooth, and acne-free skin. Delivering multiple benefits to the skin, Mario Badescu Drying Lotion is often used as an efficient acne treatment. However, it is pricy and not easy to afford by all.
The good news is that there are many Mario Badescu Drying Lotion alternatives that endow similar results without breaking the bank. If you are fed up with acne and pimples and looking for some effective acne treatment, it's time to check out the alternatives for Mario Badescu Drying Lotion that will help solve the problem while saving you money.
First, let's find out what ingredients of Mario Badescu Drying Lotion make it so efficient in fighting off acne and the reason behind its popularity.
Mario Badescu Drying Lotion Review
Treating common skin issues like pimples, Mario Badescu Drying Lotion has become an award-winning topical spot treatment. It absorbs excessive oil or sebum from the skin that causes pimples, leaving it dry yet supple. Regular use of this lotion treats current pimples and breakouts and works so efficiently that the next day you wake up with blemish-free and pimple-free skin.
The good thing about Mario Badescu Drying Lotion is you need to apply it only during the night, before sleeping. So, it doesn't disturb your makeup routine and ensures you look good throughout the day.
Over time Mario Badescu Drying Lotion has gained a good reputation in the market. It is a drying lotion that you can use on the face, neck, back, chest, or any other area of the body where you experience a breakout. It draws all the impurities out of the skin and diminishes the blemishes, spots, marks, and scars.
The Major Ingredients of Mario Badescu Drying Lotion:
Calamine- With anti-inflammatory properties, calamine helps soothe itchy and irritated skin. Also, it is loaded with astringent and antiseptic properties to make the skin healthy.
Camphor- It reduces inflammation, pain, and itching on the skin.
Sulfur- Enriched with antibacterial and antifungal properties, sulfur is a good source to treat major skin issues that develop due to bacterial and fungal infections. Therefore, it is the key ingredient in most skincare products. Additionally, it helps to exfoliate the skin and diminish blemishes. Even though sulfur smells bad, it has been a popular acne treatment for a long time.
Zinc Oxide– It helps to protect the skin from harmful UV rays and damage due to the sun. Also, with its anti-inflammatory properties, it provides relief to the skin. Zinc oxide is also loaded with antibacterial and anti-inflammatory properties that treat acne and pimples and keeps sebum production in control.
Glycerine- It is a natural humectant that retains skin moisture and absorbs water from the air to keep skin well-hydrated and deeply nourished. It hydrates the dry patches.
Salicylic Acid- It is an oil-soluble ingredient that penetrates deep into the skin to clear the clogged pores and remove the dirt. It helps to reduce the blackheads and blemishes on the skin. The anti-inflammatory properties of salicylic acid make it useful for acne-prone and oily skin.
Apart from these, the other ingredients of Mario Badescu Drying Lotion are Isopropyl Alcohol, Aqua (Water, Eau), Calamine, Camphor, Sulfur, Zinc Oxide, Talc, Glycerin, Salicylic Acid, CI 77891 (Titanium Dioxide).
Pros
Treats acne and dries pimples overnight.
Retains essential moisture on the skin while drying out the excess.
Keeps skin nourished.
Delivers healthy, flawless, and smooth skin.
Cons
Even though Mario Badescu Drying Lotion is an effective spot treatment for acne and pimples, it comes with a hefty price tag, making it hard for all to afford it.
It is the reason why people often look for affordable alternatives for Mario Badescu Drying Lotion to treat acne and pimples. If you are searching for the same, check out the list that has the 5 best Mario Badescu Drying Lotion alternatives.
5 Best Similar Mario Badescu Drying Lotion Products
1. Sunday Riley Saturn Sulfur Spot Treatment Mask
Medicated spot treatment mask formulated with 10% sulfur that targets blemishes and breakouts.
Absorbs sebum and dead skin cells that can clog pores and make acne and breakouts worse.
Rinse-off treatment, which means you don't need to leave it overnight like Mario Badescu Drying Lotion. Once it dries, you can rinse it off the face.
Consists of 4 % multi-benefit niacinamide, Zinc PCA, and turmeric root extract that helps to fade hyperpigmentation, dark spots, and uneven skin tone, reduce excess sebum, and delivers anti-inflammatory, antimicrobial, and antioxidant benefits.
2. Amire Blemish Drying Lotion
Acne spots, overnight and quick-drying treatment that helps reduce pimples, cysts, blackheads, and whiteheads.
Consists of salicylic acid, colloidal sulfur, zinc oxide, and camphor that fight inflammation and oily buildup, help unclog pores and dry the surface of the skin. Also, help calm and soothe the skin with its anti-inflammatory properties.
It can also be used on back acne, fade acne scars, and reduce the look of pores.
3. Bye Bye Blemish Acne Drying Lotion
On-the-spot treatment penetrates pores to remove impurities and helps to balance the skin overnight.
Active ingredients are sulfur, BHA salicylic acid, zinc oxide, and camphor.
Gives brighter skin with improved clarity.
4. Vichy Normaderm S.O.S Acne Rescue Spot Corrector
The oil-free and alcohol-free formula is suitable for sensitive skin.
Consists of 10% sulfur, glycolic acid, and niacinamide that work together to prevent new blemishes from forming while reducing the current ones.
Works as an exfoliant that improves skin turnover, helping to remove pore-clogging dead skin cells, dirt, and debris.
5. AcneFree Therapeutic Sulfur Mask
3.5% sulfur acne treatment mask that penetrates pores to dry and clear blemishes, reduces excess sebum production, whiteheads, and blackheads, and prevents future breakouts.
Contains vitamin C, copper, and zinc to remove dead skin cells and clogged pores for healthier-looking skin.
Suitable for sensitive skin.