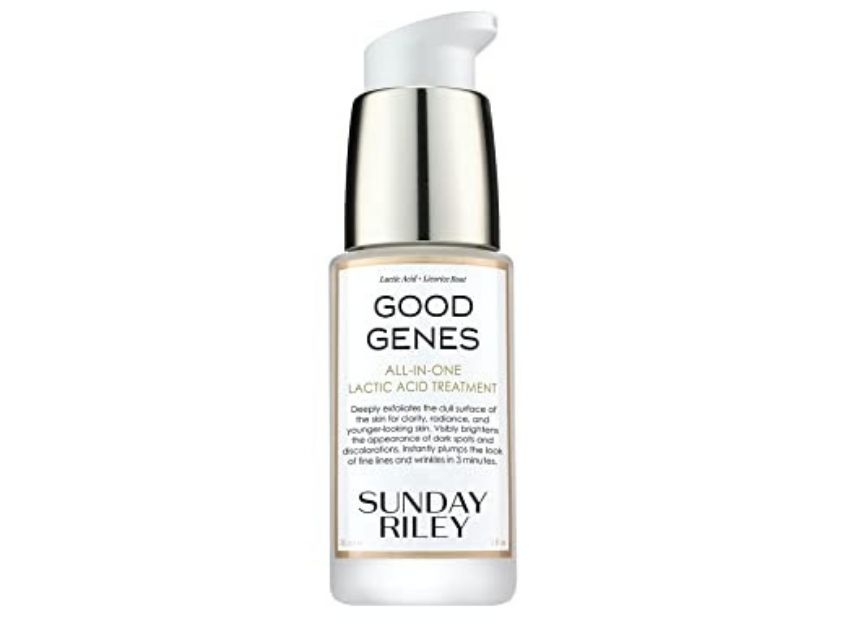 There is no doubt that Sunday Riley Good Genes All-in-One Lactic Acid Treatment has steadily become one of the best-selling and cult-favorite skincare treatments. As long as you can pay the hefty price, you can keep your skin healthy with this amazing and magical lactic acid treatment. However, if your pocket doesn't allow it, we have come up with some great Sunday Riley Good Genes alternatives that deliver the same results without breaking your bank.
Before checking the affordable alternatives for Sunday Riley Good Genes All-in-One Lactic Acid Treatment, let's find out how lactic acid helps skin and what makes Sunday Riley Good Genes so popular.
Lactic Acid
Lactic acid is an alpha hydroxyl acid (AHA) that works wonders on the surface of the skin. Originally, lactic acid was derived from sour milk and has been used as a beauty or skincare treatment since time immemorial. However, today, for cosmetic use, lactic acid is synthetically produced.
Lactic acid works as an excellent exfoliant, and it can be used for treating common skin issues. Compared to other AHAs, the molecules of lactic acid are larger and don't penetrate deeply into the skin. They are highly beneficial for dry and sensitive skin.
It helps to reduce fine lines, wrinkles, hyperpigmentation, and other signs of aging. Also, it targets dark spots and discoloration to brighten the skin.
Ingredients
The major ingredient of Sunday Riley Good Genes All-in-One Lactic Acid Treatment is purified lactic acid that helps to exfoliate, brighten, smoothen and improve the skin texture. At the same time, it reduces the dullness and discoloration of the face, along with dark spots and blemishes.
Other ingredients of Sunday Riley Good Genes include the following-
Licorice- It has brightening qualities that improve the luminosity and radiance of the face.

Lemongrass- It works as an astringent and supports toned skin.

Arnica- Soothes the skin deeply.

Prickly Pear Extract- It is a rare desert cactus that calms irritation.
Pros
Reduce the dead skin cells and excess sebum that can cause blackheads, breakouts, and acne.

Improve skin texture and the appearance of dullness, discoloration, and dark spots.

Regular use results in brighter, smoother, glowing skin.
Cons
Sunday Riley Good Genes All-in-One Lactic Acid Treatment comes with a hefty price tag; therefore, everyone cannot afford it.
5 Best Similar Sunday Riley Good Genes Products
1. Naturium Vegan Lactic Acid Emulsion 5%
Apart from lactic acid, it also consists of Aloe & Alpha Bisabolol, which brightens the skin and also works as an anti-aging treatment.

Helps unclog pores, minimizes skin imperfections, and evens skin texture for smoother, more radiant skin.

Made with fermented beet sugar, skin-soothing botanicals, and vitamin C, this mild AHA works for all skin types, including sensitive skin.
2. Creamy Skincare Hydrating 5% LACTIC Serum
Light exfoliating night serum.

Formulated with Niacinamide and bioactive compound Hypskin, both of which help boost the skin barrier and soothe inflammation.

Gently exfoliates, reduces the appearance of pores, improves acne and acne scarring, stimulates collagen production, regulates sebum production, increases cell turnover, and stimulates ceramide production.
3. Lactic Acid 50% Gel Peel
Effective for age spots, freckles, sun spots, skin tone, hyperpigmentation, wrinkles and fine lines.

It is a light gel and not a liquid, preventing the product from trickling down your face or dripping into your eyes or mouth.

Promotes a brighter and more even skin tone and uniform complexion by acting as melanin inhibitors.
4. The Ordinary Lactic Acid 5%
Offers very mild exfoliation

Consists of a purified Tasmanian pepper berry, which is known to reduce signs of inflammation and sensitivity that are often associated with exfoliation.

Gently resurfaces the skin to promote a bright, even tone and a smooth, soft texture.
5. CeraVe Anti Aging Face Serum
Gently exfoliates and helps improve visible signs of aging, including dullness and discoloration.

Minimizes the appearance of fine lines, dark spots, and pores.

Other major ingredients include Licorice Root Extract, Glycolic Acids, and Ceramides, all of that help to maintain the skin's barrier and keep it well-nourished.