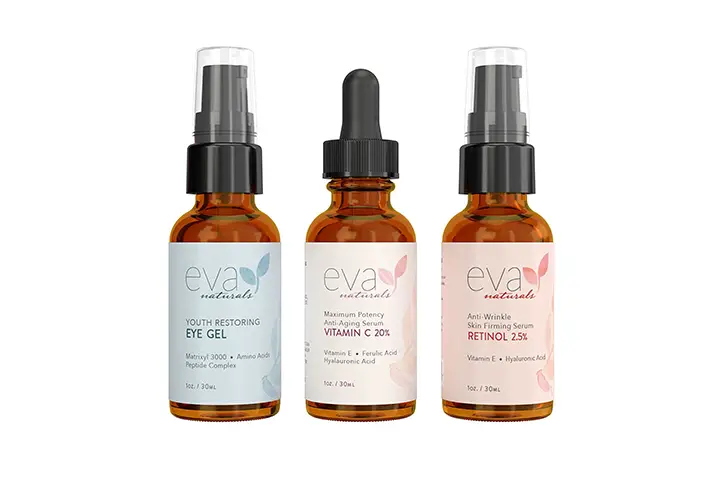 A complete solution for all your skin issues like fine lines, wrinkles, dark spots and puffy eyes and more! Acquire Eva natural serum set to treat your skin. This 3-in-1 beauty kit targets different types of aging signs.
The formulation of this product helps to get rid of wrinkles and to fade dark circles and to treat under eye bags.
The three serum's are not only reduce age spots, eye wrinkles but also makes your skin soft, moisturized and gives a youthful complexion.
Eva Naturals Facelift in a Bottle – 3-in-1 Anti-Aging Set
How it Works:
The 3-in-1 kit; one is eye gel, it removes dark circles, puff bags and makes your eyes bright and vibrant.
Retinol serum at 2.5% concentration, the powerful formulation help to reduce fine lines and wrinkles by increasing the production of collagen.
This anti wrinkle and skin firming serum has vitamin E and hyaluronic acid.
Vitamin E is an antioxidant which combats the spots caused by Uv rays.
Hyaluronic acid helps to increase skin moisture and reduce the appearance of fine lines and wrinkles.
Vitamin C serum has maximum potency to fight with the aging signs.
It is also infused with vitamin E, Ferulic acid and hyaluronic acid.
Vitamin C is an antioxidant which helps to lighten hyperpigmentation.
Vitamin E helps to heal the damage caused by UV rays. Ferulic acid completely takes care of skin by reducing the development of fine lines and wrinkles.
Pros:
Diminishes fine lines and wrinkles.
Lightens dark spots and hyperpigmentation.
Suitable for all skin types.
Gives even skin tone complexion.
Affordable.
Cons:
Rating: 4.5 out of 5
Stop hunting for the best anti aging treatment by starting the use of Eva natural skin care kit. The premium quality of this product gives you young complexion and maintains your skin moisture and nourishes.
Frequently Asked Questions (FAQ's)
Q. How to use all these three products?
Ans: The Retinol should only be used at night – after other serums and before moisturizer. And when you start on it, it should be used only every other night for the first week.
Q. Does it work deep into the wrinkles around the mouth?
Ans: This will lift deep wrinkles around the mouth. The skin will be tighter to a degree but not a complete erase of the deep wrinkles. The vitamin C will help to even out skin tone and nourish the skin.
Alternate Products:
You Might Also Like: