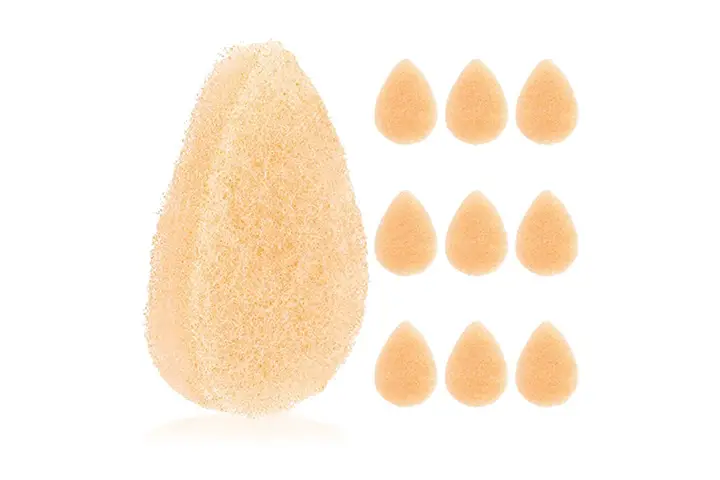 Washing our face with our hands is not sufficient to clean properly. Get an impresa facial sponge which helps to remove bacteria, makeup residue on the surface of the skin. You can use this with your cleanser to get the best results by removing dirt, makeup and excess oil.
Impresa Facial Sponge For Daily Deep Cleansing And Regular Exfoliating
How it Works:
These pads are designed to exfoliate to deep cleanse and leave your skin smooth and soft.
Buff puff style pads are one of the most effective and gentle ways to assist in your daily cleansing routine.
Facial sponge is suitable for all skin types including normal, dry, combination and oily skin.
Regular use of this sponge effectively removes dead skin cells and aids in collagen reproduction.
Pros:
Best product to clean your daily routine.
After using you can feel soft and younger skin.
Leaves your skin smooth and perfect .
Works gently in removing heavy makeup.
Washable and reusable.
Cons:
Proper care needs to be taken otherwise bacteria may form on the sponge.
Rating: 4.6 out
Wash your face with this sponge to get rid of all the dead skin cells on a daily basis. It promotes the growth of new skin cells by washing your face in circular motions. Facial sponge is the best product for low maintenance beauty girls.
Frequently Asked Questions (FAQ's)
Q. For what purpose this is made from?
Ans: They are used to wash your face and to remove makeup.
Q. Are they biodegradable?
Ans: They seem to be made of plastic.
Q. Are these scent free?
Ans: Yes, scent free.
Alternate Products:
You Might Also Like: