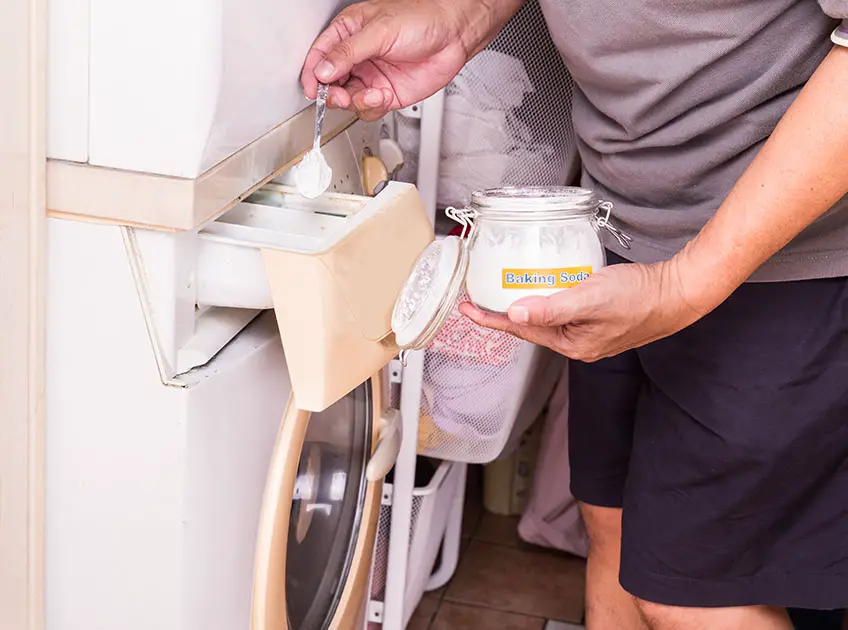 Maintaining the washer and dryer is really a very important one. They are expensive to repair and replace in addition it is quite necessary for modern life. Doing proper maintenance keeps the dryer going at peak performance. Cleaning the dryer is actually necessary and pretty straightforward. Therefore, cleaning once in a month is highly significant if you are a heavy user. But your dryer is used very rarely means you can clean it up a couple of times a year. Good maintenance and perfect cleaning allow you to get rid of smells.
Deodorize Dryers With The Help Of Baking Soda
Simple Steps To Clean Your Dryer
Cleaning the dryer is quite more difficult than cleaning your washing machine. Anyhow, it is significant to clean the dryer, why because a dirty drier can leads to have fiery dryers. Lint is well-known flammable stuff and if it touches the heating coil, the dryer will go waste. You can do the cleaning every 6 to 12 months depending on its usage. Routine cleaning of the dryer is said to be removing lint from the lint trap of the dryer after every usage. It is a very must to check the dryer every quarter and also to clean the dryer vent regularly.
You can begin by unplugging the machine as well as pulling it out from the wall. With the help of a microfiber cloth and some homemade cleaning spray, you can clean the exterior part of the device. Make sure to clean the buttons and knobs because grime and dust may build up in certain areas of the dryer. The best way to clean the dryer is baking soda. It alone can be used to remove the odors from the refrigerator to the dryer. Unlike most commercial products, baking soda does not mask odors instead absorbs a bad smell and gives a greater smell.
What Is Meant By Baking Soda?
Baking soda is also called sodium bicarbonate which is a naturally occurring substance present in all living things. It is made from soda ash and also helps living things maintain the pH balance that is necessary for life. Baking soda can be obtained in two different ways, one way is that it is produced by passing ammonia and carbon dioxide via a concentrated sodium chloride solution. The second way is that Soda ash is processed and dissolved into the solution. Later carbon dioxide present in this will turns into bubbles and then sodium bicarbonate precipitates move out. Later it forms pure, natural, and safe baking soda.
How Deodorizing Process Occur In Baking Soda
Baking soda deodorization has the ability to neutralize the odors instead of just covering the smell with perfumes. Mostly, unpleasant odors come from strong acids or from strong bases like coil burns, important machine parts burns, spoiled fish, vegetables, and fruits. Baking soda deodorizes by keeping acidic and basic odor into a neutral and more odor-free state. Not only it is useful for removing the smell of kitchen ingredients and it also assists to take away the bad smell in the dryers. Baking soda also can deodorize even dissolved in water and it won't give any side effects even if handled by hand.
Homemade Cleaner For A Dryer With Baking Soda
Baking soda acts as a natural odor eliminator and greatly helps to deodorize the dryer. A homemade cleaner solution for a dryer is mentioned below
2 cups of warm water
1 tbsp of baking soda
1 cup of distilled white vinegar
3 tbsp lemon juice
10 drops of lemon essential oil
In a medium-sized bowl, mix water with baking soda till it dissolves. Then add lemon juice and vinegar and stir constantly for one minute to get the foaming subsides. Lastly, add lemon essential oil and let it for five minutes before stirring the mixture. When this solution gets fizzing, pour it in a spray bottle. Before every usage, gently swirl the spray bottles in order to recombine the ingredients. If you have cleaned the dryer exterior, you can move on to interior parts. The fresh scent which was made by baking soda is a great way to keep clean with a good odor. It highly assists to get the smell out of the dryer which leads to bad-smelling cloths and linens. Especially after using the dryer on delicate fabric like drying a pillow or washing a down comforter, began by removing the lint trap and also washing it in the sink with warm and soapy water.
Conclusion
On the whole, Baking soda is the best deodorizing agent which assists the dryer to clean all types of stains and dust as well as giving a pleasant smell by removing a bad smell in it. Without any hesitation, you can use it with different natural ingredient combinations to clear out the nasty smell.
You Might Also Like: