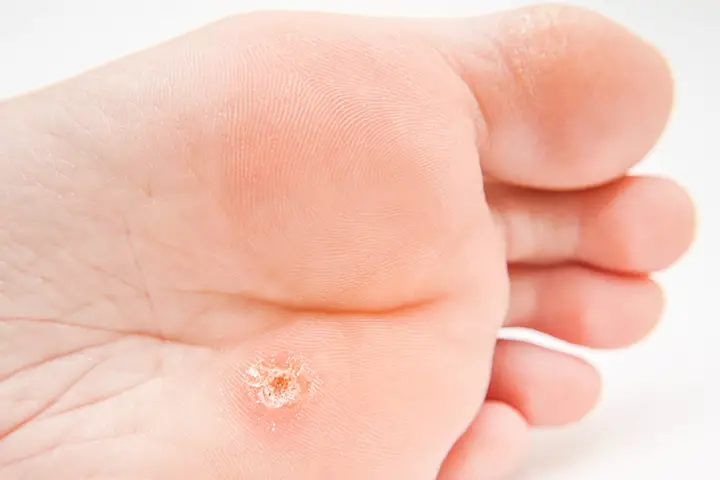 Warts are common skin issues, occurring as lumps, caused by the HPV virus. Most people experience at some point in their lives, on various places such as hands, toes, face, fingers, elbow, knees as well as around genitals. They may have a dark or lighter appearance with a rough surface. Without treatment, they take a very long time to disappear, so you can try some home remedies as mentioned in the next section.(1)
Why are Castor Oil and Baking Soda Effective Remedies Against Warts?
Castor oil is known for its anti-inflammatory and anti-septic characteristics along with the potential to reduce the burning sensation. Similarly, baking soda can reduce inflammation and pain at a site, which makes both the ingredients effective against warts.(2)
Method of Using:
A paste needs to be created with castor oil and baking soda, for applying on warts daily till they are removed.
Ingredients:
Castor oil- ½ tsp
Baking powder- 1 tsp
1 Band-Aid
Directions:
Take the baking powder and castor oil paste and apply over warts. Leave it at night by covering it with a bandage. This need to be repeated daily.
[ Read: How to Get Rid of Warts Naturally at Home ]
Precautions:
While using the method of removing warts, in no way should they be removed by force. It is important to have patience and let the mixture and band aid do their work. Make sure to stop practicing this in case your skin hurts or bleeds.
Are There Any Side Effects of Using Castor oil and Baking Soda to Remove Warts?
Since this is a natural home remedy, it doesn't have severe consequences but people already allergic to it can face discomfort on using it. Also, skin irritation occurs by over-using it. To avoid such issues, one can do a patch test on the skin before starting to use it for removing warts.
Though there are invasive processes of removing warts, it can also be done easily through home remedies. The only thing is that you need to wait patiently as it won't show results overnight. While practicing this, it is better to rub away the dry skin the next morning using a pumice stone. Then warts will become dark and the shed off eventually.
Frequently Asked Questions (FAQ's)
Q. Is Castor oil used alone beneficial for warts?Ans: Yes. For this, a cotton ball can be soaked in the oil and left on warts. This can be covered with tape and left overnight. To avoid the strong repulsive smell of the oil, it is a good idea to add some peppermint oil to it before practicing it.
Q. Can baking soda be used in any other way for wart removal?
Ans: Yes, just like castor oil, you can try it with some vinegar and follow the same process.
Scientific Evidence:
You Might Also Like:
Reference:
https://www.thehealthy.com/skin-health/home-remedies-warts/
https://www.cleverly.me/wart-removal/
https://www.getatoz.com/content/home-remedies-for-warts/1683