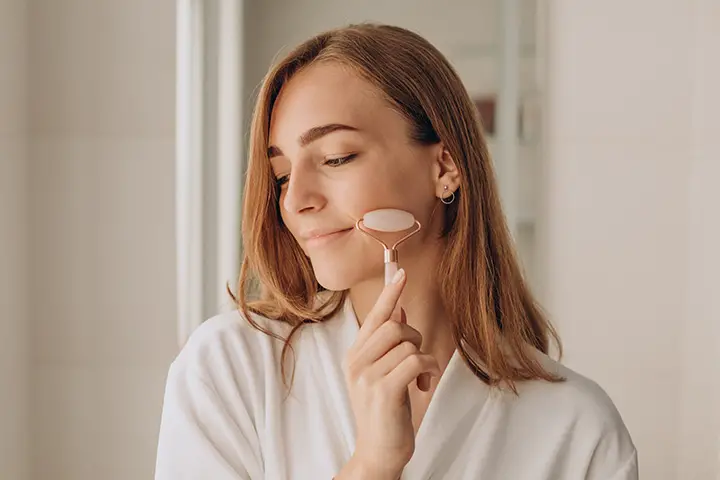 There may be many beauty equipment used for facial massages but there is a wonderful jade roller which does miracles in treatment of puffiness, wrinkles and brightening skin. The treatment that you take in a spa and beauty salon may bring your face glow and look young but You need to spend time and money on it, But by using this jade rolling massage at home You will feel the same relaxation and there are a lot of benefits without spending time and money. IYou might also have heard about this on social media like YouTube. Here we will discuss this jade roller in detail.
How To Use A Jade Roller?
Jade rollers are the traditional Chinese derma rolls that have been used since the 17th century, made from jade or other gemstones like Amethyst and rose quartz. It's design is very simple and painless while rolling, it's touch is cool and heavy in weight.
How To Use A Jade Roller – Step by Step Process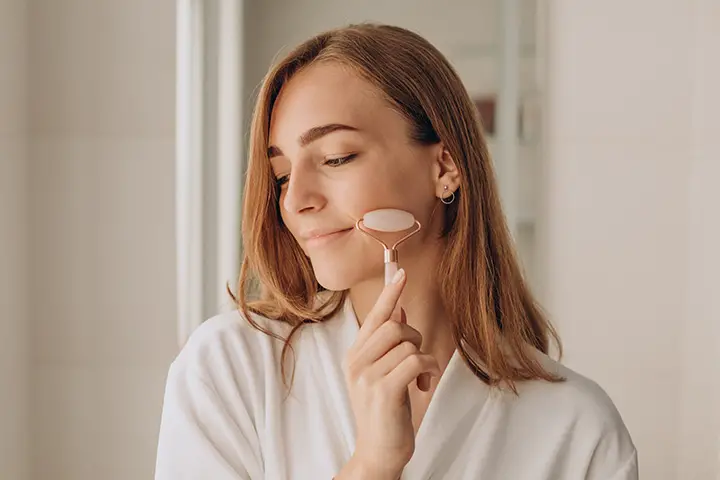 Store the jade roller in refrigerator so that the coolness of the stone help to reduce puffiness.

Clean your face before using roller so that your skin looks clean and soft and the roller does it job properly.

Moisturize your face with serum or any facial moisturizer so that the massaging movements will absorb the typical products and make your skin better.

The roller contains two ends, the large end and small end. Choose the side of the roller small end for eyes and nose bridge. The large end for cheeks, forehead and jawline.

To avoid irritation gently roll the ball, and avoid tugging on your skin. Aim 10 – 20 strokes on each part of your face.

The large end of the roller should be placed towards your chinn and gently roll it over towards ear by applying small amt of pressure do this for 5-6 times.

Now roll on your forehead, starting from the middle of your forehead towards your ear. Use large end to do this and repeat it for 5-6 times.

Now use a small end to roll under your eyes, apply medium pressure and roll from the inner eye towards the outer corner. Do this 10 to 15 times.

Using a large end on your jaws by pressing hard dig into the joint of your jaw and move it back and forth. By doing this rapid rolling on spots will give a tight feel to your skin.
Benefits of Jade Rolling
Reduce Puffiness:

Jade roller has the ability to reduce puffiness on your skin. Facial puffiness generally causes fluid retention and there may be some other reasons also for puffiness, in such cases jade rolling does wonders and reduces puffiness.

Lymphatic Drainage:

The lymphatic system transfers fluids and filters out infection from our body. Massaging your face or skin and neck can stimulate the lymph nodes to drain the fluid from your face and neck.

Improves Circulation:

Facial massaging or rolling will help to stimulate the blood cells and increase the blood circulation and make your face appear brighter. The massaging may be with or without jade roller will help to improve in blood circulation and decrease puffiness.

Product Absorption:

Before using jade rolling we use serum and moisturizer, applying a topical product and massaging will help the skin to absorb the product and make your skin glow.

Calms Irritated Skin:

You may have fun or enjoy the coolness that comes from the jade roller as it naturally reduces and calms iteration of the skin. So it is good to freeze it before using.
Jade rollers are the massaging rollers which will improve your blood circulation and reduce puffiness and make your skin glow. The thing is you have to select the right roller material like it may be jade quartz or amethyst. Also keep your rollers clean after every use and store them in the refrigerator to avoid aggravating your skin and also to protect from accnes.
Recommended Topics: