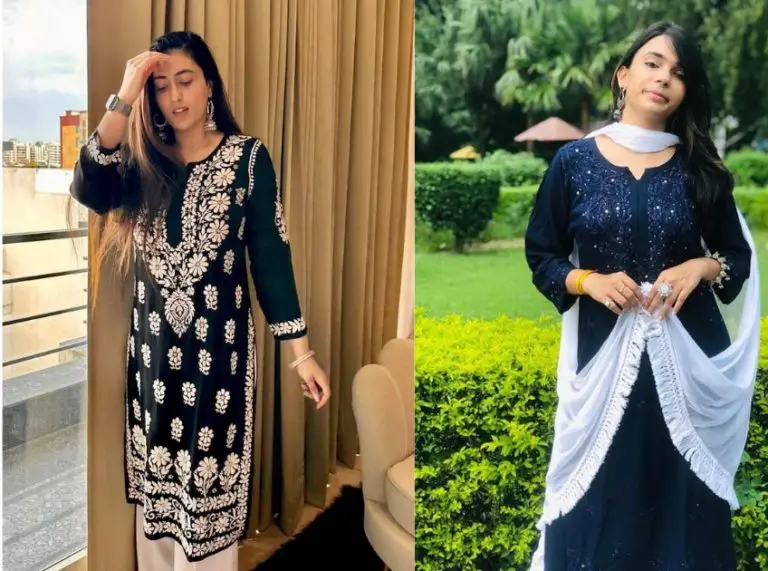 In the wardrobe of Indian women's collections, kurtis have taken a major role. From college to work, women mostly look for simple and comfortable garments. In this list, Kurtis placed the first position. Kurtis are coming in different varieties, styles and colours.
The design and pattern of the kurtis can differ depending on the age and body type. Want to wear attire that suits all occasions? Then you should look out for pleasant Indian hand embroidery designs for kurtis.
Let's take a look at numerous varieties of kurtis
20 Indian Hand Embroidery Designs for Kurtis
1. Multi-Colour Embroidery Party Wear Kurti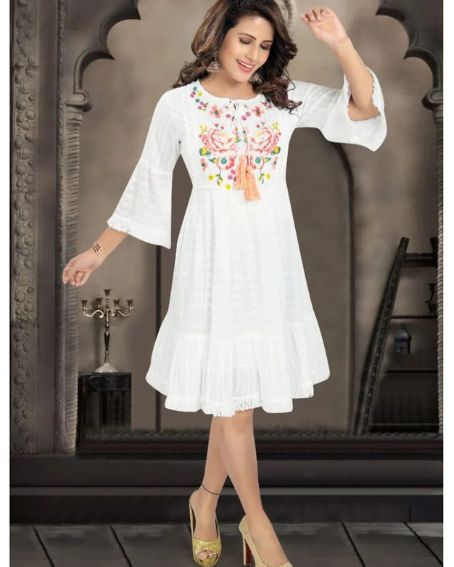 This multi-colour embroidery is a widely adopted hand design that can be used for weddings or any party. Bell style hand with different colours embroidery on the front makes every woman try on their special day.
2. Bottle Green Handwork Kurti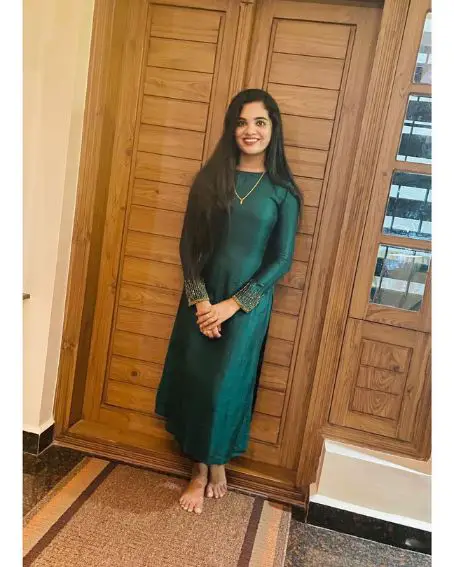 Looking for a kurta that makes other turns heads on you, then have this bottle green of great hand embroidery kurti. This plain kurti looks grand and elegant when embroidery work done on hand part. It is a must-try kurti suitable for all occasions.
3. Elbow Sleeve Hand Embroidery Kurti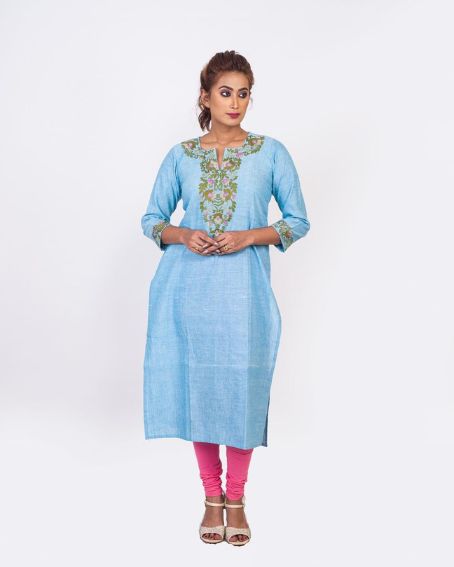 Sky blue elbow sleeve kurti looks absolutely stylish and very neat . It has floral embroidery on the hand edge as well as the front of the kurti. Light colour with simple handwork embroidery goes very well for any occasion.
4. Cotton Stripes Embroidery Kurti
Cotton striped embroidery kurta is traditional attire and it can be found with a leaf motif. Even though it is a very simple one, it will change your look more interesting. Make your summer enjoyable, fashionable and comfortable with this alluring hand embroidery kurti.
5. Single Strap Aari Work Kurti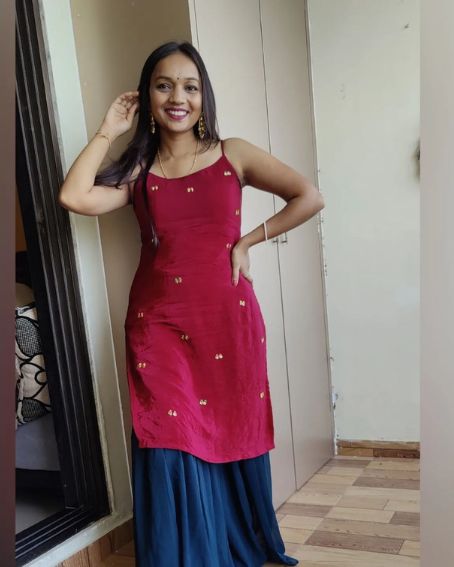 This is the one for those who don't like a sleeve or hand or elbow sleeves. Green pant for a Maroon top with cute aari work makes your look more prominent. You can simply wear this for any casual events or friends' party.
6. Collar Neck Style Hand Embroidery Kurti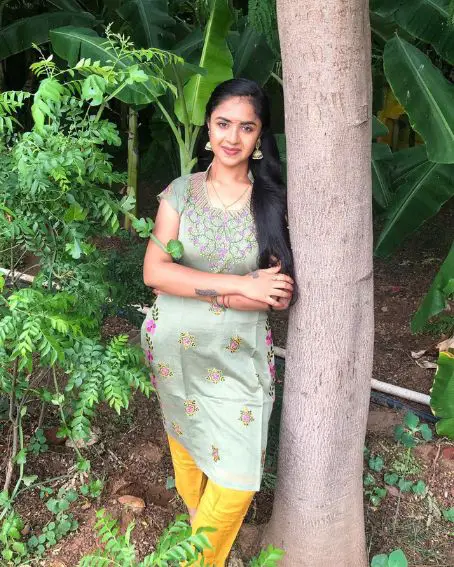 Kurtis with collar neck style and beautiful embroidery look gorgeous. The motifs in this top are mostly rose flowers and natural-related themes. The embroidery is done intricately but gives an awesome feel when seeing it.
7. White in Red Hand Embroidery Kurti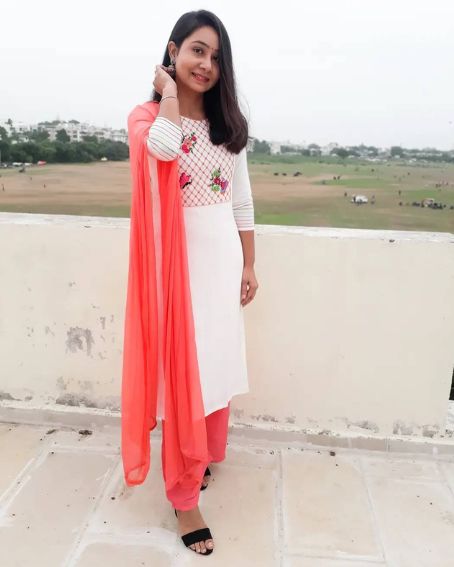 Leave a boring style kurti and move for a trendy one. Want to change your style without compromising the traditional look then pick this white with red embroidery kurti design which takes your style to the next level.
8. Chikanri Heavy Embroidery Work Kurti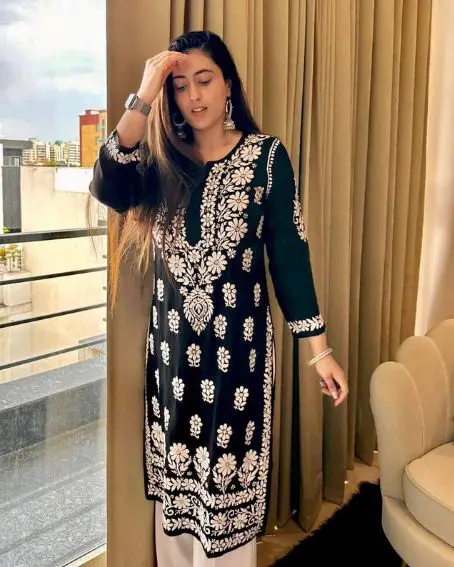 Another design mostly worn occasionally is this heavy handwork embroidery dark green kurta. White floral and leaf on green colour look very awesome which helps you to catch every attention in a crowd.
9. Lavender Hand Embroidery Kurti Design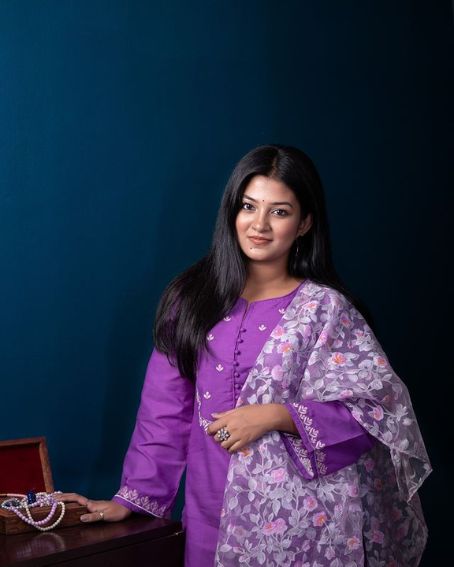 This Lavender with a simple white embroidery design will bring you a refined style this year. A full sleeve with small leaf embroidery adds charm to the overall look. Wear with apt shall and pants to get an even more elegant appearance.
10. Cutwork Style Hand Embroidery Kurti Design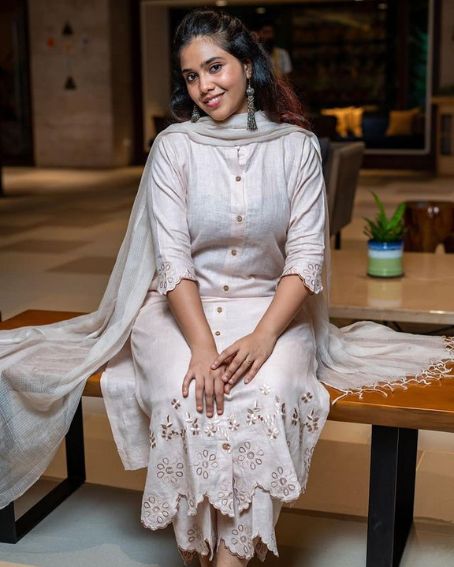 The handwork kurti comes in different styles, among all types, off white cutwork kurti with palazzo pants is something awesome and perfect for traditional and casual events. The design has floral work on the hand end and the top end to highlight the whole kurti. Try it for your special occasions!
11. Heavy Cotton Kurti with Floral Hand Embroidery on the Front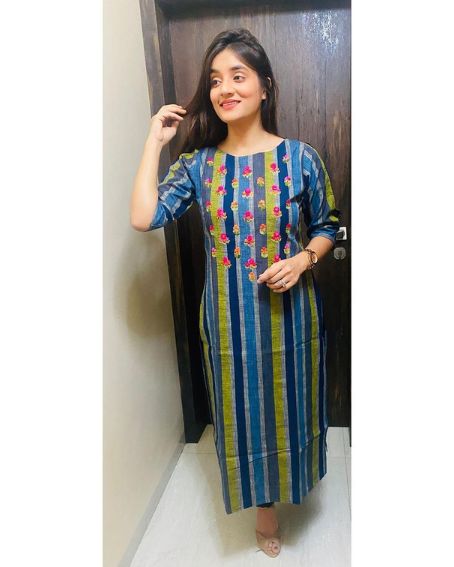 12. Long Kurti with Beautiful Hand Embroidery Design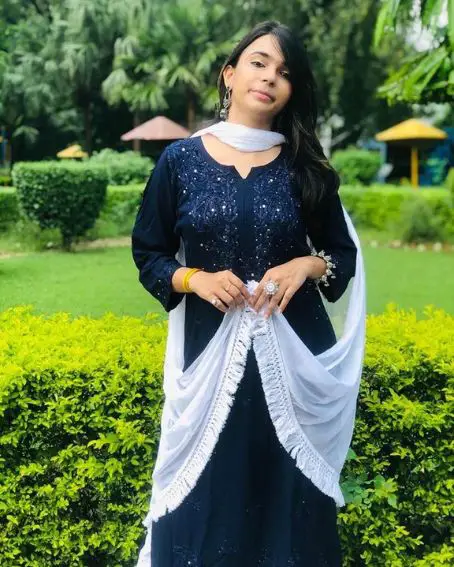 13. Neck and Sleeve Hand Embroidery Kurti
14. Kota Doria Kurti with Hand Embroidery Design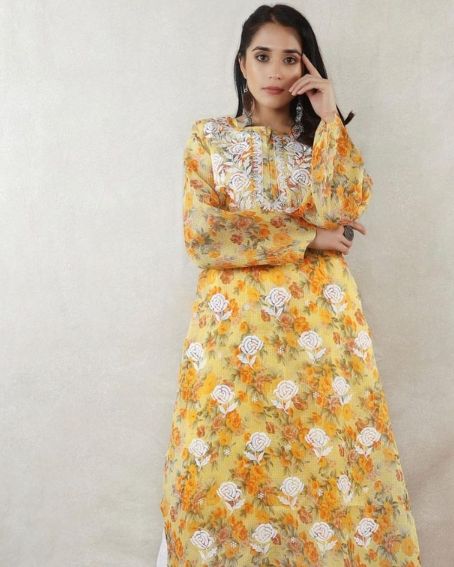 15. Middle-Cut Brown Hand Embroidery Kurti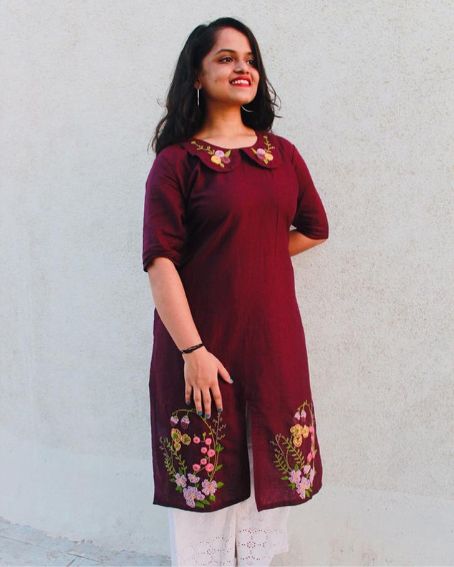 16. Beautiful Neckline Hand Embroidery Kurti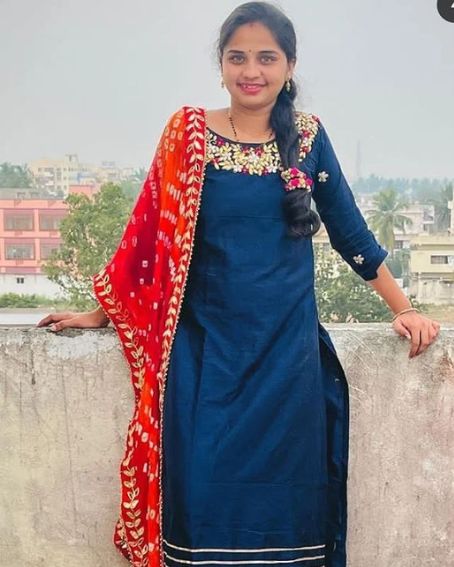 17. Black with Pink Silk Cotton Kurti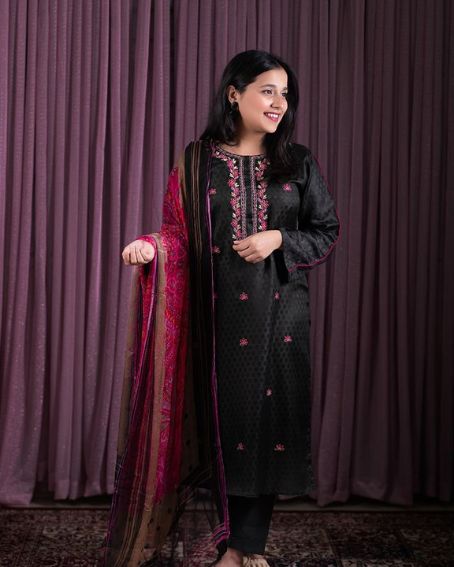 18. Punjabi Party Wear Hand Embroidery Kurti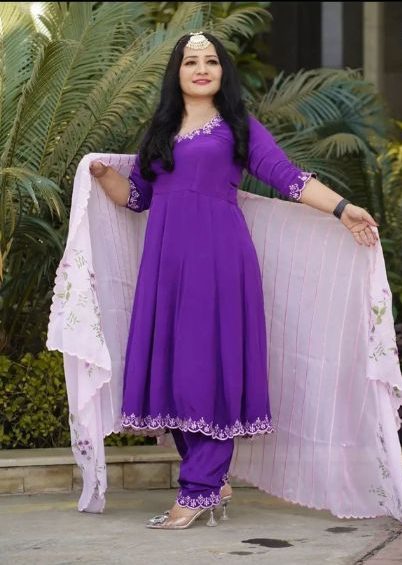 19. Fluorescent Three-Quarter Sleeve Hand Embroidery Kurti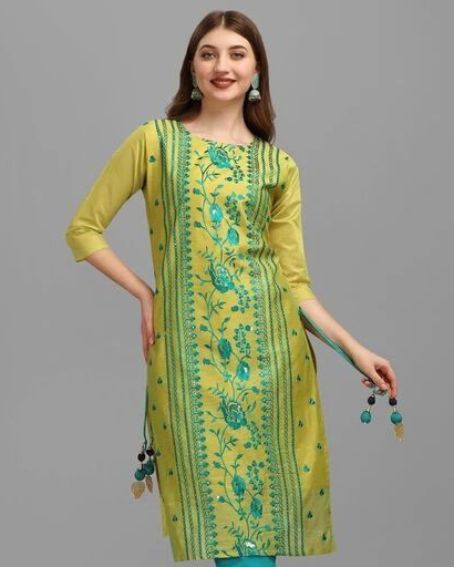 20. Rose Motif Hand Embroidery Kurti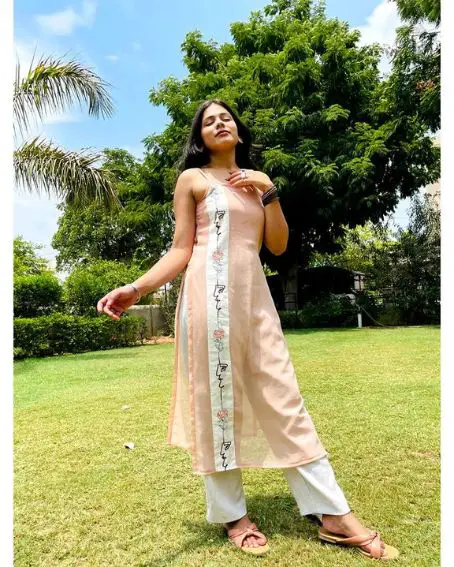 Conclusion
Concluding that, you can find many hand works designs with the latest style to choose from. As they are made by hand, they are coming with extraordinary finishing work and importantly last longer than more days compared to machinery designs. Don't you think the above-mentioned kurtis should be part of your wardrobe too? Make a try!
Related Articles