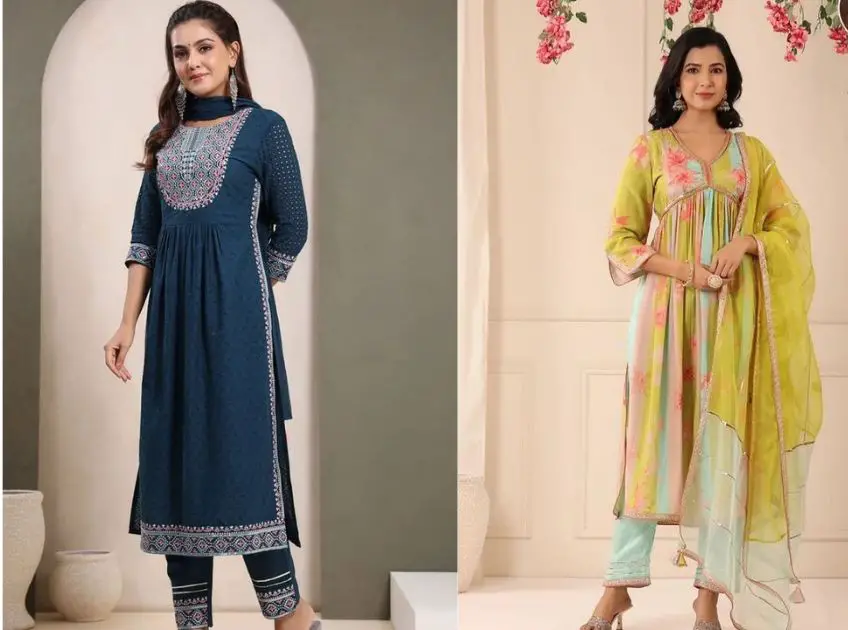 A Naira cut kurti is a variation of the traditional kurti, which is a loose-fitting tunic worn by women in South Asia. The Naira cut kurti design typically features a diagonal or slanted high-low hemline. The front of the kurti is shorter in length, usually reaching above the knee or mid-thigh, while the back is longer, extending to the calf or ankle length.
n be paired with leggings, jeans, or palazzo pants, depending on personal style and occasion. The kurti can be adorned with various embellishments, such as embroidery, prints, or decorative trims, to enhance its overall appeal.
20 Latest Naira Cut Kurti Design
1. Radiant Red Color Naira Cut Kurti Design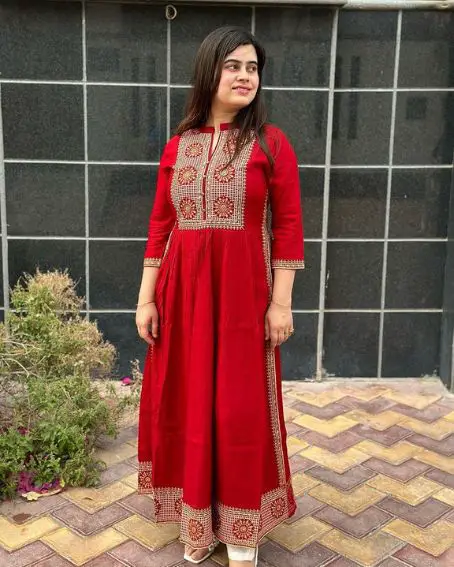 This is a simple red color Naira cut kurti, with a ruffled design. A fitted top wears out towards the hem, producing a beautiful shape. try this pattern for a simple occasion, such as a dinner party or a modest wedding ceremony, try it in bright colors.
2. Cotton Fabric Naira Cut Kurti Set Design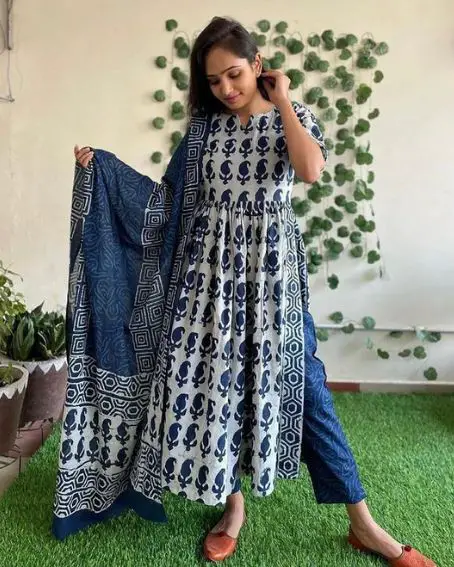 This is a specific style of A-line or flared naira cut kurti that is popular in Indian fashion today. This is a simple and diligent design in indigo color with cotton fabric. This kurti comes with narrow pant and a dupatta set.
3. Rayon Fabric Embroidered Naira Cut Kurti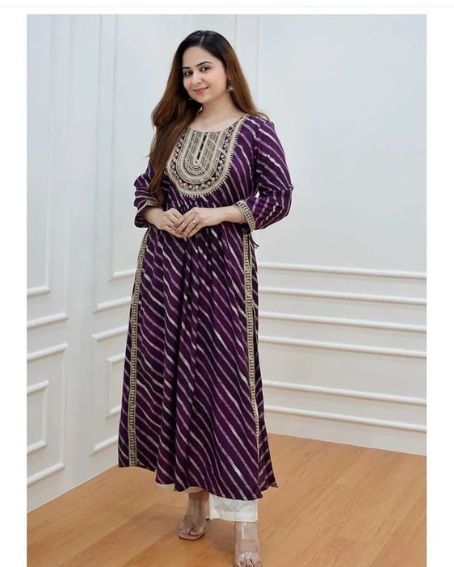 Naira Kurtis looks best when the borders come in an embroidery pattern to emphasize the cut. This Rayon fabric looks classy with a strip-printed pattern with embroidery borders. It will be very handy when choosing what to wear to dinner parties after your wedding.
4. Floral Printed Pattern Naira Kurti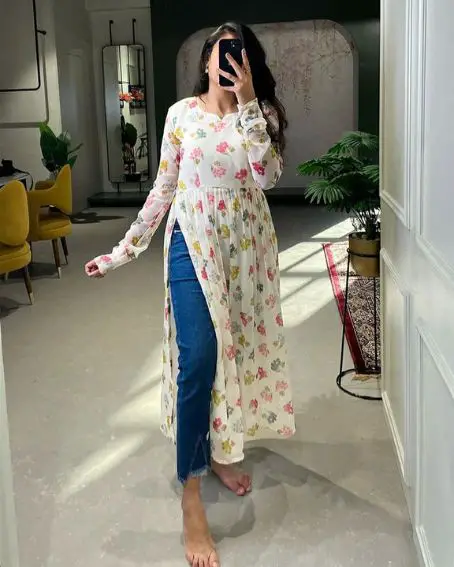 This is a Naira cut kurtis with floral patterns. Prints can add vibrancy and personality to the kurti, allowing you to express your style preferences. This floral pattern kurti is with long side slits and full sleeves which grabs everyone's attention when paired with jeans' bottom
5. Beautifully Embroidered Naira Cut Style Kurta with Lace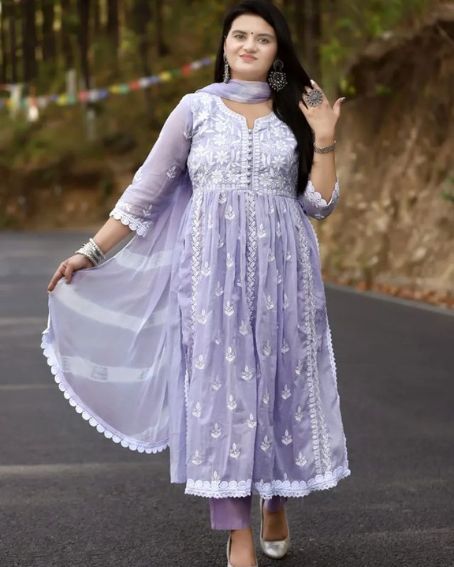 A lace embroidery fabric material is made of a Naira cut kurti giving the elegance and charm of lace embroidery. This beautifully designed naira kurti gives a stunning look with its lace borders and lace embroidery around the neck. Borders, and sleeves.
6. Grand Designer Naira Kurti with Heavy Embroidery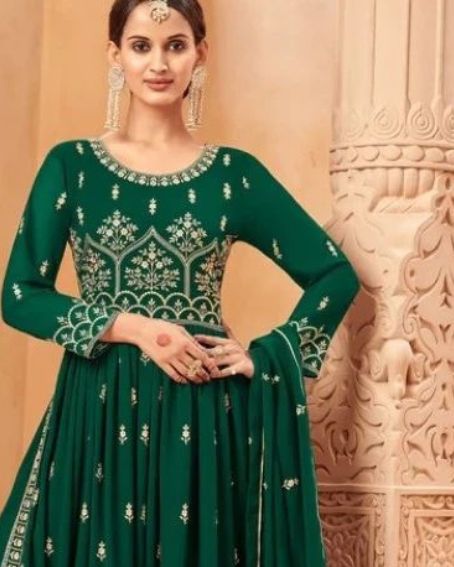 This is the grand beauty Naira cut kurtis with front flare. The front of these kurtis is designed to be pinned with a cut on the sides giving a very party-appropriate look. add some embroidery and drama to the sleeves having a party-ready outfit idea.
7. Pure Rayon Long Slit Naira Kurta with Pant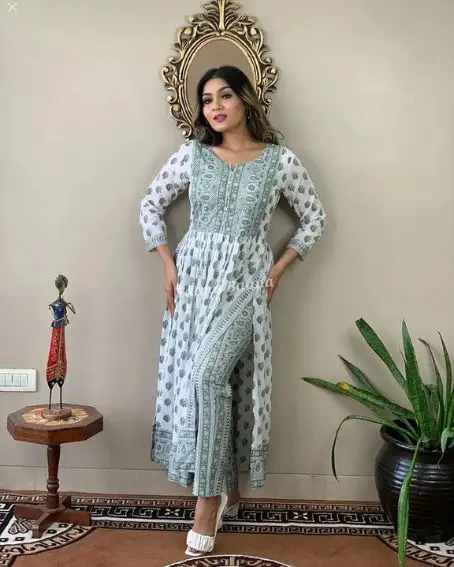 This simple Naira-cut cotton kurti is a comfortable and flexible option for daily wear. Cotton is a popular fabric choice due to its flexibility and lightweight nature, making it suited for use in various conditions.
8. Beautiful Flower Procin Printed Riyon Nira Cut Kurti with Pant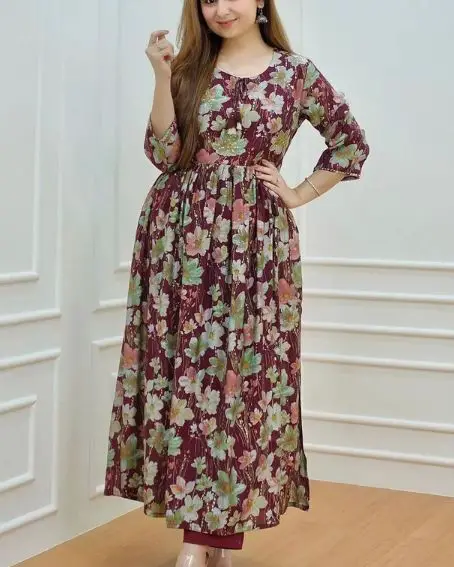 This floral pattern procin printed Riyon naira cut kurti is with long side slits and full sleeves which grabs everyone's attention with its charm and glittery body. Try this type of kurtis for parties and dinner dates to express your creativity.
9. Beautiful White Naira Cut Kurti with Jeans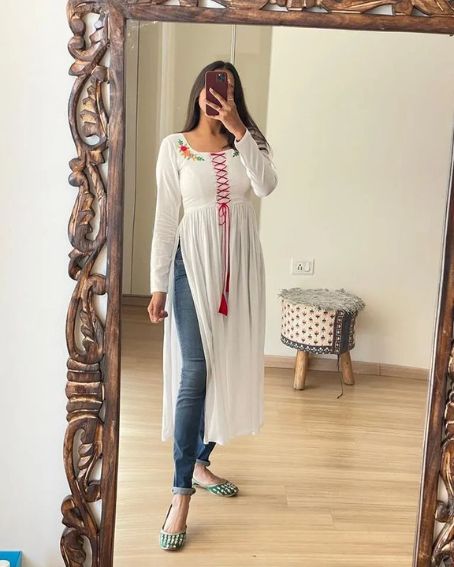 This Naira cut cotton kurti is a flexible clothing essential that can be dressed up or down depending on the occasion and your particular style choices. It creates a balance between comfort and style, making it suitable for daily use or informal parties.
10. The Latest Chikankari Naira Cut Kurti with Mirror Embroidered and Lace Work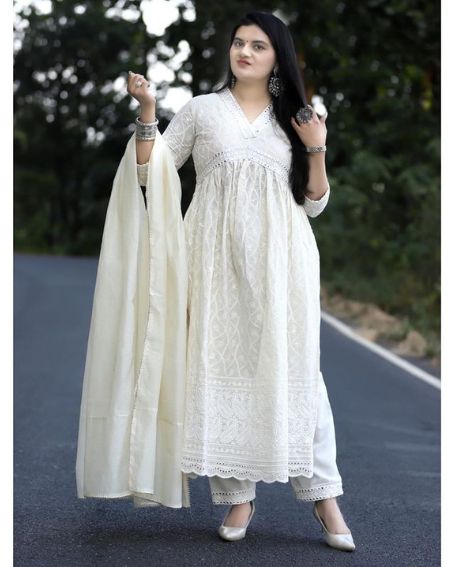 Chikankari embroidery is the highlight of this kurti. It typically features delicate and intricate white threadwork on the fabric, creating beautiful patterns and motifs this naira cut kurti comes with a V-neck design and three-fourth sleeves.
11. Fancy Naira Cut Kurti with Pant and Dupatta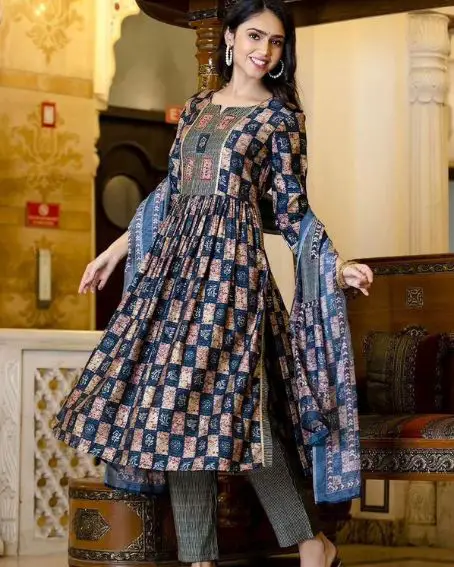 12. Latest Long Naira Kurti with Heavy Embroidery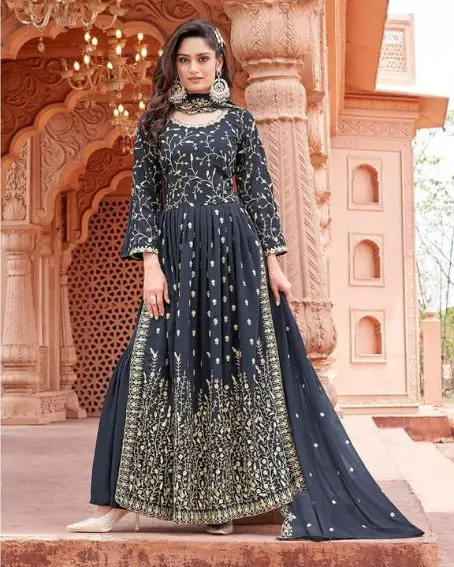 13. Traditional Printed Pattern Reyon Naira Cut Kurti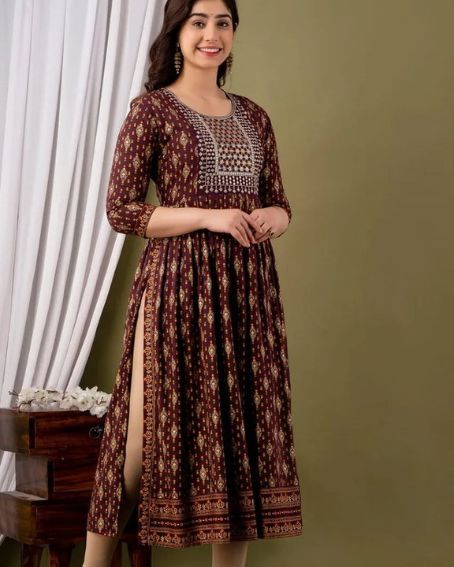 14. Rayon Fabric Embroidered Blue Naira Cut Kurti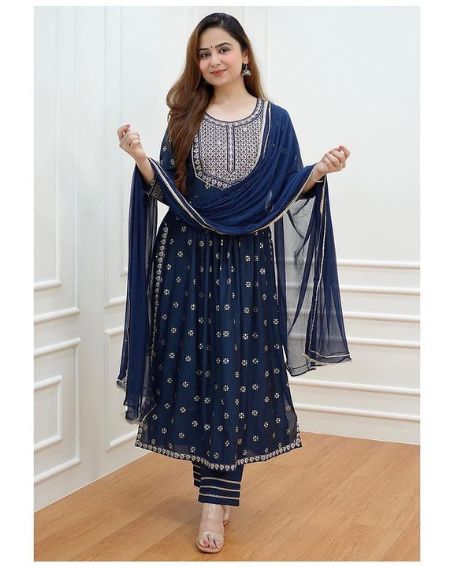 15. Chikankari Naira Cut Kurti with Pant and Dupatta Set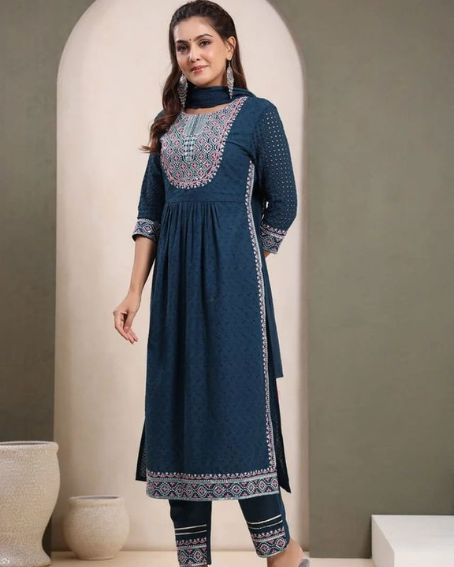 16. Blue Rayon Naira Cut Kurta with Machine Embroidery Work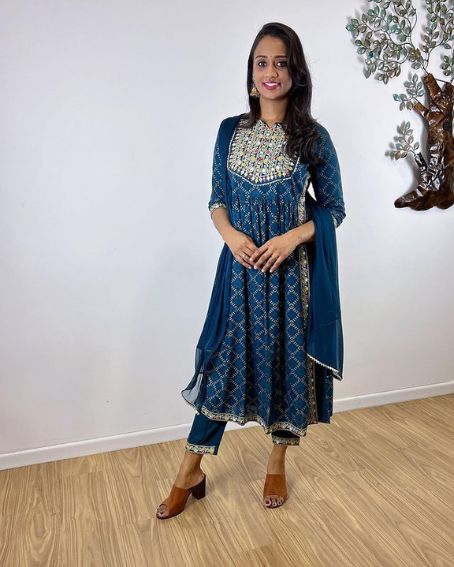 17. Pure Muslin Digital Print Naira Cut Kurti with Border Sequence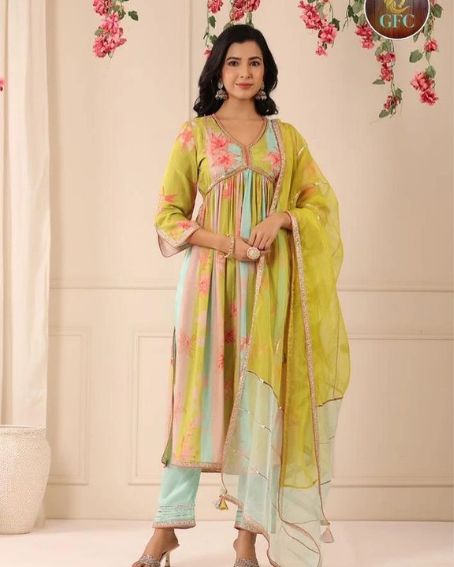 18. Beautiful Printed Pattern Naira Cut Kurti Set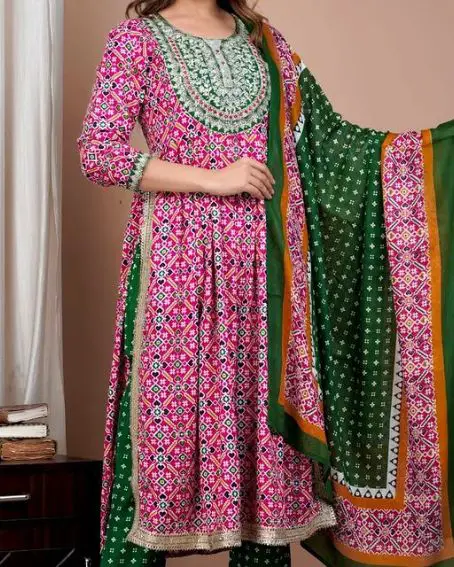 19. Georgette Kurti with Heavy Embroidery Naira Cut Kurti Design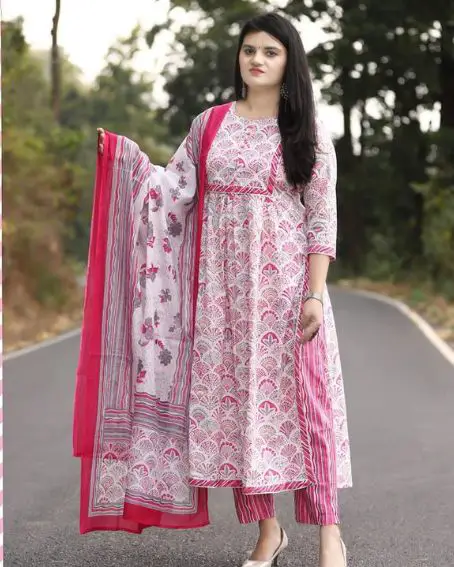 20. Black Cotton Fabric Naira Cut Kurti Set Design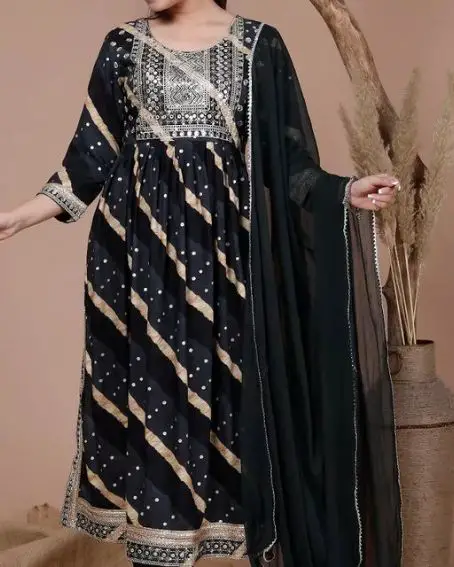 Conclusion
The Nyra cut kurti design has grown in favor among fashion-forward ladies who value the combination of traditional and modern elements. It takes a modern spin on the traditional kurti while remaining true to its culture. The Nyra cut kurti is a fashionable difference that allows women to show what they love with charm and flare, whether for casual or semi-formal situations.
Related Articles