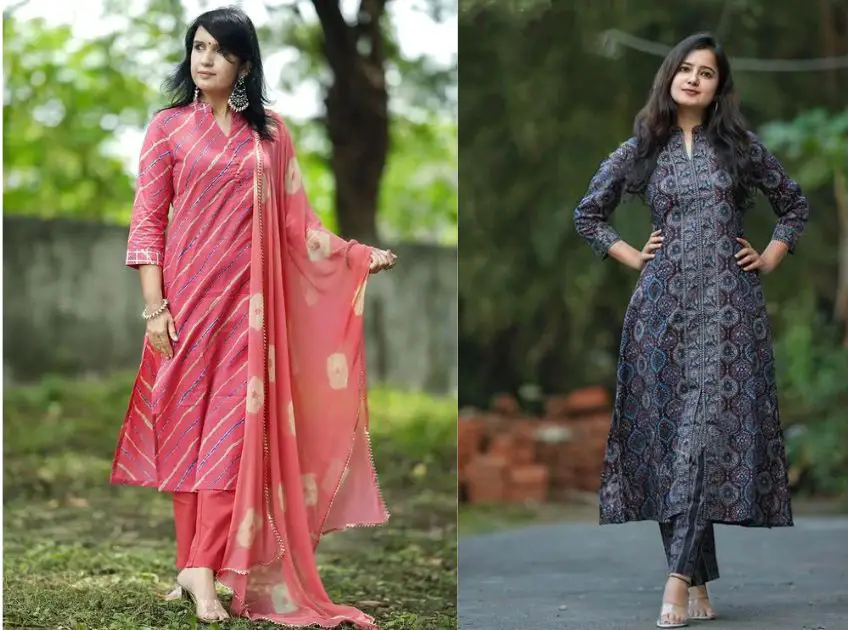 A modest Kurt is said to be a great companion for every woman. With the changes in fashion times, women wearing kurti also transformed from old to many new varieties of styles, colours and patterns, designs, prints and more.
Kurti is the list of the popular choice of clothing for women. Among many styles and varieties, the half-collar neck design is trending now. This collar neck design in a kurti gives a formal and sophisticated look. You can pair it with denim, jeans or even skirts that can choose depending on the occasion.
Keep reading to know some more information on half-collar neck designs for kurtis
20 Best Half Collar Neck Designs for Kurtis
1. Closed Half-Collar Neck Kurti
This cotton half-collar neck kurti with a front slit will add a touch of modernity and elegance to your wardrobe. Red potli buttons on the yoke give a traditional touch to this outfit. Bright red flower embroidery on the end of the kurti looks even more attractive.
2. Ajrakh Printed A-Line Kurti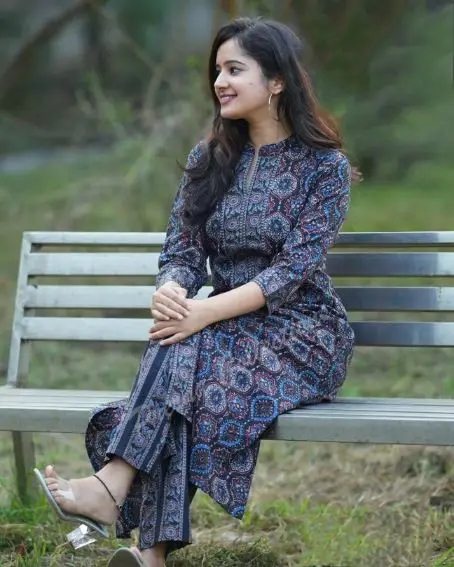 The one which intact the overall personality and renders a pleasing look for all eyes is this Ajrakh printed A-Line Kurti. Choose comfy footwear and jewels to change your look completely.
3. Zig Zag Triangle Hand Block Collar Neck Kurti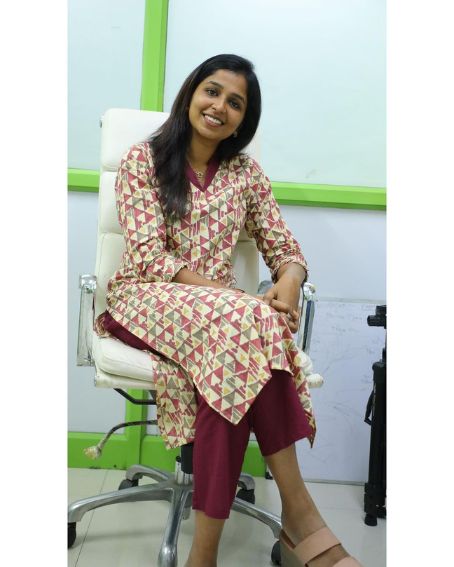 Zigzag triangle hand block collar neck comes under the gorgeous range of kurtis. This type of cloth is ideal for office-going women to bestow a formal touch to their regular kurtis. It is versatile and can suit all types of women and significantly they are all session friendly.
4. Elbow Sleeve Collar Neck Kurti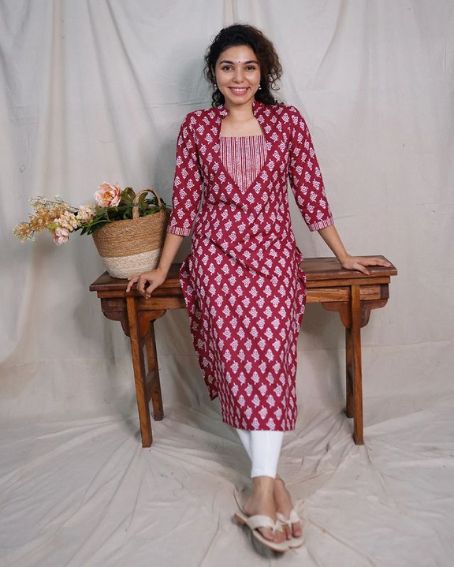 The elbow sleeve collar neck kurti adds a nice modern touch to the ethnic kurti. The special about this kurti is, comes with a printed patch on the yoke. Pair with them a jean or white leggings and a shawl to be more attractive.
5. Front Cut Half Slit Collar Neck Kurti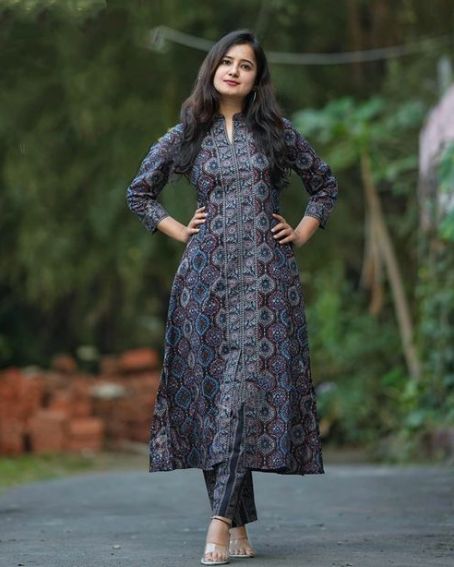 Looking for a collar-style kurti that is perfect for special occasions or parties? The front cut half collar neck kurti is a perfect pick. This printed pattern design is sure to grab everyone's attention at the party. Try it with matching pants to stand out even more.
6. Black and Yellow Half-Collar Neck Kurti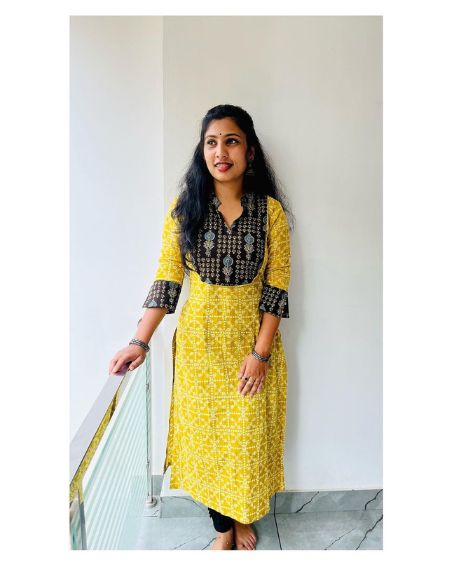 Party-wear kurti demand something more intricate and stylish. For a simple and neat look go with this black and yellow half collar neck kurti. The loose black sleeve end for a mustard yellow kurti looks awesome.
7. Kalamkari Patchwork Collar Neck Kurti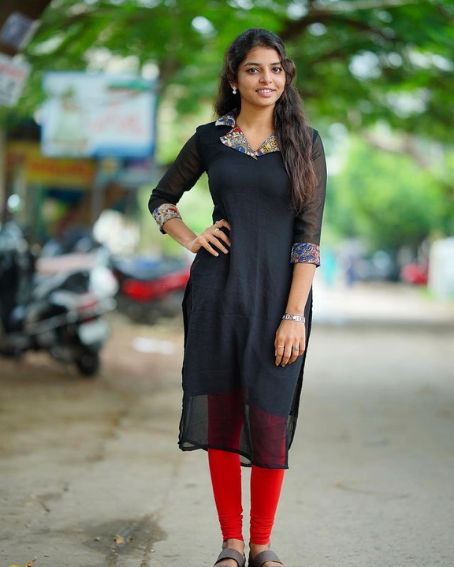 Club fantastic party wear look with a Kalamkari patchwork collar neck kurti. Pair it with red or white leggings pants. Further grace you look with beautiful accessories to stand in a crowd.
8. Patch on Sleeves Cotton Collar Neck Kurti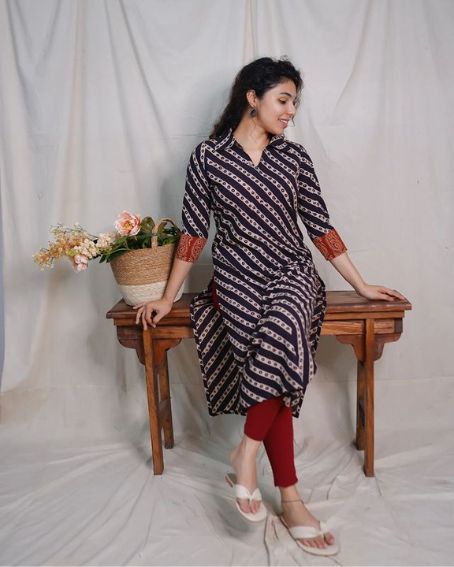 Add a unique touch to your summertime fashion statement with a patch on sleeves collar neck kurti. It is often worn as casual and formal attire. This half-neck collar is extensively used in kurti because it will give a trendy look.
9. Printed Black Collar Neck Kurti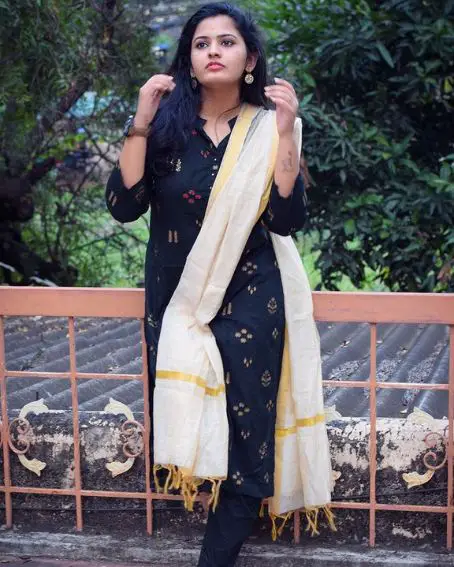 This beautiful navy blue is ideal for casual events. Though it is more than a medium kurti simple print work on it is more casual than a traditional outfit. Most importantly it is a much more comfortable one compared to very short tops.
10. Double Front Design Collar Neck Kurti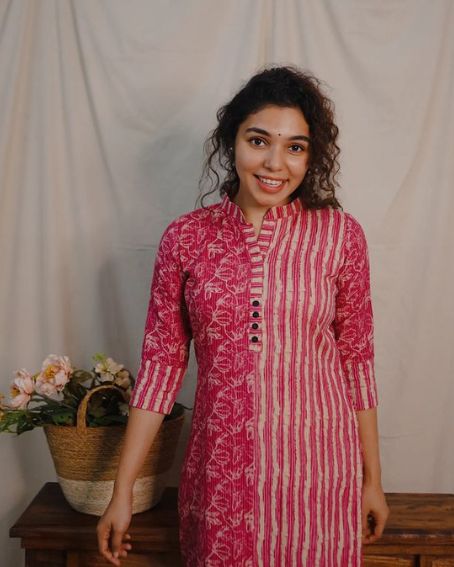 Double design collar-neck kurti is the perfect combination of traditional fashion and modern trends. This kurti can make you the star of any evening. The unique double pattern on the front is very pleasant and stupendous.
11. Front Slit Collar Neck Kurti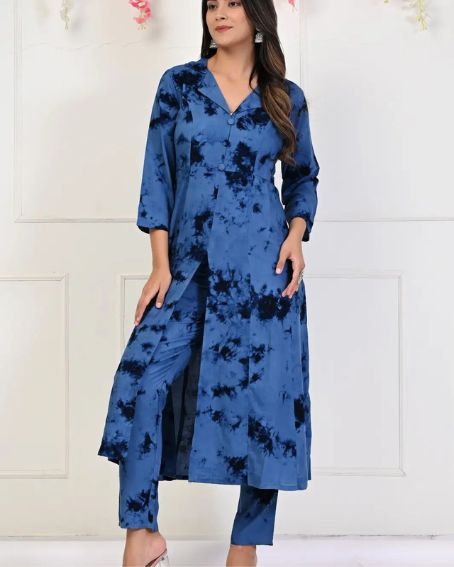 12. Floral Print Collar Neck Kurti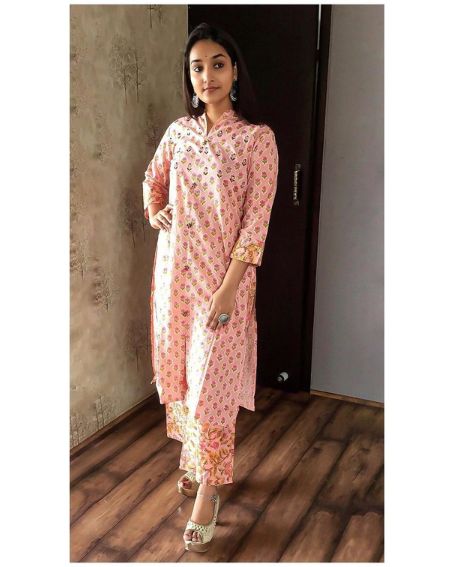 13. Lehariya Print Collar Neck Kurti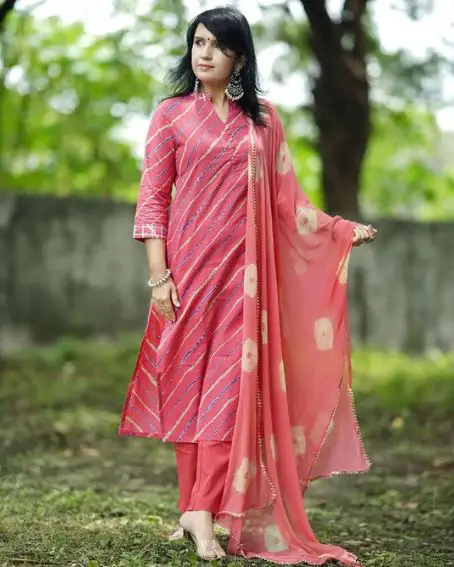 14. Sequence Work Rayon Fabric Collar Neck Kurti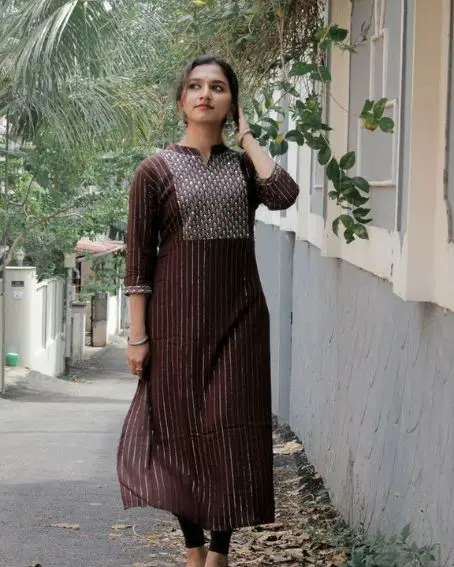 15. Georgette Collar Neck Slit Top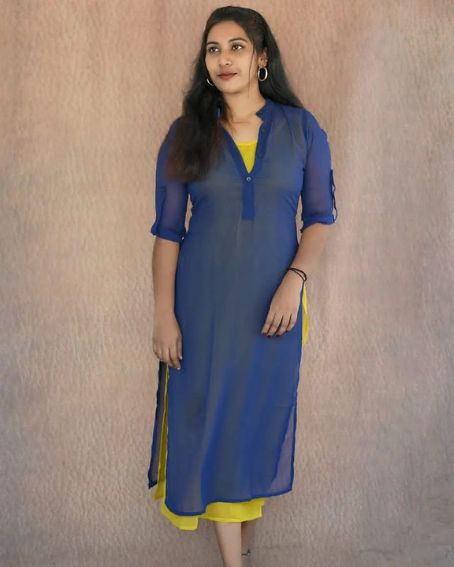 16. Sky Blue Front Open Collar Neck Kurti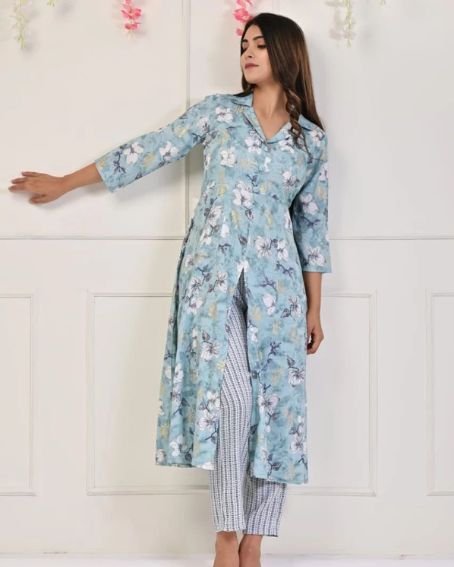 17. Checked Type Blue Collar Neck Kurti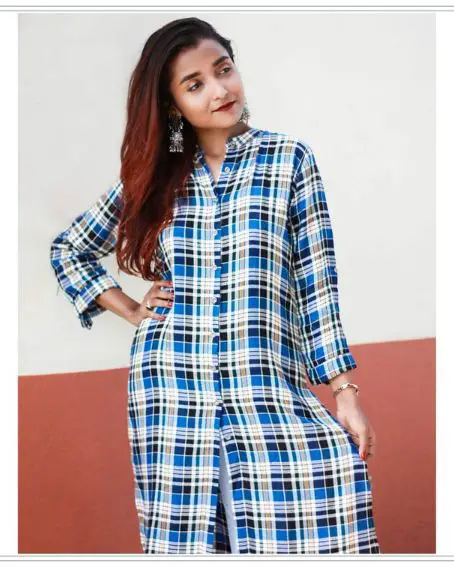 18. Loose Fit Sleeves Collar Neck Kurti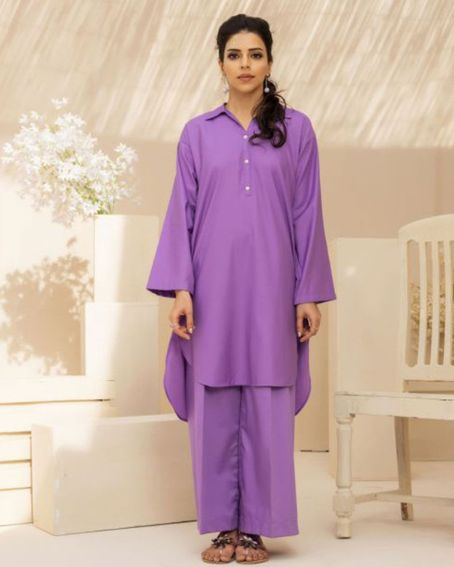 19. Jaipuri Printed Collar Neck Kurti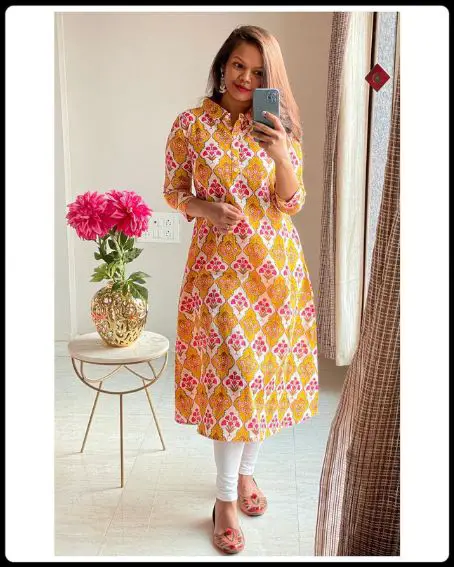 20. Button Model Collar Neck Kurti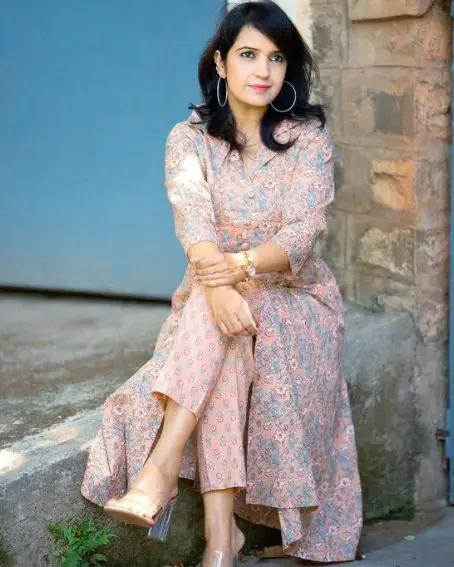 Conclusion
Hoping that you may have some knowledge of what it looks like by seeing the above pics. For formal kurtis, half-collar neck designs are ideal as they bestow a very stylish yet trendy look. So, if you feel difficulty choosing a neck pattern, look no further and have a half-collar neck kurti for a change.
Related Articles