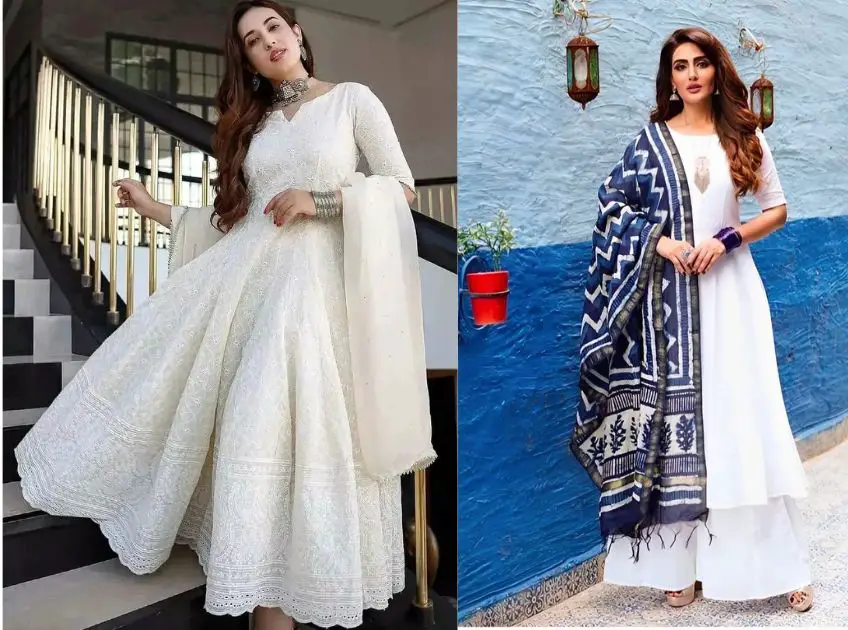 Simple white kurtis are an essential wardrobe item that can be dressed up or down depending on the occasion. They serve as a blank fabric for their personal style, allowing for creativity with accessories and bottom wear. Their classic charm ensures they will continue to be a popular choice for anyone looking for an elegant and effortless style.
White is considered to be pure and provides a spotless appearance. It can be worn casually and is suitable for any occasion. There are numerous white Kurti styles, designs, and patterns to choose from to carry that with elegance and grace.
Top 20 Simple Plain White Kurti Designs
1. Simple Plain White Chikankari Lace Embroidery Kurti Set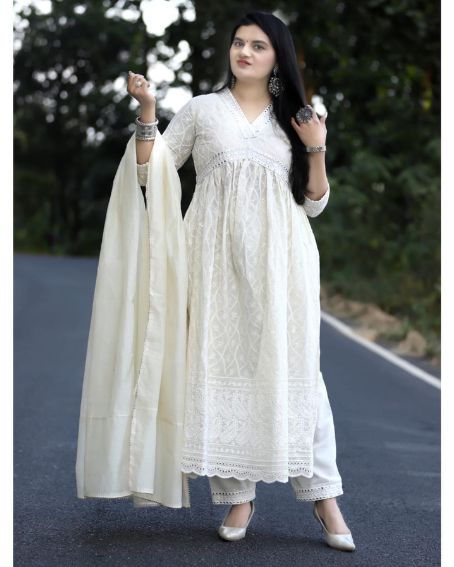 This white chikankari lace embroidery kurti set has a classic elegance. The beautiful lace embroidery gives a slight design to the kurti, increasing its appeal. This white kurti comes with a V-neck design with a borderline.
2. Beautiful Plain White Kurti Set with Soft Work on Canvas Fabric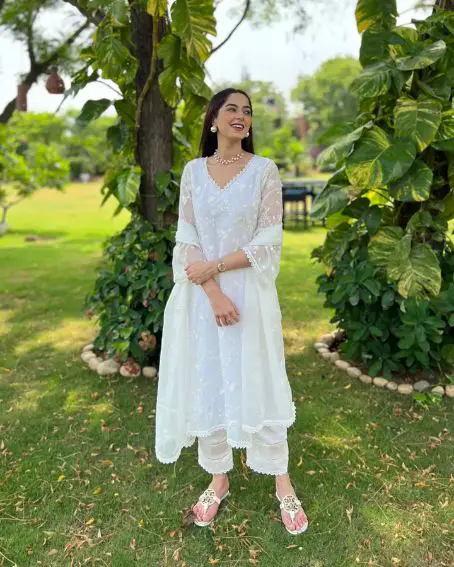 This is a lovely plain white silk kurti set embellished with a soft threading work on canvas fabric that develops luxury and style. The delicate threading work adds a subtle texture and intricate detailing, enhancing the elegance of the kurti.
3. Loveable Plain White Chanderi Cotton Kurti Set Design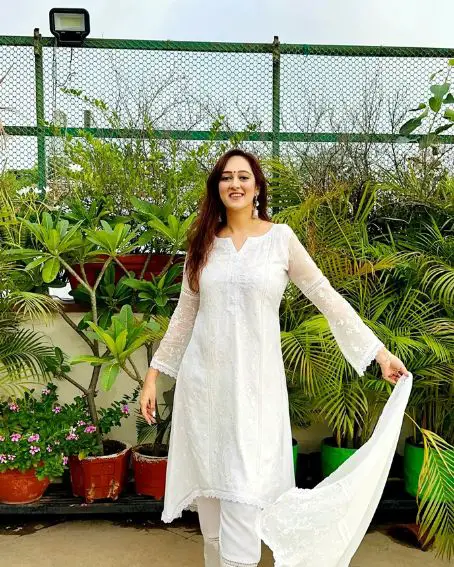 Here comes another plain white and pure chanderi cotton fabric kurti set. The chanderi cotton fabric offers a lightweight and breathable feel, perfect for summer or warmer weather. This kurti comes with a beautiful boat neck with full sleeves.
4. Simple and Elegant Plain White Kurti Set Design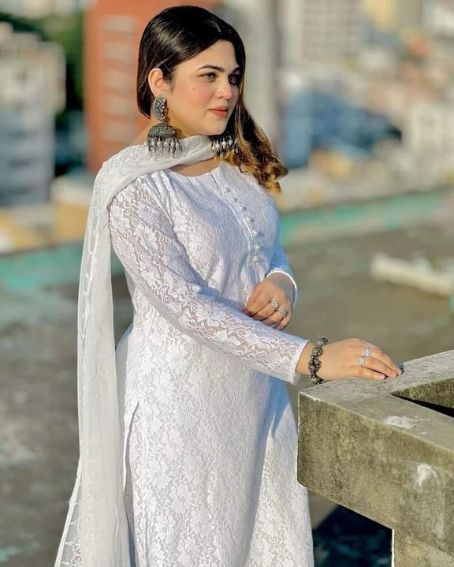 This simple and elegant plain white kurti set with lace work gives a beautiful and classy look. The delicate lace embroidery adds a touch of elegance, making it an attractive choice for formal events or special occasions.
5. Plain White Kurti with Chikankari Work and Pearl Embellished Neckline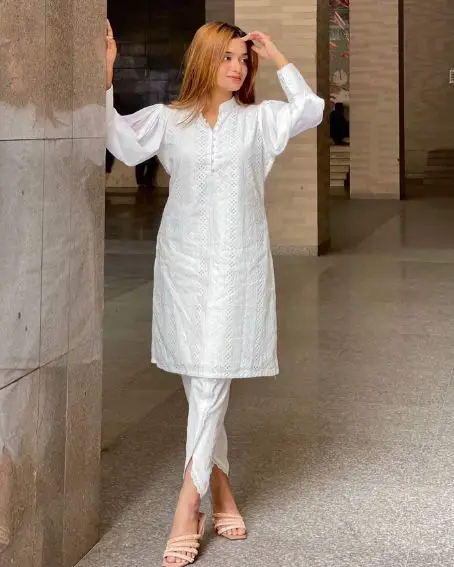 This is a plain white kurti with a unique stitching pattern. This kurti features chikankari design on the dooti pattern pants and balloon pattern sleeves with cuffs. The lovely embroidery adds an elegant design to the kurti, improving its charm.
6. the Best Plain White Kurti with Hemp Fabric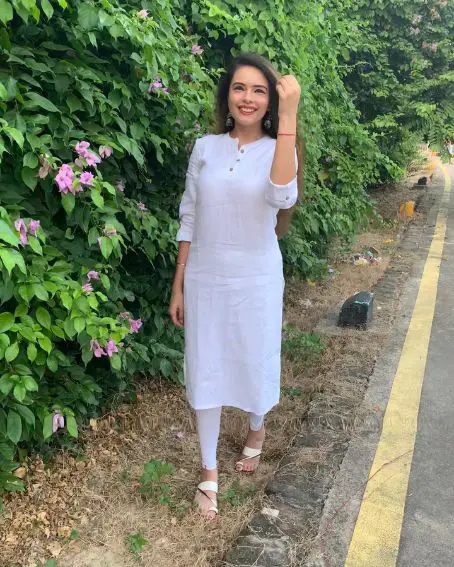 This is a plain white cotton kurti with comes with a collar neck design and three-fourth sleeves offering a classic and casual look. The cotton fabric provides comfort, while the collar neck and three-fourth sleeves add a smooth touch to the overall design, making it suitable for everyday wear.
7. Lucknowi Chikankari Kurti Design with Delicate Hand Embroidery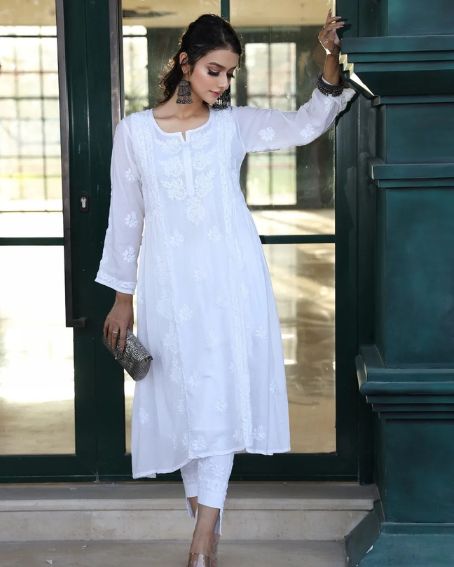 The Lucknowi chikankari kurti design with the delicate craft of hand embroidery. The kurti is enhanced by the complex chikankari design, with fine threadwork. This white kurti set with an Anarkali pattern, a round neck design, and full sleeves outfit.
8. Plain White Long Kurti Design with Dori and Sleeveless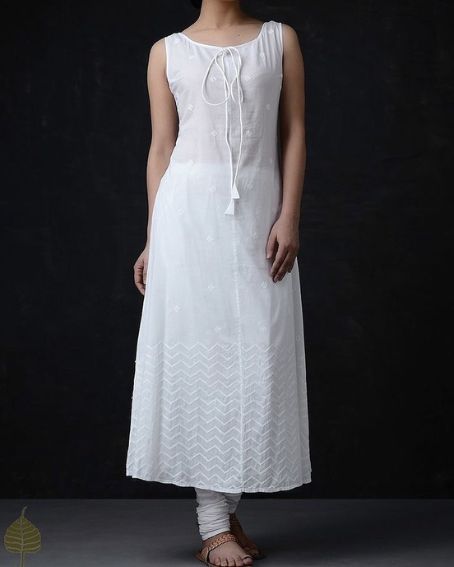 This is a simple and straight plain white long kurti with zig-zag pattern borders. This kurti has sleeves, which adds an elegant look. A doori is connected to the boat neck design to enhance it. Pair it with chudi leggings and long earrings.
9. Awesome Georgette Fabric White Kurti Set Design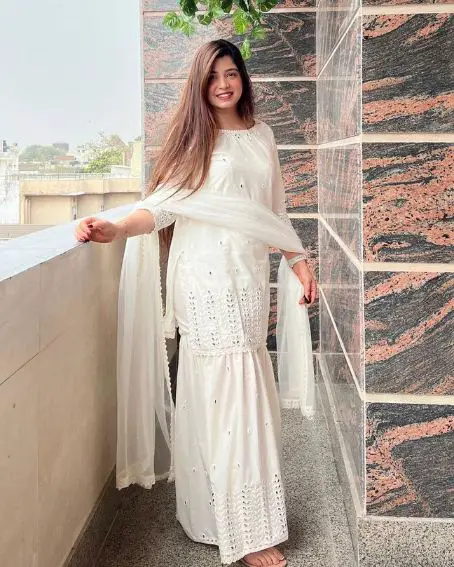 This awesome georgette fabric plain white kurti set design comes with mirror work, adding a sparkling touch and enhancing the overall design. Paired with palazzo pants, this set offers a stylish and comfortable ensemble suitable for special occasions or celebrations.
10. Trendy Soft Plain White Anarkali Kurti with Palazzo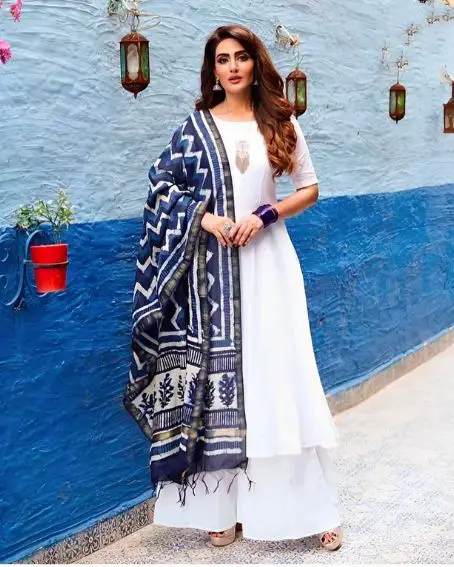 This long kurti in plain synthetic fabric offers an elegant and fluffy look. When paired with the Palazzo pants, this classy kurti provides comfort and style. This combination is perfect with a contrast dupatta, that looks beautiful and is suitable for a variety of occasions.
11. Plain White Straight Kurti Design with Striped Pattern Lines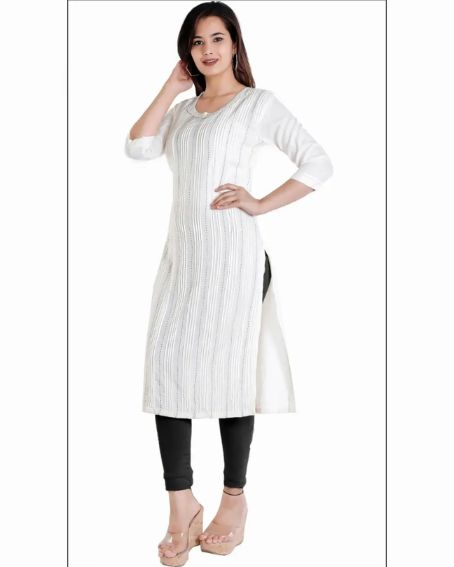 12. Lakhnavi Fabric, Embroidered Straight Kurta Set Design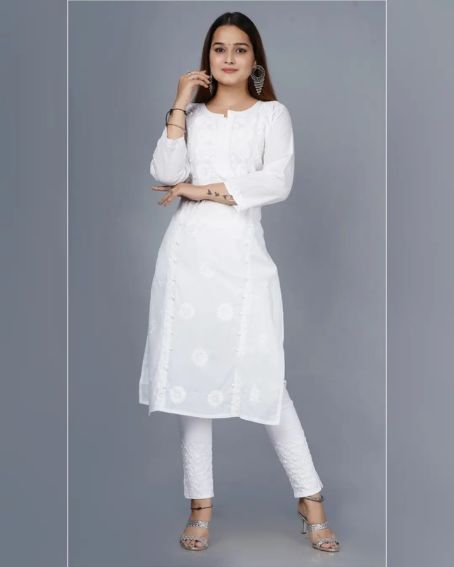 13. Viscose Rayon Fabric Plain White Kurti and Pant Design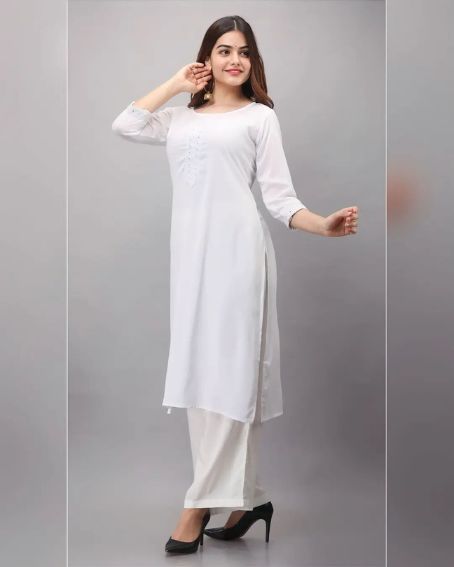 14. Organza Silk Fabric Plain White Anarkali Set with Tassels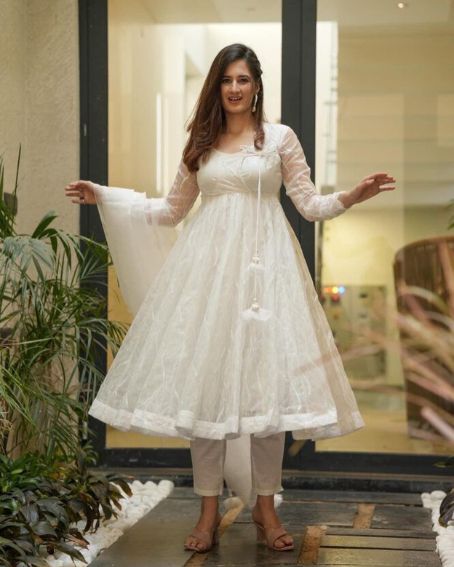 15. Simple and Sweet Plain White Kurti with Neck Design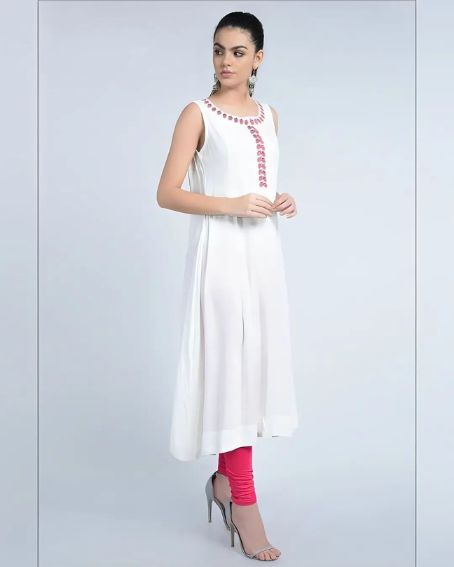 16. Plain White Chikankari Short Legth Kurti Set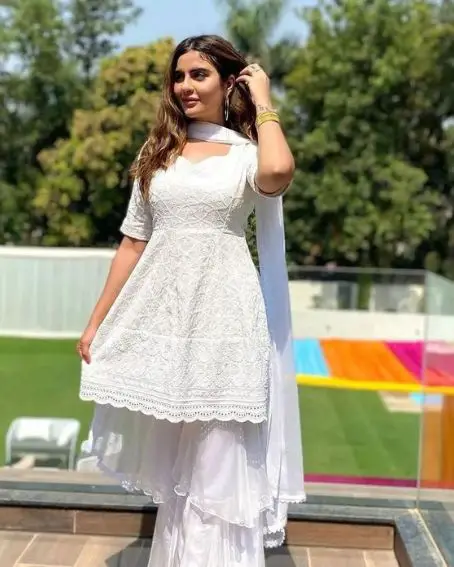 17. Plain White Bridal Wear Kurti Set Design with Sleeveless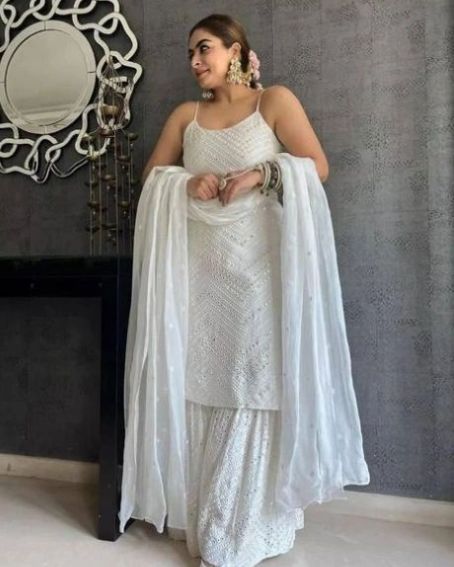 18. Plain White Up and Down Kurti with Collared Neck Design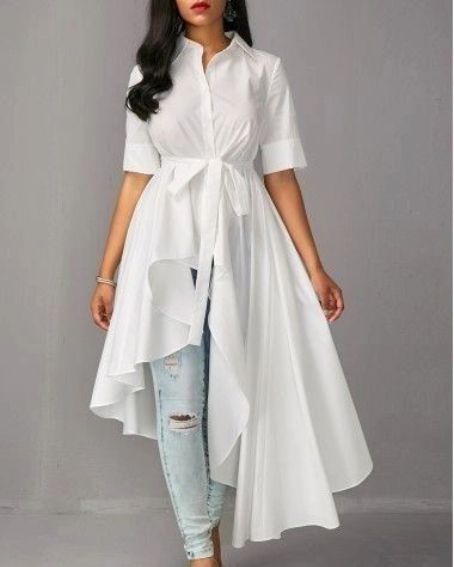 19. Full-Length Anarkali Pattern Plain White Chikankari Kurti Set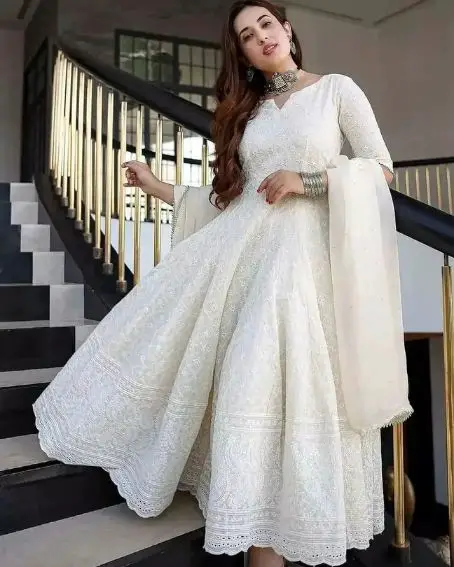 20. Trendy Umbrella Design White Kurti with Dupatta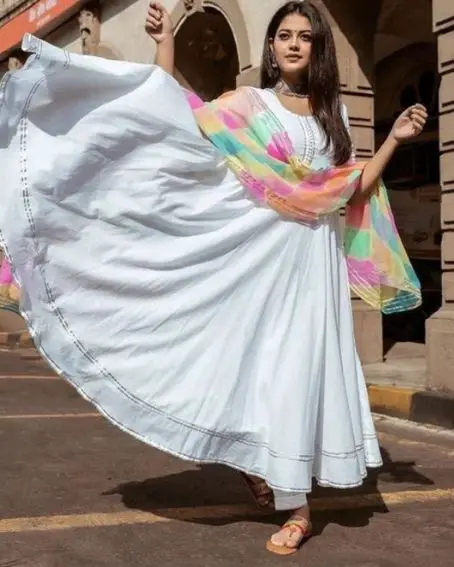 Conclusion
The white color's simplicity offers you unlimited options in styling and pairing with various bottoms. The simplicity of the design allows you to modify the look according to your taste and comfort, whether you choose a short or long length, a round or V-neckline, or want sleeveless or full sleeves. The lack of too many frills or detailed design draws attention to the purity and elegance of white, allowing you to create a relaxing and classy style.
Related Articles