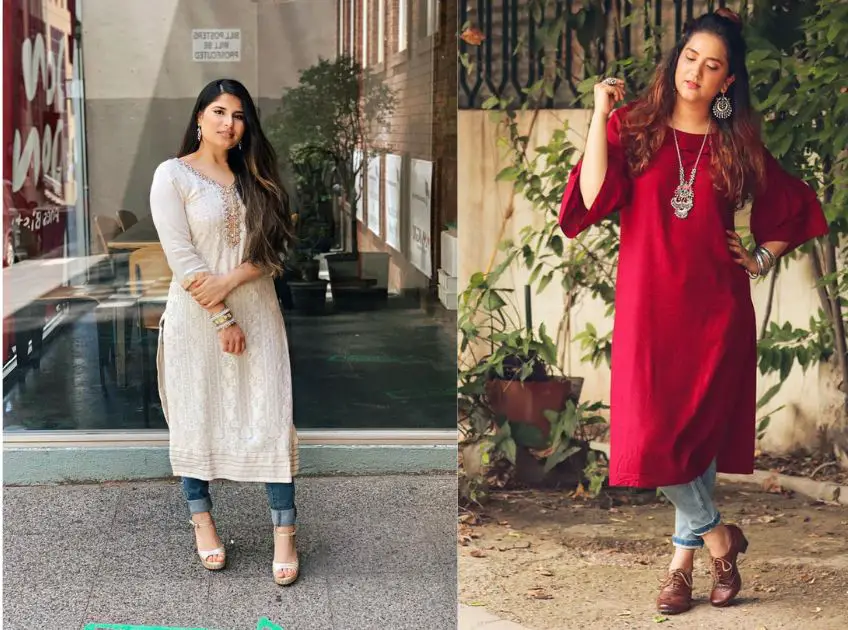 Are you worried and tired of your usual daily attire and want to move for a chic kurti? Well, It is the perfect time to change your boring outfit to a stylish one. You may think, "What I am going to say", none other than a new trendy "side cut long kurti with jeans".
It will give you a feminine, casual, simple yet ravishing look that fits every mood and occasion. Kurti pairing with jeans proved that it is the best way to make a style statement everywhere nowadays.
Create a unique with kurti jeans and for more look scroll down this article
20 Best Side Cut Long Kurti with Jeans
1. Blue Printed Design Long Kurti with Jeans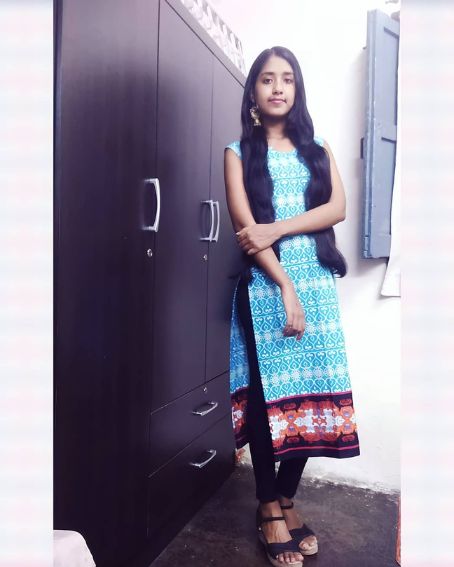 Enter your favourite party with a long kurti with slim fit jeans and sure you are going to make an unforgettable impression. The combination of jeans and a long kurti brings ruggedness and delicacy together to create a sharp look.
2. Bird and Leaf Printed Side Cut Kurti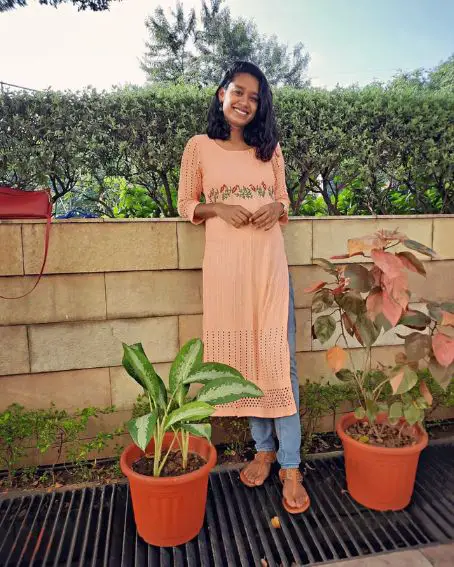 If you are really bored with traditional clothing or simply looking to mix it up with a little traditional and modern then look at this orange bird embroidery side cut kurti. Create something new and live a modern life.
3. Elbow Sleeve Cotton Side Cut Kurti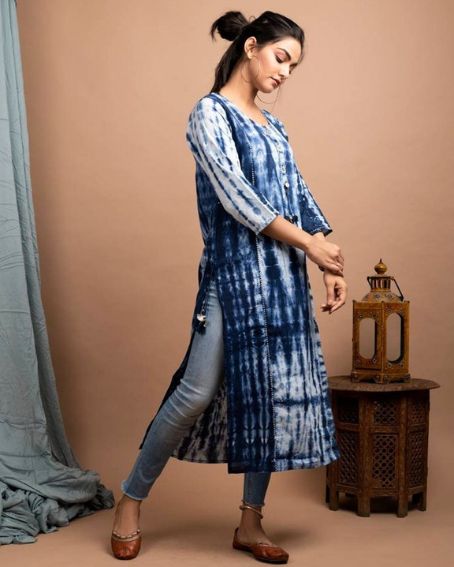 Of all the kurtis that could pair with jeans, the long kurti for jeans is a crowd-puller. This type of style is casual and comfortable so you won't feel much. Meanwhile, it can make your outfit go from simple to stunning way with so little effort.
4. Round Pattern Design Long Kurti with Jeans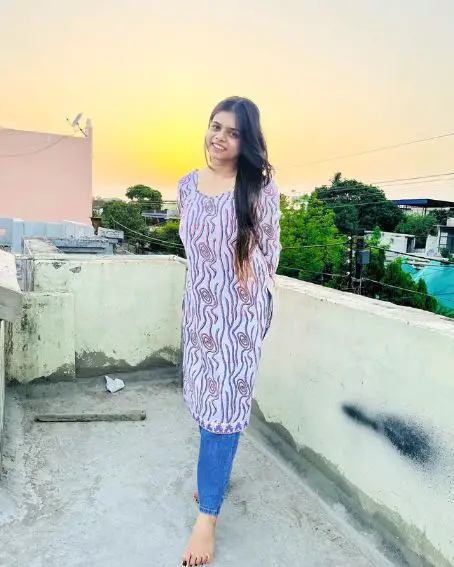 Once you have picked a long kurti of your choice, must pick a pair of jeans to go with it. Well-designed or patterned kurti look great with grey or blue jeans. The look is casual overall but a perfect one.
5. Blue High-Neck Kurti with Light Blue Jeans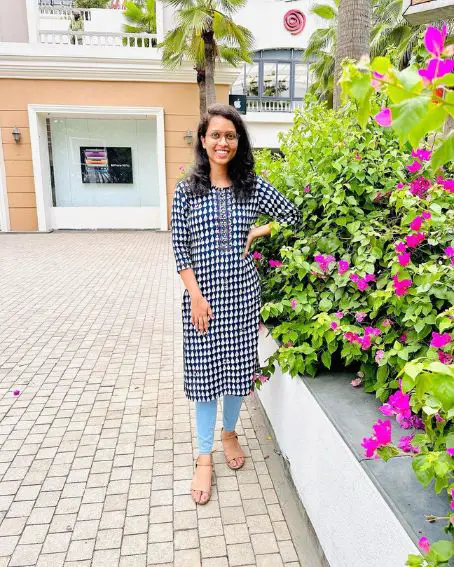 If we talk about the combination without a doubt most women love to have a long Kurti with jeans. Not only college girls, but office-going women also like to have this wonderful style. Choose this blue high-neck kurti and become a style icon in a snap.
6. Transparent Sleeve Long Kurti with Jeans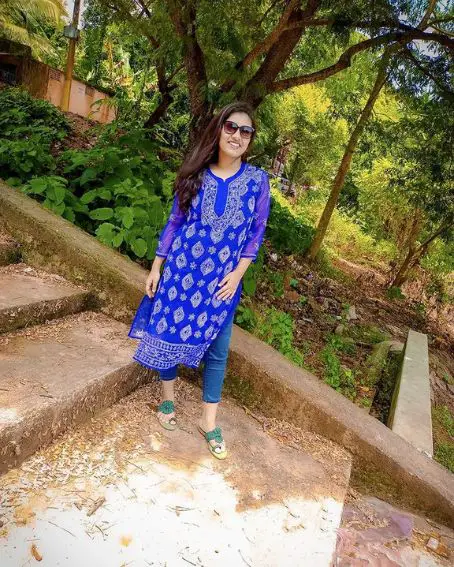 Who doesn't love jeans? Especially long kurti with jeans. To look very stylish and gracefully you can pick a sea blue long kurti with blue jeans. The only thing is you should consider the colour of the kurti as it needs to complement the bottom of kurti
7. Transparent Sleeve Parrot Green Kurti with Blue Jeans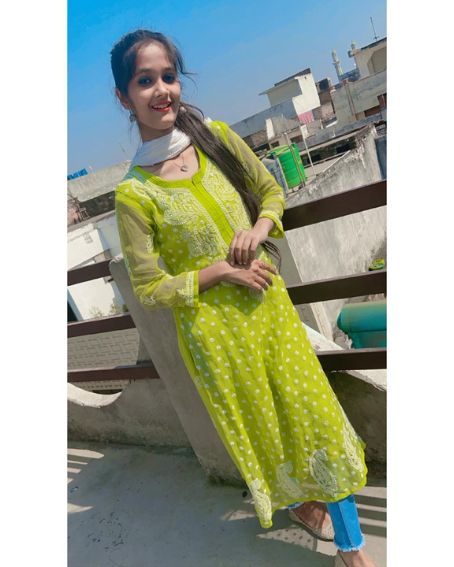 Trending jeans with a long kurti design is unbeatable. May be formal or casual occasions, but this transparent sleeve parrot green kurti with blue jeans combination gives a top-notch style wherever you go.
8. Sleeveless Long Kurti Paired with Jeans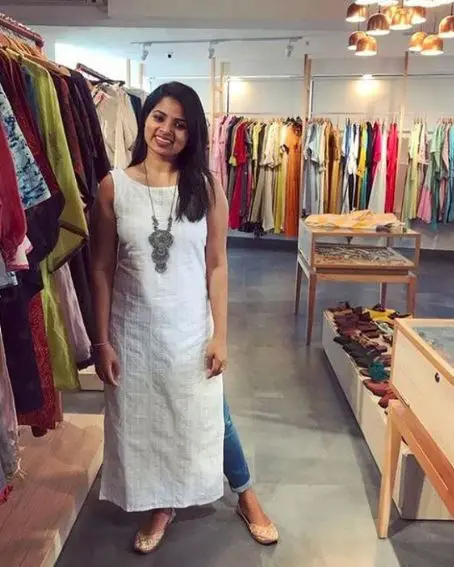 A subtle yet pretty combination, the white and blue jeans combo looks simply wow. The best part of this sleeveless long kurti is, it allows you to go out for a casual out to a formal party as well.
9. Plain Black Long Kurti with Side Cut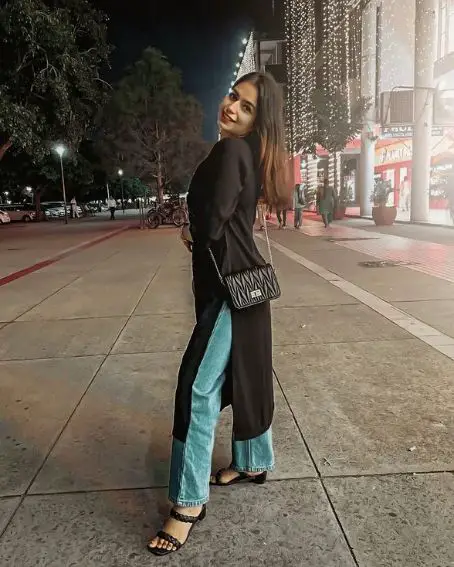 Every girl likes to look stylish, pretty and elegant without doing too much effort. The black kurti with blue jeans combo helps you to flaunt fashion in the best possible.
10. Collar Neck Dark Blue Kurti with Jeans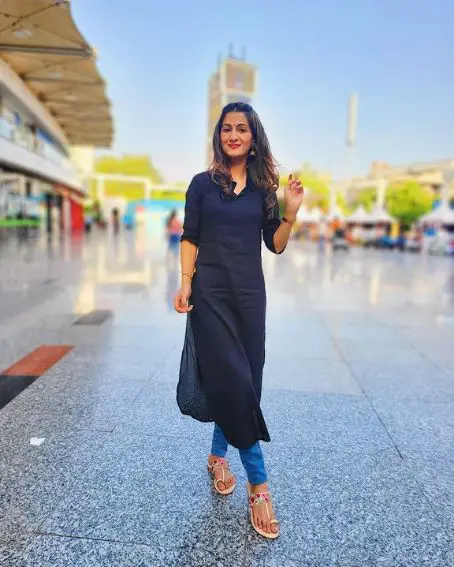 Kurtis looks so gorgeous as well as trendy compared to the Western tops. This collar neck side cut kurti with jeans style is very best to showcase the chic look of yours. When comes to a stylish and comfortable long kurti with jeans are a safe bet.
11. Front Sequence Work Long Black Kurti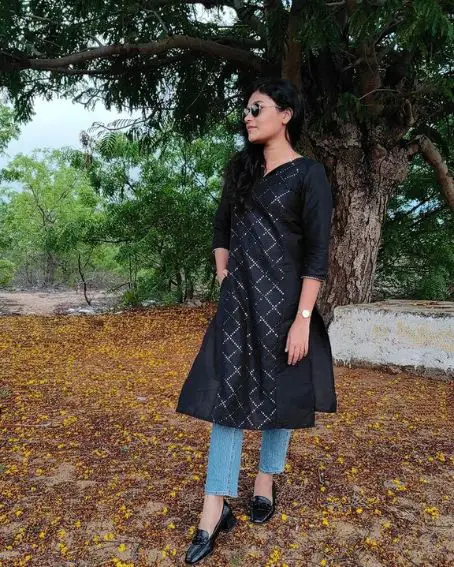 12. Front Tassel Work Kurti with Slim Fit Jeans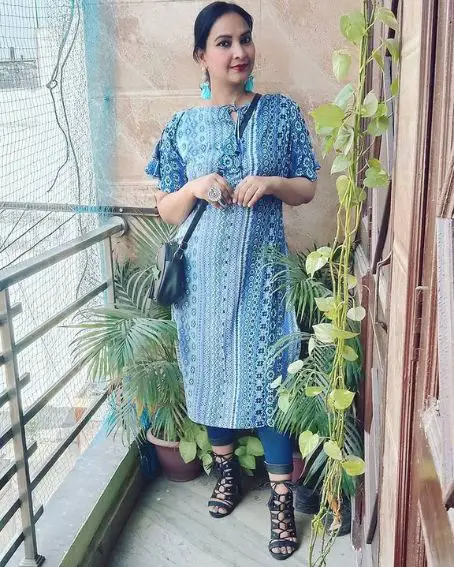 13. Pink Lace Work Long Kurti with Jeans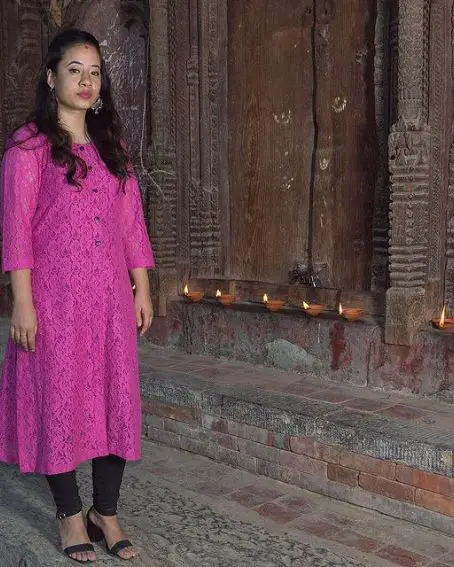 14. Chikankari Black Embroidery Transparent Kurti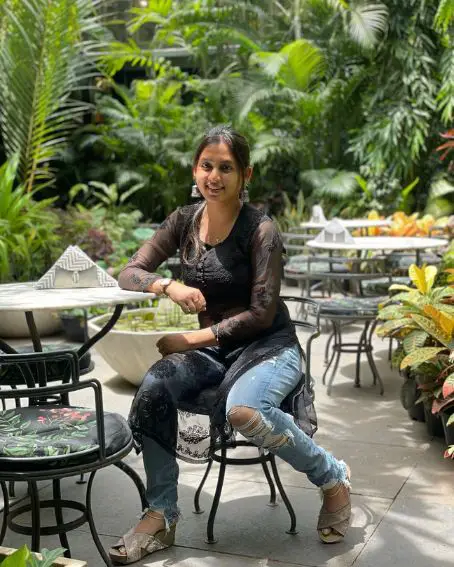 15. Classy Green Kurti with Blue Jeans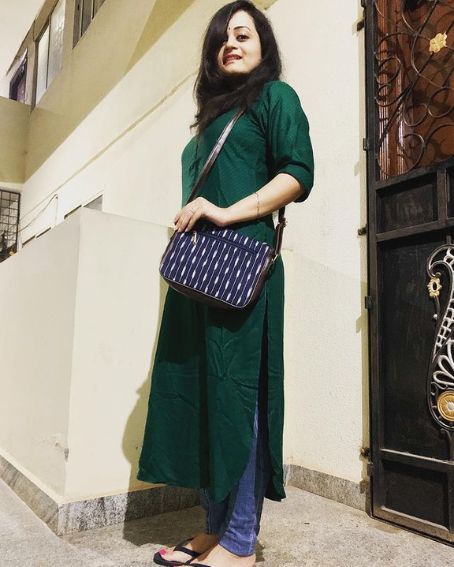 16. Bell Sleeve Long Kurti with Denim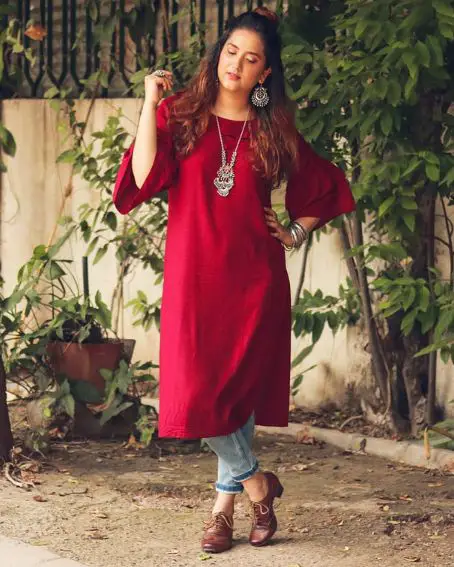 17. Rose and Lead Embroidery Long Top Kurti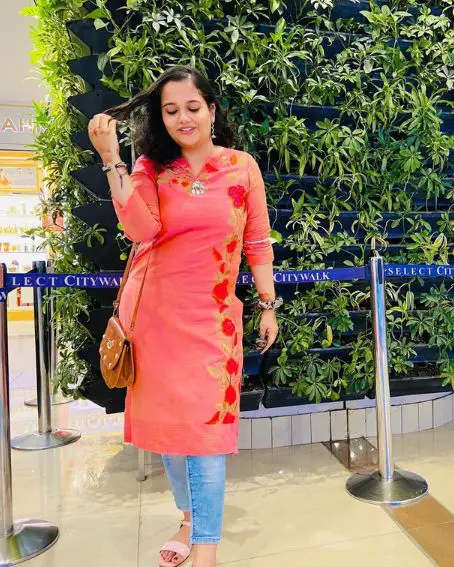 18. V Neckline Embroidery Side Cut Kurti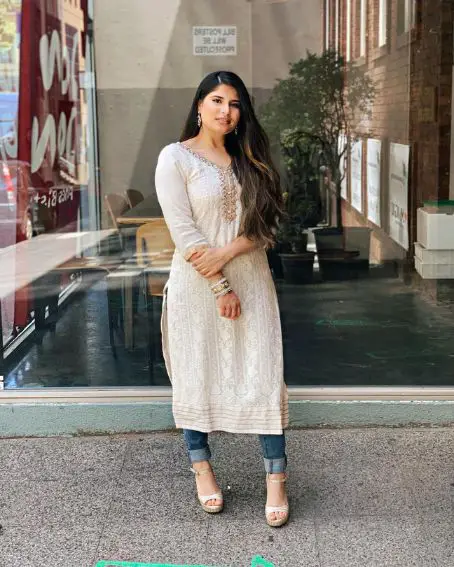 19. Green and Pink Floral Print Kurti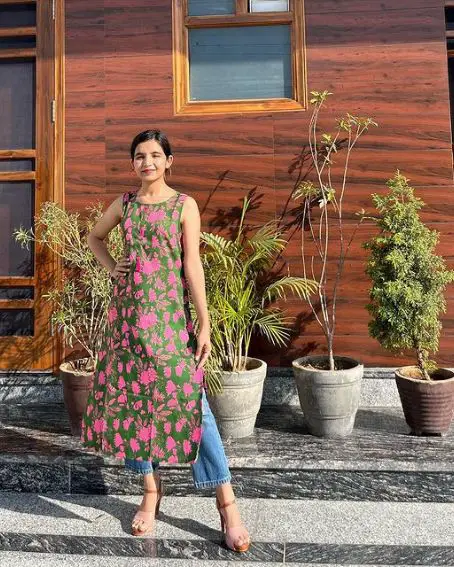 20. Star Print Beige Long Kurti with Jeans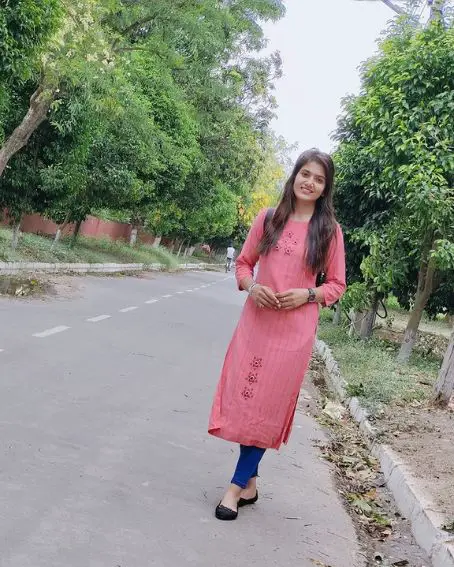 Conclusion
At present, you can see so many options and varieties in women's clothing but choosing the perfect cloth is quite a tricky one. If you have the latest long kurti and jeans attire you can try these above-mentioned styles. It is better to know about different ways to wear jeans for the right kurti in various events, functions and occasions. Don't miss out on the chance to have a different style!
Related Articles